NFL Week 5: Predictions and Storylines for Each Game on the NFL Schedule
October 6, 2011
Mike Ehrmann/Getty Images
Note: The quotes in this article are fictional.
New Orleans @ Carolina (+7)
After last week's 34-29 loss in Chicago, the Panthers are 1-3, but have been competitive in their three losses. Rookie Cam Newton has shown expected athleticism, and surprising poise, and is third in the NFL with 1,386 passing yards.
"I'm a sure bet to win the NFL's Offensive Rookie Of The Year Award," Newton said. "I lead all rookies in passing, and I lead the entire league in the obscure yet relevant statistic of 'impressive offensive performances qualified by the phrase 'in a losing effort.'"
Drew Brees and the Saints lead the NFC South along with the Buccaneers. Should the Saints get by the Panthers, they'll face the Bucs in Tampa with the division lead on the line.
"We're not thinking at all about Tampa," Sean Payton said. "We're like the NCAA circa 2010—our focus is solely on Cam Newton. And Carolina is a lot like Auburn University. Both of their mascots are felines, and they both paid handsomely to have Newton play for them."
When playing the Panthers, it's imperative that you look out for No. 1. For the Saints, though, it's more important to look out for No. 9. That's Drew Brees, who, when given time, can find anything open. In Charlotte, that even includes a trunk.
Brees passes for 311 yards and three touchdowns. The Panthers hang tough, but a late Newton interception seals their fate.
New Orleans wins 34-23.
Arizona @ Minnesota (-3)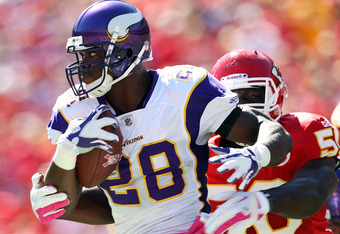 Jamie Squire/Getty Images
The Vikings are 0-4 after dropping a 22-17 decision to the Chiefs last week, and the heat is on head coach Leslie Frazier, who was named head coach last year after Brad Childress' firing.
"If I'm fired," Frazier said, "the only thing I ask is for the headlines to read 'Down Goes Frazier!' as opposed to 'Down Goes Leslie!', lest someone mistakes the news for another controversial charter on Lake Minnetonka.
"Unfortunately, a solution at quarterback isn't as simple as me chartering a plane and returning with an NFL legend. However, it could be as simple as putting Donovan McNabb on a plane with no destination. Or, better yet, with no pilot."
The Cardinals had the Giants beat, and their second win in the bag, until the Giants stormed back with 21 fourth-quarter points to take a 31-27 win. New York benefited from a late officials review that deemed Giants receiver Victor Cruz "gave himself up," and therefore did not fumble, despite leaving the ball on the turf after falling untouched.
The Vikings need a win now, otherwise they'll be faced with a difficult dilemma for the remainder of the season—trying to make it appear as if they want to win, when, in fact, all they want to do is lose and bolster their chances of landing Andrew Luck. So they take the easy way out and win.
Minnesota wins 27-23.
Tennessee @ Pittsburgh (-4)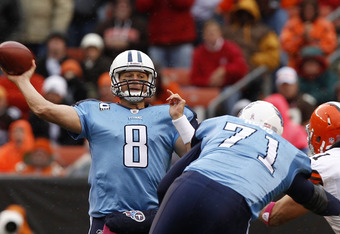 Matt Sullivan/Getty Images
The Steelers fell to 2-2 after last Sunday's 17-10 loss in Houston, as the Texans out-defensed the vaunted Steeler defense. Too add injury to insult, Ben Roethlisberger was hurt late in the game, and left wearing a walking boot. Roethlisberger was later diagnosed with a sprained foot.
"A walking boot will do Big Ben no good behind our offensive line," Mike Tomlin said. "What he needs is a running shoe, or, better yet, a moat. That offensive line is comprised of too many 'tackles' and not enough 'guard.' Ben, understandably, is unhappy. He can't trust his five offensive line to protect him. Heck, I doubt he'd trust them to guard the bathroom door."
The 3-1 Titans are tied with the Texans for the AFC South lead, but will face a stern test in Pittsburgh. Tennessee quarterback Matt Hasselbeck has proven to be one of the league's best free agent acquisitions, as the Titans passing attack is ranked eighth in the NFL.
"It's great to be in Tennessee," Hasselbeck said. "I knew I could immediately contribute to this team. Vince Young and Kerry Collins set the bar. That bar was so low, it was called 'plumbing.' I picked that bar off the ground and raised it to new levels."
In an impassioned pre-game speech, Tomlin injects the Steelers with a sense of urgency, while team doctors inject several rounds of painkillers. Pittsburgh sacks Hasselbeck three times, and Roethlisberger throws for two scores.
Pittsburgh wins 23-17.
Oakland @ Houston (-7)
After an impressive return by Arian Foster, and an impressive win over the Steelers, the Texans are 3-1 and hold a share of the AFC South lead with the Titans. Foster rushed for 155 yards on 30 carries, and scored the game-winning touchdown on a 42-yard run.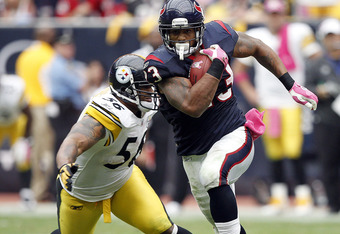 Bob Levey/Getty Images
"Fortunately, Foster is back," Gary Kubiak said. "Unfortunately, Hank Williams, Jr. says Arian is his favorite player. Williams also incoherently mentioned something about the grandson of former Buffalo quarterback Frank Reich eventually dominating the NFL. He called it the 'Rise Of The Third Reich.'
"With Peyton Manning out of the picture, the division is ours to lose. And we probably will."
The Raiders' up-and-down season continued with a loss to the Patriots in Oakland last Sunday, despite 160 yards on the ground, 75 from Darren McFadden.
"We'll stick with our strength against the Texans," Hue Jackson said. "McFadden will touch the ball at least 24 times. They call that 'Run DMC,' which is an offensive philosophy I prefer to Jason Campbell's alternative, 'Pass OMG.'"
Arian Foster outrushes McFadden, and the Houston defense makes a late stop to preserve the win. Neil Rackers' 39-yard field goal is the difference.
Texans win 26-23.
Seattle @ NY Giants (-10)
The Giants have reeled off three straight wins after their opening week loss to the Redskins. Eli Manning's two fourth-quarter touchdown passes capped the G-Men's 31-27 comeback win in Arizona last week.
"I like this team's balance," Eli Manning said. "A few weeks ago, we had members of our defense falling down for no reason. Against the Cardinals, we had an offensive player, Victor Cruz, do the same. Victor hit the ground without being touched and got back up, but left the ball on the turf. After further review, it was determined that Ken Whisenhunt was pissed, and there was no fumble because Victor 'gave himself up.' The play will go down in history as the NFL's first 'submission.'"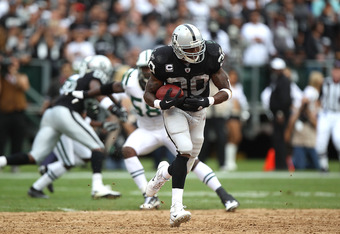 Jed Jacobsohn/Getty Images
The Seahawks nearly erased a 24-7 first-half deficit in a narrow 30-28 loss to the Falcons in Seattle. With the loss, Seattle dropped to 1-3, two games behind the 49ers in the NFC West.
"We had our chances," Pete Carroll said. "But a loss is a loss. And there's no changing that. If this were college athletics, wins can become losses, and losses can become wins. But only if Southern California is involved in the game."
The Giants keep falling down, so how can you not begin a game prediction with the term "It goes down like this." You can't, so it goes down like this: Manning throws three touchdown passes, and Jackson throws three interceptions.
New York wins 31-16.
Philadelphia @ Buffalo (+3)
There's trouble in Philadelphia. After last week's 24-23 loss to the 49ers, the Eagles are 1-3, alone in last in the NFC East, and have lost two games at home.
"As shock-rocker Alice Copper famously sang," Andy Reid said, "'Welcome to my nightmare.'
"We have a lot to work on. It's no time to panic, but it is time to be frank. And by 'frank,' I mean 'hot dog,' because this team can't go 'all the way' without 'all the fixins.' And we need fixin.'"
The Bills fell from the unbeaten ranks, losing 23-20 last week in Cincinnati as Buffalo's high-powered offense was held to 12 first downs and 273 yards. They'll host a Philadelphia team desperate for a win to avoid a 1-4 hole.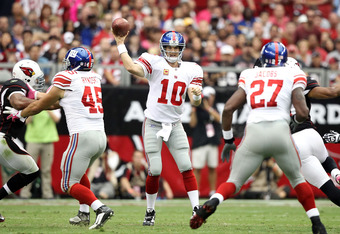 Christian Petersen/Getty Images
"I hear they called this year's Eagles the 'Dream Team,'" Chan Gailey said. "It will take one heck of a coaching job by Andy Reid to convince his squad they are Super Bowl-worthy. I suggest he start by saying to them 'Dream On, Team.'"
Ironically, Vick stated the Eagles needed to "dig deep" to get out of their hole. If the past is any indication, then Vick won't "dig deep enough," and some things he overlooked may be exposed. But not in Buffalo.
Vick throws for 256 yards and two scores, and the Eagles defensive backfield steps up, recording two interceptions.
Philadelphia wins 33-27.
Cincinnati @ Jacksonville (-1 1/2)
The Bengals evened their record to 2-2 after shocking the previously unbeaten Bills 23-20 last week behind a strong second half from Andy Dalton. The rookie engineered the game-winning drive that culminated with Mike Nugent's 43-yard field goal as time expired.
"Dalton's play has been a pleasant surprise," Marvin Lewis said, "much like a six-pound package of marijuana arriving at one's door. Or Carson Palmer threatening to retire and actually going through with it. Or total silence out of Chad Ochocinco."
The Jaguars dropped their third consecutive game, falling to the Saints 23-10. Offensive inadequacies have dogged Jacksonville in the form of a paltry 10 points per game scoring average. Rookie Blaine Gabbert has struggled, and completed only 16 of 42 passes against the Saints.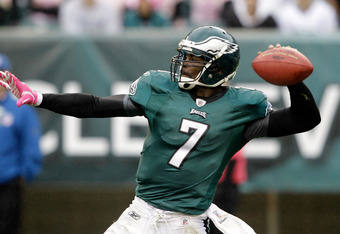 Rob Carr/Getty Images
"That's a completion percentage of 38 percent," Jack Del Rio said. "That means that if Blaine threw 100 passes, 72 of them would harmlessly hit the ground, while 38 would, judging by our measly scoring average, harmlessly hit our receivers.
"But I totally support Blaine. And he's got his other supporters, most notably the Australian wing of his fan club, who call themselves the 'B.G.'s.'"
The Bengals sport the league's No. 1 defense, which means a game against the Jaguars probably won't affect that ranking.
Cedric Benson has been jailed. He has been suspended. On Sunday in Jacksonville, he gets "grounded," and rushes for 124 yards and a score.
Cincinnati wins 22-13.
Kansas City @ Indianapolis (-3)
The Chiefs registered their first win of the season, besting the Vikings 22-17 at Arrowhead Stadium, where 72,391 screaming fans willed the Chiefs to victory.
"Speaking of 'screaming,'" Todd Haley said, "you may have seen my screaming match against Matt Cassel. That encapsulates Chiefs football this year: some of the best action on the field takes place on the sideline. That applies only to Arrowhead Stadium. In Lucas Oil Stadium, some of the best action takes place in the luxury suites, where the suite attendants, the 'Personal Lubricants,' offer Lucas Oil's signature 'full service' package. It's a road trip I look forward to. Others in the Chiefs organization look forward to my permanent road trip."
The outlook may be bleak in Kansas City, but it's even bleaker in Indianapolis, where the Colts are winless. The last time the Colts started a season 0-4, it was 1998, Peyton Manning was a rookie, and Jim Caldwell was the head coach at Wake Forest, far removed from calling the shots in Indy, just like the present.
"Peyton Manning may be done for the season," Caldwell said. "Or, he may be returning next week. It all depends on what type of misinformation you get from Jim Irsay, the NFL's only Tweet-happy owner."
This is a game in which Manning, despite not playing, would probably still be considered the most effective quarterback on the field. Manning again enjoys the game from the coaches' booth, and is constantly on the phone with helpful tips to quarterback Curtis Painter, like "get a haircut," and "call the audible before the ball is snapped." Painter responds with a mostly error-free game.
Indianapolis wins 22-14.
Tampa Bay @ San Francisco (-1 1/2)
After a thrilling come-from-behind 24-23 in Philadelphia last week, San Francisco is 3-1 and in sole possession of the NFC West lead. Jim Harbaugh has the team, and the city, believing in the 49ers.
"I've never doubted my motivational skills," Harbaugh said. "I had a lot of convincing to do. I started with my most difficult doubter, myself, whom I had to convince that Alex Smith was my quarterback.
"When I came to San Francisco, the first thing I said was 'shape up or ship out.' Next thing I know, Joe Montana shows up. Apparently, the words 'shape up' makes Joe come a running, looking for a handout."
The fans at Candlestick Park are at their rowdy best, and the 16 fans wearing eyepatches in attendance are inexplicably attacked by the 49er faithful. The Bucs are greeted with jeers, particularly Aqib Talib, who is welcomed with a sign that reads 'Go ahead, make my day,' 'Do you feel lucky, punk,' and several other Harry Callahan quotes.
Give the Bucs a good chance to win. Why? Because they are that good of a team? No, because their kicker is not Alex Henery.
Tampa wins 22-20.
NY Jets @ New England (-9 1/2)
The Patriots brushed aside Week 3's loss in Buffalo and were characteristically convincing in a 31-13 win in Oakland. Up next is an AFC East battle with the reeling Jets, who have lost two in a row after a 2-0 start.
"I'm sure there will be a lot of trash talk," said Tom Brady. "Jets-Pats games and trash talk go together like peanut butter and jelly, or Mark Sanchez and the questioning of manhood, or Bill Belichick and dishevelment, or Antonio Cromartie and holding penalties. I'm urging all Pats fans have a few drinks before the game, but insisting they keep their blood alcohol level slightly under Mark Sanchez's quarterback rating. That way, they'll still be able to safely drive home."
A 2-2 record and the role of underdog won't keep Rex Ryan from talking. The Jets are 9 ½-point underdogs coming off a 34-17 thrashing in Baltimore.
"My motto," Ryan said, "is 'Speak loudly and carry a big schtick.' If I put a foot in my mouth, it's never as a consequence. It's because I have a fetish. I'm also aroused by guarantees; I can't stop making them. Hopefully, all my talk will 'turn on' my team. They've been 'off' for two games now."
Rex Ryan knows it's time to run the ball against a Patriots defense that can't stop anyone. The advantages are two-fold: it keeps the ball out Brady's and Mark Sanchez's hands.
The Jets keep it closes, but Brady engineers a late drive, kept alive by a phantom holding call on Cromartie, that culminates with Stephen Gostkowski's winning field goal.
New England wins 26-23.
San Diego @ Denver (+6)
One of the AFC's most intense rivalries continues in Denver, where the West-leading Chargers head to Denver to challenge the Broncos, who are always tough at home.
"We've scored six more points than our opponents," said Norv Turner. "That's the fewest of any division leader. Regardless of victory margins, the bottom line is success, and in every game, we strive to be successful, at finding a way to win before we find a way to lose."
The Chargers find a way and take a 31-28 win.
Green Bay @ Atlanta (+4 1/2)
In a rematch of last year's NFC divisional playoff, the Falcons host the high-scoring Packers, who average a whopping 37 points per game. Last year, Green Bay blew out the home-standing Falcons 48-17, and went on to win the Super Bowl, as Aaron Rodgers tasted championship glory.
"I'm looking forward to the rematch," Rodgers said, "as I'm sure the Falcons are. Ironically, we own them, but they owe us. I'm sure Matt Ryan wants it as bad as any. Until he wins the big one, he'll simply be destined for decency. Right now, I wear the belt. Ryan wears a belt, but it's a belt with no notches."
So, Brett Favre thinks Rodgers should have won a Super Bowl sooner? Favre asked "What took you so long?" Rodgers, in turn, should ask of Favre, "What took you so long?"
Green Bay wins 38-34.
Chicago @ Detroit (-6)
The Lions make their first appearance on Monday Night Football, and an entire nation will be tuning in to see what the big fuss is about. No, not the fuss over the undefeated Lions. The fuss over Hank Williams, Jr. Who exactly is coming over to Hank's house? His rowdy friends, or his racist friends? Anyway, the Lions host NFC North division rival Chicago. The Lions wiped out a 27-3 deficit to the Cowboys and stormed back to win 34-30 last week to remain undefeated.
"We were looking into the eyes of 'defeat,'" Jim Schwartz said. "Then he threw us three interceptions, two of which were returned for touchdowns. Tony Romo's right arm has shown a penchant for cooling off late in games. I guess that explains why he gave Jerry Jones the 'cold shoulder.'"
The Bears won't back down from the Lions, and will likely attack on the ground. Matt Forte rushed for 205 yards last week against the Panthers.
"The Lions crowd will be in an uproar," Lovie Smith said. "I would be to if the 'Stripper Bus' had been banned from the parking lot. I wouldn't be surprised if Walter Payton's biographer said Sweetness spent some time on that Bus.'"
Detroit takes an early lead for a change, and holds on. Matthew Stafford passes for 265 yards and two touchdowns, one to Calvin Johnson, in which Johnson leaps high into the air and makes the catch and tosses the ball to an official before landing. The TD is reviewed, and inexplicably upheld.
Lions win 31-27.