Marc Gasol vs. Pau Gasol: 3 Advantages Grizzlies Center Has over Lakers Forward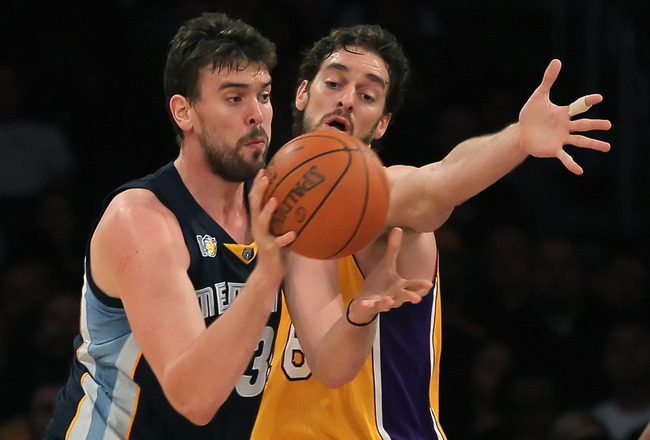 Jeff Gross/Getty Images
When Marc Gasol entered the NBA, everybody was curious to see how good he was because of his brother Pau's NBA reputation.
Pau was a respected player and an All-Star in the NBA prior to Marc's arrival and everybody wanted to see how he stacked up. Marc came in and impressed mostly everybody in the world with his consistent play for Memphis. Now, a few years later, he's improving, and fast.
Marc is a top-five center in the NBA and he even has some advantages over his brother Pau. Continue reading to see what they are.
Defined Role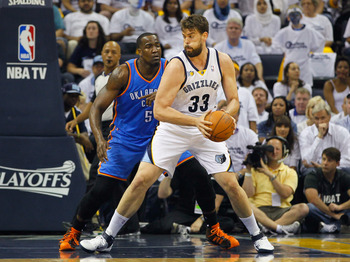 Kevin C. Cox/Getty Images
Unlike Pau, Marc Gasol fits in well with his team.
Marc is the second option in the paint, but he is also relied on to run the offense a little from the free throw line. Marc has excellent court vision to go along with his size and that is why the Grizzlies trust Marc as a passer.
On a Lakers team full of talent, after Kobe the players sort of fall out of line. There is no true second option. Sometimes it's Pau and that's what he expects, but other games it is not.
Pau has often gotten frustrated with his role on the team and his lack of touches, but other times he gets the touches and doesn't live up to his or the team's expectations.
Size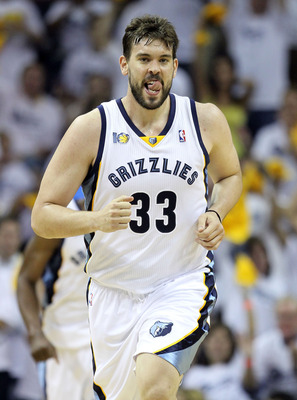 Andy Lyons/Getty Images
Another advantage Marc Gasol has over Pau is his size.
Pau Gasol has often been accused of being a soft player, but that has a lot to do with his size. Pau is tall but very skinny, and doesn't have the strength to be the type of bruiser some people want to see. He relies a lot on his finesse.
Marc Gasol has Pau's finesse along with massive size. Marc is one of the bigger centers in the league and he knows how to use his body in the paint.
Position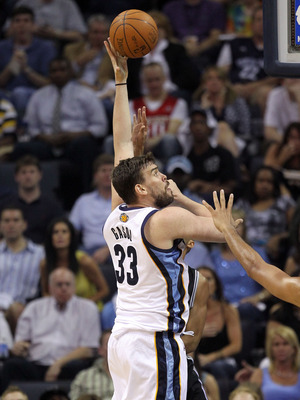 Andy Lyons/Getty Images
Partly having because of his size advantage, Marc Gasol also plays his position better than Pau does.

Pau actually doesn't have a natural position. Most of his career he was playing center, but now he is the Lakers' power forward. Pau lacks the strength to play center and isn't quite quick enough to play power forward.
Marc, on the other hand, is a true center.
He can bang with every other center in the league. He's a good defender and a great offensive player. As he continues to get older and into better shape, he will rise in the ranks on the list of best centers in the league.
Keep Reading

Memphis Grizzlies: Like this team?