Who Will Toronto Waive with an Amnesty Clause?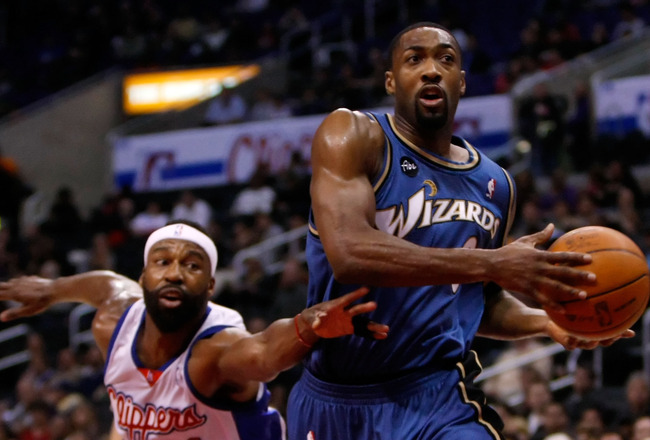 Jeff Gross/Getty Images
The NBA is currently in the process of negotiating a new CBA with its players and there are many issues which are yet to be solved. Owners are pushing to make the league more competitive, and are asking for a hard cap, while they're also demanding that the players' share of the "basketball-related revenues" decreases.
Despite optimistic reports this past month, players and owners are still not satisfied with what had been brought on the table. The NBA recently wiped off 41 preseason games and postponed training camps, and there's a risk that the lockout will force the league to cancel regular season games if they don't reach an agreement before the first of October.
There's a lot of uncertainty in regards to the lockout but a few changes to the next CBA seem inevitable. Owners and players have generally cooperated with one another on things regarding changes to the draft, revenue sharing, and possibly an amnesty clause.
An amnesty clause (also known as the Allan Houston Exception) is a tool which will allow teams to waive one player's contract, sending him to free agency, but the contract will no longer be considered in the salary cap. It's a useful tool which could help teams remove bad contracts in case they're over the salary cap in the next CBA.
As of now the idea of an amnesty clause and its details haven't been officially agreed upon, so trying to determine its effect on current NBA teams won't be very accurate. Still, using only a general idea of an amnesty clause, we can still try to imagine how it will effect the Raptors.
The Raptors are currently one of the lowest payroll teams going into next season with only $47 million in guaranteed contracts. How (or if) they could use such an option could drastically speed up or even slow down the rebuilding process depending on the specific details.
In this slideshow I will present multiple scenarios in which the Raptors could use the exception to their advantage, and I will be trying to include specific details of how it could be made possible.
1) Raptors Save Orlando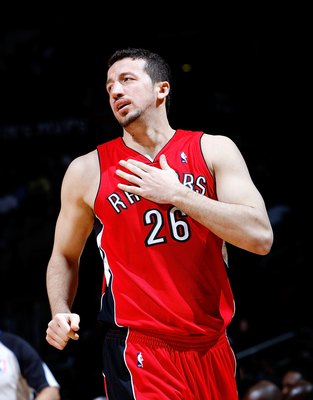 Kevin C. Cox/Getty Images
Scenario:
Toronto Raptors trade nothing for Orlando Magic forward Hedo Turkoglu and a 2012-2013 first-round draft pick.
Summary:
The Raptors will absorb Hedo Turkoglu, who will be waived immediately using the Amnesty Clause. The Raptors keep their current roster but add on Orlando's 2012-2013 first-round pick, which could be a possible lottery pick.
The Orlando Magic are currently cash-strapped and they need to add talent to their roster and make a promising playoff run if they expect to keep Dwight Howard. This situation would allow the Magic to waive Gilbert Arenas and also remove Turkoglu's contract. The Magic will slash over $30 million in payroll and could possibly add another All-Star-caliber player (via trade or free agency) if the new salary cap is set at around $50 million.
The Magic will lose a valuable lottery pick if Dwight Howard leaves the team, but at the same time a deal like this gives Orlando a good chance of keeping Dwight Howard and only losing a late pick.
Requirements:
In order for this scenario to go down, the Amnesty Clause would have to be granted to all teams to be used on all players, and not be reserved only for teams paying the luxury tax.
It would also have to allow teams to use the exception on players acquired via trade. In order to make this reasonable, I assume the league would set a short deadline so that teams will have to act quickly if they're planning on adding players just to waive.
2) Toronto Dishes and Assist to Los Angeles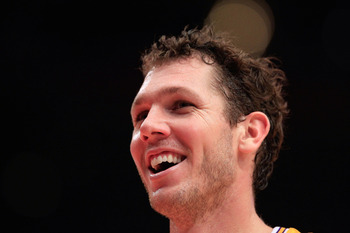 Chris Trotman/Getty Images
Scenario:
Toronto Raptors acquire Luke Walton and a first-round pick from the Los Angeles Lakers in exchange for nothing.
Summary:
The Lakers have an unbelievable payroll of $91 million going into next season. Despite this, the Lakers are not likely going to waive their three best players Kobe Bryant ($25.2 million), Pau Gasol ($18.7 million), or Andrew Bynum ($14.9 million). The Lakers still have bad contracts in Steve Blake ($4 million), Ron Artest ($6.8 million), and Luke Walton ($5.7 million).
Los Angeles will likely waive Artest or Blake, and could also double their saving by shipping Luke Walton off to Toronto. The Lakers will still be in a terrible financial position after the deal goes down, but if the CBA requires that all players take rollbacks, LA will help ensure they have plenty of options in a few years.
The Raptors won't get that much from this trade, but this would still be better than not using the exception at all. The additional draft pick could prove to be useful especially if Kobe Bryant and the Lakers continue to digress—making the pick a few slots earlier than it was this year (27th).
Requirements:
In order for this trade to happen, the next CBA would have to give teams an Amnesty Clause which could be used on all players, and not just players that put the team over the luxury tax mark. It would also have to allow teams to use the exception on players acquired via trade.
3) Waive Jose Calderon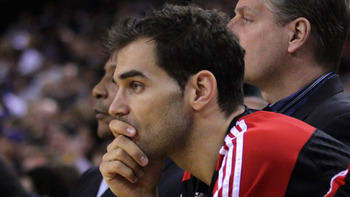 Ezra Shaw/Getty Images
Scenario:
The Toronto Raptors use the Amnesty Clause on Jose Calderon, making him a free agent and making Toronto's 2011-2012 payroll only $37-$38 million.
Summary:
The Raptors will save over $20 million they will have to spend on Jose Calderon over the next two years. Jose Calderon has proven he's a valuable point guard in the NBA, but in the next CBA the $9.8 million owed to Jose will probably be closer to paying someone $12.25 million in the previous agreement (assuming the cap shrinks by 25 percent).
This would be a very hard decision for the Raptors to make, and it could be a big mistake. Jose Calderon might be injured often, but we have yet to see if he can increase his production with a more suitable coach. Jose Calderon was living up to his contract up until Sam Mitchell was fired; then things went down hill. If we also consider the possibility that players' contracts are rolled back, then this decision will be that much harder.
Jose Calderon's contract is much more tolerable now that there's only two years left on it. If Jose doesn't step up his game next season, it should be easy trading him and his expiring contract a year from now.
Overall, this scenario would only be good for the Raptors if they have specific trade/free agent targets that could only be added to the team if we make some cap room. If Toronto waives Jose only to see him break out (like Steve Nash did after leaving Dallas), we will regret it for years to come.
Requirements:
In order for this scenario to play out, the next CBA will give all teams an amnesty clause which could be used on any player, and not just players who put the team over the luxury tax threshold.
4) End the Andrea Bargnani Expiriment
Handout/Getty Images
Scenario:
The Toronto Raptors trade Andrea Bargnani to the Detroit Pistons for Charlie Villanueva, Brandon Knight, and future (protected) first-round pick.
Summary:
OK, I'm sort of double-dipping on this trade suggestion, but the idea of an amnesty clause makes it much better for Toronto.
Andrea Bargnani is a great 20-point scorer who can be an All-Star in the league. Unfortunately, his contract is rather pricey especially now that teams will have less to work with in the next CBA. The Raptors are a team with some very talented power forwards and will likely look to clear the log-jam when the season starts.
Since the Raptors don't have have many overpaid players, they could decide to move Andrea Bargnani's large contract for another high-ceiling prospect who won't need re-signing for years to come. The move will put Toronto back in the bottom of the East, ensuring two very valuable rookies will join the team next year, and the situation will also allow give Toronto a very significant amount of cap space in the summer of 2012. Hey, maybe if NY and LA are cash strapped, Dwight Howard could decide Toronto is the most promising team to join?
The Detroit Pistons have three overpaid players and could slash tens of millions in salary if they agree to this trade. Richard Hamilton is owed $12.5 million this year, but his last season in Detroit is only partially guaranteed, so Detroit and Hamilton could come to a buy-out agreement halfway through the season which will allow Hamilton to sign with a contender without sacrificing too much.
The Pistons could waive Ben Gordon and will in essence get an upgrade for Charlie Villanueva in Andrea Bargnani. Losing Knight would sting, but the Pistons already have a developed version of him in Rodney Stuckey.
Overall this scenario is a little more appealing to Toronto than it is to Detroit, but if Detroit doesn't want Bargnani's contract, Toronto could always just absorb Charlie V. and Knight without sending AB away.
Requirements:
The deal would require an amnesty clause which could be used by all teams and on all players, including players acquired via trade.
5) Waive Linas Kleiza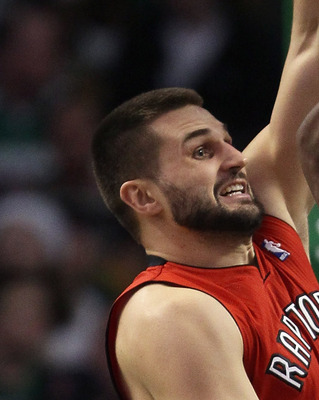 Elsa/Getty Images
Scenario:
The Toronto Raptors waive forward Linas Kleiza.
Summary:
Linas Kleiza didn't get a chance to really prove his worth, and he actually put up decent stats for the amount of playing time he received. Linas Kleiza was signed to a reasonable four-year, $18.8 million contract last summer, and was expected to be the starter for Toronto.
Unfortunately, it looks as though the Raptors are considering starting the younger James Johnson, and to many fans Kleiza is an afterthought.
The Raptors could probably sign a second top-tier free agent if they erase Kleiza's contract, and he might be the only player Toronto will want to waive.
Overall, I'm positive Kleiza can start when healthy, and he might even have some trade value; but if Toronto has no other use for the Amnesty Clause, they could use it on Linas Kleiza.
Requirements:
In order for Toronto do waive Kleiza, the new CBA would have to give all teams an option to waive any player.
6) Cut Amir Johnson?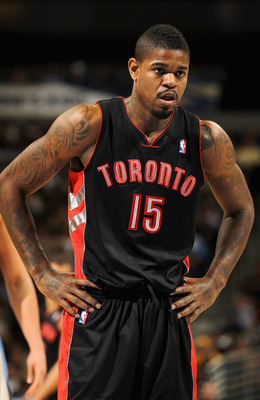 Doug Pensinger/Getty Images
Scenario:
Toronto Raptors waive forward Amir Johnson.
Summary:
Raptors fans were shocked and upset when Amir Johnson was signed to a five-year, $34 million deal last summer. Since then, however, Johnson has proven to be worth every penny, averaging 9.6 points, 6.4 rebounds, and 1.2 blocks in only 26 minutes of play.
Though Amir can (or should) play better when he's healthy, exactly how good do we expect him to be? Amir averaged six fouls per 40 minutes, and a mediocre 15 points per 40 minutes.
Assuming Johnson fouls 15 percent less, and scores/rebounds 15 percent more, he'll average 17.2 points, 11.5, and five fouls per 40 minutes. Now consider the fact that Toronto has Bargnani, Ed Davis, and possibly Evans/Dorsey at the four spot; exactly how many minutes will Johnson get in Toronto?
At best, the $6.3 million per year price tag left on Johnson's deal was going to be fair, but since there's less room for teams to work with, Johnson's contract will be better suited for full-time starters.
Overall, if the Raptors ever choose to part ways with Johnson, he'll probably be traded, but we can't be sure that teams will line up to absorb him either. As a worst case scenario, the Raptors could waive Amir Johnson.
Requirements:
In order for this scenario to work, the new CBA would have to give teams the option to waive all players, regardless of their financial situation.
Conclusion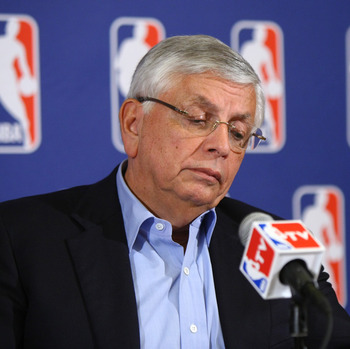 Neilson Barnard/Getty Images
In conclusion, it's clear that the Raptors don't have a whole lot to do with a possible Amnesty Clause, and while most of these scenarios could help Toronto a little, we have to also understand it would help other teams A LOT, thus making the exception a disadvantage for the Raptors.
Actually I'm of the opinion that a "hard cap" would also hurt the Raptors because I personally feel Toronto is a team that will have to spend tons to achieve contention status, and some of the hard earned cap space that we've earned will be lost since the next CBA will shrink the cap significantly.
Also, it's worth noting that the last time the NBA gave teams an amnesty clause, only the luxury tax-paying teams (contenders) really benefited from it. In 2005 the amnesty clause only allowed teams to waive a player without paying luxury tax on their contract. The waived player's contract would still affect the team's payroll. There was a tight deadline for teams to use the exception, and there was no using it on players who were added to the team. Many lottery teams objected to the idea of an amnesty clause.
Thus every scenario here would be impossible if the league adopts the previous Amnesty Clause, but they will likely come up with a tweaked version which would help all teams adjust to a lower salary cap this time. If they don't give teams an amnesty clause, they'd have no choice but to give up on a hard cap without asking for huge contract rollbacks. Without this too many "innocent" teams could find themselves over the cap or very close.
Since the NBPA would be crazy to give owners everything they're demanding (more revenue, hard cap, and rollbacks), when it's all said and done it's probably best to offer an amnesty clause to teams.
To learn more about the previous amnesty clause, click here.
So what do you think? If there is such an exception available to the Raptors, what should they do with it? Would it be better if there was no amnesty clause at all?
Keep Reading

Toronto Raptors: Like this team?