10 Current Players Who Would Make Great NBA Head Coaches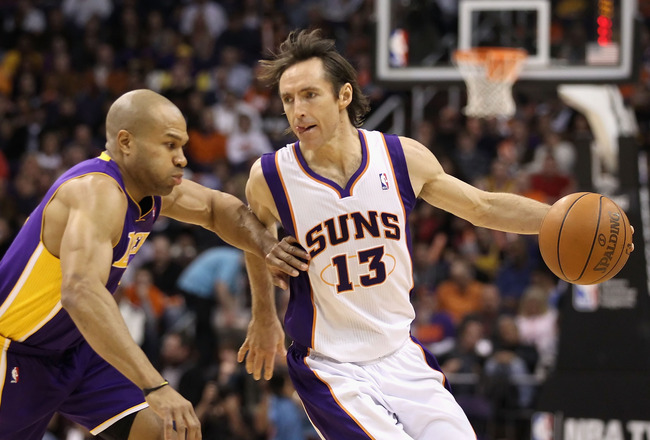 Christian Petersen/Getty Images
It's hard to say, really, what makes a great coach in the NBA. Former players are obvious choices, the Golden State Warriors just hired Mark Jackson, the Houston Rockets nabbed Kevin McHale and the Minnesota Timberwolves picked up Rick Adelman.
However, there is no real formula in basketball for a good head coach. Some go for the scrappy old smart players like Adelman or Cleveland Cavaliers head coach Byron Scott who hop around the league but never really become star players. Others go for the guys that made it big in the league like McHale or Jackson.
When it comes to baseball, it's pretty easy to at least follow a formula, as longtime backup catchers are almost always getting snagged as managers, and it's an added bonus if they have a fiery Latino personality. It's basically a foregone conclusion that 10 years from now Jose Molina will be on the short list to replace Joe Girardi as the Yankees manager.
However, in basketball, there is no one position that is an easily followable formula for grooming future head coaches, although point guards, or just guards in general seem to be a good trend.
So, who in the NBA today is smart enough and a good enough leader to take over as a head coach five, 10 or 15 years down the road? Chill out, I'm about to tell you.
10. Brian Scalabrine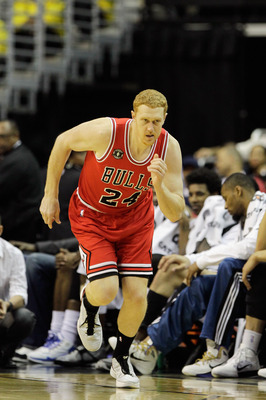 Rob Carr/Getty Images
I throw around Brian Scalabrine's name quite a bit, just like many of the other featured columnists here at Bleacher Report. We love to joke about him, about his amazing high-five skills, his hilarious persona and how much the crowd goes wild when he comes into the game. You know something about Scalabrine though? He's a smart basketball player.
There is a reason he has been on a playoff team nearly every year he has been in the NBA and has been to the NBA Finals four times. He is a valuable player to have on the practice squad.
Scalbrine is smart enough to know how to challenge his teammates in practice, he can imitate the games of other players, and he just flat out knows basketball.
He may not have been gifted with a body like LeBron James or speed like Monta Ellis, but he knows the game of basketball as well as almost any other player in the league today.
I could see him as a college coach 15 years down the road or so, that is without question, but I'm not sure if he could command respect enough to be a head coach in the NBA.
9. Brian Cardinal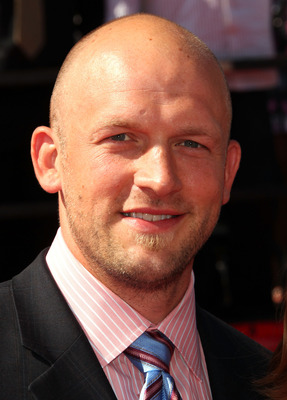 Frederick M. Brown/Getty Images
Should I just call him Brian Scalabrine Light, or perhaps he is the West Coast Brian to Scalabrine's East Coast Brian and we are about to have the lamest re-enactment of the Biggie-Tupac feud ever imaginable.
Nonetheless, I can't help but look at that big mug to the left and easily see it on a guy roaming the sidelines of an NBA arena sometime in the not so distant future.
Cardinal is basically the same as Scalabrine. He knows the game and he knows the ins and outs having played at a high level for so long, but he just seems like he would command respect much better than Scalabrine (it's probably because he doesn't have red hair).
8. Tim Duncan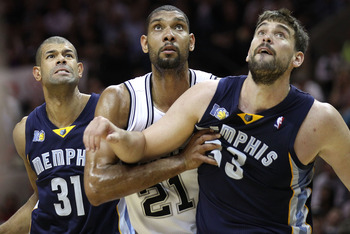 Jed Jacobsohn/Getty Images
First off, I don't think Tim Duncan will ever really end up becoming a head coach, he seems like he will take his time in the NBA and then be done with it, but that's not to say there isn't a chance.
It is my opinion (and the opinion of many others, we should start a fan club) that Tim Duncan is the greatest basketball player since Michael Jordan, not Kobe Bryant as the popular opinion seems to state.
When you look at the total package that is Tim Duncan, you see a much more mature man who seems to understand the game and the complex relationships that each player on a team have that can change the layout and happiness of a team.
Kobe Bryant understands the game, but I don't get the vibe that he understands it on a personal level like Tim Duncan does.
Throughout history, four players have understood the game in the way that Duncan does: Bill Russell, Bill Walton, Larry Bird and Duncan. Jordan had to work at it, and got it later on, but those first four got it naturally.
7. Kurt Thomas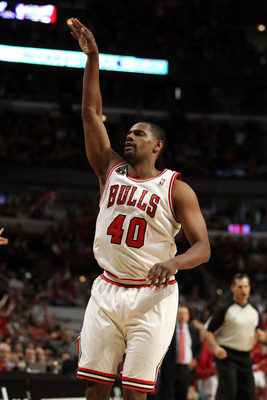 Jonathan Daniel/Getty Images
I'm sure this name is a bit surprising, but here is how I look at it. When there is a basketball player who truly understands the game, understands how to play defense and how to succeed in every possible situation they hang around the league for a long time.
Then, near the end of their career, teams near the top of the league start to sign them to one and two year contracts for their veteran expertise and knowhow. They don't get big deals because they could easily get hurt and end up killing someone's cap, but they get signed on to good teams because they know the ins and outs of basketball.
Well, Kurt Thomas has been in the league since 1995 and has been on a playoff team every year but once since 2004.
I can easily see Thomas as an assistant coach within the next five years with a shot at a head coaching job in about a decade.
6. Steve Nash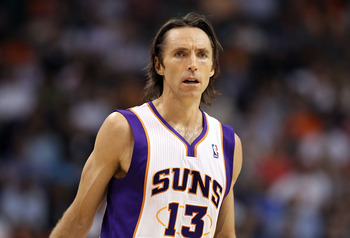 Christian Petersen/Getty Images
I think Steve Nash could get a shot at being a head coach, but I don't know if he could end up being a successful head coach. Scratch that, I don't think he could be a head coach of a team that gives up fewer than 104 points a game.
Nash could be the guy to follow in the footsteps of Mike D'Antoni or Don Nelson, picking up the offensive pace of his team, driving the score up into the triple digits every night.
He is (arguably) the best offensive point guard in the history of the NBA, so there's no real reason that he couldn't pass on his knowledge onto some young guard who could run his team much like the Suns have been run in the past few years.
5. Shane Battier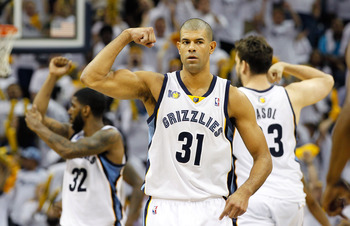 Kevin C. Cox/Getty Images
Defensive minds are always in high demand in the NBA, and boy is Shane Battier ever a defensive mind.
Possibly the most consistent small forward defensively speaking in the past decade, Shane Battier could defend almost any player in the league at his peak, and he would still take a run at it if you asked him to do it today.
He has a commanding personality, a great basketball mind and a defensive motor and drive that very few players have in the league today.
I could see the Grizzlies give Battier a call five years down the road to bring him in as a defensive assistant and then give him a shot as the head coach eventually.
4. Grant Hill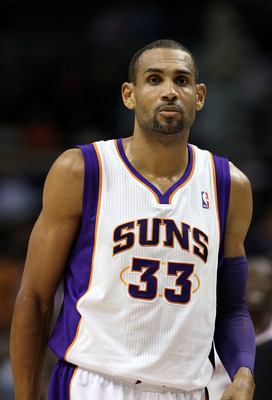 Christian Petersen/Getty Images
If there is one thing I would like most in a head coach (if I were a general manager of a basketball team, and I am open to job offers for whenever David Kahn gets fired) is determination, and very few players have half as much of it as Grant Hill does now.
Hill could have fallen apart, he could have gone nowhere after his days with the Pistons.
Ankle and leg problems nearly derailed his career, but he climbed his way back and completely altered his game when it was evident that he couldn't be the scorer that he once was.
On top of that, Hill has done nearly everything a basketball player could imaginably do except win a championship.
As a star player in Detroit, he ran the point for some time, leading the Pistons in points, rebounds and assists three different times. After injuries he became one of the best defensive players in the league.
3. Jason Kidd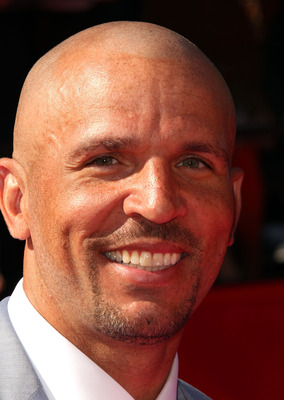 Frederick M. Brown/Getty Images
There isn't a more well-rounded point guard in the NBA in the past decade.
Since John Stockton left the league (and really for the last few years of Stockton's career), Jason Kidd took over as the point guard who can really do anything on the floor.
There is a reason Jason Kidd can get rebounds better than any other point guard we have seen in ages. He's a smart player, he knows just from where a person is shooting how the ball will react once it gets to the rim.
Whether it is something he actually learned and can teach or it's just some sort of innate ability to know instinctively I'm not sure, but as far as good point guards becoming head coaches go, Kidd would probably be able to get the job done.
2. Luke Walton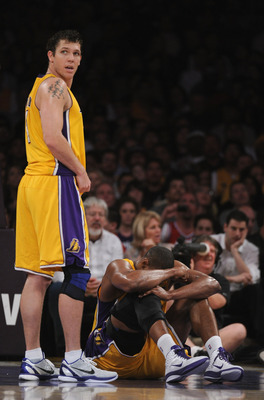 Harry How/Getty Images
Hasn't Luke Walton basically been an assistant coach for the past four years anyway? Plus, with the lockout currently keeping him out of the NBA, Walton accepted a temporary position with the University of Memphis.
Walton has been around basketball all his life and is the spawn of one of the greatest basketball minds in the history of the game, so he has to have some sort of knowledge in that big dome of his, hasn't he?
Walton may not be worth much on the court anymore, but I'm pretty convinced that he could take over the reigns of a team starting next offseason and do just fine for himself.
1. Derek Fisher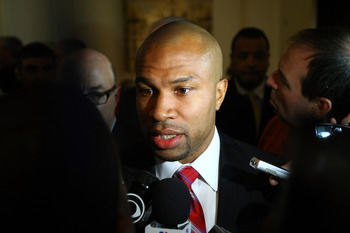 Neilson Barnard/Getty Images
Just look at Derek Fisher in that picture, doesn't he just seem like a coach at a press conference after a game?
There is no question that Fisher is a smart man. He wouldn't be President of the NBPA if he were a dummy. Plus he has run the point in some amount for five championship teams.
I think that you really get the best of both worlds with Fisher. He was a very good player for some time, although hindered a bit as the point guard in a triangle offense, who is traditionally underutilized in such a scheme, so he has had to scrap to stay relevant in the league.
I have always considered Fisher to be one of the most cunning players in the league, although he is constantly overlooked, something he doesn't seem to care about. He does what is best for his team, and in the end, that's what you want from a head coach.
If you are one of those twitterers, you can follow me @JDorsey33.
Keep Reading