Absence from Pro-Am Leagues Beneficial for Carmelo Anthony, Amar'e Stoudemire
September 15, 2011
Whether it's on an outdoor court or inside a small college gym, pro-am summer leagues give fans an up-close and personal glimpse of some of the NBA's elite that they may otherwise never get at an NBA arena.
They also offer fans the opportunity to wet their NBA appetites year-round. And, in the midst of a lockout that could potentially jeopardize the entire upcoming season, the summer leagues are a last glimmer of hope for us to latch onto.
While Kevin Durant was busy dropping 66 at Rucker Park and wooing spectators with the types of performances you'd have to see to believe, New York Knicks stars Carmelo Anthony and Amar'e Stoudemire spent their summers in relative obscurity—at least basketball-wise.
Aside from touring China to promote the Nike brand and serve as ambassadors to the sport, the spirit of hardwood competition didn't play much of a role in either athlete's lives over the course of these scorching months.
Until recently, Stoudemire had been incapable of engaging in normal basketball activities due to a back injury sustained during pregame warm-ups prior to Game 2 of the playoff series versus the Boston Celtics.
Rumor has it, Stoudemire was so adrenalized in the layup line that he attempted a dunk in which he touched the top of the glass with one hand and stuffed the ball with the other. Making matters worse, the only player in the league remotely capable of pulling that off—Dwight Howard—hasn't even done it during All-Star Weekend's Slam Dunk Contest.
Similarly, Anthony was out of commission following the Knicks' swift postseason exit and into early summer as a result of an ongoing bout with bursitis in his right elbow.
He did pop up briefly on Aug. 30 in a star-studded affair representing Baltimore on his own Melo League team against Kevin Durant and the Washington D.C.-based Goodman League squad. Anthony didn't miss a beat as he fired away from deep and converted a few slick moves to the hoop, but this is the only appearance he's made thus far.
Instead, Anthony has preferred to lay low with family, travel and sightsee or attend local events such as the Jets vs. Cowboys game at MetLife Stadium.
The inability to maintain on-court visibility during the offseason, unlike some other high-profile players, may have damaged their popularity in the eyes of diehard followers. However, this time spent away from the game—whether by choice or doctor's orders—has been beneficial to both of them.
Clearly, the extended rest has allowed their bodies to heal, but it goes beyond that; there are certain aspects of summer league competition that can prove detrimental to a player's development.
The atmosphere at these pro-am summer league games has an aura about it much like the All-Star Game. Fans purchase tickets to witness the spectacular, and the players feel obligated to go above and beyond expectations.
Very little focus is placed on defense because all anyone comes to see is scoring, scoring and more scoring. It is a chance for competitors to demonstrate their favorite street-ball moves that any professional coach would frown upon.
As a result, players can acquire bad habits that may carry over into training camp.
Participants might be reluctant to admit it, but the objective of these games is not to win. It is to wow the crowd, and whoever gets the biggest rise out of the people in the stands is the man of the hour.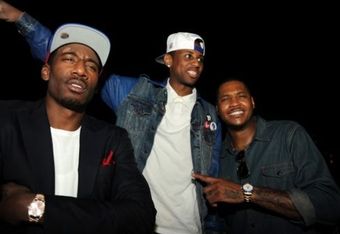 It's the windmills and 360s that repeatedly receive airtime on late-night sports highlights, and executing the most jaw-dropping, acrobatic dunk becomes every player's intent.
In the heat of the moment, the thrill of stirring the audience into a frenzy trumps one's better judgment. The player could unintentionally overexert themselves, leading to serious injury.
As a case in point, let's revisit Stoudemire's catastrophe in Boston. He was caught up in the moment and let his emotions get the best of him, too. Not only did he pull a muscle in his back that left him immobilized, he also may have cost his team the series.
Obviously, this injury didn't occur during the summer league, but you get my drift. The same rules apply.
A freak accident can happen at any time, but by taking part in these pro-am exhibitions, players are putting themselves in harm's way and increasing their odds of getting hurt.
Knicks fans should be thankful that summer is almost over, and the faces of the franchise made it through unscathed. Now, let's just pray there is a season to make it all worthwhile.