5 Reasons the Toronto Raptors Could Be a Playoff Team in 2012 (or 2013)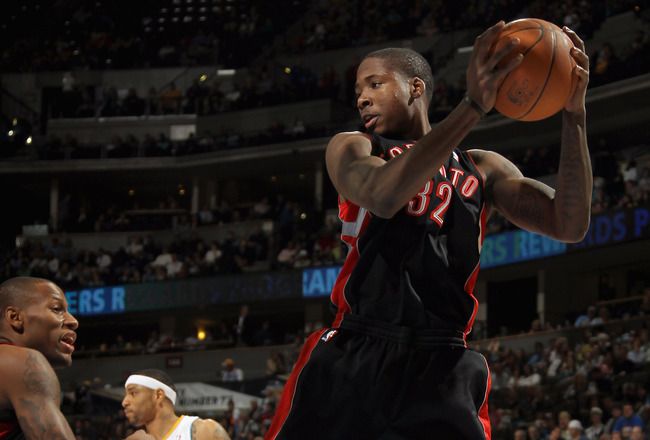 Doug Pensinger/Getty Images
The Toronto Raptors are a young, talented team that's on the rise; when the NBA lockout ends and there is a season, they will have a good chance to make the playoffs.
After years of bad draft picks, the Raptors have finally been able to string together a few years of solid selections. With DeMar DeRozan, Ed Davis and Jonas Valanciunas, the 'Raps have a possible plethora of superstars.
Veterans like Andrea Bargnani, Jose Calderon, Reggie Evans and Amir Johnson will also look to carry a lot of the load.
New head coach Dwayne Casey looks to bring a new mentality after winning the championship with the Dallas Mavericks; let's hope he can turn one of the youngest NBA teams into a perennial playoff power.
Plenty of Scoring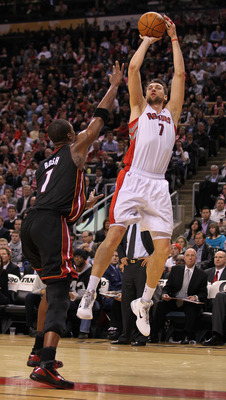 Claus Andersen/Getty Images
Andrea Bargnani is one of the best scorers in the NBA at the center position; this is because of how good he is shooting the basketball.
He can stroke it from anywhere on the floor, and is a more than competent three-point shooter.
Jose Calderon is one of the most efficient passers in the entire NBA. He rarely turns the ball over and can easily rack up 10 assists if teammates are playing well.
DeRozan is a slasher-type player, who will certainly be a better player after this prolonged offseason. He is constantly working hard and is always looking to improve his game.
Linas Kleiza, Amir Johnson, Jonas Valanciunas, Ed Davis and James Johnson also have the potential to add at least 10 points per game each night.
Depth at Center and Power Forward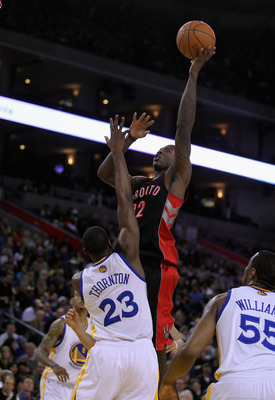 Ezra Shaw/Getty Images
NBA big men are hard to find; many teams are forced to go with smaller lineups or play big athletic pilons. Big guys who can rebound and score are a rarity in the NBA.
The Raptors have five guys that could start at either center or power forward on any given day. Bargnani, Davis, Amir Johnson, Reggie Evans and rookie Jonas Valanciunas will all be more than capable options.
Weak Eastern Conference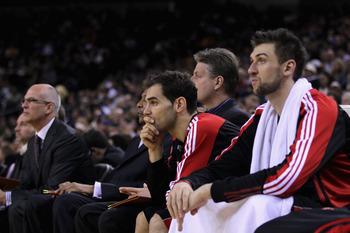 Ezra Shaw/Getty Images
The NBA's Western Conference is undoubtedly better than the Eastern Conference. That's clearly evident when teams like Indiana make the playoffs with a losing record.
The Raptors are in the right place if they want to make the playoffs. 37 wins was the number that the Pacers had last season to make the playoffs; that's not a very high number.
If Dwight Howard goes to the west, Orlando won't have a shot at all to make the playoffs. That would thin out the conference even more.
New Head Coach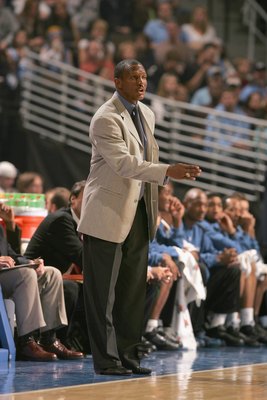 Doug Pensinger/Getty Images
Dwayne Casey is coming off of a championship run with the Dallas Mavericks. Rick Carlisle has said that Casey was his defensive coordinator during his tenure in Dallas.
Casey used to show defensive footage to his players with hockey hits spliced in. He did this to get his players to be more aggressive and it clearly worked, judging by the way that the 'Mavs played
The Raptors biggest weakness last season was their terrible defensive play. Casey is definitely the guy to help them turn it around.
Youth and Underdog Mentality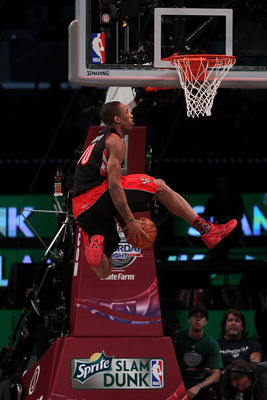 Jeff Gross/Getty Images
Being favored by too much is always a bad thing. Teams stop working hard and believe that they're too good. The Raptors certainly won't have that problem.
After a 22-win season, the Raptors can only go up (I hope). With a young core and a new coach, things are looking up. The Raptors will be underdogs in every game and will come out fighting every night.
Keep Reading

Toronto Raptors: Like this team?