NY Knicks: What Amar'e Stoudemire Can Teach Blake Griffin After Knee Surgery
September 7, 2011
He may not have dunked over a Kia Optima or posterized an unnamed 7'1" center at such a ridiculous altitude that he literally whipped the rock like a baseball through the cylinder, but Amar'e Stoudemire also took the NBA by storm as a rookie eight years before Blake Griffin.
Drafted ninth overall in 2002 straight out of Cypress Creek High School, the league had never witnessed this level of raw athleticism and explosiveness at the power forward spot.
In Stoudemire, the Phoenix Suns discovered a 19-year-old with an NBA-ready body who was also a work-in-progress. However, his relentless ferocity around the rim made for plenty of highlight-reel facials and alley-oops.
In no time, Stoudemire became a household name and captured the 2003 Rookie of the Year Award. Sound familiar?
While the final outcome is similar, the path Griffin took to get there is rather unique.
The Los Angeles Clippers were anxious for the 2009-10 season to get underway in order to see if their No. 1 pick was all he was cracked up to be. An impressive preseason was foreshadowing a promising rookie campaign.
Then, to Griffin and the team's dismay, he suffered a non-displaced stress fracture to the left patella during an exhibition game on Oct. 23. In layman's terms, he had broken his left kneecap.
Just one week before Opening Night, Griffin was blindsided by this season-ending injury that ultimately required surgical repair via a two-step procedure.
After a successful operation and a summer of strenuous rehab, Griffin certainly was flying under the radar heading into the 2010-11 campaign; fellow class of 2009 alumnus Tyreke Evans' first-year accomplishments had placed him in the company of all-time greats, and incoming draftees John Wall and Evan Turner were all the rage.
It was the ideal arrangement for Griffin to return like a gangbuster, stun the NBA and give Clippers fans a reason to show their faces at the Staples Center.
With all the lofty expectations typically placed upon a first-overall pick, Griffin still managed to shock us all in grand fashion.
No one had ever seen a player perform an above-the-rim act of this variety during competition. Heck, I'm not even sure LeBron James has the gift to pull off the kind of inconceivable slams that had only previously been executed by gamers with joysticks in-hand.
And yet, somehow Griffin makes the humanly impossible look effortless.
The hype surrounding Griffin reached a fever pitch during a matchup with the New York Knicks on Nov. 20, 2010. Not only did he rattle off an entire season's worth of SportsCenter Top 10s, but he also amassed a stat line of 44 points, 15 rebounds and seven assists.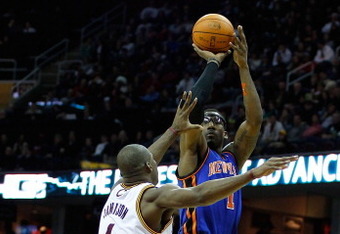 Jared Wickerham/Getty Images
Stoudemire, who went head-to-head with Griffin for much of the night, dwarfed in comparison with 39 points, 11 rebounds and two assists—a monster game by anybody's standards, but not in this context.
Blake Griffin had arrived and a new superstar was born.
Griffin never looked back. The 22-year-old boy-wonder demolished opposing defenses and catapulted out of gyms everywhere, compiling triple-doubles, appearing in February's All-Star Game and sweeping the ROY vote.
He was an unstoppable muscle mass of boundless energy who displayed no signs of fatigue or susceptibility to injury, starting all 82 games.
During his award-winning inaugural season, Stoudemire was also a model of consistency; he appeared in every game. But by the fall of 2005, his reckless-abandon style of play had caught up with him.
It was during training camp that the pain in his left knee had become too unbearable. Stoudemire underwent microfracture surgery to repair the defect, essentially eradicating his entire 2005-06 season.
Any athlete coming off of knee surgery knows they must reestablish their ability to stand, walk and jog prior to running. For a basketball player, this means there's a window of opportunity to practice the art of shooting.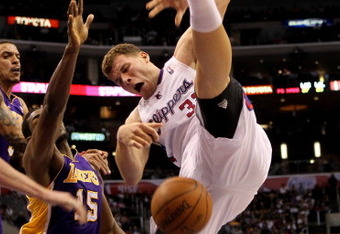 Stephen Dunn/Getty Images
Before jumping can resume, it's not uncommon to catch a recovering player shooting flat-footed, with an emphasis on perfecting their form. Once they've rehabilitated to full health and mobility, the time dedicated to shooting will have paid off.
Since microfracture surgery is a relatively cutting-edge process, not enough data has been compiled to determine an accurate success rate. However, based on the analyses done thus far, in general, the outlook has not been promising.
As a result, Stoudemire has slightly modified his game in the wake of his operation to accommodate a career of longevity.
While thunderous dunks and vicious blocks are still major staples, Stoudemire has implemented a low-post game rather than constantly attempting to barrel through and leap over opponents as Griffin does.
Most importantly, Stoudemire has drastically improved his outside shot to an extent that he possesses legitimate three-point range that he won't hesitate to flaunt if left open. Recently, Stoudemire even won a three-point shooting contest during a trip to China.
These supplementary weapons in Stoudemire's offensive arsenal serve double-duty. Not only do they make him a more formidable force, but they also assist in relieving some of the stress on his lower extremities and save him from constant grounding and pounding.
Stoudemire has shown no ill-effects in his surgically-repaired knee throughout the last six years, and his balanced attack has undoubtedly contributed to maintaining his physical well-being.
Normally, sportsmen and women are encouraged to put forth 100 percent when on the playing field or—in this case—the court. But, given Griffin's rambunctious vertical approach to the game, the wear and tear on his legs could prove to be career-threatening unless he diversifies and slows things down on occasion—especially considering he's already suffered a serious knee injury so early on.
A boring, mid-range, turnaround, fade-away bank shot periodically peeks through Griffin's offensive fireworks extravaganza, but this is a start, and it's likely a component of his game that he's worked hard to develop this summer.
While Stoudemire is currently in his prime, it's scary to think Griffin has years to evolve before entering his. Nonetheless, Griffin's youth increases the odds of him getting hurt as even more productive years loom on the horizon.
No athlete can play with confidence if he frets over bumps and bruises, but the prospect of another catastrophic knee injury is likely always in the back of Griffin's mind. Concentrating on enhancing the aspects of his game that will alleviate severe strain on his body will also help curb some of the mental unrest.
Just like it has for Stoudemire, this subconscious trepidation will eventually subside as more and more healthy seasons come to pass.
If Stoudemire isn't already one of Griffin's role models, he certainly should regard him as a reliable mentor. Despite the age disparity, they are practically carbon copies of each other, and Griffin can learn some valuable lessons concerning career preservation from the author of one of the NBA's greatest comeback stories in recent memory.
Taking a couple of cues from Stoudemire could be the difference between Griffin fizzling out like Larry Johnson or going down in history with Karl Malone.