NBA: 3 Players the Washington Wizards Should Consider Trading Andray Blatche for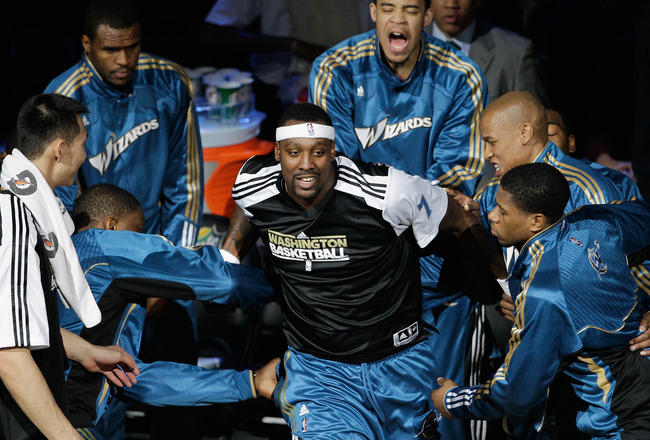 Rob Carr/Getty Images
Andray Blatche has been on the Wizards and has stayed on the Wizards.
Now they want him out.
Despite putting up 16 PPG, there are too many other problems with Blatche's game.
Blatche is just not the type of player the Wizards are looking for. He could not only stop the Wizards from progressing, he could also bring them back down a notch.
While he looks like a solid player on paper, Blatche lacks key elements that make up a good player.
His FG percentage is just pathetic for someone who scores so much. He consistently shoots less than 45 percent and looks only to shoot—not pass or be a team player. No one likes a ball-hog.
3. Brandon Bass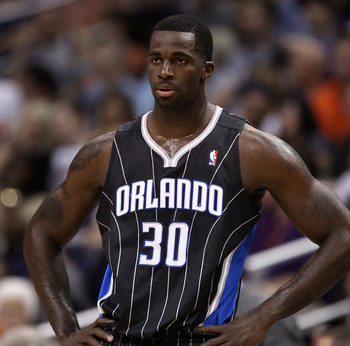 Christian Petersen/Getty Images
Current Team: Orlando Magic
Brandon Bass never fit in with the Magic. He was always "that other guy",while playing along with Gilbert Arenas and Dwight Howard. It would be good for both him and the Magic if he went to the Wizards.
Why Bass would make a better player for the Wizards than the Magic
Bass is not only a more proficient shooter than Blatche, but he is also not nearly as self-centered. In the same amount of time, Bass took 11.7 shots compared to Blatche's 15.9 shots, where they both scored close to the same amount of points. The only reason he only scored 15.5 PPG and 7.2 RPG last season was because he was playing alongside Dwight Howard and Gilbert Arenas. Dwight Howard not only can shoot and score, he can grab a lot of rebounds. If Bass wasn't playing with Howard, his rebound totals and his point totals would rise.
Why Blatche would make a better player for the Magic than the Wizards
The Magic are in a very tough situation. With star Dwight Howard only one year away from becoming a free agent, they need to improve their chances at winning a championship for him to want to stay. Blatche could provide an improved defensive position, thus improving the Magic. Blatche would be a fine fit for a new power forward and would be an excellent teammate for Howard. Blatche has improved his three-point shooting and developed an exceptional mid-ranged game.
2. Tyrus Thomas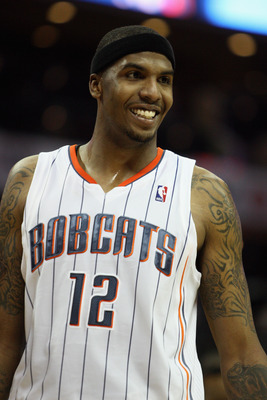 Streeter Lecka/Getty Images
Current Team: Charlotte Bobcats
Thomas would be a formidable asset to the Wizards, who are still in a stage of rebuilding.
Why Thomas would be better playing for the Wizards than the Bobcats
Thomas, like Blatche, has not found the right team to play for and is willing to change teams. Not only does Thomas not fit in with the Bobcats, like Blatche with the Wizards, he is not getting the playing time he needs and is sitting on the bench. With only 21 minutes of playing time, Thomas managed to score 10.2 points, grab 5.5 rebounds and 1.6 blocks. When Thomas started to play more, 33.9 minutes, the amount Blatche averaged when playing on the Wizards, he improved his stats all around scoring 16.5 points, grabbing 8.8 rebounds, and 2.6 blocks. In this amount of playing time, Blatche only averaged 16.8 PPG, 8.2 RPG and 0.8 BPG. Not only are Thomas's all-around stats better, he is by far the superior defender, the better athlete and the better teammate to many of the players currently on the Wizards.
Why Blatche would make a better player for the Bobcats than the Wizards
While Thomas has better all-around stats and is a better defensive player, Blatche is by far the better player. After trading Gerald Wallace and Stephen Jackson, the Bobcats are in desperate need of an offensive player. Blatche could also lead and develop rookie Kemba Walker if moved to the Bobcats.
1. Andrea Bargnani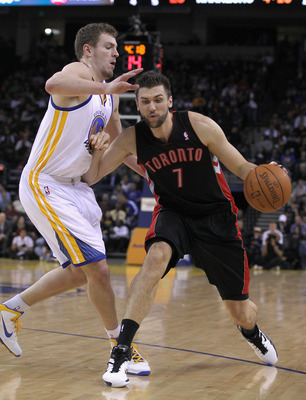 Ezra Shaw/Getty Images
Current Team: Toronto Raptors
Andrea Bargnani is the player that the Wizards so desperately need.
Why Bargnani would make a better player for the Wizards than the Raptors
The Wizards have lacked a good center ever since the departure of Brendan Haywood, a decent center who usually did his job. Bargnani would provide the big man affect and be a monster. While he failed to live up to the hype after he was drafted No. 1 in the 2006 draft, he is still a solid player offensively, He averaged 21.4 PPG last season. The only problem with Bargnani is his defensive abilities. Despite his 7' frame, he only managed to grab 5.2 RPG and 0.7 BPG. Toronto fans have seen him let guards and forwards breeze past him to make an easy layup. He needs to improve his defensive capabilities if he wants to start for the Wizards in the place of newly drafted Jan Vasely.
Why Blatche would make a better player for the Raptors than the Wizards
The Raptors are another team that is in the process of rebuilding. Blatche would make an excellent addition to the Raptors because of his defensive abilities and the ability to score. Despite being a power forward, Blatche average 8.2 RPG, three more than Bargnani, and provided more blocked shots. The Raptors would be getting a similar version of Bargnani on offense, with the exception of few points less, and a major improvement on the defensive end of the court.
Keep Reading

Washington Wizards: Like this team?