How to Fix the Houston Rockets: Blockbuster Trade for Dwight Howard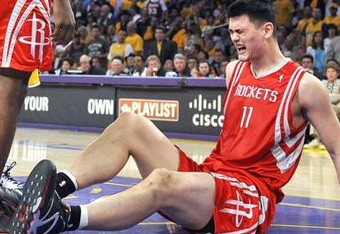 I admit it, I'm in denial. I've convinced myself that if I continue to pretend there is going to be an NBA season, it may actually come true. Yes, I realize negotiations are in the toilet right now but that isn't going to stop be from keeping up hope.
After all, I am a Rockets fan. Hope is all I've had to go on for the past eight years. Speaking of Houston...
The Houston Rockets finished 43-39 last year, good enough for last in the Southwest Division and ninth in the Western Conference. Their best and most recognizable player, Yao Ming, retired after losing a three-year battle with foot injuries and their leading scorer, Kevin Martin, doesn't have what it takes to carry a team.
After firing Rick Adelman, where do the Rockets go from here? Houston is currently hovering in no man's land (the worst place to be) and must make a decision soon on which direction the organization is going to head.
As many of you know, NBA teams either should try and win championships or bottom out and completely rebuild. Houston has too much talent to justify bottoming out, but they don't currently have the players to make a run at a title.
Without knowing the labor situation it's hard to posture about cap situations, but with Yao's $17.6 million coming off the books and only $47 million committed for 2011-2012, they would seem to be in a far better position than the majority of teams. Kudos to Daryl Morey for collecting assets over the years and maintaining a fiscally responsible payroll, but at some point he is going to have to make the blockbuster trade to justify the last three years—and I think he knows that.
But what are the trade options?
The most glaring weakness on the Rockets roster is currently a big man…no offense to Chuck Hayes, but you can't have a 6'6" center in the NBA and expect to win. So what are the options?
The two most logical moves are for Dwight Howard or Chris Bosh. Clearly Howard is the better option. He's younger, better and a true center whereas Bosh would just give Houston an all-around better version of Luis Scola. Howard and Martin make a one-two combination that could contend for an NBA title, but does Bosh and Martin? Maybe…but I think the Bosh/Martin duo would still need one more piece.
Ultimately, Howard is the player they have to try and trade for. I'm talking throwing everything and the kitchen sink at the Orlando Magic for him. If I'm Morey, I'd be willing to take a "Howard Tax" in the form of an unmovable contract, anything but Gilbert Arenas' contract. Agent Zero is untouchable but Houston could manage to pay for Hedo Turkoglu if it meant they got Howard.
That would mean a feasible deal could look something like this: Dwight Howard and Hedo Turkoglu to Houston, and Luis Scola, Courtney Lee and either Patrick Patterson, Chuck Hayes or Jordan Hill (two of the three) to Orlando. The Rockets should be able to use the Shane Battier trade exception in this deal and that would help make the salary cap situation work (again, assuming similar a salary cap situation).
Who doesn't do that deal? Houston gets a top-three player in his prime, the reason they have been hoarding assets the past three years, and Orlando gets quality NBA players in return for Howard and gets to move on from the Turkoglu deal.
Face it, Magic fans: Howard's not staying there (why would he?), so you might as well get as close to full value for your superstar as possible.
As far as Howard goes, he gets: a top-10 market; to play with a really good shooting guard in Martin and a point guard who understands how to feed superstars in Kyle Lowry; and no state income tax and really cheap real estate (you know he wants a house he can brag about). Plus, he gets mentored from the greatest Rocket of all time, Hakeem Olajuwon. For Howard, there's very little downside here.
Look, I'm a realist. I understand this deal is probably never going to happen, but that doesn't make it a bad deal or mean that Houston shouldn't even try. General manager Morey has spent the past three years collecting valuable assets like they were tickets at an arcade.
Well, Mr. Morey, it's time you traded in all those saved tickets for the biggest prize in the store. It's time you brought Houston that superstar you know you can't win without.
This article is
What is the duplicate article?
Why is this article offensive?
Where is this article plagiarized from?
Why is this article poorly edited?

Houston Rockets: Like this team?