How Michael Jordan Did in 2 Straight Years What It Took Kobe 15 Years to Do
August 29, 2011
Jonathan Daniel/Getty Images
As I was compiling compelling and substantial information which showed how Pippen was more productive in his first four years in the NBA than Kobe was in his first four, I came across an amazing fact that many people do not know (or do not want to know).
Aside from the fact that Pippen and Kobe both were bench players as rookies, they both averaged just under eight points per game. They both also shot way under 50%, and neither looked like the player he would later become. While they both steadily improved neither immediately took off. In fact, it took them both a long time in the league.
If we were comparing these two men to other players in their field, we would have to acknowledge that Shaq averaged 23.9 points as a rookie and Jordan averaged 28.2 points per game. But that's not the point of the story......
Also each had the most dominant player in the world at the time of their first ever title win four years later into their careers: Shaquille O'Neal (2000)and Michael Jordan (1991), who unbelievably both won NBA MVP, Finals MVP, and each led the league in scoring in those years too. Not only were Pippen and Kobe sidekicks they were sidekicks of two of the players with the most dominant individual seasons basically ever. But that is not the point of the story.....
The story clearly showed that in 1991 compared to 1987 (the year before Pippen came to the Bulls), 10 of the twelve players on the 1991 team were no longer Bulls, thanks to Jordan. The 1991 Bulls roster had only Jordan and Paxson left over from 1987, the year before Grant and Pippen arrived. Don't you realize that people trying to say Jordan never won a title without Pippen. Well, he sure didn't win his titles because of Pippen. But that is not the point of the story....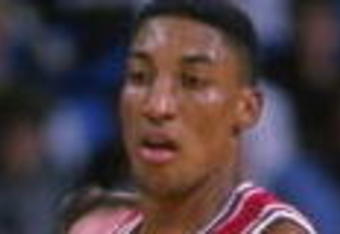 Mike Powell/Getty Images
He won his first because his entire new cast were team players who all deferred to Michael. After Pip's first season Jordan took Pippen to summer camps and worked with him closely every single day. By season four of Pippens career he did many of the things Michael did well, which is almost everything, but the point is he learned it directly from the GOAT. Jordan saved Pippen from a bad career, Pippen didn't save Jordan from anything. He actually only failed Chicago when Jordan was gone. But that's not the point of the story....  
The point is that while reviewing Pippen, Jordan, Shaq and Kobe's first title win seasons, I realized that Kobe Bryant's rookie year was in 1997 and his second year was 1998. It soon clicked that in 1997 and 1998 combined Michael Jordan at ages 34 and 35, not only won the NBA MVP award once, he also won the scoring title twice and he was Finals MVP two times...but that's not the point of the story
Do you get it? In his very first two NBA seasons Kobe Bryant literally saw Michael Jordan win one MVP (1997) , two Finals MVP's(1997, 1998) and two scoring titles (1997, 1998). Do you realize that in 15 entire seasons in the NBA Kobe Bryant has won one MVP, two Finals MVP's and two scoring titles?
So, when little Kobe was averaging 7.6 and then 15.5 points per game in his first two seasons he saw the greatest player ever win as many awards of domination and then retire, as Kobe has won in 15 full seasons in the NBA.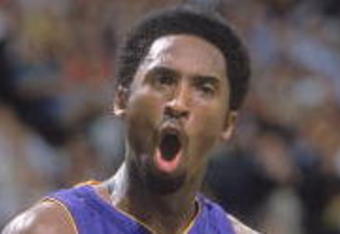 Ronald Martinez/Getty Images
All this amounts to me is further substantiation that MJ for sure the greatest player ever. Wilt shot 50% from the line for his career, if Jabbar dribbled the ball down the court he would lose it 90% of the time, Magic lost to Jordan in the Finals and Bird said he was looking at God disguised as Michael Jordan.
They all knew, and we all do too, but knowing how far ahead Mike is of the above listed guys is interesting but how far ahead he is of Bryant is sometimes baffling. Kobe will probably remember those two seasons forever because he saw one man win as many awards in two years as he has in 15 years.
 In fact Kobe has now played in 1,103 NBA games and Jordan finished at 1,072. Jordan scored 32,292 points in those 1072 games and Kobe has scored 27,000 in 1103 games. If he ever does pass up the total points it will be like when Karl Malone did it, lame.
Also, Bird and Jordan shot 50% from the field for their careers as did Shaq, Olajuwon, Wilt, Jabbar and many others like Malone and Barkley and Magic. Yet not once in 15 seasons has Bryant ever even hit 47% from the field.
Two other things Jordan did in 1997 and 1998 that Bryant will never do: win every single Finals he participated in.
 That is how Jordan did it!