Chicago Bulls Can't Take Part in Free Agency
August 21, 2011
I edited this article because, based on the comments, I didn't really make myself clear. In this article I tried to write that the Bulls do not have a lot of money to throw around, and that they should save it for Derrick Rose's extension, instead of taking part in free agency.  I do not think Rose will ever leave the Bulls, but I am trying to say giving Rose his hard earned cash is more important than signing a free agent.
First off, here are the Chicago Bulls' 2011-12 salaries, according to HoopsHype:
Carlos Boozer: $13,500,000

Luol Deng: $12,341,275

Joakim Noah: $10,000,000

Derrick Rose: $6,993,707

Kyle Korver: $5,000,000

Ronnie Brewer: $4,710,000

CJ Watson: $3,400,000

Omer Asik: $1,857,500

Keith Bogans: $1,728,000

Taj Gibson: $1,195,680

John Lucas III: $947,907
All this money comes out to a little over $61.5 million for 2011-12, with $50.1 million penciled in for 2012-13 depending on options being picked up.
Last season's NBA salary cap was $58 million, but here's the problem: According to SportsBusiness Journal, the NBA just proposed a salary cap cut to a hard $45 million cap as part of the NBA lockout negotiations, and it "would eliminate the current luxury tax provision." After negotiations between the NBA and NBAPA, plus with the phasing plan the NBA mentioned, the salary cap will probably be in the $50 million range, and it's possible the soft cap could stay intact.
Last year, the tax level was set at $70 million. If a soft cap remains, the tax level next season could be around $60 million and phased to $50 million in 2012-13.
The tax level is exactly what it sounds like. If a team goes over the tax level, it must pay a $1 tax for each dollar it spends over the cap. If the team is over the tax level by $5 million, in actuality the team has to pay $10 million—five to the player and five to the league in fees.
Let's say this potential scenario is how things go when the lockout ends. The Bulls are right at the projected tax level right now. If they add a player in free agency, by some means that will be created in the new CBA that allows a team to do so even over the cap, the Bulls are in trouble.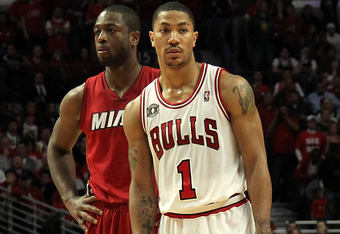 First off, the Bulls would have to pay the salary to the newly signed player. Let's go with a realistic scenario for a free-agency period that would begin if the lockout ended in time for 2011-12. J.R. Smith is a name that has been thrown out a lot as a decent fit for the Bulls this offseason. I'm not saying the Bulls are even interested, but Smith is of the same caliber that most mentioned shooting guards are.
Smith made a touch under $7 million last year. If the Bulls signed him for that figure, it would bring the team salary up to $68.5 million. But remember, $60 million is roughly where the tax level will be. This means the Bulls in actuality will have to pay $7 million to Smith and a little more to the league.
So the Bulls are now into the very beginning of the season, and it's time to extend hometown hero and MVP Derrick Rose's contract. There is no doubt that Rose is worthy of a max contract. It's not as if he didn't win the MVP in his third season—something Kobe Bryant, LeBron James or Michael Jordan never did.
A max salary for a player who's been in the league as long as Rose has is roughly $13.6 million. If the NBA got its way with a hard cap, the Bulls wouldn't even be able to pay that salary, just because they took part in free agency.
With a lowered soft cap as discussed, the Bulls would be paying roughly $14 million due to the hypothetical Smith signing.
Add in $13.6 million to Rose instead of the $9 million qualifying offer wrapped in the $50.1 million team cap figure for 2012-13, and you're adding roughly $4.6 million for Rose and $7 million again for Smith, putting the hypothetical 2012-13 team salary at $61.7 million. If that season's cap was phased down to $50 million, you'd have $11.7 million more in luxury tax fees.
The Bulls now would have to pay about $12 million on top of the original $62 million for the rest of the team.
The NBA, and the Bulls, are a business. The owners are interested as long as the team is making money and is profitable. But if the Bulls had to spend well over $70 million a year, it's not profitable. The Bulls wouldn't be able to sign anyone in free agency while also being able to afford an extension with Rose.
So I guess this whole, long article filled with a lot of numbers and math is basically saying this: Free agency as a way to improve the team is pretty much out if the league changes as it could—especially if the NBA got its $45 million hard cap—and it's not a solution for the Bulls if they want to keep Derrick Rose as well.