LeBron James: The Miami Heat Star's Worst Violation
August 19, 2011
LeBron James, the Miami Heat's often despised superstar, committed a sin which has NBA fans and media alike don't discuss.  A violation that begot such ubiquitous obloquy that James now makes even Casey Anthony seem endearing.
LeBron James is guilty of hijacking his own narrative from the media and fans.
This transgression—more commonly referred to as "The Decision"— has resulted in a reversal of public perception. Formerly lionized by all, and even anointed as the potential heir to Michael Jordan's vacated throne by some, James has since been excommunicated by the hoi polloi.
As a result, his critics can now be spotted everywhere:  sports sites, bars, basketball courts, nunneries, etc. Amazingly, their hatred hasn't ebbed over time but has seemingly escalated.
In addition to the gratuitous backlash James has received from fans, he's also been punished by the media for defying the story they had already outlined for him, as well:
There really is no legitimate argument for why Derrek Rose was rewarded the MVP award. The facts and incontrovertible evidence demonstrate why James deserved the honor, despite how much it pains most to hear it...
In addition to besting Rose in points per game, field goal percentage, rebounds, blocks, steals, and only trailing by .7 in assists, James also dominated Rose in advanced stats, which are arguably even more indicative of how valuable a player is to his team.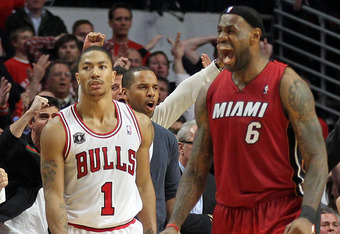 According to basketball-reference.com:
PER: James 27.3, Rose 23.5
Offensive win shares (an estimate of number of wins contributed by a player due to his offense): James 10.3, Rose 8.4
Defensive win shares: James 5.3, Rose 4.8
Win Shares (estimated number of wins contributed by a player): James 15.6, Rose 13.1
Couple this, along with the post-LeBron Cleveland Cavaliers 2010 record, and I find it difficult to believe the MVP vote had more to do with Rose's play than it did with James' contentious career decision.
However, despite popular belief, LeBron James doesn't owe anyone, anything.  
He essentially commandeered his own life's narrative and shifted it into a direction that fans hadn't anticipated.
James is a young man who wanted to join his friends in Miami, even accepting less money to do so.  He didn't break any laws, kill any puppies, manufacture methsicles or do anything that most people in his position wouldn't also do. I'm sorry if this didn't satisfy your prior plans for him.
Ironically, his purportedly selfish decision exposed everyone else's own selfish motives for him. But it's not about you.  Let it go.