Hate LeBron James All You Want, but Remember That You Created Him
August 16, 2011
Mike Ehrmann/Getty Images
Put yourself into the shoes of a 17-year-old high school junior. You come home from practice one day, and one of your parents asks you to go get the mail.
After grabbing it you notice a picture of yourself. It isn't a school photo form or a family holiday cards. It's the cover of Sports Illustrated. And you're on it with the words "The Chosen One" in big bold letters.
You walk around treated like a celebrity. Signing autographs, posing for pictures, being asked for interviews. You're being compared to Michael Jordan and constantly have scouts and college coaches raving about everything you do.
You're labeled as the future of basketball. And this all happens before you can even legally buy a cigarette or lottery ticket.
LeBron James never had a chance to be humble. He was told by everyone surrounding him that he was a star. He was the definition of a prodigy.
By the time he graduated high school he had donned the cover of Sports Illustrated, ESPN Magazine, and Slam Magazine. He had famous people such as Shaq going to his games that were now being shown on ESPN2.
A young LeBron was not only able to handle the pressure, he thrived on it. His on-court play never suffered. And because of that, the hype surrounding this kid from Akron, Ohio grew and grew.
With every incredible performance he put together, with every article written about him, with every basketball analysts that mentioned his name amongst the like of Jordan, Magic, Bird, the legend of LeBron grew.
It's not all the mainstream media's fault though. We as fans love stories like this. We think prematurely enough to label someone as a legend before he even gets drafted.
And despite LeBron having quite a big ego at a young age—posing in games after dunks, having camera crews following him around—we all loved it. We were all excited to jump on the LeBron James bandwagon.
Then he got picked first overall. Then came the $90 million endorsement deal from Nike before he stepped on an NBA court. Then -finally after all the anticipation- came his rookie season.
LeBron was a star from day one. All the buzz continued. The Jordan comparisons became louder. The media exposure grew, but LeBron was still being LeBron.
Putting a show in pre-game rituals. Walking around like he was a Hall of Famer despite being a rookie. But we bought into it because we were enthralled by him.
A few years passed, and LeBron had established himself as possibly the league's best and clearly its most talked about player. LeBron's ego grew with his legacy.
But that legacy grew because of us. We all wanted to talk about him. You'd run into your neighbor at the grocery store, "The kids starting school soon? Great weather we're having. You see LeBron's triple double last night?"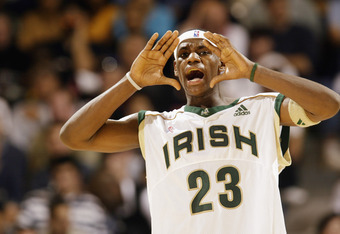 Stephen Dunn/Getty Images
The hate for LeBron began to grow as well. People brought up his lack of a championship. Some began to question his ego and if he was a good teammate. The overall feeling towards him was positive but he was no longer the golden boy.
Whether it was his refusal to shake hands with the Magic or his struggles in game 5 of the 2010 Quarterfinals people slowly began to not like LeBron.
Well, the 2011 offseason was where the feeling towards James turned from, "I think he's a little cocky, but he is really good" to, "I hate him, he's an (insert expletive here) and I hope he never wins."
I'm not trying make light of the mistakes James made with "The Decision." I'm just saying we all should have seen it coming.
We had all been talking about this offseason for two years. Every time LeBron played a game in New York fans held up signs asking him to go there and the press dominated the post game interviews with question about his future, two years in advance.
We all made predictions about where LeBron was going when we should have been focusing on the two years remaining on his contract.
Then on July 8th, 2011, LeBron took an hour of prime time national television to tell us he was taking his talents to South Beach. We all instantly bashed the spectacle he turned his free agency into—rightfully so—but we need to look into the mirror when throwing blame around.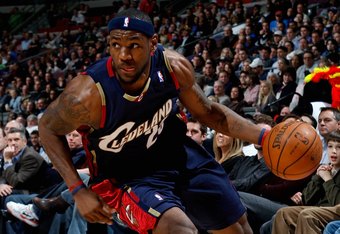 Gregory Shamus/Getty Images
Who was talking about the 2011 offseason in 2008?
Who was dropping city names like New York, Chicago and Miami when LeBron had two years left in Cleveland?
Who listened to and read about every little insignificant report about LeBron that offseason trying to figure out where he would go as soon as possible?
And who turned into ESPN at 8 p.m. on July 8th to watch "The Decision" instead of just looking it up online or dong something that wouldn't give LeBron even more attention?
If you're anything more than a very casual hoops fan, you are the answer to all of those questions. I'm no better, I was constantly checking ESPN.com for weeks during the offseason.
And then. when Cavs fans burned LeBron's jersey, when fans made him the most hated player in the league, when NBA legends began to criticize did it all come full circle.
We pretend to hate LeBron. Yet we're fixiated on his every move. We follow him on Twitter. We analyze his every step on the court. We made LeBron the monster he is.
LeBron's a narcissist, and we as fans can't be blamed for that, but we gave him the platform that allowed him to put it on display.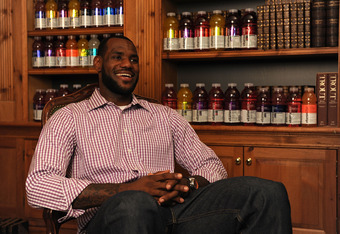 Larry Busacca/Getty Images
So when you root for him to lose, when you badmouth him in debates, when you criticize his entire persona just remember that without your love, hate and most importantly attention LeBron James is just another star player and not the figure he is.
Kanye West may have said it best, "It's hard to be humble when you're stuntin' on a jumbo tron." Could any human be humble in LeBron's shoes? I know I couldn't.
We'll continue to bash him, root against him, and minimize his legacy. But as long as we give him more attention than any other athlete on the planet, his legacy will only grow. If we treat LeBron like just another superstar than maybe that's how he'll act.
We won't do that though. Hell, I won't do that.
I'm not going to unsubscribe to LeBron's Twitter feed. I'm not going to stop bringing his name up in every basketball related conversation I'm in. I'm not going to stop caring. Why? Because LeBron's life and career makes for damn good entertainment.
Every movie needs a villain.
Love LeBron? Possibly.
Hate LeBron? Most likely.
Pay attention to LeBron?
I rest my case.
Follow me on Twitter @ZakKondratenko