New York Knicks Must Fire Mike D'Antoni If They Want To Win a Championship
August 15, 2011
Ezra Shaw/Getty Images
As NBA fans patiently wait and hope there will be a 2011-2012 season, every team must prepare under the assumption there will be one. So the first order of business for the Knicks must be to dump head coach Mike D'Antoni.
James Dolan made the right decision by letting Donnie Walsh walk. Now Dolan's history of "questionable" moves should garner some skepticism, but this one singular decision is one moment in time that the Knicks owner made the right move.
As a person Donnie Walsh is as well-respected an NBA mind as there is in the league today. As a general manager he is intelligent, meticulous and diligent in putting together a quality NBA roster. The one thing Donnie Walsh is not is a champion.
Not as a coach, as Walsh's career coaching record is 60-82 with one playoff win.
Not as a general manager, as the Indiana Pacers made the NBA Finals once and lost to the Los Angeles Lakers in six games.
James Dolan, like most NBA fans, wants to win a championship. Also like most fanatics, he is extreme and unyielding in his desire in obtaining the Larry O'Brien trophy. Dolan has made horrendous move after horrific move and has received his fair share of criticism for making those moronic moves.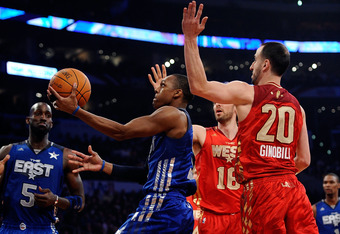 Kevork Djansezian/Getty Images
However, in this particular moment Dolan needs to no longer delay the inevitable and relieve D'Antoni of his duties. The coach who traded Rajon Rondo and said he would never make it on his team has peaked, and it should be apparent to all parties involved that the Knicks will never win a championship with D'Antoni at the helm.
His refusal to coach defense, yet alone bring in players who give maximum effort on the defensive end, has proven to be a flawed philosophy in the playoffs. In nine years as an NBA head coach, D'Antoni's teams have never ranked higher than 23rd in points allowed per game and 13th in opponent's field goal percentage.
What makes this so alarming is his teams have ranked in the bottom five of the league in opponents total points allowed and opponents points per game allowed eight of the nine years he has been a head coach. He is incapable of instilling a defensive philosophy that can be mildly successful, yet alone dominant. His lack of defensive competence ensures New York will not be having a championship parade any time soon.
His supporters will say he is a great offensive mind, but truth is he has been fortunate to coach great offensive players. This has allowed him to appear better then he actually is. The Knicks were and are infested with just all right. Both Walsh and D'Antoni have won division crowns, but neither has won nor seems close to winning a championship. So if you are not winning, you are losing. This may sound simple; however, it is the truest concept when dealing with sports.
The Knicks must replace all right with exceptional. Winners begets winners, period. It is no mistake the Lakers, Celtics, Steelers and Yankees are always competing for supremacy. They have people in place who have won before.
In short D'Antoni must be replaced by someone who has won an NBA championship, either as a player or as a coach. The Knicks must start implementing a championship atmosphere around their players and rid the organization of people who have not won the ultimate prize.
It is easy for people to provide complaints, but it is much harder for those same individuals to provide a reasonable change for those same complaints. Well, here is a change to go along with my complaint. The name that is about to be suggested will shock you. However, his resume and pedigree are unparalleled.
Rick Barry would be a perfect fit for the New York Knicks, and before you past judgment, read further. Barry as a player was an offensive force. He led the NBA in scoring in 1967 (35.5 points per) and four years later led the ABA in scoring (31.4 points per). More importantly in 1975, he along with Jamaal Wilkes, led the Golden State Warriors to their first and only NBA championship. The Warriors defeated a Washington Bullets team that had won 60 games that year.
Rick Barry's playing career alone would warrant instant credibility. The wealth of knowledge Barry would bring to the Knicks would be invaluable. This move would be met with some criticism, mainly because he is extreme and can be an irritant. He is all those things and more, but most of all he is a champion and a teacher of the game.
His four sons have all gone on to play basketball at the professional level. That is correct: Barry was able to teach the game of basketball at such a high level that it enabled four of his closet students to reach the highest level of play.
Barry would be the perfect selection, but sadly this choice seems far-fetched. Barry's commitment to excellence and basketball I.Q. are indubitable, but this hire seems very unlikely. Yet, a new coach is necessary if the Knicks want new results.
James Dolan has made it abundantly clear that he will make changes regardless of who is involved, and he is not concerned with what the masses think. So with Walsh gone and two of the most explosive players in the NBA calling Gotham City their home, the Knicks looked primed for championship runs, not playoff and possible division-winning runs. Their next head coach must be someone who can bring something to the table those players have not partaken in.
Firing Donnie Walsh was the first move in building a championship foundation, so it is imperative that the next move follows this blueprint.