LA Lakers: Ranking the Best Dunkers on the Lakers, from Worst to First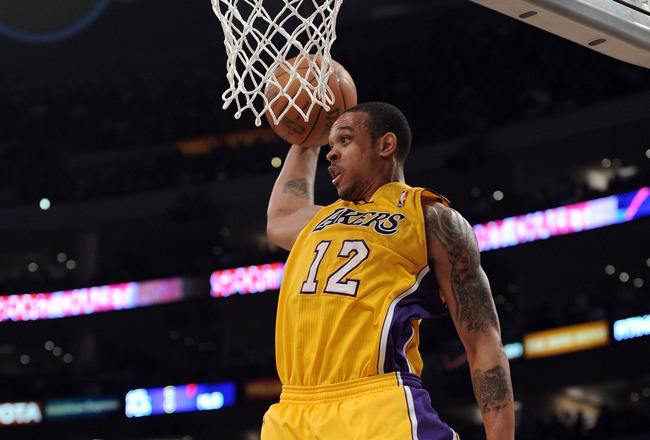 Harry How/Getty Images
Who is the best dunker on the Los Angeles Lakers? Many would likely say Shannon Brown, given his recent emergence as one of the league's best dunkers.
But how do the rest of the Lakers stack up against one another in the dunk department?
This article will rank the best dunkers on the Lakers from worst to first.
I left out rookies and players who averaged less than nine minutes a game last season.
Make sure to watch the video that accompanies each slide.
10. Steve Blake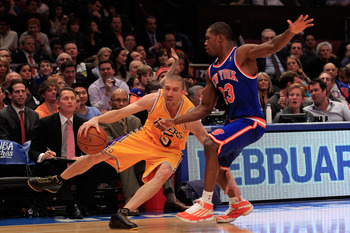 Chris Trotman/Getty Images
Sorry, Steve Blake; I have no choice but to name you the worst dunker on the Los Angeles Lakers. But this should come as no surprise. After all, you are a 6'3" point guard with no real leaping ability.
Also, unlike fellow point guard Derek Fisher, you didn't have any hidden gems on YouTube.
9. Derek Fisher
Derek Fisher has as many career dunks under his belt as Kwame Brown had quality games playing for the Los Angeles Lakers—not many.
But that's not to say Fisher has never dunked.
Check out the video to see Fisher dunk on Allen Iverson in the 2001 NBA Finals.
8. Luke Walton
With his lack of playing time and athleticism, Luke Walton rarely flushes home a dunk.
But Walton had a fantastic dunk on ex-teammate Ronny Turiaf a couple of seasons ago.
When Walton dunked on Turiaf, I am sure his father, NBA legend Bill Walton, was cheering frantically, rocking out to the Grateful Dead.
7. Ron Artest
Even when Ron Artest was in the prime of his career, winning the Defensive Player of the Year Award, he didn't tally too many dunks.
I am sure Lakers fans wish he was able to throw them down with a little more confidence, considering all of the point-blank layups Artest has missed since joining the team.
When Artest is all alone on a breakaway, I usually cover my eyes.
6. Matt Barnes
Given his reputation as a "hustle" player, Matt Barnes often finds himself in the right place at the right time when it comes to dunking the ball.
Most of Barnes' dunks come from his efforts crashing the offensive glass or making a timely cut to the hoop.
While Barnes' dunks are few and far between, one has to appreciate the effort with which he earns them.
5. Pau Gasol
Pau Gasol is by no means a "bad dunker." Gasol was second on the team in 2010-11 with 73 dunks, which was good for 29th in the NBA.
But I can't help but think Pau could have more slams each season if he was a little more aggressive around the hoop.
At times, it appears as though Gasol could dunk the ball but instead decides to lay the ball in the hoop.
4. Andrew Bynum
Andrew Bynum ranked first on the Los Angeles Lakers and 25th in the league with 77 dunks in 2010-11.
While Bynum's dunks aren't as forceful as the ones Shaquille O'Neal threw down when he was playing in Los Angeles, they have certainly weakened a few backboards.
3. Lamar Odom
Given his ability to play all five positions on the court, Lamar Odom finds himself dunking the ball in many different situations, whether he receives a pinpoint lob pass, takes the ball coast to coast or slams home an offensive rebound.
As far as I am concerned, there is nothing prettier than seeing Odom drive the lane with his lanky left arm extended, getting ready to throw one down.
2. Kobe Bryant
Kobe Bryant proved his dunking ability to the basketball world when he won the Slam Dunk Contest as a rookie in 1996-97.
Since then, Kobe has provided fans with memorable dunks en route to establishing himself as one of the greatest players of all time.
While fans don't see Kobe throw down as frequently as he used to, he still blesses us with the occasional flash of brilliance, which was the case in last year's playoffs, when Kobe posterized Emeka Okafor.
1. Shannon Brown
Despite his overall inconsistent play on the floor, Shannon Brown has established himself as the team's best dunker and arguably one of the best in the league.
A combination of big hands, outstanding leaping ability and natural athleticism makes Brown a fantastic dunker.
In 2010, Brown became the first Laker to take part in the Slam Dunk Contest since Kobe Bryant won the contest in 1997.
Watching Brown thrown down jaw-dropping dunks has become a familiar sight for Lakers fans.
Keep Reading

Los Angeles Lakers: Like this team?