5 NBA Players We Wouldn't Miss if They Played Overseas
Ronald Martinez/Getty Images
The list grows by the day it seems. The threats and flirtations of today's NBA player performing abroad is real and more and more common.
What started with Deron Williams has continued to include at least one player from just about every NBA team.
Most of the guys whose names have been thrown around are guys the league and fans would miss, but here are five guys most people would probably pay to leave for various reasons.
Matt Barnes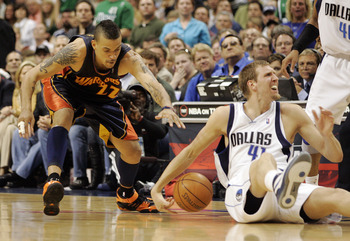 Brian Bahr/Getty Images
The fully tatted Laker maniac could easily take his thugged out approach to Tibet and nobody would care, not even followers of Basketball Wives. Barnes is generally surly and confrontational in nature, but doesn't bring a lot of talent to the table.
He isn't a big guy (by NBA standards at least) so it's a wonder someone hasn't Suge Knighted him during one of his attempts at intimidation.
I first noticed his tactics when he was a member of the Golden State Warriors. He was the main antagonist in the made-for-TV sports drama entitled Intimidating Dirk Nowitzki.
At the time, his behavior was acceptable because the Warriors pulled off such a huge upset, but recently it has gotten ridiculous. Barnes tried to sucker-punch a player in a San Francisco Pro-Am game a few weeks ago. Wow, some people really aren't dealing with the lockout well.
Barnes should contact the Himalayan HotStuff (just some team I made up) to see if they have a need for an over-aggressive, modestly talented small forward. Why? Because you're mean and we don't love you anymore.
Brian Cardinal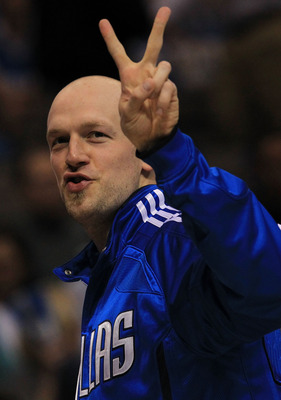 Ronald Martinez/Getty Images
If it's one thing I don't have a tolerance for, it is dirty players; it is even worse when they suck as bad as Cardinal does.
Cardinal has been in the league for 10 years, he's averaged five points per game for his career and he'll probably coach when he's done. For now, he's a guy that comes in the game to embarrass himself as nothing more than a guy with six expendable fouls to use.
Cardinal doesn't just use them, he tries to make you use your medical benefits. He looks like a cross between an overly aggressive phys.ed teacher and a disgruntled war veteran. Somebody please come and get him.
DeShawn Stevenson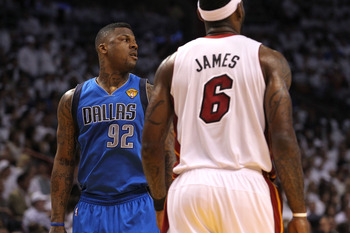 Ronald Martinez/Getty Images
When you are engaging in a "rivalry" with someone so clearly superior to you in almost every category, except tattoos, then you're really just making a fool of yourself. Stevenson's obvious jealousy towards LeBron James is juvenile and cause for therapy.
I know LeBron haters will probably say, "he has more rings than LeBron." Stevenson is about as responsible for that championship ring as romantic music is for sex—he was there, but they could've done it without him.
Some players strut and hot dog with style and charisma, like Deion Sanders. Stevenson's bravado has no charm or coolness at all. He is that little bad ass boy that rings your bell and runs.
I don't want to come off as a tattoo hater, but this kid doesn't have an inch of skin left to even put his initials on. If he does find a spot, I hope his next ink reads, "One way trip to the Siberian League."
Reggie Evans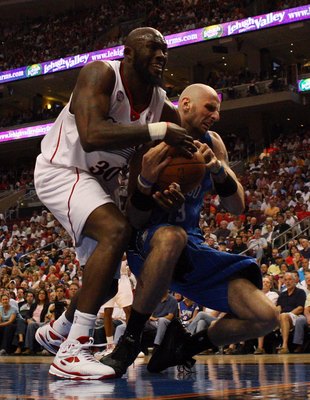 Jim McIsaac/Getty Images
Despite the fact that he went to Iowa, Evans is usually the kind of player I'd like; he's an undersized, hard-working rebounder and defender. I recognize and respect a guy with his talent level being in the NBA.
That was until he became forever known as the "ball-grabber."
In case you haven't seen it, check out the video. Reggie Evans grabbed a hand full of testicles, purposely, while fighting for a rebound with Chris Kaman. Why he would do this is beyond me. Kaman was so caught off guard, he didn't know whether to punch the guy or what and just shoved him to the floor.
Based on his penchant to violate opposing players, Reggie, please announce your intentions to play on Mars or wherever that type of behavior is cool.
Kevin Garnett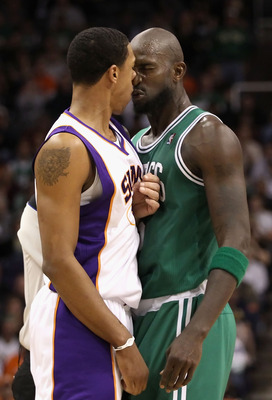 Christian Petersen/Getty Images
This pains me to write, as KG used to be my favorite player, but Garnett has not aged gracefully. He went from being one of the games most exciting and skilled to its dirtiest and most ornery.
The young KG would not have to resort to scowls and ball-punching to gain an edge on a player. When he took a shot at Channing Frye's "manhood," it reminded me of the bully in high school I wished would pick me as a target.
I can't stand bullies and it's especially concerning when it's someone who is so much better than this behavior—or at least I thought he was.
So, it is with deep regret that I present you with your fantasy plane ticket to play elsewhere. The league and its fans will not miss who you've become.
Keep Reading