NBA Free Agents 2011: Bold Predictions for Where the Top 10 Players May Sign
Mike Ehrmann/Getty Images
Between now and the beginning of NBA free agency, a lot of things need to happen.
Most importantly, the NBA owners and player's association need to come to an agreement on a new collective bargaining agreement. Currently, the sides are very far apart and it will take nothing short of a miracle to see the 2011-2012 NBA season start as scheduled.
But for a moment, let us pretend we are in an ideal world. A world where the NBA owners and players live in perfect harmony.
In this world, the rush for NBA free agents has already begun and it is an exciting time to be an NBA fan.
Here are my bold predictions for where the top 10 NBA free agents may land!
10. Tayshaun Prince, F, Age: 31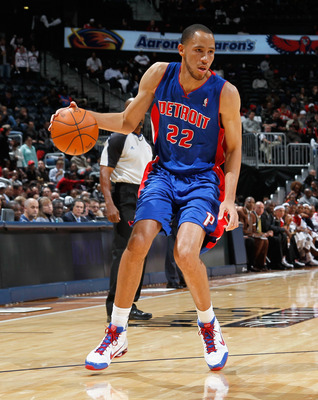 Kevin C. Cox/Getty Images
The Detroit Pistons still claim they want to see Tayshaun Prince back in the Motor City next year. For Prince's sake, this shouldn't happen.
He is 31 years old and with the Pistons looking like a bottom-feeder for at least the next couple of seasons, it would be best if Prince found a new home.
Still one of the league's best defenders, Prince relies on his lanky frame to go toe to toe with even the best of small forwards. His offensive game is also fairly impressive, relying almost completely on a jump shot.
At this stage in his career, Prince may be going to the team that coughs up the most money.
Where he could land: Indiana Pacers
9. Samuel Dalembert, C, Age: 30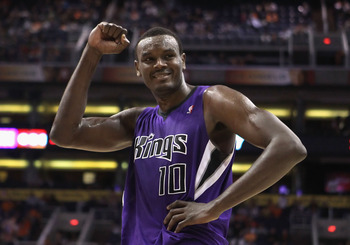 Christian Petersen/Getty Images
The need for NBA centers is huge right now. There are not very many solid, true centers left and Dalembert happens to be one that is available.
A very good shot blocker, Dalembert can more than hold his own on the defensive end of the court.
On the other side of the ball, he is a career 52 percent shooter.
Maybe most impressive, he is also very reliable. The big has only missed two games since 2006.
Where he may land: Miami Heat
8. Grant Hill, F, Age: 38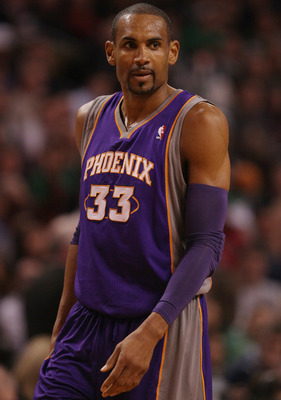 Elsa/Getty Images
Nearing the age of 40, this is most likely the last NBA contract Grant Hill will sign.
He would be a great player for almost any team that is willing to give him 15-20 minutes a game, especially a contender.
A wise veteran, Hill can knock down the big shot and then switch right into lock-down defensive mode. He will be a good pick-up if he can be had for a fair price.
Where he may land: Phoenix Suns
7. Caron Butler, G/F, Age: 31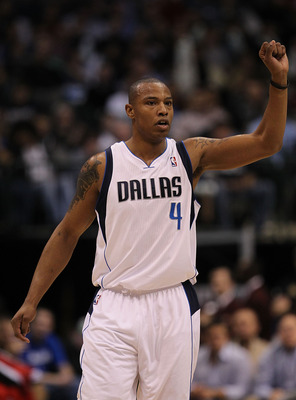 Ronald Martinez/Getty Images
This past season had to be difficult for Caron Butler.
Forced to the bench due to injuries, Butler watched his team succeed without him, eventually winning the NBA Finals.
And while I am sure it was nice to see his team win, it had to be difficult to merely watch.
Butler is a decent defender, who if he really puts his mind to it, is able to stop almost any player in the league.
On the other end of the court, he can knock down the three-ball from almost anywhere and is a great offensive weapon. He was also key in Dallas' transition game when he was on the court.
Where he may land: Dallas Mavericks (I know, that isn't very bold. I just don't see Mark Cuban letting Butler get away.)
6. J.R. Smith, G/F, Age: 25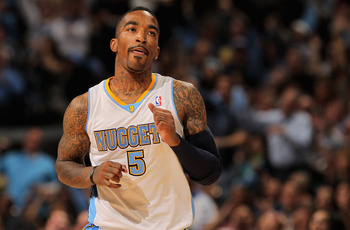 Doug Pensinger/Getty Images
With Nene also a free agent, it is highly unlikely J.R. Smith will be back in the Mile High City.
A very good player coming off of the bench, Smith is one of the league's most dangerous scorers when his shot is dropping. His extraordinary athleticism also helps his ability to make defenders look foolish.
Unfortunately, he is not the greatest of defenders. From my view, it is simply not caring about defensive since athletically Smith has all of the tools.
Regardless, he would be a great pick-up for many teams.
Where he may land: Minnesota Timberwolves
5. Jason Richardson, G/F, Age: 30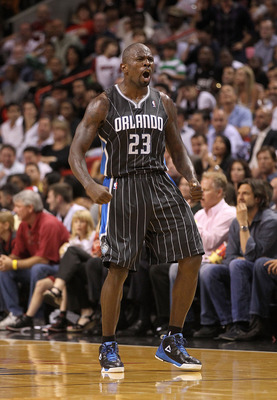 Mike Ehrmann/Getty Images
Jason Richardson has already made it clear he wants to play for a contender and he wants to be paid handsomely for doing so.
J-Rich makes the offensive game look easy when his shots are falling. And when they are, he is still one of the best pure scorers in the game.
For as a good of a shooter as he is, Richardson is almost an equally poor defender. It is almost unimaginable to think he will lock down the man he is guarding.
While the Orlando Magic will need to be creative in order to resign him, it is in the team's best interest to do just that.
Where he may land: Orlando Magic
4. David West, PF, Age: 30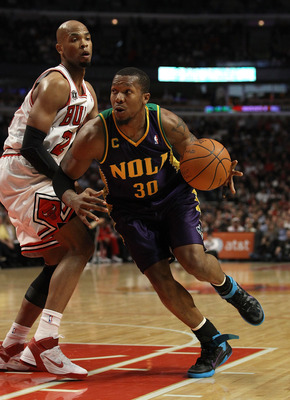 Jonathan Daniel/Getty Images
David West is a veteran player who has been very consistent the last few years despite dealing with a plethora of injuries.
West has a very solid jumper that helps him average almost 20 PPG. He can also turn his back to the hoop and score using a low post move if needed.
And although he is undersized at his position, West averages about 8 RPG.
Where he may land: Oklahoma City Thunder
3. Jamal Crawford, G, Age: 31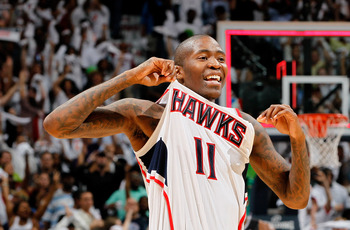 Kevin C. Cox/Getty Images
Jamal Crawford is referred to by many basketball fans as a player who can spark the offense.
Whether it is playing off of the pick and roll or hitting a pull up J, Crawford can seemingly do it all. That includes stepping back and shooting the long ball, which always seems to catch defenders off guard.
If Crawford was a better defender, he would be thought off as a much better player in the league. The fact of the matter is his defensive is poor at best. He will fit best on a team that can make up for a weak point on the defensive side of the ball.
Where he may land: Boston Celtics
2. Nene, C, Age: 28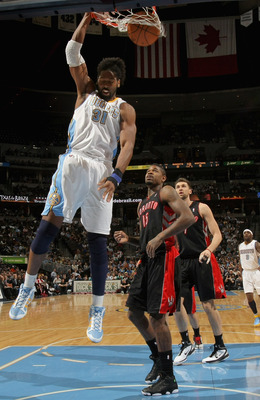 Doug Pensinger/Getty Images
Nene is the best pure center available in this year's free agency market, and one of the best in the league.
On the offensive end, Nene can attack with from anywhere. He can either shoot it in your face or take you to the rim and rattle it home, so pick your poison.
Defensively, Nene is just as good, if not even better. The only knock on him is his rebounding ability is below average for a center of his caliber.
Where he may land: San Antonio Spurs
1. Tyson Chandler, C, Age: 28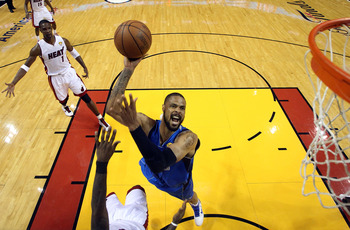 Ronald Martinez/Getty Images
Tyson Chandler played himself into the best free agent available this year during the playoff stretch.
A very rare player in the NBA, Chandler focuses on defense first. It provides a nice change of pace from all of these young guys thinking shoot first and then I'll try and stop my player from doing the same.
Also a very athletic player, Chandler will score the majority of his points off of hustle alone.
Where he may land: Dallas Mavericks (Again, not very bold but I can't imagine Mark Cuban watching Chandler walk away.)
Keep Reading