NBA Free Agency: The Miami Heat Need Brian Scalabrine
August 6, 2011
Rob Carr/Getty Images
I know the NBA is in the midst of a lockout that has held fans hostage for 36 days now, but one thing that is always pumping through my brain is what pieces will push certain teams over the top, especially the Miami Heat.
The Heat are the most interesting team out there, as they are constantly hogging media attention and are scrutinized to no end, as they well should be. They proclaimed themselves the top of the pack in the NBA with their celebration last summer before playing a single game together. From then on out, they became the most polarizing team in the NBA.
As most of you will be able to tell, I completely dislike the Miami Heat, how they carry themselves and how they went about creating their team. 
Sure, maybe I should respect the fact that their main goal is an NBA title. They sacrificed millions of dollars and their egos just to chase the gold. However, when they came together, their egos combined into one giant, pulsating orb of off-putting behavior and cockiness that I just can't stand.
Then there is LeBron James. He left Cleveland in the dust for the worst possible destination for his legacy. Sure, if he would have left my team for New York, Chicago or even Los Angeles (Clippers, not the Lakers) I would have been upset, but I would have still respected the man and his competitive drive. Now he has to earn that back—something he has yet to do.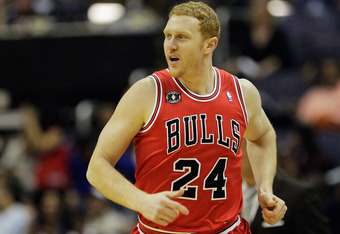 Rob Carr/Getty Images
Obviously, the Heat have the firepower to win a title. They have three of the top 50 players in the league today and two of the top five. They have no problem scoring or playing defense, so what is it they need?
Brian Scalabrine.
I'll wait while you finish chuckling. How could this big, goofy, most out of place guy everywhere he goes (seriously, the dude went to USC and his whiteness only pales to Chase Budinger, how does he not have a permanent sunburn?) twelfth man help the Miami Heat?
Think about what it is that Scalabrine does for a second. He is like Alka-Seltzer, settling the stomach of teams and keeping them strong at the same time.
Scal specializes in being a great clubhouse guy, keeping the rest of the people in the locker room at ease while working his butt off in practice to earn respect from the rest of the team. He walks the fine line of being a bench-warmer, but still positively impacts the team.
In the history of the league, there are few players quite as good at what Scal does as he is.  There is a reason that he has been to the NBA Finals four times, the Eastern Conference Finals five times and made it past the first round in the playoffs seven times in his 10-year career.
It's not that teams pick him up and then become contenders; it's that contenders pick him up to keep their locker room stable and defuse any problems with his quirkiness and hard-working attitude.
The Heat have pretty much every role necessary to win a championship filled. They obviously have holes at point guard and center, but they aren't huge issues, as they have LeBron and Wade both able to run the point and veteran minimum centers to fill in. They won't be great, but it will be a body down low, and sometimes that's enough.
They will have veteran presence and a three-point shooter with all of their old guys and Mike Miller locked up for the next few years, but they don't have that clubhouse guy, something it's hard to win a title without.
Think about it, in the past the Mavericks had Brian Cardinal, the Lakers had Luke Walton twice, Boston had Scalabrine, San Antonio had Matt Bonner, Miami had Michael Doleac, the Pistons had Darko Milicic, San Antonio had an aging Danny Ferry, and the Lakers had Mark Madsen for two of their Shaqobe Era titles and Travis Knight for another.
In short, every championship team since 2000 has had a big, goofy white guy with the exception of the 2005 San Antonio Spurs.
The Heat clubhouse at times seems like the stomach of a guy who just ate three-day-old sushi from a gas station. There is constantly things being said that shouldn't be said and just an aura of tension exuding from them, even though it's not being spoken, and Brian Scalabrine could be the Alka-Seltzer that that stomach needs.
If I convinced you that Brian Scalabrine is actually worth the money, follow me on Twitter at http://twitter.com/#!/JDorsey33