Why Derrick Rose and the Chicago Bulls Will Win a Championship Next Year
August 3, 2011
Mike Ehrmann/Getty Images
The Bulls reached the Conference Finals for the first time since the Jordan Era, and proved that Chicago is back and will be a serious force in the East.
Their leader is only 22 years old and is arguably the best point guard in the league. He's been working on his game, as he's added a reliable jump shot and three-point shot in addition to improving his defense.
A longer offseason due to a lockout gives guys like Rose a longer time to work on their game, which is exactly what they need. However, it deprives him of real on-court time, where he can put his skills to the test. A whole year of no organized basketball would be detrimental to a team like the Bulls, who just need more time on the court together.
Every player has bought into Tom Thibodeau's defense-first mindset, which has enabled them to get this far in the playoffs. But Chicago's starting lineup has two gaping holes.
First of all, everyone knows that they need to add a shooting guard. Keith Bogans would be a dependable guy in a seventh or eighth man position, but not as a starter. Derrick Rose has no reliable second scoring option, and as a growing player in the league, he can't take all the scoring load.
The second hole is at the power forward. Carlos Boozer did not live up to the huge contract that GM Gar Forman and owner Jerry Reinsdorf gave him last season.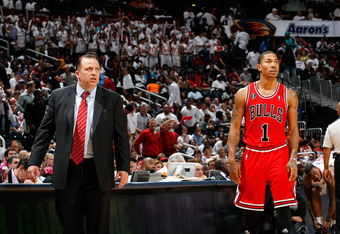 Kevin C. Cox/Getty Images
I'm not suggesting that the Bulls should trade him. His playing style definitely meshes well with Rose's and Joakim Noah's. He's just has to improve it, because his postseason performance was simply disappointing.
His minutes were nearly identical, but his scoring average fell five points to 12 per game. Although he continued to be a solid rebounder (almost 10 RPG), his overall offensive play was disappointing.
During the team's last game (Game 5 of the Eastern Conference Finals), they had what appeared as a strong lead against Miami.
But somehow, the Heat, especially LeBron James, who was criticized for his subpar fourth-quarter play in the following round, led an inspiring comeback to guide the team to victory.
As the Bulls gain more and more playoff experience, they, like the Oklahoma City Thunder, will only be better in these scenarios. Also, they're the best team in the East, and as proven by the Dallas Mavericks in the Finals, teams win titles, not individuals.
With Rose's improving firepower, Noah's solid rebounding, Deng's reliable shooting, and Thibodeau's great defensive schemes, there's no question that the Bulls can and will win it all next season.