L.A. Lakers: 10 Adjustments Mike Brown Must Make for Next Season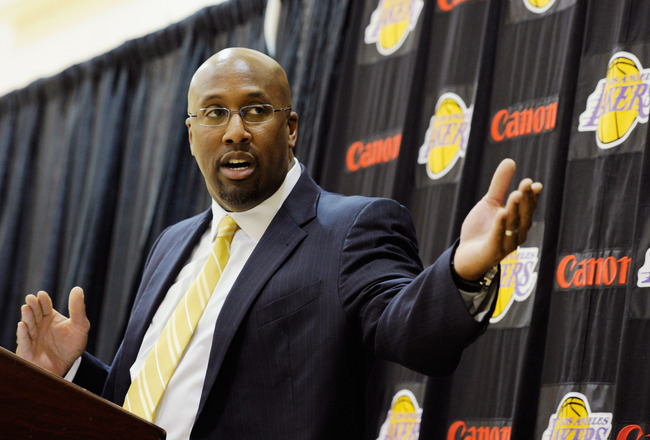 Kevork Djansezian/Getty Images
The 2011 NBA Playoffs had a terrible ending for the Los Angeles Lakers, and it seemed like things would only get worse when Phil Jackson retired as coach of the team.
After Jackson retired, the Lakers organization began its search for a new coach.
Although many believed assistant coach Brian Shaw would be hired by the organization, the Lakers chose former Cleveland Cavaliers coach Mike Brown.
As the Lakers' new head coach, Brown will face a great amount of pressure because expectations are high.
In order to continue the Lakers' winning tradition, Brown must make a series of adjustments to fix the team's flaws.
This is a list of 10 of those adjustments.
1. Defensive Intensity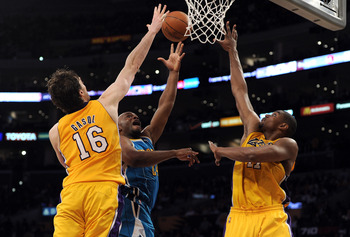 Harry How/Getty Images
One of the Lakers' biggest flaws was their poor defense. Their defensive mistakes caught up to them in Game 4 against the Dallas Mavericks in the second round of the playoffs, when they allowed the Mavericks to shoot 20-of-32 from the three-point arc.
One of the main reasons why Mike Brown was hired was because of his ability to coach defense. Brown took a mediocre Cleveland Cavaliers defense and made it one of the best in the league—the team was first in points allowed and field-goal percentage in Brown's fourth year.
He also transformed LeBron James into one of the best defensive players in the NBA.
In order for the Lakers to compete for a championship, they must improve their defense.
Players like Ron Artest and Kobe Bryant can thrive under Brown's new defensive system. However, Brown must improve the defense of Lakers big men Andrew Bynum and Pau Gasol—not that they're poor defenders.
There is no doubt in my mind that Brown will be able to do that.
2. Play the Young Guys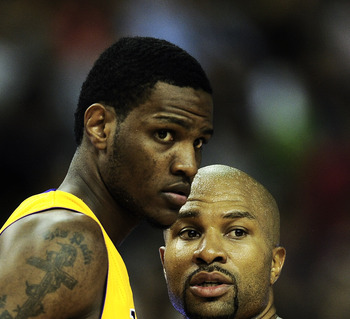 David Ramos/Getty Images
Another one of the Los Angeles Lakers' biggest problems is their old age.
Players like Shannon Brown and Devin Ebanks are athletic and are full of young energy.
In order to improve now and pave the way for their future, Mike Brown should infuse young energy into the lineup by giving his young players a chance.
3. Motivate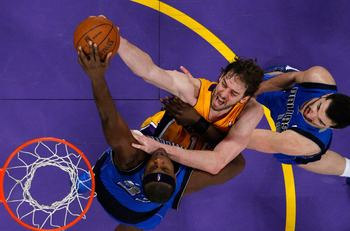 Kevork Djansezian/Getty Images
Yet another one of the Lakers' flaws was their lack of motivation.
At times during the regular season the Lakers were sluggish; this was especially true when they allowed Earl Boykins and the Milwaukee Bucks to dominate them by 19 points in the Staples Center.
During the playoffs, especially against the Mavs, a lack of drive was seen.
This lack of motivation eventually led to their demise.
4. Establish Offense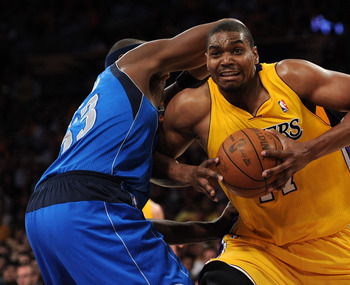 Harry How/Getty Images
Because Phil Jackson and Brian Shaw are gone and Mike Brown is in, it seems the days of the triangle might be over.
Thus, Brown must focus on how he wants his new team to attack offensively.
In his days with Cleveland, Brown's offense was very simplistic.
With the Lakers, however, Brown cannot win with a simplistic offense, especially because the Lakers have a number of great offensive players.
Because the Lakers have one of the best front lines in the league, Brown must focus on utilizing Andrew Bynum and Pau Gasol, while continuing to use one of the best players in the NBA, Kobe Bryant.
5. Adjust Starting Lineup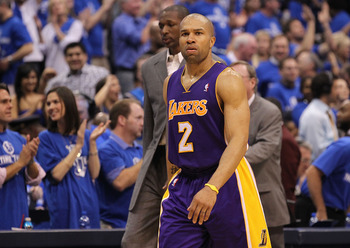 Ronald Martinez/Getty Images
Adjustment of the starting lineup heavily depends on the offensive system that Mike Brown decides to employ.
However, it is clear that Derek Fisher cannot continue being the starting point guard—he's old and is too slow for younger, elite point guards.
Some believe Brown should consider starting Lamar Odom at the point guard spot.
Those are the kinds of decisions Brown needs to make with this aging team.
6. Push for Trades and Signings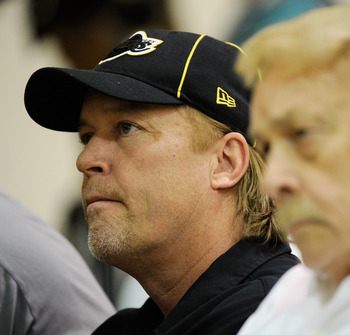 Kevork Djansezian/Getty Images
Pushing for trades and signings hinges on many of the other adjustments Brown must make, including the infusion of younger energy, the type of offense the team is going to run and the starting lineup.
With all the aging players on the lineup, it may be difficult for Brown to make the previously stated adjustments.
In order to make these adjustments somewhat smoother and to improve the team, Brown should push for trades and signings.
For example, if the Lakers don't have an appropriate solution for the point guard situation, it is vital that the organization makes some kind of move to improve the situation.
Because Jim Buss seems unwilling to make these trades and signings, it is important for Mike Brown to encourage them.
7. Manage Minutes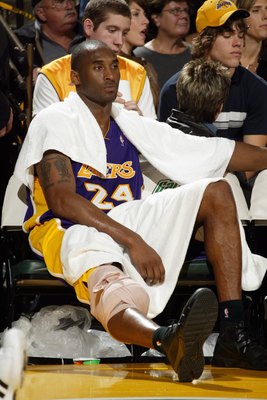 Otto Greule Jr/Getty Images
Yet another adjustment that relates to the Lakers' biggest problem: age.
It is important for Brown to manage the playing time of older players such as Kobe Bryant and Pau Gasol.
If he doesn't do so, the team may be doomed in the most important time of the year: the playoffs.
8. Take Command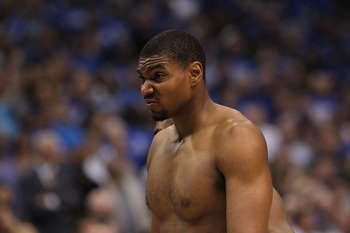 Ronald Martinez/Getty Images
The Lakers showed signs of immaturity in the 2011 playoffs, particularly in Game 4 against the Mavericks, when Lamar Odom and Andrew Bynum were ejected.
Mike Brown needs to hold his players accountable for their actions and have them realize that success isn't handed to you—it is earned with hard work.
In addition, it is important that Brown doesn't feel alienated by his team.
Clearly, Kobe Bryant wasn't fully satisfied with the hiring of Brown. Thus, it is important that Brown establishes a good relationship with him right away.
9. Adjust In-Game Adjustments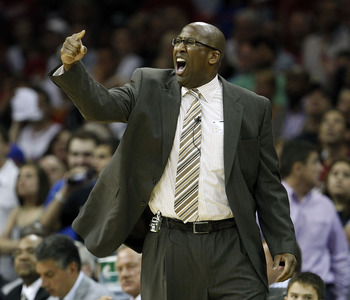 Gregory Shamus/Getty Images
This may seem redundant, but Mike Brown needs to adjust how he adjusts.
One of the reasons why Brown failed in the playoffs in the past was his inability to make good in-game adjustments.
Championship-winning coaches must possess that skill.
Already, Brown and the Lakers are expected to win, and it is vital that Brown improves his coaching so that expectations can be fulfilled.
10. Establish Team Solidarity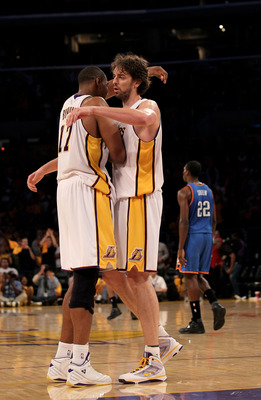 Stephen Dunn/Getty Images
After the Lakers lost Game 2 against the Mavericks in the playoffs, Andrew Bynum stated that the team had "trust issues."
What we learned in this year's NBA Finals is that teams with exceptional camaraderie win championships.
Mike Brown must establish team unity next season so that the Lakers can be contenders again.
Keep Reading

Los Angeles Lakers: Like this team?