The Top 10 Plays of Derrick Rose's NBA Career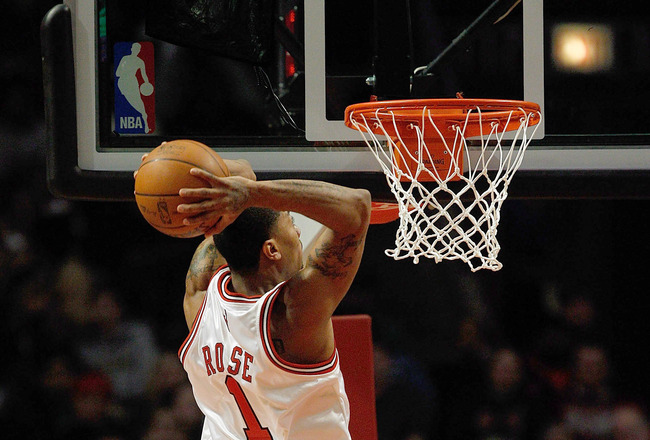 Jonathan Daniel/Getty Images
Derrick Rose is an electrifying player, to say the least. In his three seasons with the Chicago Bulls, Rose has become one of the best players in the game. He has also become a regular for ESPN's top 10 plays.
At 6'3", you wouldn't expect Rose to be able to deliver many electrifying dunks, but with his 40-inch vertical, he gets high enough to throw down as hard as any guard. Here are Rose's top 10 plays from his already impressive and highlight-filled career.
If I missed any, put a link down in the comment section. I would love to see it, and I think everyone else would like to see it as well.
10. Let's Get It Started with a Half-Court Buzzer Beater
Every good player needs to half a half-court shot in their highlight reel. It's not the flashiest of plays, but it's a nice preview of what's ahead.
9. Passing out Dimes
And they say this kid can't pass? A little crossover and Derrick Rose's court vision equates to pure beauty.
8. Give and Go with a Little Flash Added
Derrick Rose + Speed > Mike Conley
Derrick Rose + Speed + 40-inch vertical > Zach Randolph
7. Another Buzzer Beater to Send the Game into Overtime
Who else do you want with the ball in their hands in clutch time? Derrick Rose led the league with 47.8 points per 48 minutes of clutch time last year.
6. Gets the Blocked Shot Takes It Down the Floor for the 360 Layup
Derrick Rose shows off his defense, speed, quickness, agility and his ability to finish—all in one play.
5. Alley-Oop
Wasn't a great pass, but I think it made Rose look even better to go up and finish it. I think he got even higher than his 40-inch vertical here.
4. Derrick Rose Reverse Slam
If only Stacey King announced this one. How many point guards are able to create a dunk like this?
3. Derrick Rose Wants to Compete for Dwight Howard's Role as Superman
Derrick Rose wants to compete for Dwight Howard's role as Superman. You would think someone who is 6'10" could stop a 6'3" point guard. However, Rose is no ordinary point guard. Get out of this MVP's way.
2. I Wanna Go Higher
"I WANNA GO HIGHER!" proclaims Stacey King. "That was an elevator to the penthouse."
1. Derrick Rose Posterizes Dragic
Get out of the way, Goran Dragic. You are going to be on a poster in many kid's bedrooms, but for some reason I don't think this is the way you had planned it.
I can't decide if I keep watching it to see Rose dunk or to hear Stacey King go crazy.
Keep Reading

Chicago Bulls: Like this team?