Houston Rockets: Can Draftee Marcus Morris Step Up to Be a Star?
August 1, 2011
Ronald Martinez/Getty Images
For years, the Rockets were well-represented in the star department, featuring studs in Hakeem Olajuwon and Clyde Drexler in the '90s who eventually gave way to Yao Ming and Tracy McGrady in the first decade of the new millennium.
However, as has been well documented, the duo of McGrady and Yao lacked the depth of role players that every championship team needs.
Now, as the Rockets have restocked their cupboard with excellent supporting players like Chase Budinger, Kyle Lowry, Luis Scola, Courtney Lee and Kevin Martin, they lack the star to lead the squad deep in the playoffs.
Daryl Morey has explored nearly every avenue for landing a star in a trade or free agency, but has come up short in each of these pursuits. Instead, he has stockpiled young players and draft picks with the hope that a young star can emerge to lead the Rockets to greatness.
While young players like Terrence Williams, Patrick Patterson and even Jordan Hill have shown flashes of excellent play, the Rockets' hopes for a star coming from the current roster lay almost wholly on one person: Marcus Morris.
Morris, the Rockets' lottery pick out of Kansas, has the potential to be a tremendous offensive player as well as a solid defender, something the Rockets have not seen the likes of in years.
Typically, teams that draft the top players in college know more or less what they are getting with their draftee. With tons of tape at their disposal, teams can evaluate nearly every facet of a player's game.
However, because Morris was playing as a power forward instead of as a small forward as the Rockets envision him, projecting his NBA future is a much more inexact science.  
Let's break him down and see if he can become that star that the Rockets so desperately need.
Offense
As previously mentioned, Morris' game at the college level is not necessarily going to mirror his professional style because he will likely be shifting over to the small forward role at the NBA level. Still, it's easy to see the plethora of offensive weapons that Morris has at his disposal when watching tape on him.
With a silky smooth turnaround jumper and exceptional footwork in the post, Morris' game down low will have every small forward in the league struggling to check him with his back to the basket. With the exception of perhaps LeBron James and Ron Artest, Morris' physicality will be unmatched among his peers. 
Morris obviously will try to exploit as many mismatches inside as possible, but if forced outside he can still flash an underrated jump shot coming off pin-downs and spotting up. 
To put it simply, there seems to be little doubt that Morris will be a solid contributor offensively because of his ability to create mismatches and take advantage of them with his diverse offensive offerings. For a team like the Rockets who play a very team-oriented offense but lack a player who can get his shot on any place on the floor, he could prove to be a huge asset offensively. On defense, however, he has a few more question marks.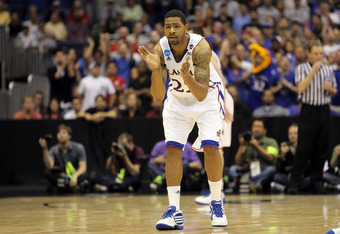 Ronald Martinez/Getty Images
Defense
Just as Morris' ability to create mismatches offensively will prove fortuitous to future success, it has the opposite effect on his defensive potential. Morris vowed that he would not be like Carmelo Anthony defensively, but his lack of lateral quickness could be an issue, especially with the number of teams opting to go with three-guard lineups in recent years.
Unfortunately, teams will likely look to take advantage of his slower feet, and while he has slimmed down this summer, it is difficult to imagine him becoming a plus defender because of his middling athleticism. The combination of the switch to a quicker game and to a quicker position could simply prove to be too much for Morris.  
Still, given Morris' strong drive and determination, there is no reason why he cannot become an average or better defender.
Conclusion
While Morris has an intriguingly diverse offensive game and a noteworthy work ethic, it is difficult to imagine his ever becoming more than just a complimentary player. Looking up and down the list of the star wings in the NBA, there is really one common denominator—elite athleticism.
Morris can compare himself to Carmelo Anthony as much as he wants to, but he is never going to be the athlete that Anthony is. That lack of athleticism is unfortunately going to hold him back from being more than just another cog on a good team.
This isn't an indictment of the Rockets' drafting strategy—there wasn't a prospect where they selected that looked like a potential star—but simply a consequence of circumstance. 
Morris appears poised to have a strong career as a solid starter, but those who expect much more are going to be sorely disappointed.