NY Knicks: Stoudemire's Contract May Be Franchise's All-Time Worst Investment
July 30, 2011
A week ago, today, marked the 10-year anniversary of former New York shooting guard Allan Houston signing his infamous six-year, $100 million contract. It's hard to believe 10 years have passed since management made the worst fiscal decision in the organization's 65 seasons.
Earlier this month also signified one year since the Knicks inked Amar'e Stoudemire to its second $100-million deal. At five years, it is the most lucrative contract in team history, and—like Houston's—it's fully guaranteed.
The comparisons don't stop there.
Houston had been in the league for eight years prior to receiving his blockbuster extension, while Stoudemire spent eight years as a pro in Phoenix before joining the Knicks in grand fashion.
Stoudemire was two years younger than Houston during the first season of his big contract, but the point is their bodies had already endured close to a decade of pounding at the NBA level.
In Houston, New York believed they'd found Patrick Ewing's successor as the face of the franchise for the new millennium.
He lived up to the hype, setting a career-high 20.4 points per game during the 2001-02 campaign. The following season, Houston bettered that by more than two points a contest, including a memorable 53-point torching of Kobe Bryant and the Lakers at the Staples Center—a personal best.
Similarly, Stoudemire experienced a resurgence in production over the course of his inaugural season in New York. Statistically, it was the third-most impressive on his nine-year resume. He even set a team record with nine consecutive 30-point performances.
All good things must come to an end, and that's precisely what happened when Houston's knees began to give out on him.
In years three and four of his deal, chronic pain forced him to sit out more games than he appeared in. Only active for 20 games during the 2004-05 season, Houston realized his body was broken down, and he'd become a liability.
So with a third of his contract remaining, Houston saved himself the embarrassment and called it quits two weeks before the 2005-06 season got underway. Naturally, the Knicks were obligated to pay up regardless if he was an active roster member or not.
Two years after retirement, in what would have been the final year of his contract, Houston made $20.7 million. Not only was he earning almost $4 million more than overpriced prima donna Stephon Marbury, he was just $300,000 short of Kevin Garnett, who was the league's highest compensated player during 2006-07.
Stoudemire's medical setbacks have been well-documented.
Between a microfracture operation on his left knee in 2005 and a detached retina in his right eye that was surgically repaired in 2009, Stoudemire's had some serious injuries causing him to forego a substantial amount of playing time. Due to the aforementioned issues, he missed a combined 108 games spread over two seasons.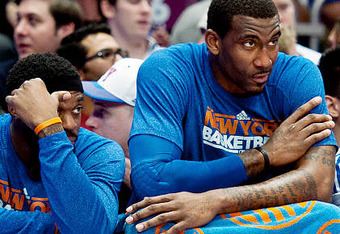 Based on these health concerns, the Phoenix Suns were disinterested in offering Stoudemire a maximum six-year deal, and other clubs involved in the 2010 free-agency hunt barely pursued him for comparable reasons.
Actually, few teams even viewed Stoudemire to be worthy of a max-contract and were unwilling to meet his demands. This is where New York stepped in.
Stoudemire fully surpassed expectations with the Knicks this past season, almost single-handedly keeping the team afloat for stretches at a time. He deserves the credit for shepherding New York to its first playoff berth since the Allan Houston era.
But, is it only a matter of time before STAT's luck runs dry, and he becomes an extraordinarily expensive, crippled burden as Houston once did?
According to a recent study, 24 NBA players who underwent microfracture knee surgery from 1997-2006 were examined.
Of these athletes, a third of them never returned to the NBA, a mere 58.3 percent came back and played for longer than a single season, and 76 percent were sidelined from an injury to the mended knee at least one game during their first complete season following surgery.
The analysis also showed a significant reduction in scoring and total minutes. A decline across all other major statistical categories was apparent as well.
In what was probably the most telling portion of the investigation, mathematical computation suggested the subjects involved were 8.2 times more likely to retire than players who hadn't undergone the microfracture procedure.
To date, Stoudemire is far and away the greatest success story of any NBA player who's recovered from microfracture, but scientific evidence does not indicate a bright future for the six-time All-Star.
The fact that Stoudemire is still recuperating from a back injury suffered in pregame warm-ups of a playoff game in April is not too promising. As he gets up in age, injuries could mount, and the chances his left knee becomes problematic increase exponentially.
Whether Stoudemire will defy logic and beat the odds is yet to be determined. But clearly, for New York to be locked into a deal with a player linked to such a grim outlook is risky to say the least.
Considering the acquisition of Stoudemire instantly transformed a team in dire straits into a contender is remarkable. And, the sense of hope that he instilled in a disenchanted community of fans has given them a positive disposition for years to come.
Stoudemire has carved out the beginnings of his path to Knicks greatness, but the road to glory may abruptly lead to a dead end. In the words of New York Yankees legend Yogi Berra, it could be "déjà vu all over again."
For more on the worst contracts in Knicks history check this out...