2011 NBA Free Agency: 5 Teams That Need Marc Gasol the Most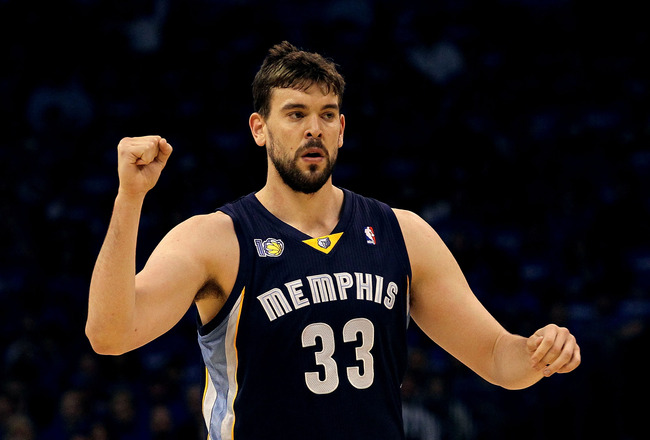 Ronald Martinez/Getty Images
Marc Gasol is arguably the best free agent available this offseason.
The 26-year-old capitalized on the Grizzlies impressive playoff run this past season and is going to be targeted by many teams once the NBA lockout is lifted.
He is a restricted free agent, which drives his value up, so he will be earning a nice paycheck when the time comes.
Gasol is young and talented, and the fact that he is a center makes him even more valuable.
There are plenty of teams out there that are in need of a big man, here is a list of five teams that need Gasol the most.
Houston Rockets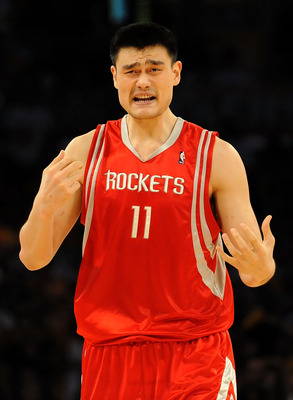 Harry How/Getty Images
Yao Ming has officially retired.
A position that has been filled for them since 2002 is now in need of replacement.
Gasol is the best center available in free agency, so expect to see the Rockets make a play for him.
The post combination of Gasol and Scola could be just what Houston needs to return to the playoffs.
San Antonio Spurs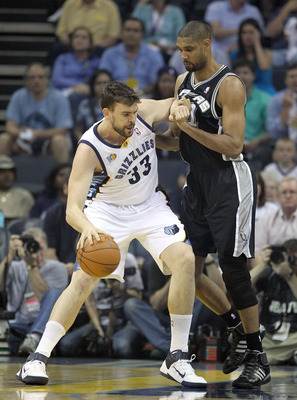 Andy Lyons/Getty Images
The Spurs got a first hand look at how good Gasol really is.
As hard as its going to be for Spurs fans to face, they are going to have to one day part with Tim Duncan.
They will do their best to re-sign him in 2012, but Gasol could be a replacement for Duncan or a good complement to him if they end up playing together.
San Antonio needs some new scenery on their roster, and Gasol could be just the guy they need.
Toronto Raptors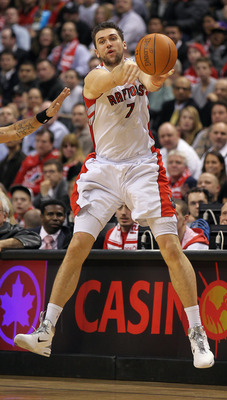 Claus Andersen/Getty Images
The Raptors have some money to play around with this offseason, and it makes sense for them to use it on Gasol.
Andrea Bargnani, the best player on the Raptors, is a center. It may not sound like it makes a lot of sense to sign Gasol, but it does.
Yes, Bargnani is a center, but he is soft defensively. The signing of Gasol would move Bargnani to power forward where he would likely excel.
Gasol would help out the Raptors tremendously on defense and would fit right in on a team filled with European players.
New York Knicks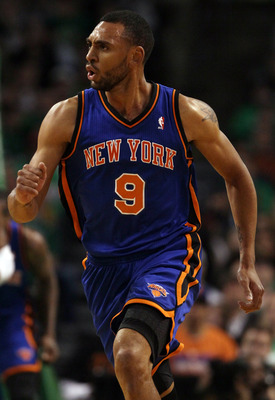 Elsa/Getty Images
It is no secret that the Knicks need help defensively.
If New York could somehow find the money to sign Gasol, pairing him with Amar'e Stoudemire and Carmelo Anthony would make the Knicks one of the most dangerous teams in the Eastern Conference.
Jared Jeffries, who was the starting center for the Knicks during their embarrassing playoff loss to the Boston Celtics, will not cut it next season.
The Knicks desperately need another big man, and Gasol could fill that void.
Memphis Grizzlies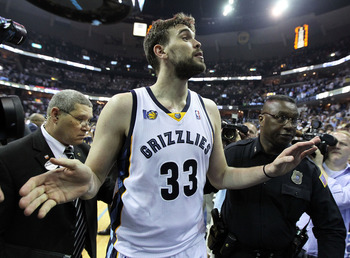 Andy Lyons/Getty Images
The Grizzlies' main priority once the lockout resumes will be to re-sign Marc Gasol.
After seeing what he did for them last season, it will be hard for them to see him walk away.
Memphis is an up and coming team, and losing Gasol would be a major step in the wrong direction.
Look for the Griz to do everything they can to keep Gasol in Memphis.
Keep Reading