Minnesota Timberwolves: What Kahn Needs to Do to Address Center Position
July 16, 2011
Elsa/Getty Images
There is a lot of speculation going on over who will play center for the Minnesota Timberwolves next season. Some believe this player may already be on the roster. Some think the Wolves will be able to grab a big man in free agency, but the option that isn't really talked about is the idea of possibly trading for a capable center.
Let's break down the Wolves' options, and see how this issue can best be resolved.
There has been talk that Anthony Randolph could be the one that steps up and becomes the starting center. Rumors about his weight gain are starting to surface, and many believe that if he has in fact beefed up, he could be the guy.
In my opinion, Randolph definitely isn't the right guy for the Wolves to play at center.
First of all, it's extremely unlikely Randolph has gained enough weight to compete with NBA centers. He was a twig last season, and he would really have had to put on some serious pounds to be considered a viable option at center. Even if he has gained the weight, it's unlikely he would be able to excel at the position.
Randolph is definitely best suited at power forward, but at this point in his career, playing small forward isn't much of a reach. He runs the floor very well, and has a developing low post game. The problem is that Randolph simply doesn't have the skill to play down low with the likes of Dwight Howard and Andrew Bogut. 
Randolph has been preparing to be a forward throughout his college, and NBA careers, and switching him to center now probably isn't going to work. While Randolph's athleticism makes him an exciting choice at center, his lack of experience, size and specific skills should crush his chances to start at center.
The other option Wolves fans are talking about is signing a free agent. There are a few good centers on the market this year, and among them may be a guy that could really help the Wolves. 
Many people like to think about what Tyson Chandler or Nene would look like in a Timberwolves uniform, but in reality, it probably isn't going to work out. Both of those guys are at points in their career that they would rather play on a contender than a young, developing team. 
Singing either of those guys would probably mean having to give them that extra year that no one else is willing to offer. Do I like the thought of giving a 30-year-old Tyson Chandler $10 million?
Yeah, it might be nice to have a high quality center, but a better question is, Do I like the though of giving a 34-year-old Tyson Chandler $10 million? And the answer to that is a resounding no.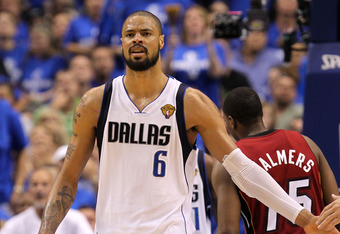 Ronald Martinez/Getty Images
Almost every big-name center is going to be looking for a team that is going to win, while also paying them a lot of money. I would bet both of those guys ultimately resign with their respective teams. There are still guys like Samuel Dalembert and Marc Gasol out there, but is it really worth overpaying them to come to Minnesota? I'd say probably not. 
The thing is, Minnesota desperately needs a center. Darko Milicic just isn't getting it done, and Brad Miller is way, way past his prime.
I think the most logical route for the Wolves to go is trading for a center. There are a couple on the market that may be worth having at this point, and the Wolves definitely have the pieces to put together a deal for a decent center.
It's no secret the Wolves have a logjam at the forward spots. Playing small forward and power forward alone, the Wolves have Martell Webster, Michael Beasley, Derrick Williams, Kevin Love, Anthony Randolph and Anthony Tolliver. I think they have enough forwards. 
Let's quickly create a minutes chart using rough estimates of the least amount of minutes each player could play per game on a losing team without getting upset.
Martell Webster: 20 
Michael Beasley: 30
Derrick Williams 26
Kevin Love: 35
Anthony Randolph: 20
Anthony Tolliver: 15
These numbers are pretty reasonable I'd say. There are 96 combined minutes per game at the forward spots, these numbers add up to 146. Granted, Webster will play a little shooting guard, and Tolliver will play a little center, but these numbers don't account for the scrubs.
Let's say the final number is 146, meaning the total is 50 over the maximum amount of minutes. On average, each player is going to have to give up about eight minutes a game. Kevin Love playing 27 minutes a game, what? It's clear the Wolves need to get rid of someone, but who? 
I'm a fairly big supporter of Derrick Williams, and I think the Wolves have to see what they have for at least one full season. I say you package up Webster, Randolph and a future pick (maybe the Grizzlies pick they got from the Rockets) and try to pick up a decent center. The Wolves don't need a superstar, they just need someone playable. 
Obviously, if a guy like Bogut becomes available, the situation changes. There have been whispers about Milwaukee shopping him, and if that turns out to be true, maybe the Wolves throw someone else into the deal. Maybe they could add in Wes Johnson and take one of Milwaukee's bad contracts. I don't really know.
All I'm saying is that the Wolves don't have anyone on their roster that deserves to play 30 minutes a night at center. They need someone that can make up for Kevin Love defensive shortcomings, while also fitting into their system, and most importantly, have the talent to start in the NBA. I don't know what the answer is, but I doubt the Wolves can get it without making a trade. 
Follow me on Twitter @MaxMinsker.