2012 NBA Playoffs Predictions: Western Conference Edition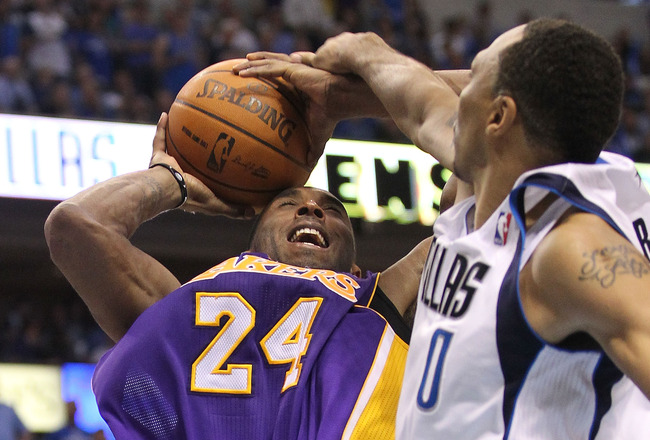 Ronald Martinez/Getty Images
Since my Eastern Conference edition installment, I felt it was necessary to predict how the Western Conference will unfold. There are so many changes going on that the entire alignment could shift against some franchises that have been the most dominant in the recent past.
The LA Lakers are undoubtedly standing first in line as far as the Western Conference toss-ups. A new coach, a new scout and the recruitment of John Kuester from the Detroit Pistons will definitely send the Lakers far left or right.
I am guessing that they are heading in a direction that Jerry Buss will not be too fond of, but there are still other organizations whose fate must be decided.
No.1 Seed: Dallas Mavericks, Tyson Chandler Stays, Dirk Nowitzki Still Hungry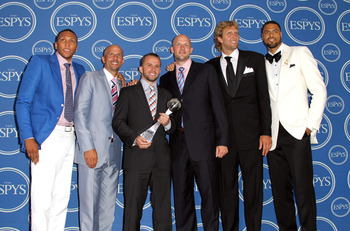 Frederick M. Brown/Getty Images
The Dallas Mavericks are still riding high on their very first NBA championship win. The franchise even picked up a few awards at the ESPYs. While calculating the possible fine for Mark Cuban conversing with his players, Dirk Nowitzki smiled and received the award for Best Team.
They may not be the flashiest, with the exception of Jason Terry's Jet up and down the court after a big or spectacularly minor play. There is one thing that makes them the toughest competition in the west at this point.
They have a Dirk.
Nowitzki is not the type to be content with a single glory. Neither is Tyson Chandler, Shawn Marion or Jason Terry. Those were the three men primarily responsible when Nowitzki's stroke went numb. Chandler added an entirely different dynamic to the squad, and it showed in the heart they played with facing the Miami Heat for a series cut short in South Beach.
Chandler's comments, aimed towards LeBron's preseason celebration speech, were hilarious and a tell-tale sign of what lies in his and the franchise's future.
Even though he has opted out of his contract with Dallas, it seems like a stronger possibility that he will remain than venture off to another team. They hold him in very high regard, and I suppose that if it came down to it, Dallas would match any offer Chandler was given elsewhere.
The team knows that without him, they lose a large source of power and paint activity. Although some, such as OKC's James Harden, took advantage of his history of fouling under the basket, Chandlers' emotional control on such a physical part of the floor is a sign of maturity and focus. His eyes are always on the prize, and they rarely, if ever, wander.
I am finally a believer. Although the 2011 season may be the last run they have left, it will be just as exhilarating as the first half of the 2010 season was before Caron Butler's injury cascaded a black cloud.
No. 2 Seed: Los Angeles Lakers, Kobe Bryant Will Not Disappear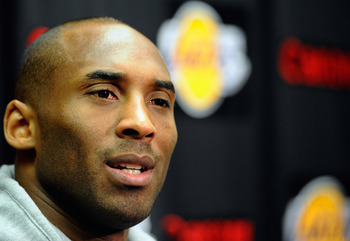 Kevork Djansezian/Getty Images
LA is going through some ridiculously unforeseen changes. Not only were fans smacked in the face with the hiring of Mike Brown without Kobe Bryant's consultation.
We were also standing there shaking our heads "Hell no!" when Brown brought on John Kuester as a part of his staff. That still gives me the shakes thinking about how his communication efforts will horribly impact the Lakers' lockerroom.
Even though they have an elderly point guard who the franchise and Bryant himself refuse to let go, the Lakers will end the season on a high note. Luckily for them, everyone else is rebuilding their organizations as well.
This lockout is holding off the inevitable, because as soon as there is an agreement reached, players will be flying off of teams at the speed of light. General Managers are more than likely already discussing amongst themselves deals that must be made when NBA business reconvenes.
Kobe is not going to let this team fall into the pits of hell while he is a part of it.
There is not a bone in his body that is accustomed or willing to lose even though we saw a lot of it from LA in the Dallas series.
They did not have the chemistry necessary to win, and with the Mavericks playing team basketball, the Black Mamba did not have a chance on this earth. Do not make the assumption that he is done. His career is not over until he has to be wheeled onto the court, and last time I checked, both of his legs were operating just fine.
Andrew Bynum is also a determining factor in how LA's season will end. The Lakers' refusal to trade him shows how much faith they have in the young athlete and with great merit.
Bynum sparked a fire in his team and for once was not the scapegoat for everything wrong in the Lakers' postseason. He gave hope in the eyes of failure and should not worry about his standing in his fans' eyes or his teammates. He did all he could do and now that he has developed that type of reputation with LA, he will not be straying from it. Expect consistent greatness.
No. 3 Seed: Oklahoma City Thunder, Kevin Durant-Russell Westbrook Duo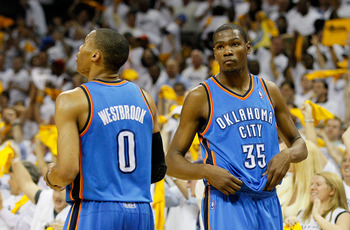 Kevin C. Cox/Getty Images
The Oklahoma City Thunder drafted a point guard in this year's draft, and it got me thinking about Eric Maynor, James Harden and Russell Westbrook's future in the smaller market franchise.
Even though alongside Kevin Durant as the second option, Westbrook has done remarkable things with the ball in his hands, there was an uncertainty about his importance when he was benched for an entire fourth quarter in the playoffs. Forgive me if I am wrong, but isn't the postseason the moment where your best players are always on the floor?
Since there is no room for error, I would expect coach Scott Brooks to rest Westbrook for a moment or two and throw him back into the lion's den.
He was replaced with Maynor and the cohesiveness of the team changed for just a second. There was a brief thought that maybe Brooks did not feel as if Westbrook was the ultimate guard for the uprising of this franchise. Then, I was brought back to reality.
Replacing Westbrook with either Maynor or Harden seems like child's play. It is only an experimental measure not a steadfast decision. Not only would the interest in OKC's games decline, but their pick-and-roll plays would be far less effective. Durant and Westbrook make the perfect tandem, and if Russell could just function as a Robin point guard instead of occasionally taking the Derrick Rose role, the Thunder would be so much better off.
The kid is only 22 years old and still learning the ins and outs of the position he was hurled into as a professional. He will figure it out through growing pains but will arrive at the top of the league when he maxes out.
No. 4 Seed: San Antonio Spurs, Franchise Rests on Tony Parker and Manu Ginobili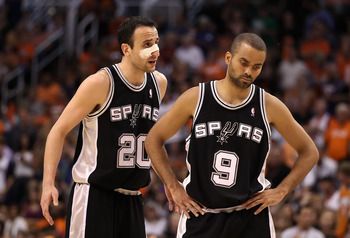 Christian Petersen/Getty Images
Tim Duncan's moments of glory are over. I never thought that I would say those words, but his time as the leading piece of the franchise has come to an end.
Manu Ginobili and Tony Parker are this team's best shots at success in next year's postseason and will remain that way until the younger, less-experienced players on the squad become well-versed enough to take over where the trio left off.
Cory Joseph, who seemingly replaced George Hill as the guard can complement Parker in more ways than Hill could. Parker and Hill's games were too identical to remain on the floor at the same time, and Parker never seemed too fond of his teammate anyway.
Ending up in second place in the entire league with a win-loss record of 61-21, the Spurs secured a pretty sturdy spot in the Western Conference playoffs. A sweep of some sort was in order until Ginobili was declared inactive for Game 1. From that moment on, the Memphis Grizzlies had their foot in the door.
All they required was a little glimmer of hope and a little fraction of chance that would give them an edge over their supposed "superior" counterparts. The Grizzlies shocked everyone by defeating a more seasoned and successful Spurs' team, sending Western Conference predictions into a tailspin.
Even though there are younger, more agile teams in this conference, the Spurs still have Gregg Popovich as their coach and Parker manning ball movement. That is more than enough to finish as a top five seed in the Western Conference.
Just see who their competition is. The Western Conference has become a place where either you supersede expectations or you fall below the red line. There is no level of mediocrity.
No. 5 Seed: Portland Trailblazers, Brandon Roy Can Still Make a Difference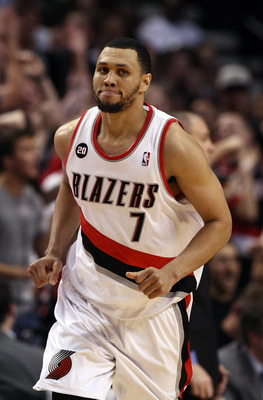 Jonathan Ferrey/Getty Images
Portland has a dilemma on their hands. Brandon Roy has not been decided upon, and it leaves a realm of obscurity when it comes to deciding the roles of new arrivals. Roy should not be treated like molded bread, and rumors that he may have been asked to retire just symbolize how misdirected the franchise is behaving.
Keeping Greg Oden hanging on by a thread is not the way to handle a newbie that has barely showed stability. I understand the "slot machine" effect that the team is afraid of, but that gives them no right to toss around money like he is a healthy, steadily contributing player.
Roy showed that he still has a bit of juice left, and after this shaky season of uncertainty, he should recover with an incredible season of redemption. He was the running joke after he spoke of tearing up during periods of time where he was benched in Game 2 of the first round against Dallas.
Then, there was the moment where he resurfaced as the go-to-guy. Rallying back from a 20-plus point deficit in the fourth quarter is not something that you expect in a playoff game, especially against the eventual winners of the NBA championship.
The Trailblazers are a tough team to contend against, but with the addition of Raymond Felton and the removal of Andre Miller, I am not so sure where they will fall.
No. 6 Seed: Memphis Grizzlies, Zach Randolph and Marc Gasol Team's Saviors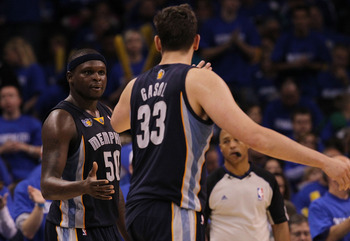 Ronald Martinez/Getty Images
The Memphis Grizzlies got into a rhythm that threatened to change the entire spectrum of the West. Winning their first playoff game in the history of the franchise was cause for celebration, but actually taking out the No. 1 seed in the first round as the No. 8 seed was remarkable. I would not have believed it if I had not witnessed it with my own eyes.
The way Zach Randolph took over the game and barreled through San Antonio was one for the books. Trust me when I say, they have not forgotten their mass potential.
Marc Gasol did not fail to impress either. He looked like the Gasol that had not been left in the shadows of his Lakers' brother, Pau Gasol. While Pau struggled in every facet of his own game, Marc was exploiting the weaknesses of his opponents.
Averaging 15 points and 11.2 rebounds in the postseason, Marc was his team's bread and butter. He pulled down offensive boards like a machine, and there was never a moment where he disappeared. The pressure of the moment did not mount and crush his ability to perform.
I expect that characteristic of his game to sprout not diminish as this lockout ensues.
No. 7 Seed: New Orleans Hornets, 2011 Season Decides Chris Paul's Future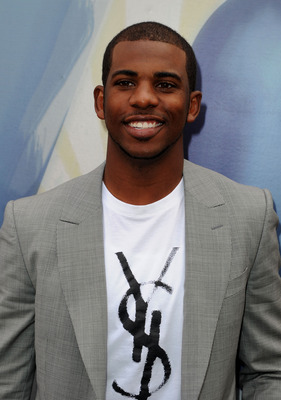 Jason Merritt/Getty Images
Chris Paul may be on his way out, so it is now or never for the franchise that has been through a rough couple of years.
Starting his professional career playing in someone else's arena, Paul has never been able to reach the level of his potential with the men he is surrounded by. As one of the most dynamic point guards in the league, peaking in the top five rankings, CP3 gives New Orleans the spark necessary to push past the devastating events in their history.
All of that may come crashing down if the front office of the franchise is not able to sculpt a squad that can take him to the top spot in the league. A man like Paul is not content with just making it to the playoffs repeatedly. It never matters, looking back in history, the teams that made the playoffs. The matchups that are most memorable are the finals matchups and those that bring about long-term league rivalries.
The New Orleans Hornets seem to be coasting by on Paul's determination and skill. David Lee was a great dynamic to have but after he was injured the Hornets did not play the same.
Sure, they gave the Lakers a slight run for their money, but they should have been able to take advantage of Paul's hot hand a lot more than they did. They battled their way to a loss, and that is less than acceptable for a top 10 player that has been in the league for a while. Everyone cannot win a ring, but CP3 is itching for one.
It just does not look like he can get one in "The Big Easy."
No. 8 Seed: Denver Nuggets, Ty Lawson Has Faith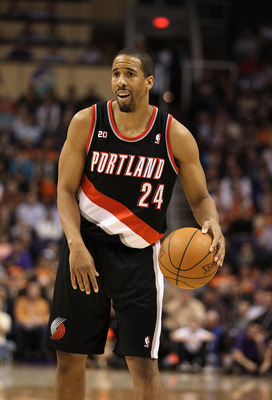 Christian Petersen/Getty Images
Denver made a last moment trade for Andre Miller, sending Raymond Felton to the Portland Trailblazers and Miller's new teammate, Ty Lawson already has some kind words for him.
"I'm excited that Andre is coming. He's a great player. He's been here before. There's a lot of things I can learn from him. He's one of the top passers in the NBA. He makes tough passes look easy. I'm ready to work and get started."
With that level of excitement and the efforts Denver put towards defeating OKC, the Nuggets should fair pretty average in the Western Conference. Not saying that they will shoot to the top of the West but they will not fall out of the rankings.
The team still needs a Batman-type scorer in order to compete amongst some of the top scorers of the entire league.
Keep Reading