L.A. Lakers: 5 Reasons They Could Potentially Be Better Next Season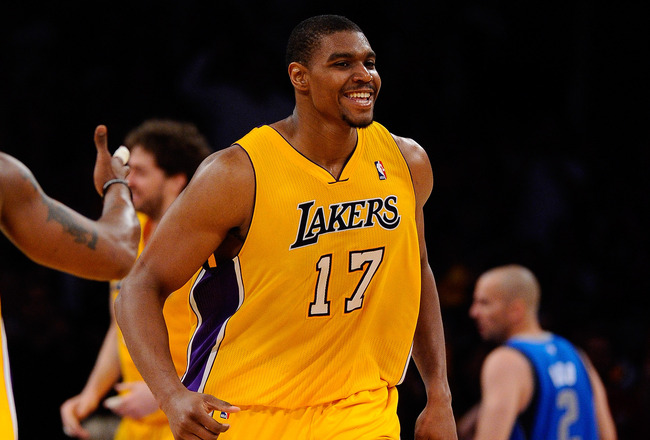 Kevork Djansezian/Getty Images
This article will look at five reasons why the Los Angeles Lakers could potentially be a better team next season.
For a team who had been to three straight NBA Finals and won back-to-back championships, it was three-peat or bust last season for the Lakers.
Unfortunately for the team and fans, it was bust. The team was surprisingly swept in their conference semifinal series against the Dallas Mavericks.
Not only did the sweep signify the end of the team's season, but it marked the end to the coaching career of Phil Jackson.
A combination of the team's disappointment in the playoffs, and the hiring of Mike Brown as head coach, have fans wondering what to expect next season from the team.
While some believe the team needs to make serious changes before making another run at a championship, there is still reason to believe this group of Lakers can get the job done.
Here are five reasons why the Lakers could potentially be a better team in 2011-12.
5. Steve Blake and Matt Barnes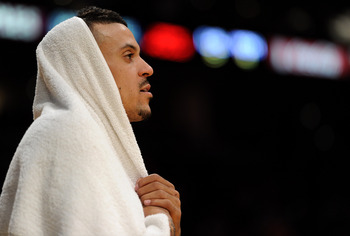 Harry How/Getty Images
When the Los Angeles Lakers signed Matt Barnes and Steve Blake in the summer of 2010, the Los Angeles Lakers seemed to improve their roster, coming off their 2010 championship.
However, both players had disappointing first seasons in Los Angeles.
Steve Blake averaged a career-low four points on 35 percent shooting from the field.
Blake's struggles could have been due to playing in the unfamiliar triangle offense. With Mike Brown bringing a new offensive scheme into town, Blake could very well return to his career averages of seven points and 40 percent shooting from the field.
Two things played a factor in Matt Barnes' underwhelming first season with the Lakers. One was his lack of minutes. Barnes averaged 19 minutes (his lowest since 2007-08), playing behind Ron Artest. Artest is coming off a disappointing season of his own, averaging career lows in points and rebounds.
I don't think the Lakers would experience a drop-off in production if Barnes replaced Artest in the starting lineup. The team would become younger and more athletic on the perimeter.
Also, Barnes suffered a midseason knee injury which kept him sidelined for two months. If Barnes is able to stay healthy and get more playing time, he could be one of the team's X-factors next season.
4. Pau Gasol Will Bounce Back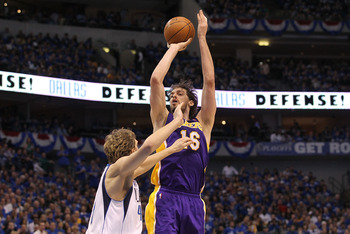 Ronald Martinez/Getty Images
Even more than the Los Angeles Lakers having something to prove next season, Pau Gasol has to prove he has snapped out of the funk he was in during the playoffs.
In 10 playoff games, Gasol failed to reach his regular-season average of 18 points in every game. It was easily the worst stretch of basketball Gasol played since joining the Lakers in February of 2008.
Considering Gasol has had more quality performances in a Lakers uniform than he has bad ones (since coming to the Lakers in 2008, Gasol has averaged 18 points and nearly 10 rebounds), there is no reason to think he shouldn't recover from his postseason slump.
3. The Los Angeles Lakers Have Something To Prove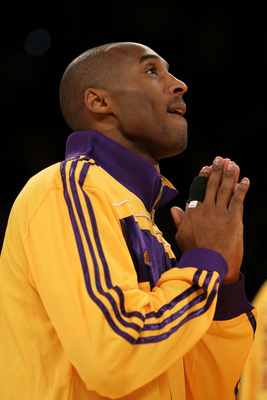 Jeff Gross/Getty Images
Last season, the Los Angeles Lakers fell short of winning three straight championships. Even more frustrating than the team losing was how easily the Lakers were defeated by the Dallas Mavericks.
The team will hopefully be ready next season to prove to fans and one another their meltdown in the playoffs was not the start of the team's decline.
The Lakers are a championship-proven, prideful group of players. Fans may be surprised at how well the team plays with a chip on its shoulder.
2. Kobe Bryant Will Be Well Rested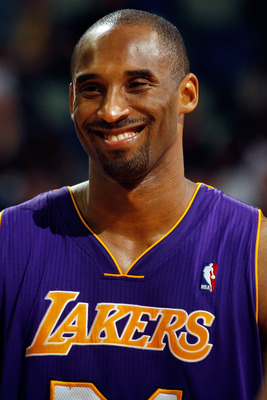 Chris Graythen/Getty Images
Kobe Bryant played in the last game of the NBA season three straight seasons, before the team was eliminated by the Dallas Mavericks in this year's playoffs.
Kobe has not had this much rest since the 2007 offseason. Depending on the current lockout, Kobe could have even more time to rest his aging body, especially his injured right knee.
A combination of a fresh Kobe and the chip on the team's shoulder could be bad news for rest of the NBA.
1. Andrew Bynum Has Arrived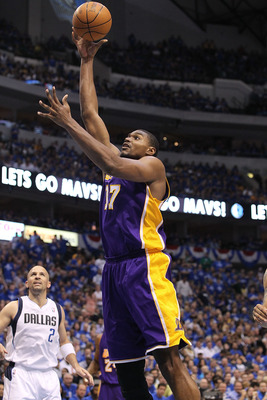 Ronald Martinez/Getty Images
In the middle of last season, Andrew Bynum seemed to start focusing all of his energy on the defensive end of the court, en route to playing the best basketball of his career. In 22 games after the break, Bynum averaged 12 rebounds and over two blocks a game.
Also, despite the team's poor showing in the playoffs, Bynum averaged a respectable 14 points and 10 rebounds.
Look for Bynum to have his best season as a professional in 2011-12, especially if his focus on defense continues. After Bynum establishes himself as an All-NBA caliber player next season, fans will forget all about Dwight Howard.
Keep Reading

Los Angeles Lakers: Like this team?