Why the NBA Lockout Lets Derrick Rose Truly Emerge as the Chicago Bulls' Leader
July 6, 2011
Marc Serota/Getty Images
Okay, I know. The NBA lockout has not gone on nearly as long as the current NFL lockout has. The NFL labor situation is dominating the media right now, due to the fact a deal will be coming soon.
The NBA situation is another story.
In ESPN the Magazine, an article was written by "Player X," an All-Star NBA player who wished to remain anonymous. I could not find a link to the article online, but the picture it paints is so depressing that not finding it might not be such a bad thing.
Player X stated that the NBA Players Association has told all NBA players to save their paychecks because there likely won't be a season next year. Player X also said the Players Association has plans in place if two whole seasons are missed, as they believe that is a possibility.
The two sides, the owners and players, really are that far apart. Even retired players such as Charles Barkley are predicting at least one season lost.
If that were the case, as most believe, all this talk about free agency and potential trades does not matter. Either action requires a CBA to take place, and it seems as if there won't be one for at least a year.
And that's why Derrick Rose gets a chance to step up and show what kind of a leader he is. Rose has definitely become more of a leadership presence, as seen by his reception of new draft pick Jimmy Butler. But this lockout will truly show how great of a leader he is.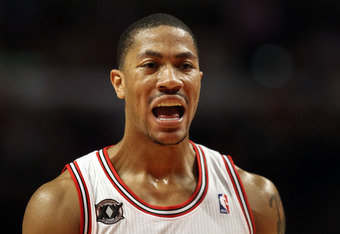 Jonathan Daniel/Getty Images
Let's assume for a minute the entire season is lost, as predicted. What happens then? Each player is young, has millions of dollars, and would be on an extended break from the court.
It's not hard to see how some could become lazy and not work out regularly to ready themselves for the season, whenever it might be.
Of course, there will be other players who never miss a day in the gym, and will come back after more than a year away from the court as an even better player.
Derrick Rose is without a doubt one of those players. It doesn't seem like a stretch or an exaggeration to assume that, if the entire season is lost, he will come back and post one of the greatest seasons in NBA history. He already did it this year. I could see D-Rose being a 40 percent three-point shooter at the end of the lockout, easily. 
And that's where the leadership aspect comes in. The media has mentioned NFL players who have organized team practices during their lockout time and time again; Drew Brees is an example.
Derrick Rose needs to follow suit.
Yes, Rose has said in the past that he wants to become a much more vocal leader. To his credit, he has been the vocal leader and everything else for the Bulls. But more could be needed.
If the lockout knocks out an entire season, Rose will obviously practice every single day. That being said, some Bulls might not (COUGH Carlos Boozer COUGH).
As leader of the Bulls, Rose needs to step up at some point during this lockout and organize a team-wide practice. As one of the most motivated players, he needs to make sure the lazier players spend time on the court.
Time together will obviously improve the team's skills, help them learn their teammates' tendencies on the court as well as bond off the court.  
Since Rose has been such a great player, leader and icon for the Bulls and Chicago, there is no doubt in my mind he will organize team-wide practices when the lockout wipes out a season.
Those practices will not only help the team become better, but they will also give Derrick an opportunity to step up as a leader. He's already the league MVP.
Follow this author, Sean O'Dowd on twitter @sean_p_od for updates related to the Bulls and basketball