NBA Trade Talk: Atlanta Hawks and Josh Smith Need To Part Ways
July 1, 2011
Kevin C. Cox/Getty Images
With eyes wide open, you watch in amazement as the orange sphere rises higher and higher into the air, rotating perfectly, until it reaches its apex and falls directly through the rim, barely even causing the net to ripple. Then you see Josh Smith posing behind the three-point line, left hand raised above his hand as he marvels at the basket before fist-pumping as he lets out a scream that echoes to the rafters.
And then you wake up.
After the Hawks' isolation offense lulled you to sleep, it took another clanging brick from Smith to rise you from your slumber. You knew the dream was just too good to be true.
Such has been, is and will be the life of an Atlanta Hawks fan so long as the frustrating, albeit ultra-talented, forward is a part of the team. Hawks fandom is, after all, much like Smith's game in that it's a roller coaster ride filled with dizzying highs and frightening lows.
In a way, Smith is the perfect metaphorical counterpart for Hawks fans. 
J-Smoove, as he is known to his supporters, entered the NBA when the Hawks deemed him worthy of the 17th overall pick in the 2004 NBA draft and took him directly out of the high school basketball powerhouse known as Oak Hill Academy.

His rookie season provided brief glimpses into his true potential but in no way guaranteed stardom as he averaged a pedestrian 9.7 points, 6.2 rebounds, 1.7 assists and 1.9 blocks per game en route to the NBA All-Rookie Second Team and a slam dunk championship.
Smith's production rose dramatically during each of his next two seasons with the Hawks and then peaked during the 2007-'08 campaign when he put up an average of 17.2 points, 8.2 rebounds, 3.4 assists, 1.5 steals and 2.8 blocks per contest. Since then, he's been a borderline All-Star each and every season but his only All-Anything honor remains a selection to the 2010 NBA All-Defensive Second Team.
The 6'9" forward became the youngest player in NBA history to reach both the 500-block and 1,000-block milestones and he's had quite a few games where he's, as the saying goes, stuffed the stat sheet. But to Hawks fans, the most important stat associated with Smith's career is still the goose egg he's put up in the championship count.
Obviously, Smith is in no way entirely to blame for the repeated playoff failures of the Atlanta-based franchise, but his frustrating play deserves at least some share of the fault. And that brings us to the overarching questions of this column: why is Smith's play frustrating, how is that at all related to Hawks fans and why does that mean that Atlanta needs to do everything it can to trade him away?
Well, because Smith is that uber-athletic player, he has the ability to absolutely dominate on offense. It seems as though he's unstoppable whenever he posts up in the paint or drives to the rim. Using his rare blend of quickness and athleticism, Smith can score seemingly at will around the basket.

But at the same time, he's never content to do that. It doesn't matter how many halves he's completely taken over. At the end of the day, Smith still wants to believe that he's a guard and can jack up three-pointers left and right, regardless of whether they actually find the bottom of the net or not.
I don't think that I'll ever forget watching the ever-outspoken Charles Barkley put on a "test dumbie" hat during halftime of a Hawks playoff game to shield himself from the dumbness radiating from Smith at the time. Despite the fact that he was consistently dominant down low in that Game 4 of the 2011 series against the Chicago Bulls, Smith was still content to pull up from long range and hoist up a jump shot that most likely wouldn't go in.
Chuck couldn't take it anymore, and he's not even a fan of the Hawks, someone who's had to deal with that night in and night out for so long now.
At some point, you would think that Smith would learn to utilize the talents that he was blessed with instead of pulling a LeBron James and unsuccessfully taking his talents to an area where he can't win. In this case though, the areas outside of the paint are Smith's South Beach.
You would think that the resounding echoes of fans yelling "NOOOOOOOOO" in Phillips Arena would be enough to dissuade him from shooting those shots unless the circumstances unequivocally called for him to do so.
You would think that the constant negative reinforcement provided by an unforgiving rim and backboard would be enough to keep him from shooting these shots.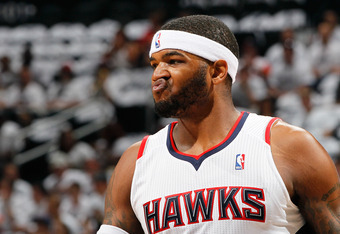 Kevin C. Cox/Getty Images
How about the fact that during this past season, Smith made 68.9 percent of the shots he took at the rim, 40.6 percent from three to nine feet and only 31.1 percent from 10 to 15 feet? Just for comparisons sake, the league averages for those ranges are 64.1 percent, 39.1 percent and 39.4 percent, respectively. While the differences may seem small, they really aren't when you remember just how many shots these players are taking over the course of a season.
But at the end of the day, none of the above results have been able to keep Smith from thinking that he should take jump shots. He may have a triple-double one day and display his unearthly potential, but a day later he's due for a letdown.
In a way, over the last decade, the Atlanta Hawks franchise has treated fans the same way that Smith has in recent years.
After being swept by the New York Knicks in the 1999 Eastern Conference Semifinals, the Hawks had their wings clipped and went into a tailspin. Over the next five seasons, the Hawks could never manage to win any more than 35 games, or four less than they won in 1998-'99 despite playing 32 games fewer than normal thanks to the lockout shortening the season.

Then Atlanta shifted to the Southeast division and reached a staggering new low, posting a putrid 13-69 record that I hope I never have to think about again. Coincidentally, that season happened to be J-Smoove's rookie year with the team.
Just as Smith improved, so too did the Hawks, turning Phillips Arena into the Highlight Factory while increasing their win total each of the next five seasons until they put together a 53-29 regular season record during the 2009-'10 season. It was a year that Hawks fans optimistically hoped might push them over the edge, but alas, Orlando quickly ended those hopes as the Magic thrashed the Hawks by a never-before-seen margin of victory.
Still, Atlanta remained hopeful that the team wasn't done growing and that the previous year wasn't a peak but rather a stop on the continuous climb toward excellence.

With the optimism swirling around, the Atlanta management then signed Joe Johnson to an albatross-like contract, inking him to a six-year deal worth $119 million. It was a deal that would offer the Hawks little to no financial flexibility until the time period was up, ensuring that Atlanta would remain mired in upper-tier mediocrity for the next six years.
This, you could say, was the Atlanta's ill-advised jump shot after showing that the post game was working just fine.

With Johnson firmly in place, the Hawks ran their way to a 44-38 regular season record this past year and then beat Orlando decisively in the opening round of the playoffs, getting the monkey of their collective back after the previous year's disastrous playoff episode.

No. 1 seed Chicago was next in the playoffs and out of nowhere, Jeff Teague emerged. He was able to guard Derrick Rose, the league's MVP, while scoring proficiently. Hell, even Smith was playing rather intelligently for the most part. But at the end of the day, the Bulls prevailed, bringing us to the present.
Over the last few years, Hawks fans have been conditioned to expect good seasons, then get excited during the playoffs before realizing that a championship is just not meant to be right now. Smith works the same way.
You can expect good to great play from him and get ridiculously excited about the potential just oozing forth from him like sweat, but then the jump shot happens and a let down is inevitable.
It is for that reason that the Hawks need to get rid of Smith this offseason, getting as much as possible in return. It's time for a change in Atlanta. We fans don't need to deal with this constant reminder of high expectations and not-quite-so-high results on a nightly basis.
Due to all of these ups and downs, you could say that Smith is the perfect representation of the Hawks franchise.
And that's exactly why he needs to go.