Boston Celtics: Has Their Championship Window Closed Already?
July 5, 2011
Mike Ehrmann/Getty Images
The Boston Celtics are certainly nearing the end of the championship window. Kevin Garnett, Paul Pierce and Ray Allen are 35, 33 and 35 (almost 36) years old, respectively. The Celtics knew they were mortgaging the future for the present when they traded for Allen and Garnett but they won the 2008 title and that was worth it.
Rajon Rondo and Doc Rivers are the only key members of the 2007 Championship who will still be with the team after this season. While JaJuan Johnson and E'Twaun Moore are good building locks but won't be able to step in right away for Kevin Garnett and Ray Allen if they do indeed retire after this season.
Johnson and Moore look to be capable pieces that the Celtics have added. Throw that in the mix with Rondo and Jeff Green and that is at minimum an eight seed in the East. The unfortunate things for Celtics fans is that with the NBA being in a lockout, there is no telling what the Celtics future plans are.
Here is what we do know:
The Celtics have committed to Jeff Green essentially after tendering him a qualifying offer but he may be lured away at the right price. The Celtics have to watch the cap next year depending on how the CBA shakes out. Essentially, we know what the team will be for the future, Johnson, Moore, Green and Rondo with Avery Bradley coming off the bench.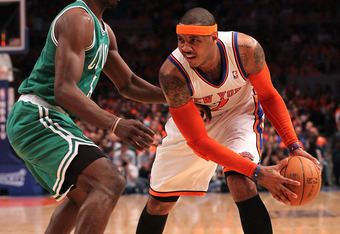 Nick Laham/Getty Images
Pierce will be around for at least three more seasons. His role will likely become more and more limited as the Celtics move into the next era. Danny Ainge has already mentioned that he could envision Pierce coming off the bench.
This makes sense from a productivity standpoint. Pierce will likely break down like we have seen from most aging vets, except Ray Allen. From a sentimentaility standpoint though, Boston fans tend to have a hard time seeing their stars fade away.
Think about how watching Bird hobble through his last few seasons, Ray Bourque get traded to Colorado to win a championship, and basically any pre-2004 Red Sox. We wish better for our aging vets. Pierce is the constant for this eras Celtics and it will be hard for him to give up that control, even if it benefits the team.
After this season, there will be no more Unbuntu, no more Big Three and likely no more championship runs. Antoine Walker and Paul Pierce put together a run to the Conference Finals in a weak East, but with Chicago and Miami in the way, without a major overhaul, 2012 is the best shot the Celtics have at raising Banner 18 for quite some time.