Dwight Howard to L.A.: Why Monta Ellis, David Lee Are Better for Kobe and Lakers
June 28, 2011
J. Meric/Getty Images
Nowadays, the Lakers are hardly ever mentioned without regard to the pursuit of Orlando Magic superstar Dwight Howard.
His pending 2012 free agency has most of the league all a buzz, sending countless inquiries and proposals Orlando's way, and Los Angeles is no exception.
Many have the Lakers ready and willing to package Andrew Bynum, Lamar Odom, draft picks and other players to obtain the superstar center. However, with so many other teams interested in acquiring Howard, some who can arguably put together a better package, it may be time for the Lakers to look elsewhere.
Yes, Howard may have the Lakers among his preferred destinations, but too many things have to fall into place for Los Angeles to obtain him, and they have no time to waste.
As a result, it may be time for the Lakers to revisit the Monta Ellis rumor mill, and quite possibly try and pry David Lee from the Warriors along with him.
Such a deal may seem comical or even absurd to some, but the fact is both can be had, and possibly at a cheaper price than Howard, allowing the Lakers to bring in two all-star caliber players.
Golden State is already known to be shopping Ellis in favor of a more defensive minded player to fit into newly instated head coach Mark Jackson's system, and there has even been a flicker of chatter indicating that Lee could be on the block too.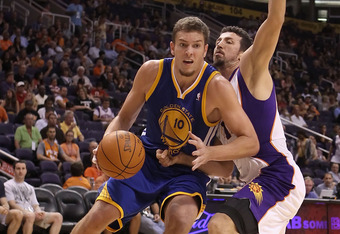 Christian Petersen/Getty Images
To bring both to Los Angeles, it would probably take Bynum or Gasol, Ron Artest, Shannon Brown and draft picks. The Lakers may have to throw Lamar Odom in the deal, but it is possible they would be able to avoid it.
Still sound crazy? 
Let's break it down.
With Lee coming in, one of Bynum or Gasol becomes expendable. The Lakers may prefer to keep Bynum because he is younger and believed to have so much potential or they may covet Gasol more because of his proven abilities. The same goes for the Warriors' preference between the two. 
Whomever Golden State should covet more though, the Lakers would be more than willing to relinquish. 
Artest's inclusion in such a deal will surely shock many because of his abysmal 2010-11 season when he averaged a mere 8.5 points and 3.3 rebounds per game. Why would any team want to take a chance on him.
Believe it or not though, Jackson may be on board with obtaining Artest because of his defensive prowess, something he covets.  
Brown would be thrown into the deal because of his versatility, along with draft picks and cash to put a cherry on top.
The Lakers may be able to steer clear from including their sixth man of the year in Lamar Odom because of the Warriors reluctance to take on someone of his age.  However, if they insist, the Lakers would consider. 
Other players the Lakers could throw into the deal to help make the salaries match and satisfy Golden State's requirements are guards Derek Fisher, a favorite of Jackson's, or Steve Blake, whose stock has fallen in Los Angeles.
In return the Lakers would be getting the sharp-shooting Ellis, who averaged 24.1 points, 5.6 assists and over two steals per last season, and Lee, who averaged 16.5 points and nearly 10 rebounds per game. 
Ellis is highly respected throughout the NBA.  Two of his knocks going into last season were his willingness to pass the ball and his shot selection.  He improved both, though still has some work to do on his shot selection.
Additionally, Ellis is someone who can run the point, which means he can be on the court at the same time as Kobe.
Lee, who has proved to be a double-double machine in his six years in the league, would give the Lakers a more than capable defender and scorer down low.  He also has the ability to hit the mid-range jumper, further enhancing Los Angeles' offensive attack.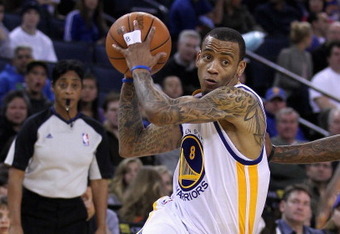 Ezra Shaw/Getty Images
A front court of Lee and Gasol or Bynum could prove to be just as effective as a Howard pairing. Not to mention that by dealing with the Warriors exclusively, Los Angeles could get two stars in Ellis and Lee, to pair with Kobe for about the same price as Howard alone.
Howard may be a dominant center, and a combination of him and Kobe would make the Lakers instant contenders again, but so would bringing in Ellis and Lee.  And when Kobe decides to hang up his purple and gold, the Lakers still have two younger veterans to build around. 
Acquiring Ellis and Lee will not be easy; the Warriors are not just going to hand them over to Los Angeles.
However, even with that in mind, the better course of action for the Lakers is too pursue Lee and Ellis hard.
With Kobe beginning to show his age, the time for the Lakers to make some serious noise is now, and since the Howard saga expected to drag out until possibly next Summer, Los Angeles can ill afford to let itself get caught up in drawn out antics. 
Los Angeles wants to win now and have a foundation in place for the future, and Howard does exactly that.
But so do Ellis and Lee, maybe even more so.
Just with less of a headache.