NBA: 50 Bold Predictions for the Offseason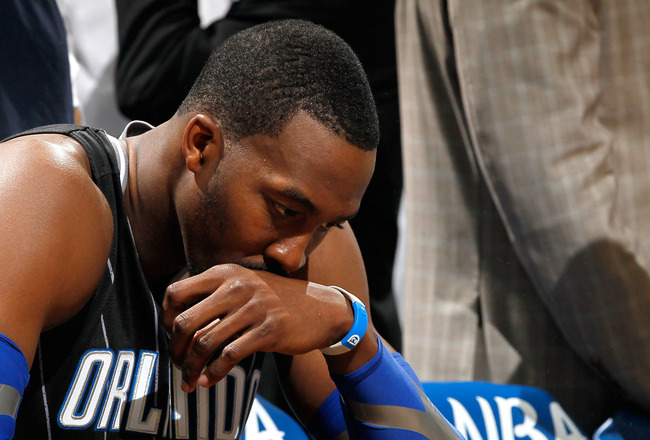 Kevin C. Cox/Getty Images
With the conclusion of the 2011 NBA Draft, the offseason has now commenced!
Many names will be on the trade and free agency market this offseason, whether they be prospectives like Dwight Howard or guys who will undoubtedly change uniforms like David West.
Regardless, here are my 50 bold predictions for the upcoming months.
Follow me on Twitter @JosephFafinski if you please. I would.
The New York Knicks Will Sign Marc Gasol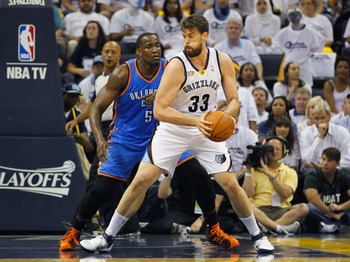 Kevin C. Cox/Getty Images
I'll start this one out with the boldest of predictions.
Marc Gasol will be the most sought after center in the free agency class this year, and I firmly believe the Grizzlies will toss out a number that is too low for the seven-foot Spaniard.
In turn, he will take a bigger salary and take his talents to the Big Apple to create a formidable Big Three in Carmelo Anthony, Amar'e Stoudemire, and himself. He makes up for what the aforementioned two do defensively.
The Toronto Raptors Will Sign a Center, Move Andrea Bargnani to Power Forward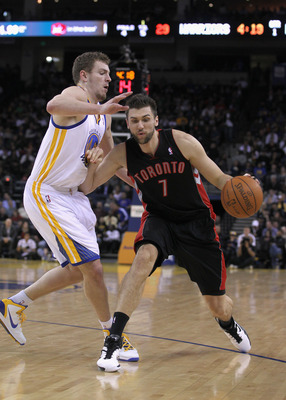 Ezra Shaw/Getty Images
In this year's free agency class there are an able plethora of bigs, most of which might be looking to take their talents elsewhere.
In due time, one might be willing to sign with the Toronto Raptors. By doing this, the team will fill a void that incumbent Andrea Bargnani did not fill.
The Italian, who is mediocre both on defense and at crashing the boards, would then shift to power forward.
Eddy Curry Makes a 15-Man Roster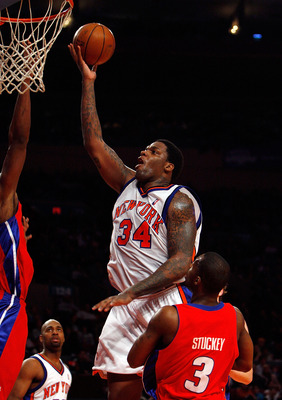 Nick Laham/Getty Images
The waste of space that is Eddy Curry is currently attempt to snag one of the Miami Heat's final roster spots.
If he can't make it there, another vacant spot around the association might not be altogether impossible.
Jeff Van Gundy Becomes the Minnesota Timberwolves Head Coach...so Kahn Thinks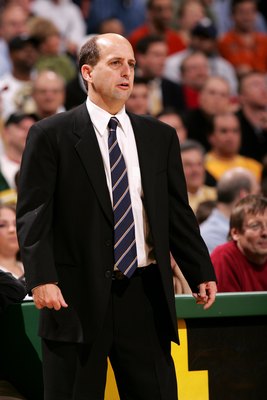 Jonathan Daniel/Getty Images
The Minnesota Timberwolves need a head coach pronto.
Knowing David Kahn, it's not entirely crazy to believe that a guy like Jeff Van Gundy could be reeled into the situation in the Gopher State.
And hey, at least it'd take care of the other half (Mark Jackson was the first) of America's worst color-commentary team.
Denver Will Re-Sign Nene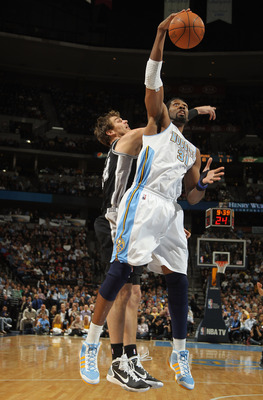 Doug Pensinger/Getty Images
There has been much speculation surrounding a new deal for the Denver Nuggets' incumbent center, Nene.
In the end, I would have to believe that the Brazilian will be back for his 10th season in the Rockies.
Caron Butler and Tyson Chandler Will Re-Sign with the Dallas Mavericks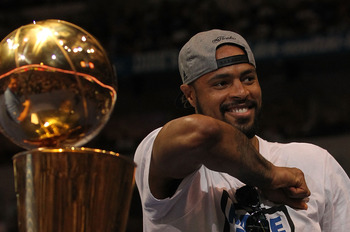 Ronald Martinez/Getty Images
Tyson Chandler was a gigantic reason the Dallas Mavericks took home the 2011 NBA Finals trophy. He established himself as a formidable force defensively, and his individual intensity was unmatched by any player on the hardwood.
He and Caron Butler, who was injured the six months prior to the Finals, will resign this offseason with the Mavs because they hope to win another title with Dirk and the rest of the gang sometime soon.
None of the Significant Lakers Will Be Traded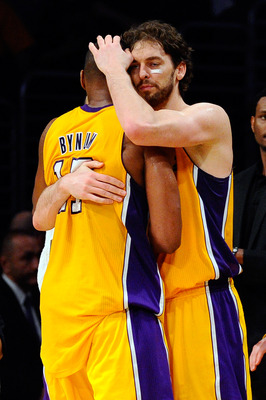 Kevork Djansezian/Getty Images
About a week ago, speculation ran rampant over the immediate respective futures of a few integral members to the Los Angeles Lakers.
In the end, however, Andrew Bynum, Pau Gasol, and Lamar Odom will all be Lakers when things are said and done.
Monta Ellis Will, Though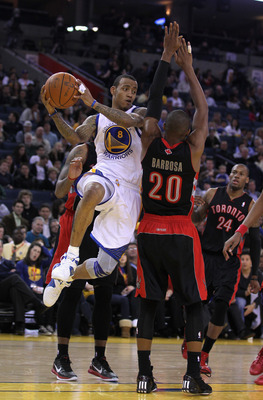 Ezra Shaw/Getty Images
I don't think there is any feasible way that will place Monta Ellis on the Golden State Warriors' roster for the 2011-12 season.
The team desperately needs defense and, being the liability he is, Ellis is the last guy you'd want for that job. I'm wondering what the team will expect in return for Ellis and his scoring abilities.
The Oklahoma City Thunder Will Make No Significant Moves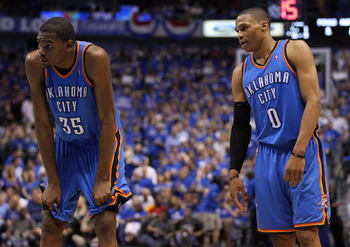 Ronald Martinez/Getty Images
Kevin Durant, Russell Westbrook, and the rest of the bunch in Oklahoma City seem set with the roster they have, with only two players over 26 apart of it.
This team does not need to make any moves this summer and as long as they keep the core together for a while, titles will come.
Allen Iverson Will Make a Comeback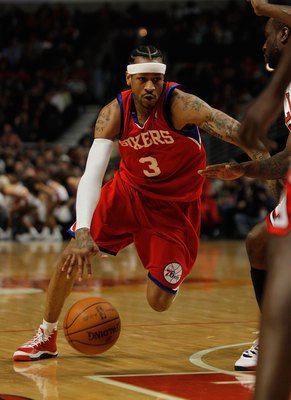 Jonathan Daniel/Getty Images
The NBA needs Allen Iverson, and at 36 I'm sure he can still play.
Many teams will be courting his services this summer, and in turn he will become a valuable asset among free agent shoppers. The team I've heard brought up the most are the Chicago Bulls.
But who knows? I mean, he does look good in that red.
The Utah Jazz Will Toss Andrei Kirilenko out of Utah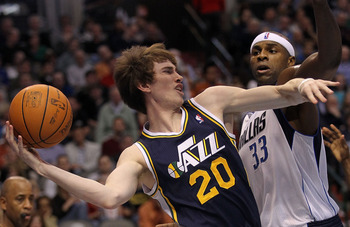 Ronald Martinez/Getty Images
The Utah Jazz are elated at the idea of ridding themselves of one of the ugliest contracts in recent memory in Andrei Kirilenko's.
They will toss him aside like a rag doll and make room for Gordon Hayward to start at the small forward position.
The Celtics Will Make a Signing for the Future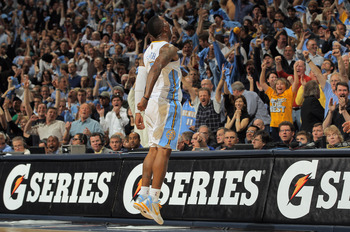 Doug Pensinger/Getty Images
The Boston Celtics are approaching the cold reality that is the age of their roster.
While Kevin Garnett, Ray Allen, and Paul Pierce are all headed towards the conclusion of their respective careers, it might be wise to bring in a veteran to help them out with post-Big Three life.
J.R. Smith is an option, and so is Wilson Chandler.
The Miami Heat Will Search Night and Day for a Point Guard and a Center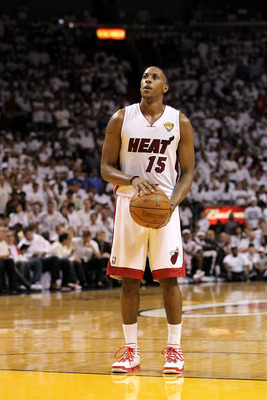 Ronald Martinez/Getty Images
I'm not entirely sure why the Miami Heat won't give Mario Chalmers a big contract (somewhere around the $3 million/year department) and let him start.
Whatever the case, this team is searching for a point guard, as well as a center, this offseason and they will continue to do so.
The Los Angeles Lakers Will Commence Their Offers for Dwight Howard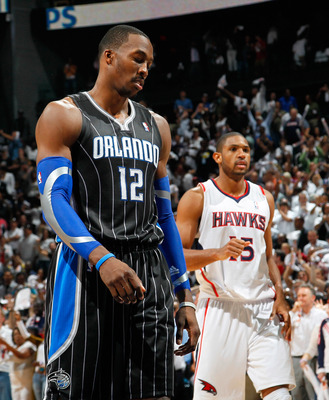 Kevin C. Cox/Getty Images
I stated earlier in the slide show that none of the significant Los Angeles Lakers will be dealt this offseason.
That doesn't mean the Lakers won't at least offer them to the Orlando Magic for their Superman.
I sincerely believe (in 2012) that Dwight Howard will remain a Magician, simply because he is loyal and he loves the small-market club.
The Hawks Will Trade Josh Smith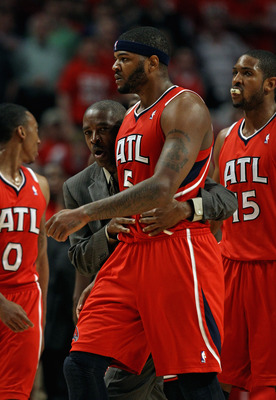 Jonathan Daniel/Getty Images
The Atlanta Hawks have been reportedly shopping Josh Smith this offseason, and I believe a deal could be in place to get him out of Georgia as soon as the end of the month of July.
The Orlando Magic have been listed as a solid suitor, and it would give Dwight Howard an opportunity to play with a star.
David West Will Take His Talents to a Contender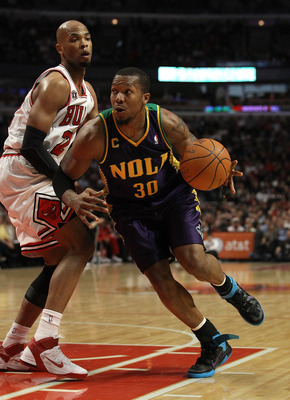 Jonathan Daniel/Getty Images
David West has officially opted out of his contract, and a number of teams are looking at him, most notably the Indiana Pacers.
There's a chance they'll sign him for a long-term deal and make him a Pacer.
In other news, how good would Indy's team look with him in the primary lineup?
A George Hill/Paul George/Danny Granger/David West/Roy Hibbert starting five would be intimidating to say the least.
The T'Wolves WILL Keep Michael Beasley and Derrick Williams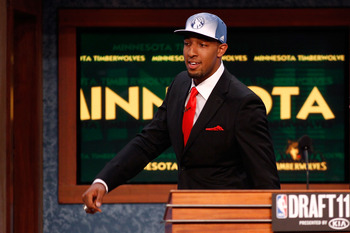 Mike Stobe/Getty Images
The moronic general manager of the Minnesota Timberwolves, David Kahn, will keep both the second pick overall, Derrick Williams, and incumbent starter Michael Beasley over the offseason.
It doesn't make sense though, as Beasley's ceiling is way higher than D-Will's.
They should be shopping the latter.
George Hill Will Be Named Starting Point Guard of Pacers over Darren Collison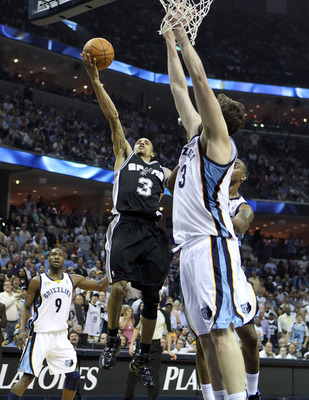 Andy Lyons/Getty Images
In a surprising draft day trade that upgraded both teams involved, the Indiana Pacers swapped their 15th overall pick, Kawhi Leonard, to the San Antonio Spurs in exchange for backup point guard George Hill.
However, there's no chance Hill sits in Indy, and I think he'll contribute to the starting lineup from the moment he steps on the hardwood.
Brandon Knight's Selection Ensures Rodney Stuckey Won't Be a Piston in 2011-12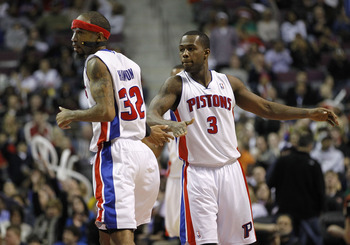 Gregory Shamus/Getty Images
Rodney Stuckey had some positional issues last season, and even spent a great deal of time at shooting guard while Tracy McGrady ran the point.
Luckily for him, Stuckey will most likely soon be out of the dismal situation that is Detroit now that the Pistons selected point guard Brandon Knight with the eighth overall selection.
Andre Iguodala Will Be Shipped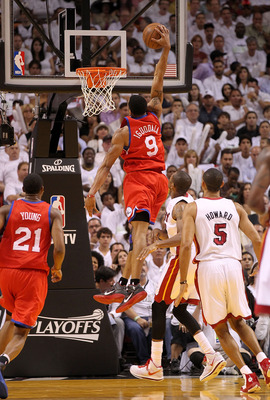 Mike Ehrmann/Getty Images
Okay, so this isn't a bold prediction, per say, but at the same time I'll make a prediction as to where he'll end up.
At this point, I can see him taking his talents to the city of angels in exchange for the Clippers' Chris Kaman, whom the Sixers could use desperately.
Jimmer Fredette Will Be Inserted into the Kings' Starting Lineup in September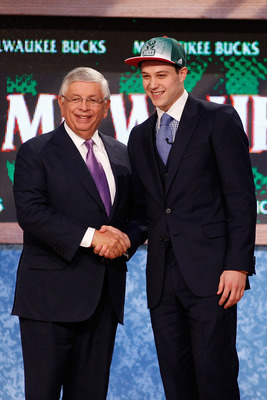 Mike Stobe/Getty Images
The Sacramento Kings showed interest in Jimmer Fredette before Thursday's draft, and they snagged him with the 10th pick overall.
I'm a firm believer in Jimmer, and if (and only if) he impresses the coaches with his defense (which he needs to improve upon, obviously) he will be the starting point guard from Day One.
Andre Miller Will Beat out Ty Lawson as the Starting Point Guard for the Nuggets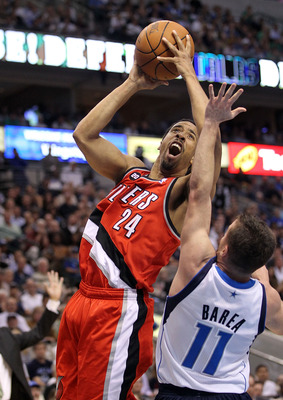 Ronald Martinez/Getty Images
In a draft day trade, the Portland Trail Blazers sent long-time vet Andre Miller to the Denver Nuggets.
From day one, it will be a competition between Miller and Ty Lawson for the starting point guard spot.
I believe in the end it will be the one with experience who takes the job, and in turn Miller will mentor Lawson in his last few years in the association.
Shaquille O'Neal Will Retire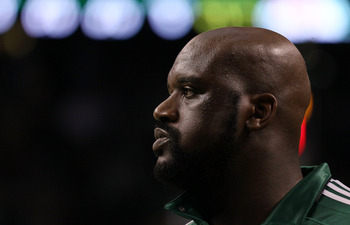 Elsa/Getty Images
Oh wait, he already did.
Long live the diesel!
Ray Allen Won't Be Going Anywhere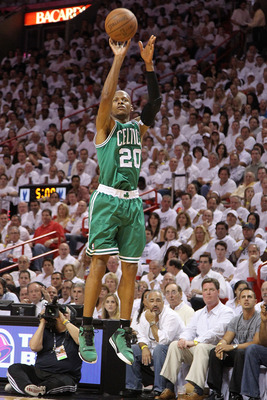 Mike Ehrmann/Getty Images
I've seen some ridiculous speculation regarding Ray Allen and his future with the Boston Celtics.
Don't believe the hype, people. He's staying.
The Phoenix Suns Will Keep Steve Nash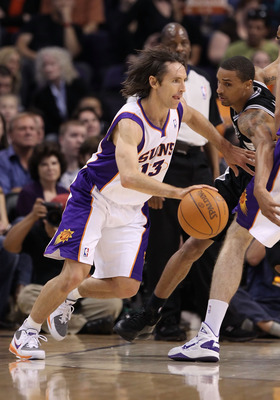 Christian Petersen/Getty Images
The Phoenix Suns have tried and failed miserably at providing Steve Nash with a chance to finally win that championship he so longs for.
In return, Nash will continue to be loyal and stay with the franchise that he helped practically make relevant this decade all by his lonesome.
Tony Parker Will Not Be a Spur Next Season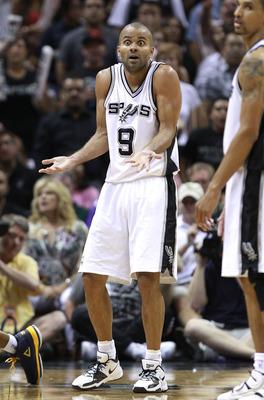 Jed Jacobsohn/Getty Images
Tony Parker has had quite the year.
Is it inevitable that he continues his quest elsewhere?
At 29 years old, he's still youthful enough to the point that he could be considered a long-term option at another location.
The Lakers and the Knicks will undoubtedly give the guy a look this summer.
The Denver Nuggets Will Re-Sign Arron Afflalo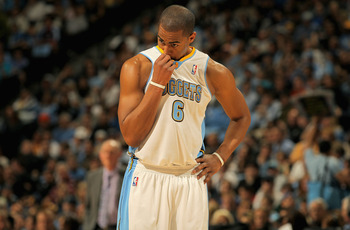 Doug Pensinger/Getty Images
The Denver Nuggets will undoubtedly have the busiest offseason out of any team. They have many issues to tend to, and I believe the number one priority should be the re-signing of shooting guard Arron Afflalo.
Mark my words-- Afflalo has a future in this league as a top-tier player.
Whoops, there's two bold predictions on one slide!
Glen Davis Will Etch a New Deal in Beantown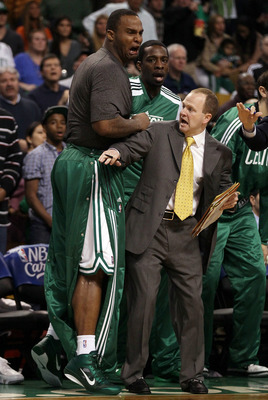 Elsa/Getty Images
I really can't imagine Glen Davis and his ever-flowing tears to be in a different uniform next season.
In turn, I believe the C's will etch him to a deal he can't refuse.
The Nets Will Sign Deron Williams to a Long-Term Deal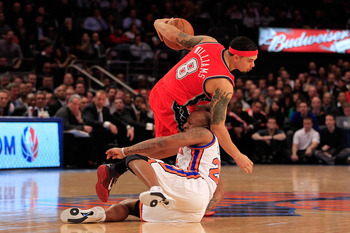 Chris Trotman/Getty Images
Deron Williams, who just turned 27 on Sunday, wants to play alongside a superstar in this league, make no mistake.
If he wants that to happen for the 2012-13 season, he better sign so the team has one less worry to inquire about this offseason.
...and the Same Goes for Kris Humphries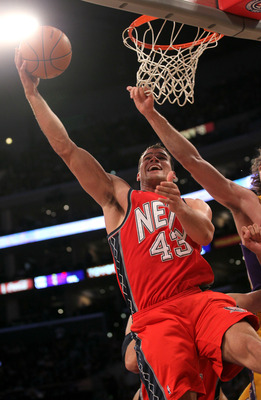 Stephen Dunn/Getty Images
Officially a member of the "My wife/fiancee is more famous than I yet I'm a professional athlete" club (he joins Hank Baskett and teammate Sasha Vujacic, among others), Kris Humphries would likely be a trade asset if the Nets want to acquire Dwight Howard in the summer of 2012.
Otherwise, he could always just improve upon his game and take away the need. But that's a big "could".
Kenyon Martin Won't Be a Nugget Next Season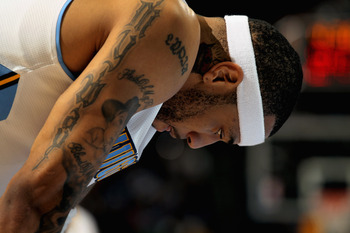 Doug Pensinger/Getty Images
Do you really think they'll keep his big contract aboard now that Kenneth Faried has joined the club?
His services would be appreciated elsewhere, and he will prove there that he is still a viable big in this league.
The Kings Will Make a Move for a Defensive Stopper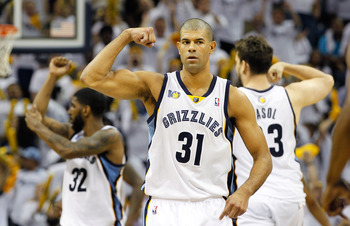 Kevin C. Cox/Getty Images
The Sacramento Kings are a club that can improve upon their on-ball defense for next season.
As always, Shane Battier is an option. He is a great clubhouse presence and a phenomenal athlete.
Just look at those pipes!
Chris Kaman Will Be on His Merry Way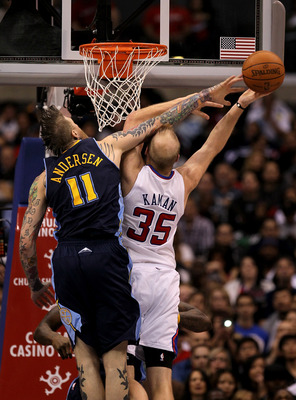 Stephen Dunn/Getty Images
As previously mentioned, the 76ers and Clippers are looking into a deal that would send Chris Kaman out east in exchange for Andre Iguodala.
The Clips seem set with DeAndre Jordan, one of the more underrated bigs in the game, at center at this point, so it makes sense to deal the 29-year-old, who just last season put up 18.5 points and grabbed 9.3 rebounds per game.
In other news, I miss his long hair.
Jamal Crawford Will Sign with the Pacers...or, Someone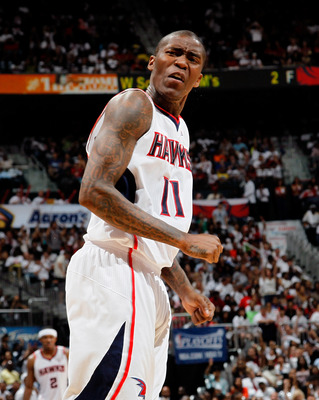 Kevin C. Cox/Getty Images
Jamal Crawford is one of the league's most sought-after free agents this offseason.
Amongst a plethora of able shooting guards, it's hard to argue Crawford isn't the best.
There will be lots of speculation as to where he'll end up for the 2011-12 season, and if I had to guess right now I'd say (other than his current Atlanta) he could be a sure thing to be on Larry Bird's radar in Indiana, and I think they can execute a deal.
The Bobcats Will Insert Bismack Biyombo into the Starting Lineup Immediately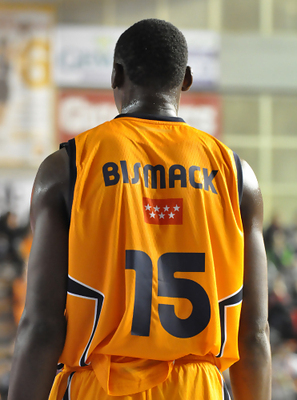 This just in: Bismack Biyombo is going to be a legitimate force in the paint for the Bobcats. Even though he was selected seventh overall, I still think he could be the biggest steal of the draft. He's almost like a Tyson Chandler/Ben Wallace hybrid. He just does everything perfectly.
I believe that No. 28 will be the starter from Day One for Michael Jordan's club, and the 6'9 big will win the Rookie of the Year award.
How's that for a bold prediction?
Luc Mbah a Moute Will Sign a Cheap Deal to Stay with the Bucks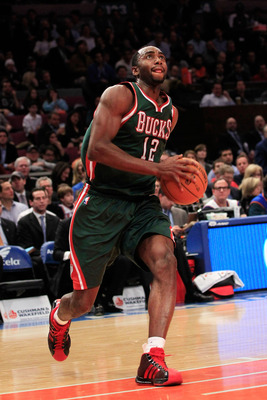 Chris Trotman/Getty Images
Luc Richard Mbah a Moute has been one of the NBA's most versatile defenders ever since he came out of UCLA in 2008.
The Milwaukee Bucks have appreciated his services and will offer him a small (but worthy) check to keep him around, and in doing so he will.
And even though Stephen Jackson will take some of his minutes, the Bucks will want to sign this defensive stalwart.
Greg Oden Will Be out of Portland by August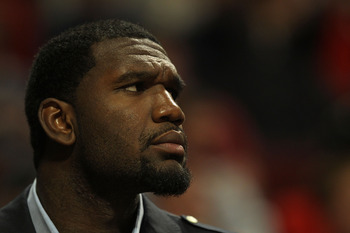 Jonathan Daniel/Getty Images
Here's an image we've seen all too often: Greg Oden in a suit.
The 23-year-old has a chance to overcome injury and start off fresh with a new team, and I believe he will by the time the season commences this fall. Heck, it'll be even sooner.
Danny Granger Will Be Shopped to the Extreme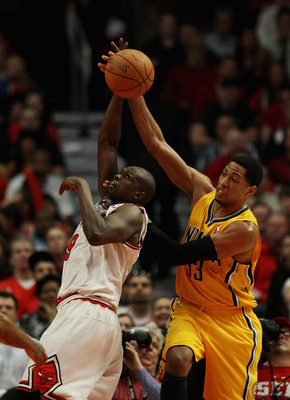 Jonathan Daniel/Getty Images
As much as Larry Bird hates to admit, the Indiana Pacers have been looking at dealing him around the league.
Heck, they could get a star in return, so why not deal the former New Mexico Lobo?
Vince Carter Will Go Unsigned-- for Now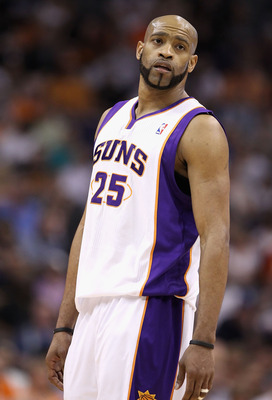 Christian Petersen/Getty Images
Make no mistake about it, Vince Carter's services are needed at some location around the United States.
The problem is that he currently has I-was-good-once-so-now-I-need-a-big-contract-even-though-I-am-washed-up-itis.
The cure? A team willing to spend a lot of money.
But a salary cut seems more logical.
Tracy McGrady, a Fellow Sufferer of Carter's Syndrome, Will Be Signed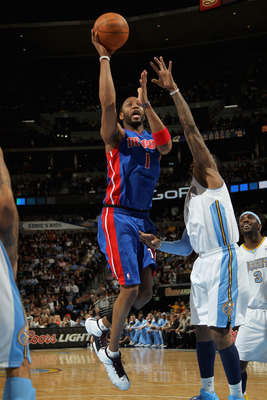 Doug Pensinger/Getty Images
Isn't weird to think Tracy McGrady just turned 32?
The future Hall of Famer might not be wanted in very many places this offseason, and being another sufferer of Vince Carter's virus, he will demand large chunks of cash.
However, I believe there's a team dumb enough to make him an offer he simply won't refuse.
Ramon Sessions Will Be the Odd Man out in Cleveland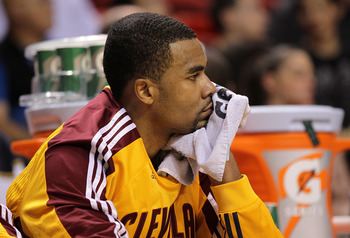 Mike Ehrmann/Getty Images
For a team that stinks, the Cleveland Cavaliers sure do have a nice assortment of point guards.
At the moment, they have Kyrie Irving, Baron Davis, Ramon Sessions, and Daniel "Boobie" Gibson.
Unfortunately for him, it looks like Sessions might be the odd man out. Maybe they can acquire a second-rounder or so for him.
Yao Ming Will Not Be a Houston Rocket Next Season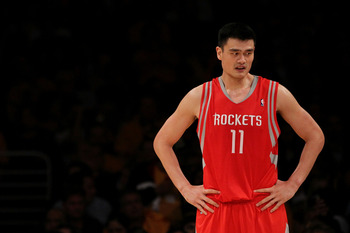 Jeff Gross/Getty Images
Yao Ming is a guy whose career has been derailed by injuries, and this season was no exception.
Although he might be the most influential basketball player of all-time, Ming might not necessarily be needed in Houston, where they are clearly looking at other options currently.
After nine seasons, the Yao Ming experiment will officially come to a halt.
The Washington Wizards, Being Content with What They Have, Will Make No Big Move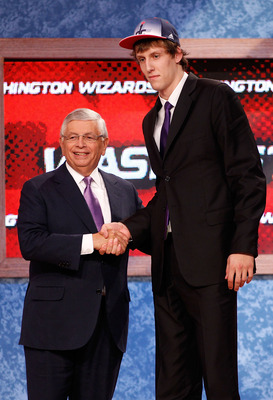 Mike Stobe/Getty Images
If there was any team that significantly improved during the 2011 NBA Draft, it was the Washington Wizards.
This team was as athletic as they come before the draft, and then they added Jan Vesely and defensive stopper Chris Singleton for good measure. This franchise is set for the upcoming season.
Mark my words-- we will see the Wizards in the playoffs as soon as next season.
The New Orleans Hornets Will Re-Sign Carl Landry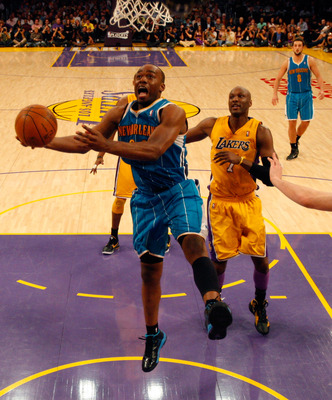 Harry How/Getty Images
Carl Landry is a guy who (on the inside at least) was ecstatic when news broke that David West was heading out of the Big Easy.
Landry, a solid player save his sub-par rebounding skills, will be able to sign for more money now with the New Orleans Hornets.
Speaking of the Hornets...
Chris Paul Will Be Shopped, but Not Dealt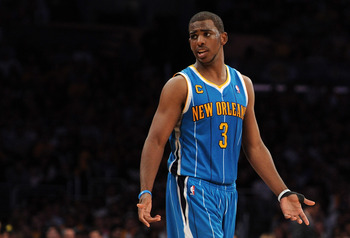 Harry How/Getty Images
Now that it seems inevitable that Chris Paul will take his talents out of New Orleans to perform elsewhere, teams are salivating at the idea of owning his rights, and are promptly proposing scenarios that could reel him in.
Unfortunately for them, no deal will be accepted fast enough and he'll be a Hornet next year.
The Chicago Bulls Will Sign Jason Richardson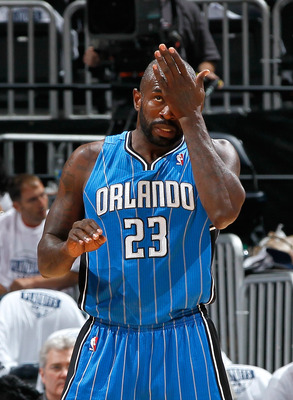 Kevin C. Cox/Getty Images
I'll bet you're wondering why I went 40-plus slides without mentioning the Chicago Bulls.
Truth is, they don't need to do much in editing their roster.
Jason Richardson's a perfect fit, and it's as simple as that.
Tim Duncan Will Mull Retirement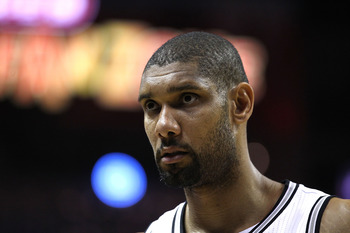 Jed Jacobsohn/Getty Images
It's long been said that one of the most admirable things a basketballer can do is retire at the top.
Does this mean Tim Duncan will follow suit now that it looks like the Spurs dynasty has come to a sudden halt?
I don't expect it to actually happen, but he will (I repeat, will) consider it.
Ron Artest Will Play for the Lakers in 2011-12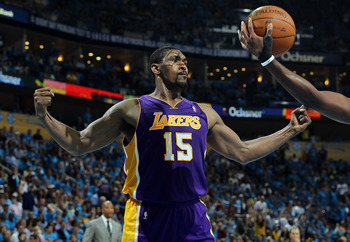 Ronald Martinez/Getty Images
Despite recent reports, Ron Artest-- um, I mean, Metta World Peace-- will play for the Los Angeles Lakers next season.
I don't think he's crazy enough to give up the chance to get that second ring for a season or two or Finland.
There's just no way.
David Kahn Will Apologize for His Wrongdoings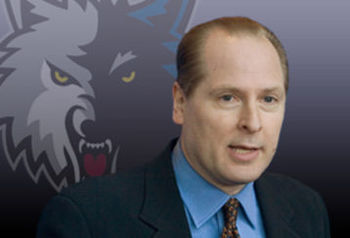 Notice how the title says "Bold Predictions"? Here's one that would rock the basketball world sideways.
David Kahn has been nothing but dumb in his stint as T'Wolves general manager, and he should be apologizing for another sub-par draft.
The likelihood of this actually happening, however, is less than that of the XFL returning.
There Will Be No Lockout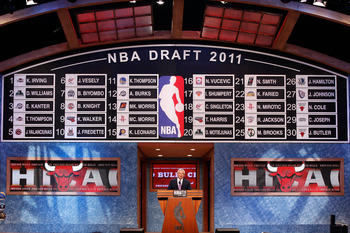 Mike Stobe/Getty Images
Now this prediction might be considered merely "wishful thinking", but I don't believe there will be an enforced lockout this summer.
I hope all differences and issues are resolved come September, because otherwise it's going to be a long winter for this guy.
Keep Reading