NBA Draft 2011: 10 Must Sign Undrafted Free Agents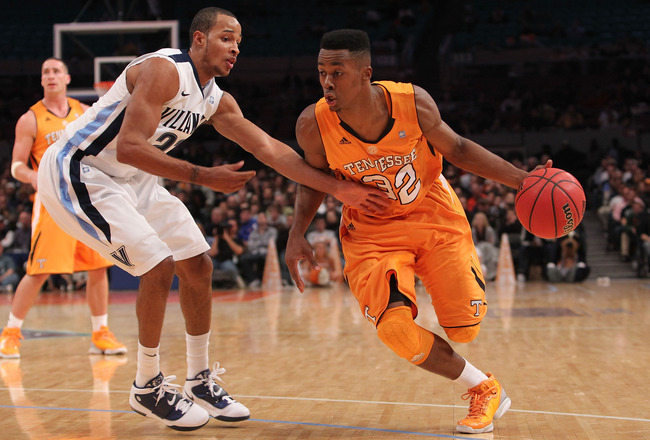 Nick Laham/Getty Images
One of the problems with the NBA draft is that it is only two rounds. There are a ton of players that are plenty talented, that go undrafted because each team only gets an average of two picks.
Although many of these undrafted players don't become stars, there are the diamonds in the rough.
Especially this year, there is a ton of talent deep in the draft and should be given looks by NBA teams before the start of the season.
1. Greg Smith, Center (Fresno State)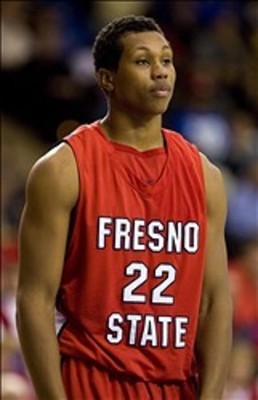 eye-on-college-basketball.blogs.cbssports.com
He is the highest-rated player on Chad Ford's board that was not drafted as the 46th best player in the draft.
He is a true center at 6-10 and is a very good rebounder. He needs to mature a little before he is ready to start in the NBA, though.
He will be picked up by an NBA team because of his size and rebounding ability. I know that he is not worth a draft pick because of his immaturity, but he would be an excellent free agent pick up before the start of the season.
2. Scotty Hopson, SG (Tennessee)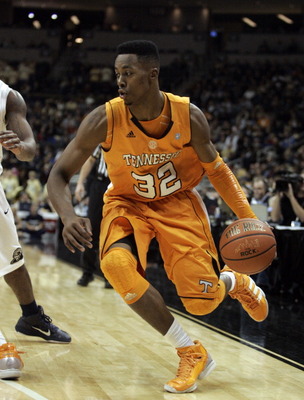 Justin K. Aller/Getty Images
He had all of the potential coming into college and didn't completely live up to expectations. His junior season, he averaged 17 points per game; making him always a threat to score.
Scotty Hopson is fundamentally sound, can do everything that is asked of him, and is one of the quickest players in this year's draft.
He is athletic and long with a 6-foot-10-inch wingspan, although he is only 6-foot-7. He should be picked up in free agency because of his ability to score and get to the rim with ease.
3. Demetri McCamey, PG (Illinois)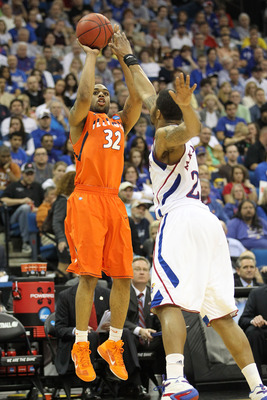 Ronald Martinez/Getty Images
He has excelled at Illinois the past three years. Over those three years he has scored over 10 points and averaged over 4.5 assists per year.
Demetri McCamey is very strong for his point guard position and can make NBA threes very easily. He is good at catching and shooting and should be a very valuable free agent pick up.
He needs to work on his defense, but once he is picked up, expect him to see the floor in his rookie year.
4. Malcolm Thomas, PF (San Diego State)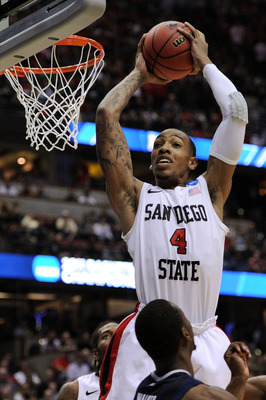 Harry How/Getty Images
I have no idea how Malcolm Thomas was not drafted. He is almost identical to Kawhi Leonard, just a couple of years older and not quite as good on the boards.
Thomas is a very good athlete, solid defender and is great at protecting the rim. He isn't an extremely prolific scorer, but averaged 11.5 points per game and could provide a spark to many teams in the NBA.
I could see a smaller team that needs a power forward picking him up to add depth to its roster.
5. David Lighty, SG (Ohio State)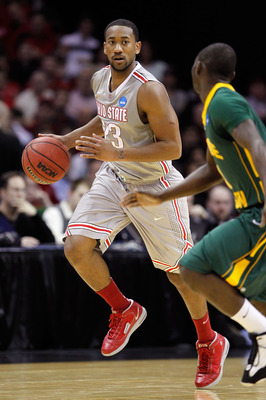 Gregory Shamus/Getty Images
His biggest knock is that he isn't great at anything. Isn't it sad that if he's not great at anything, he won't get drafted?
Wouldn't you rather have a player that is a very good at everything, is consistent and will get the job done than a player that is great at one thing but sub-par at others?
He is not going to score 20 points or lock down LeBron James for the night, but he will develop into a good NBA player and will turn out be a better player than most of the second-round draft picks this year.
6. Ben Hansbrough, PG (Notre Dame)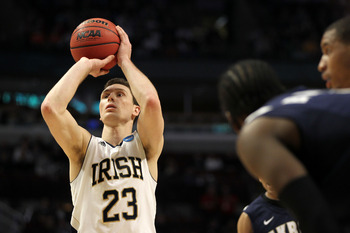 Jamie Squire/Getty Images
He was the 2010 Big East player of the year. That alone should have got him drafted. He was the best player in the best conference in the nation.
Although he is 23, which seems to be a bad thing in the NBA, he is extremely experienced. He is a very good defender with quick lateral movement and is great when gets out on the break.
He should have been drafted and is a must-pick-up in free agency.
7. Jamie Skeen, PF (VCU)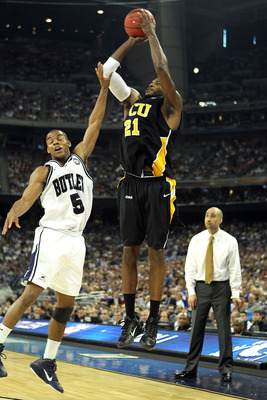 Andy Lyons/Getty Images
Not too many people knew of him until VCU's run into the Final Four, but Jamie Skeen had a solid year. He averaged 15.7 points and 7.3 rebounds and is a very good three point shooter.
He made a good amount of clutch three-pointers in the tournament and will become a valueable asset if picked up at the NBA level.
He is a high speed player and smart as well. He should be one of the first players picked up in free agency.
8. LaceDarius Dunn, SG (Baylor)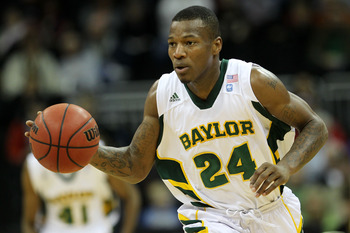 Jamie Squire/Getty Images
Although he has a poor field goal percentage, LaceDarius Dunn could become a good NBA shooting guard.
He has the scoring ability ready for the NBA, putting up over 19 points per game the past two seasons in the Big 12 Conference.
He a very good athlete and would help almost any team in the NBA. He would be a great spark off the bench and with very good range on his three-point shot, he is NBA ready.
9. Malcolm Delaney, PG (Virginia Tech)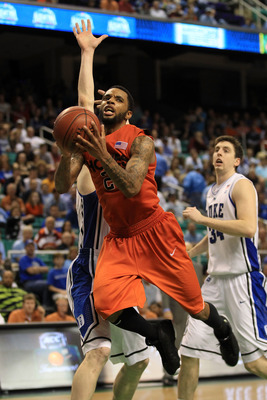 Streeter Lecka/Getty Images
Nineteen points, 3.5 rebounds, four assists, 1.6 steals per game. Looking at pure statistics alone, Malcolm Delaney is a very pure and proficient point guard.
Quickness is one of his main strengths, especially using it to slash to the basket. I think that he could become a useful player in the NBA as a role player.
He is not gifted enough to start in the NBA right now, but he could become a solid backup for his first few seasons. I think a young team, possibly the Raptors or the Jazz, could use a free agent point guard.
10. Matt Howard, PF (Butler)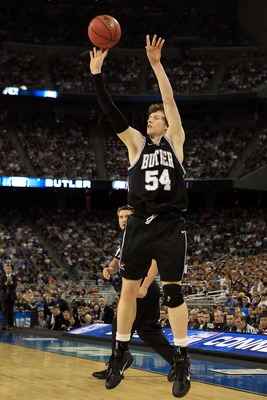 Streeter Lecka/Getty Images
We all know why Matt Howard was not drafted. He's not tall for his position, he's not an exceptional athlete and he isn't fast.
The one thing that Howard has that almost nobody in this draft has; he knows how to win when facing elimination.
In my opinion, he is the most clutch player in all of this year's draft, and has proven it over the past two years in the NCAA Tournament.
He is extremely tough, very smart and can shoot well as a power forward. I could see Boston or San Antonio picking up Matt Howard to have as the eighth or ninth player.
Keep Reading