Miami Heat: LeBron James an Unlucky Realist or Disintegrating Superstar?
June 25, 2011
Mike Ehrmann/Getty Images
Many angered sports fans are shouting all across the country, is LeBron James the "Robin," or the "Sellout?" Is the two-time MVP, eight-time All-Star, the one dubbed by Scottie Pippen to be the greatest player behind Michael Jordan in NBA history, a bust in the glimmer of these comparisons?
There is only one man who can answer these ponderings, that being "Big Shot Bob," otherwise known as Robert Horry, who made a living with the Rockets, Lakers, and Spurs en route to seven rings by nailing the clutch shot.
Why does this matter? It matters because he was never a star but he has seven rings and by that alone some critics believe he deserves to be in the Hall of Fame.
In today's NBA, we judge all-time greats by how many rings they have won and whether or not they led their teams to title town. But is this a fair assessment considering a life-long bench guy like Horry has seven?
Never was Horry the franchise guy—in fact, as great as he seemed in closing minutes, Robert Horry never became the player we expected him to be after his timely three-point shooting for Houston's second title run.
Horry's brief stint in Phoenix after a trade in 1996 proved he was not endowed with a star motor. A hot tempered, dramatic and aloof head case, Bob languished, averaging 6.9 points at a career low shooting clip of 41.8 percent. A trade by mid-season to the L.A. Lakers, a team filled with Kobe Bryant, Shaquille O'Neal, Nick Van Exel, Eddie Jones, Elden Campbell and Cedric Ceballos, changed the trajectory of his failing career.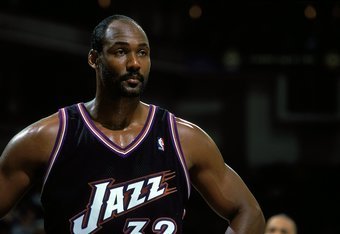 Jed Jacobsohn/Getty Images
So why then, is Bob a champion? Why not franchise guys like Barkley, Malone, Stockton, Dominique, Ewing or Reggie Miller? Each of those listed above were worthy of winning gold, were they not? All of them were respective franchise pieces with the heart, skills and late game heroics to hold the Larry O'Brien NBA Championship Trophy.
The answer to their problems was Michael Jordan's Bulls, a team of role guys surrounding the king of the sport with that IT factor needed to win it all; something today's critics use to gauge greatness and rank the all-time elites.
So what is the issue then with the tautness of this old-time equation? Why not turn a blind eye and allow this to be the answer to everything?
Simply because it just does not add up. It does not offer enough answers. If Big Shot Bob has seven rings, or the likes of Jack Haley—former 12th man for Jordan's final three pea—has three, then the equation's a bit off. We need something else, a new perspective when thinking of the greats and why and how they never hung the O'Brien.
I believe individual luck is partly the answer. Yes, luck—a maddening machine random like the California lottery. Historians prefer the term "historical happenings"—a notion that choices are made for no other reason than they were just made, and the dominoes rearrange the cosmos of a world more closely inter-connected than we might wish it to be (think: guy who smells like farts at the movies, or the swine flu victim winding a cough onto the back nape of the neck.)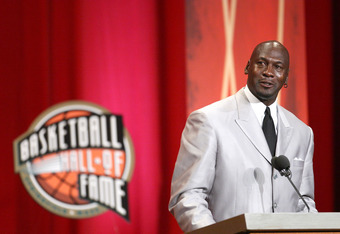 Jim Rogash/Getty Images
Luck.
To think Michael Jordan fell to No. 3 in the 1984 draft could be easily overlooked for a variety of reasons: Sam Bowie, the No. 2 pick before M.J., was a college superstar and a big man compared at the time to the greats. The Blazers already had a gifted wingman in Clyde Drexler and, at the time, the league was built around bigs: Kareem, Sampson, Robert Parish, Patrick Ewing and Moses Malone.
But that does not make things less ludicrous. Look at how the draft shaped the NBA forever. M.J. goes to an ordinary Bulls team built in perhaps the greatest city in America, where he wins the rookie of the year, five MVPs, slam dunk contests, becomes the game's biggest mogul and wins six titles.
Alongside Oprah, M.J. is easily the greatest name in Chicago history and can be attributed for an economical explosion that saved the lower West side of the city once run with drug abuse, gang wars, and prostitution.
Bowie, in the annals of the NBA, is known as "the bust." He never won a thing in the pros: no All-Star games, no shoe deals, thus injuring the once bright ideal the Blazers had in trading their franchise Center Bill Walton to Boston in the late '70s.
This, my friends, is the Sam Bowie, a supernatural element that cannot be ignored.
Luck.
Yet, like so many children born into inner city poverty without the tools necessary to change their lives, we cannot judge the stars through a similar bias, because not all players are born lucky into a posh franchise. The gift of playing in Los Angeles or Boston does not come to everyone. Not every player is born into a showtime era, a team so deep they make the ocean look like a kiddie pool.
For some, seeking a new home is like divorcing an abusive wife. In order for Mitch Richmond to adorn gold, the talented and true shooting guard had to eventually break ties in the perils of Sacramento. Karl Malone found it necessary to join with Kobe and Shaq in '04 after a long tenure in Utah. And even the humble Clyde Drexler left a hell of a situation in Portland to win it in Houston. All three of which were great with or without (sing it Bono) a championship.
The reality of the situation is heartbreaking for most. We, as childish dreamers, wish our favorite player could be greater than the others, but this is not real. Embracing a pragmatic approach to the sport tied less to your heart strings will allow you to see greatness wrapped in many different packages.
Reality No. 1: Great players DO NOT win championships, great TEAMS win championships. The 2004 Detroit Pistons are a perfect example of this. A team of role guys without a future Hall of Famer, the Pistons had the momentary IT. Call it faith, hard work, purity and any other beautiful thing you want, but to explain why they won a title over an L.A. Laker team stocked with four future Hall of Famers would be absurd.
Reality 2: Like the stars in the sky, NBA stars need other stars. Think for a moment about the teams who have won championships in the last 30 years. All of them have one thing in common: team depth and stars surrounding stars. Magic had Kareem and Worthy; Bird–McHale and Parish; Dr. J–Moses Malone; Isaiah–Dumars and Rodman; M.J.–Pippen; Hakeem–Clyde; Shaq–Kobe and Wade; Duncan–Robinson, Parker, and Ginobili; Pierce–KG and Allen.
Reality 3: Winning titles does mean a lot, but it does not mean everything for a myriad of reasons. If the 1919 Chicago Blacksox or dirty referees like Tim Donaghy can throw World Series and playoff games, then how serious can we take this thing? Not very. Take everything with a grain of salt and learn other decided facets when it comhttp://bleacherreport.com/editor_queuees to judging all-time greats: MVPs, All-Star appearances, career totals, game winners, ability to close, athleticism, re-defining the sport, dominance-ometer, and sociological affects.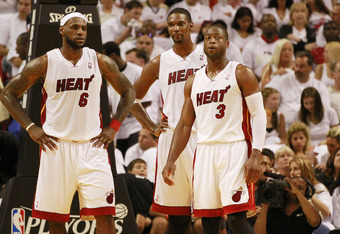 Marc Serota/Getty Images
LeBron James is not a sell out because the guy wants to win, he's a realist. A star unselfish enough to admit that NO star including himself can win a title completely on his own.
LeBron is stuck in the the Bill Clinton Vacuum. Though he does great things, he is brushed aside because of one unlikeable decision.
But greatness is not a grade school quiz on being friendly, it is brutal giftedness. And likeability is not the twin brother to being great.
LeBron made a decision to better his career and his life. Leading a Cleveland Cavs team the last seven years that never boasted anybody better than a has-been version of Antawn Jamison, warrants James' departure. No, it does not warrant the overdone TV cinematics regarding "the decision," nor the Pat Riley blowout introduction party in South Beach. It also shouldn't foster the illogical hysteria across America attempting to deny the man's sheer dominance and greatness.
This is not patty-cake, kids. We are talking about a production entertainment where all titles are but a decorative decor. They might help the woman look real fine, but if that woman is not fine without the jewelry or the tight fitting jeans, I say run, run as fast as you can.
Drop by the nearest bar and have a scotch on me. Look through the world with freshness and at what is truly great—it is not the girl next to you, it is the scraggly bartender able to whip up drinks faster than the average Joe.