NBA Draft 2011: Denver Nuggets Hit Mile-High Level in Draft
June 25, 2011
Mike Stobe/Getty Images
The new-look Denver Nuggets are one of the youngest teams in the NBA, and they just got younger by adding three rookies through the 2011 NBA Draft.
The Nuggets, usual no-shows in the first round of the draft (0 picks in the last five years), went wild in this year's draft, arguably their best since Carmelo Anthony fell in their lap in 2003.
Denver's been deficient in rebounding for far too long, which is why when Kenneth Faried fell to them at No. 22, the Nuggets had to take the power forward.
Faried, at 6'8" 225 pounds seems undersized to play the four in the NBA, but he has an extremely high motor, his energy is off the charts, and his aggression is second to none.
Faried is a grinder, a tough-nosed player that does all the unglamorous things on the court that are so neccesary to winning in the NBA.
Faried averaged an almost unbelievable 14.5 rebounds per game as a senior at Morehead State last year, he's a relentless rebounder. But beyond last year, Faried's 1,673 boards in his career made him the No. 1 rebounder in the history of the NCAA, surpassing Tim Duncan, the previous top man at the college level.
What's impressive about Kenneth Faried is that he simply never gives up on a loose basketball, he merely wants it more than anyone else on the court.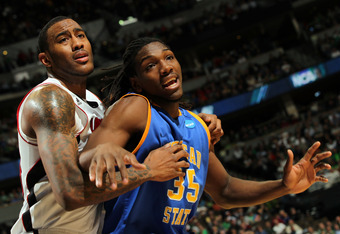 Doug Pensinger/Getty Images
Faried's furious hustle allows him to get between opponents and the hoop, and he understands how to block out as well as anyone in this year's draft. Faried is a feisty player that bullies others on the way to the basketball, and his amazing leaping abilities allow him to get up and over bigger opponents.
Above all else, Faried is an aggressive player, on both ends of the floor. No, he's not an offensive powerhouse, despite what his 17.3 points per game last year might say on paper, but he understands how to get to the hoop with ferocity.
And even though the Nuggets got the man they eyed before the draft began in Faried, they weren't done.
Denver traded Raymond Felton, who was rumored to be unwilling to backup Ty Lawson, and got Andre Miller, the No. 26 pick (through Dallas) and a future second-rounder.
Miller, who played in Denver from 2003-2006, was a fan favorite and a favorite of George Karl as well. Miller's worked hard for everything he's ever gotten in the NBA—he's not the fastest, quickest or highest jumper—but the veteran is a consummate professional, a reason he will be entering his 12 season as a pro next year.
Andre Miller is extremely coachable, he will be a stabilizing force and hopefully a mentor to the younger Lawson.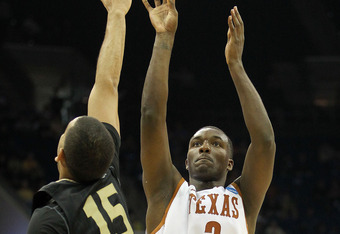 Ronald Martinez/Getty Images
And along with Miller, the Nuggets got the No. 26 pick, which was used to draft Jordan Hamilton.
Hamilton is an athletic and dynamic 6'8", 228-pound sophomore small forward out of the University of Texas.
Hamilton's biggest strength is his offensive game, specifically his shooting. Hamilton has a sweet and smooth outside shot (39 percent) and he's good at getting off mid-range and other shots under duress.
He uses his size to his advantage, backing down and spinning on smaller defenders and grabbing rebounds (7.7 RPG) over them. And Hamilton runs the break well, finishing in transition many times with highlight reel worthy dunks.
Jordan Hamilton was expected to go anywhere from 10-20 in the draft, meaning the Nuggets might have gotten a big-time steal with his services at No. 26. But likely a reason he fell so far were the rumors that Hamilton is uncoachable, selfish and a locker room cancer.
Whether or not he is remains to be seen, but the Nuggets are a mile high on his upside.
Late in the night, Denver turned the future second round pick around and traded it to LA for Chukwudiebere Maduabaum, a 6'9" 210-pound project out of Nigeria.
Simply stated, the Nuggets' 2011 draft was a slam dunk.
Denver came in with one pick and exited the night with four new players on their roster.
Even though it's early, Denver's draft grade is a solid B and both Faried and Hamilton could impact the team immediately and for many years to come.
Rich Kurtzman is a freelance journalist actively seeking a career in journalism. Along with being the CSU Rams Examiner, Kurtzman is a Denver Nuggets and NBA Featured Columnist for bleacherreport.com, the Colorado/Utah Regional Correspondent for stadiumjourney.com, a weekly contributor to milehighhoops.com, a contributor to milehighreport.com writing on the Denver Broncos and a contributor to Blake Street Bulletin, part of ESPN's SweetSpot Blog Network.
Rich also manages K-Biz and Beezy, a Colorado-based rap group.
Please follow Rich Kurtzman on Facebook and Twitter.
---
For more 2011 NBA draft coverage, stay tuned to Bleacher Report for NBA draft results and NBA draft grades.