2011 NBA Draft Results: Comparing This Draft Class to Current NBA Players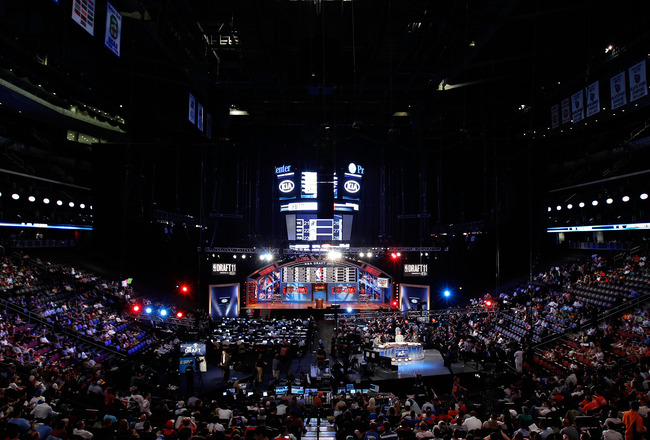 Mike Stobe/Getty Images
Now that the first round of the 2011 NBA Draft has come and gone, let's take a look at each of the prospects.
Will they be able to contribute to their new teams? What are their strengths and weaknesses? What can be expected out of them?!
First, calm down and take a breath.
Second, let's take the next 30 slides to choose some comparisons for these brand-spanking new NBA talents.
I've limited the comparisons to current NBA players in hopes that it will assist in grasping what kind of player they can blossom into in this modern era.
1. Kyrie Irving, Cleveland Cavaliers: Chris Paul, New Orleans Hornets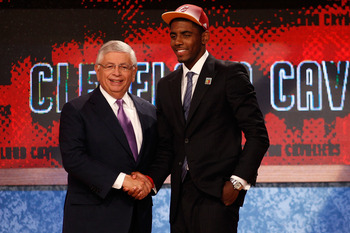 Mike Stobe/Getty Images
Paul has a proven track record in the league, so no disrespect to what he has already accomplished.
But you'll have to admit that Kyrie has a similar style game, and this is what the Cavaliers are thinking.
Irving is a very efficient shooter, a great ball-handler and distributor, and has a very high basketball IQ. Like Paul, he's very quick, but won't wow you with his athleticism.
Irving will be a great player in this league if he can stay healthy, and if he works hard, he could have All-Star-caliber talent.
2. Derrick Williams, Minnesota Timberwolves: Danny Granger, Indiana Pacers
Mike Stobe/Getty Images
This comparison depends on what position you think Williams will play when he enters the league.
At 6'8", and with great range on his jumper, I think he'll thrive as a SF. Williams is athletic enough to guard most players on the wing, and his competitive edge will likely drive him to improve in that area.
Danny Granger has proven himself in this league as a capable scorer and slasher, though Williams is probably even better in that regard, using his athleticism to throw himself at the basket for buckets or rebounds—sometimes both.
3. Enes Kanter, Utah Jazz: Luis Scola, Houston Rockets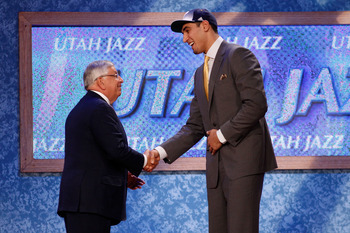 Mike Stobe/Getty Images
Kanter is already very advanced mechanically on offense, and will confuse defenders with his array of moves and power on the block. I've used the "old guy in a pick-up game" analogy before, showcasing a barrage of pump-fakes down low.
Scola is a great rebounder as well, which is another part of Kanter's game that will translate at the next level. Neither is a very imposing athlete, though given Kanter's age, he can still run the floor very well and be a factor in transition.
4. Tristan Thompson, Cleveland Cavaliers: Taj Gibson, Chicago Bulls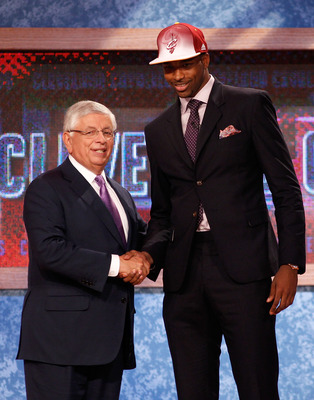 Mike Stobe/Getty Images
Thompson has gotten a big boost recently and has landed in Cleveland where he'll join Kyrie Irving. Thompson is going to be an immediate factor defensively, much like Gibson, but is going to have to improve both his jump shot and post game.
Gibson is already a contributor in this league. so the Cavaliers may be looking at the Bulls' model for inspiration—picking up a young PG and teaming him with defensive-oriented players.
5. Jonas Valanciunas, Toronto Raptors: Pau Gasol, L.A. Lakers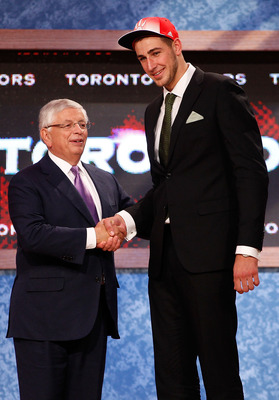 Mike Stobe/Getty Images
One of the reasons the Cavs were set on drafting the Lithuanian big man (or as Jeff Van Gundy said, "Val…the Lithuanian big guy.") was his upside. He's a true center, but can play some minutes at power forward and will be a good defensive player as soon as he arrives next season because of his size and tenacity.
If Valanciunas adds some post moves, he can also score double figures as well, and because of his size, it won't just be on garbage buckets. He's a solid free-throw shooter, so hopefully he can develop a mid-range shot like Gasol's to diversify his offensive game.
6. Jan Vesely, Washington Wizards: Andrei Kirilenko, Utah Jazz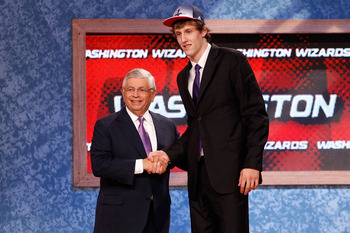 Mike Stobe/Getty Images
Vesely's an incedible athlete, and at 6'11", he's got great length.
His years of seasoning in the Euro leagues—the second-best league in the world at this point—will do him good. He is a competitor and will project as an above-average defender.
Also like Kirilenko, Vesely will be able to get his points in transition and on garbage buckets. On a Wizards team with a couple gunners (Crawford, Young) he will not demand many shots and can play the role of defensive-stopper and finisher in transition.
Jan also had the quote of the night, calling Blake Griffin, "the American Jan Vesely." Washington fans should be excited.
7. Bismack Biyombo, Charlotte Bobcats: Ben Wallace, Detroit Pistons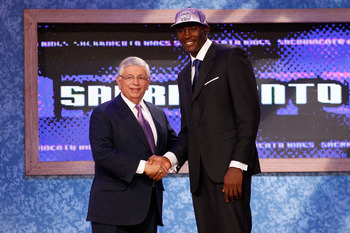 Mike Stobe/Getty Images
The only things certain about Biyombo are he will wow you with his size, length and athleticism, and he'll be an impact defensive player for years to come.
Biyombo passes the eye test, so much so that people wonder if he's really 18 years old, and is deserving of at least the physical comparisons to Serge Ibaka. But Wallace is a better comparison, as Ibaka's jump shot is far more refined. Like Wallace, Biiyombo can only be relied upon at this point for defensive assistance at the PF and C positions.
8. Brandon Knight, Detroit Pistons: Brandon Roy, Portland Trail Blazers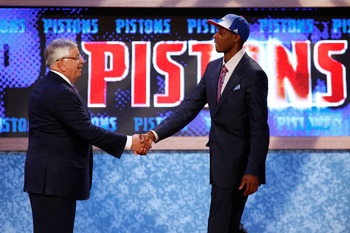 Mike Stobe/Getty Images
Knight lives for the moment like Roy and is a bit of a combo guard as well. I don't see him being a distributor so much at the next level, but Knight has good mechanics on his jump shot and a high ceiling because of his youth and maturity.
The best thing about these two is their competitive nature, as evidenced by Roy's recent playoff heroics and Knight's impressive run in the NCAA tourney. If Knight can add some bulk to his wiry, four-percent body fat frame—or possibly grow another inch—he'll be a better matchup on both ends as a shooting guard.
He's a smart kid, so he knows what he has to do. But I think he ends up as more of a scoring combo guard that can bring the ball up than a full-time point.
9. Kemba Walker, Charlotte Bobcats: Ty Lawson, Denver Nuggets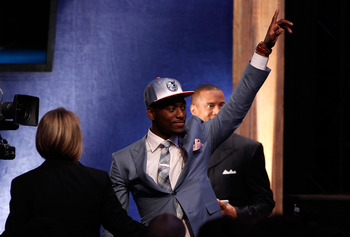 Mike Stobe/Getty Images
Walker may not have ideal size,—though even he bests Ty Lawson in the tape measure department—but he's got a winning swagger and the determination to do what it takes to win.
Both are good shooters, and Lawson's recent emergence in Denver has to be promising. Once Lawson got the opportunity, he ran with it, and Walker has been doubted every step of the way, so it seems fitting we compare them here.
I worry a bit about how effectively Walker will be able to guard some points in the league,—that is the only position he'll likely matchup with—but he has the "it" factor that will not only pay dividends on the court, but also in the franchise bank account.
10. Jimmer Fredette, Sacramento Kings: Ben Gordon, Detroit Pistons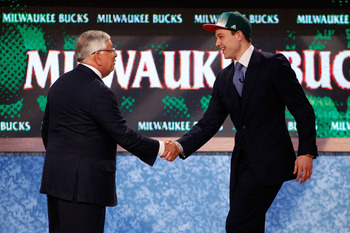 Mike Stobe/Getty Images
Fredette has been more scrutinized than any other player in the draft, but he's determined to show he has a place in this league. At this point nobody expects any All-Star nominations, but every good team needs solid contributors—and dead-eye three-point shooters
The Kings needed to improve their outside shooting, and Fredette can play facilitator when next to Tyreke Evans. Ben Gordon has shown an ability to knock down shots, score in bunches when hot and is living proof that you don't have to be a great (or even average) defender to make a career in the NBA.
11. Klay Thompson, Goldent State Warriors: Kyle Korver, Chicago Bulls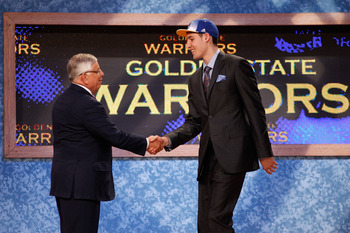 Mike Stobe/Getty Images
Thompson is a terrific shooter and has long range on his jumper, though like Korver, his athleticism is constantly under question. Thompson is admittedly better in this department, but he comes from a NBA pedigree that will also allow him to succeed as a top shooter on a contender.
Because of his size, Thompson can also contribute as a rebounder from the shooting guard position. He's a decent passer, though his NBA staple will unquestionably be long-range shooting.
12. Alec Burks, Utah Jazz: John Salmons, Sacramento Kings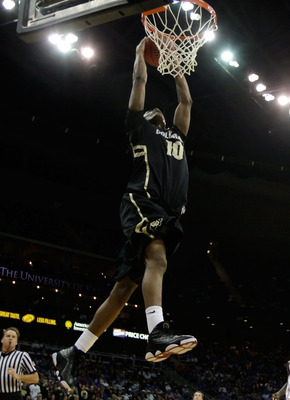 Jamie Squire/Getty Images
Burks is a versatile player, but is known mostly for his slasher ability. Salmons is a better shooter at this point, but Burks can improve his mid-range game while he finds a way to contribute with scoring at the rim.
There was a lot of talk about Burks having a "chip on his shoulder" during his interviews, and Salmons has thrived on big stages in the past. If Burks can use that as motivation to improve, it will be an upgrade over Salmons' work ethic, which seem to be limited to contract years.
To be fair, Salmons has been a contributor on a number of good teams, and I believe Burks is capable of scoring 15-plus PPG.
13. Markieff Morris, Phoenix Suns: Drew Gooden, Milwaukee Bucks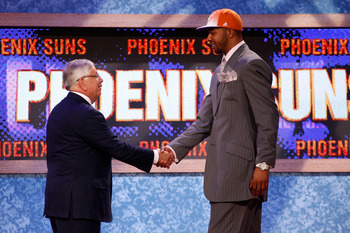 Mike Stobe/Getty Images
In a stunner, older twin brother Markieff got selected before Marcus.
If anything, it's because Markieff projects as a good rebounder at the next level, perhaps the most outstanding attribute of the twins. As a legitimately-sized PF in the league, rebounding is likely to translate.
Morris has never been away from his brother, and interviews suggest he's the more reserved of the two, but Phoenix hopes he can adapt and contribute in the post. Gooden has been that type of player for a number of winning teams with the ability to give you a double-double on any given night.
14. Marcus Morris, Houston Rockets: Wilson Chandler, Denver Nuggets
Mike Stobe/Getty Images
Chandler might have more range on his jumper, but Marcus will also make a living with his scoring ability from outside. They both have good size for small forwards, and are creative scorers and solid rebounders for the position.
Morris will contribute quickly as a scoring option off the bench, but he needs to prove his commitment on defense at the next level. His versatility will be an asset, but to become an NBA "somebody" he'll need to be a two-way player.
15. Kawhi Leonard, Indiana Pacers: Shawn Marion, Dallas Mavericks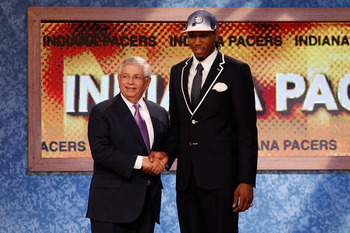 Mike Stobe/Getty Images
As Marion showcased in the playoffs, he can be a very effective wing defender. Leonard is taken here largely because of his defense, though his motor is certainly another contributing factor.
If rumors are true about positive results on his new jumper mechanics, Leonard will be an offensive threat as well. Up to this point, we'll have to compare Leonard's shot to Marion's ugly (if increasingly effective) jumper.
16. Nikola Vucevic, Philadelphia 76ers: Brook Lopez, New Jersey Nets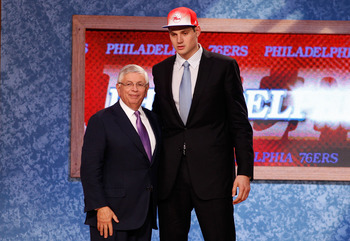 Mike Stobe/Getty Images
Like Lopez, Vucevic has great size and rebounded well at a West Coast school. They also both have above-average jump shots for their position and can extend that shot out almost to the three-point line.
Vucevic has better athleticism and some have said he has the same abilities as Enes Kanter, so this is a solid pick for Philadelphia. Lopez had a down season, and people are sleeping a bit on how well he played recently.
17. Iman Shumpert, New York Knicks: Russell Westbrook, Oklahoma City Thunder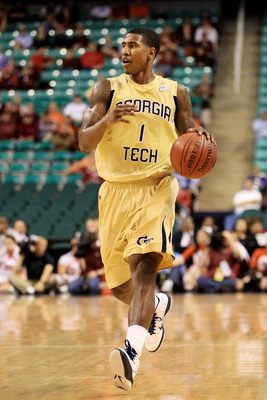 Streeter Lecka/Getty Images
Shumpert is physical freak and has great size for the point guard position—which means he could also spend time at shooting guard next to Chauncey Billups. This is undoubtedly a kind comparison, given Westbrook's production and youth, but Shumpert is similar physically; Westbrook didn't overwhelm people with his college stats either.
He also has questionable shot selection and efficiency, but that hasn't stopped Westbrook from having some big games as a quasi-distributor at lead guard. Shumpert exploded on the scene recently, which means teams had been seeing something in workouts—likely guarding other top prospects and general ability to contribute in all facets of the game.
If Shumpert learns to defer to his superstar teammates (should be easy enough), he can make an impact in his rookie season.
18. Chris Singleton, Washington Wizards: Ron Artest, L.A. Lakers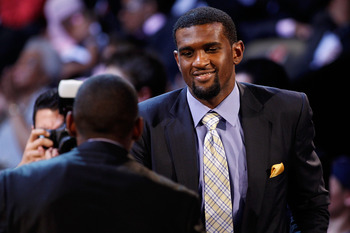 Mike Stobe/Getty Images
Singleton is the best defender in this draft.
As a 6'9" small forward who can slide over to the other forward position at times, he can defend at least three positions at the NBA level. The Wizards needed a tough-nosed competitor at small forward (despite drafting another combo forward at pick No. 6), and Singleton doesn't have any of the character red flags Artest had.
Like Artest, it's painful watching Singleton dribble, but Ron improved his three-point shooting over the course of his career while he dominated on the defensive end.
19. Tobias Harris, Milwaukee Bucks: Landry Fields, New York Knicks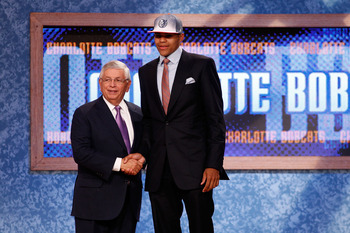 Mike Stobe/Getty Images
Harris is the youngest player in the draft, but has a maturity that belies his years. He's got a well-developed game, but doesn't necessarily have any stand-out talent that will give him a defined role in the league.
Like Fields, he is a sleeper candidate for Rookie of the Year because his ability to adapt will allow him to contribute quickly. They both have an outside game, and Harris is a bit more athletic and able to facilitate as a playmaker.
Fields worked hard on his shot and came in contributing from the three-point line—something Harris could stand to focus on in the offseason.
20. Donatas Motiejunas, Minnesota Timberwolves: Danilo Gallinari, Denver Nuggets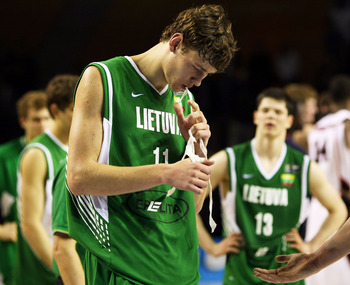 Hannah Johnston/Getty Images
The easy pick would be Andrea Bargniani, but Donatas appears to be more of a fiery player in the mold of Gallinari. Despite a very lithe frame, he works to get to the basket, and at 7'0", can score over top of most players in the league.
As an inside-out power forward, he'll present mismatches for defenses and can be an offensive asset quickly. Like Gallinari, he came over as an already refined shooter, and they will come in with similar expectations.
Unfortunately, Donatas projects as a below-average rebounder, especially for his position, and motivational questions may keep him off the floor if he can't expend effort at both ends.
21. Nolan Smith, Portland Trail Blazers: George Hill, Indiana Pacers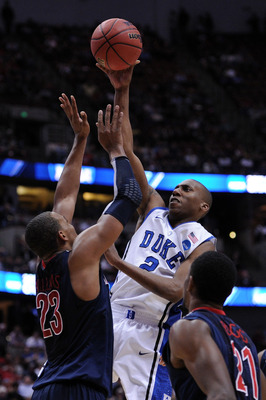 Harry How/Getty Images
Smith proved himself as a winner over his four years at Duke and transitioned to point guard, so he will be able to find minutes at both guard positions. He also has a NBA pedigree, so he's got a love of basketball and willingness to work hard to live up to expectations.
Hill has played well for a good team in San Antonio (though he was just recently traded to the Pacers in a steal of a deal for the Spurs) , and his shooting, passing and ability to pass and collect a few boards make him appealing in a variety of lineups.
If Smith can extend his range like Hill, he will be a contributor for a well-managed team.
22. Kenneth Faried, Denver Nuggets: Reggie Evans, Toronto Raptors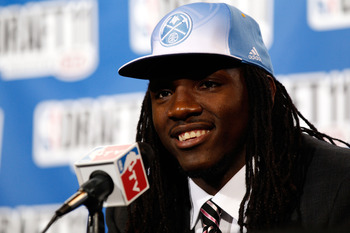 Mike Stobe/Getty Images
He will rebound. And he will rebound well.
Faried can be a double-digit rebounder given the minutes, and will be an asset to teams in the locker room and in the energy department. He's less bulky than Evans, but his athleticism makes him a more exciting player who will make his living within a couple feet of the rim.
Faried is young, and it's possible he can develop an offensive game, but given his lengthy college career, he should be pretty seasoned already. His motor is appealing to every coaching staff, and that's why Evans has gotten a lot of minutes—and rebounds—over the years, even at below-average height.
23. Nikola Mirotic, Chicago Bulls: Ryan Anderson, Orlando Magic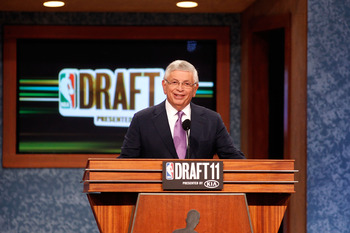 Mike Stobe/Getty Images
(Apologies for the lack of a picture, Getty doesn't have any available.)
It will be at least 2014 before Mirotic ends up in the league, but he's got great size and a developing set of post moves. He's not ready to contribute, but he'll be a mismatch as a 6'10" SF, where he'll likely spend at least some of his time.
His shooting ability is reminiscent of Ryan Anderson, though he's probably more capable of playing on the wing. Anderson may be a better rebounder, but they have similar size and can both contribute on the boards.
24. Reggie Jackson, Oklahoma City Thunder: Darren Collison, Indiana Pacers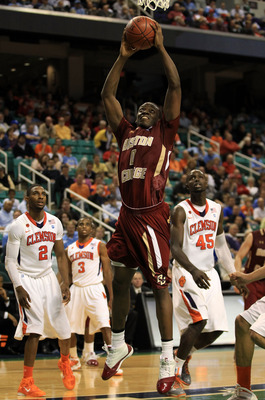 Streeter Lecka/Getty Images
Both Jackson and Collison are scoring guards, but at 6'3", they are going to contribute mostly at the point.
Jackson's stock went up despite an injury that eliminated any workouts.
Collision has been a pretty efficient outside shooter, especially in this year's playoffs, and Jackson is known for having range on his jumper. Jackson will be stuck in a reserve role, but with the Thunder reportedly shopping Eric Maynor, he may get the minutes to prove himself a viable alternative to Russell Westbrook, whose fit at point guard is questionable anyway.
25. Marshon Brooks, New Jersey Nets: Jamal Crawford, Atlanta Hawks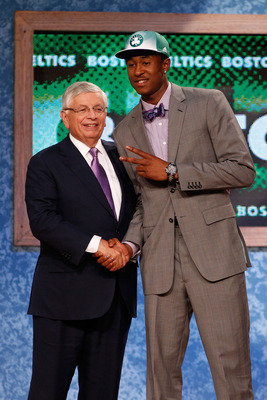 Mike Stobe/Getty Images
Neither of these guys is always considered "fun to play with," but that is largely a result of their self-confidence and willingness to shoot, even in a slump.
That can be good and bad, but with Brooks and Crawford, it is mostly good.
Brooks scored in bunches in college, and we've seen Crawford do the same at the NBA level. The question is whether Brooks can use his size and length to be a factor on defense—something Crawford has done inconsistently up to this point.
26. Jordan Hamilton, Dallas Mavericks: Dorrell Wright, Golden State Warriors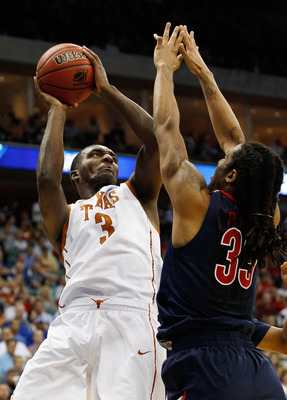 Tom Pennington/Getty Images
Both are hot-and-cold volume shooters, but both are confident and have range that extends past the three-point line.
The worry with Hamilton is whether or not he can thrive as a role-player, but Wright is proof that you can be an effective contributor if you draw defenses out with your three-point shooting.
Hamilton can also rebound, something we've seen Wright do in accumulating a lot of double-doubles with Golden State. Hamilton may have to wait for his opportunity to shine, but if he can score off the bench, he'll get a chance to be a starting three in the league.
27. JuJuan Johnson, Boston Celtics: David West, New Orleans Hornets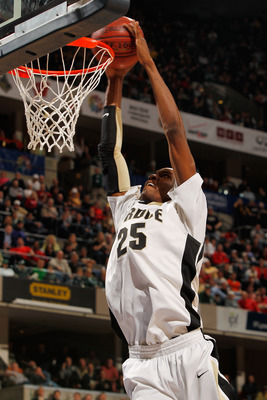 Jonathan Daniel/Getty Images
An athletic forward with a decent mid-range jump shot, Johnson is a more athletic version of David West.
He's never going to be a great battler down low with his thin frame, but he can make a living from the wings. And while his shot is still a work in progress, Johnson knows he will need to improve it to make a living in the league.
Johnson is more seasoned than other draftees, so he can step in quickly to play key minutes for the Celtics. He can team up with Kevin Garnett to impose a good defense and shooting with range.
28. Norris Cole, Miami Heat: Ramon Sessions, Cleveland Cavaliers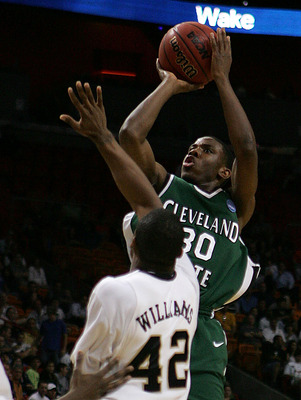 Marc Serota/Getty Images
Sessions played well at the end of the season, and Cole is the same type of contributor—a scorer with the ability to contribute passing and rebounding.
Famous for the 40/20 points/rebounds per game he put up at mid-major Cleveland State, Cole is slightly undersized and may be limited to PG duties. He's an intriguing prospect though, and has quickness and shooting ability like Sessions.
29. Cory Joseph, San Antonio Spurs: Andre Miller, Denver Nuggets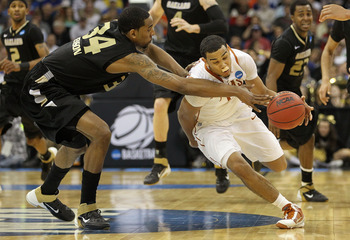 Ronald Martinez/Getty Images
In his one season in Austin, Joseph showed he can both score and distribute from the point position.
He will probably be more of a passer at the NBA level, given his poor efficiency shooting the ball, and in the right situation, he could be effective in that role. With George Hill on his way out, Joseph will have an opportunity to play minutes behind Tony Parker.
Miller has improved his jump shot over the years—something Joseph will have to start working on today. But this is a positive comp for the Joseph, who would be happy to have the lengthy career as a better than average point guard.
30: Jimmy Butler, Chicago Bulls: Trevor Ariza, New Orleans Hornets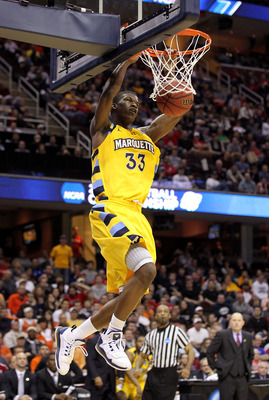 Andy Lyons/Getty Images
Butler will contribute foremost on the defensive end, much like Ariza has in stints with L.A. and New Orleans. He also has the size to guard power forwards in certain lineups.
Butler has a passion for the game and a chip on his shoulder, which should help him get on the floor quickly. The decent mid-range jumper will need to be supplemented by a reliable three-point shot for Butler to live up to this billing.
We'll give him some time to develop it, then make a grade on this one.
Keep Reading