2011 NBA Mock Draft: Final Consensus Projections, 5 Best Slashers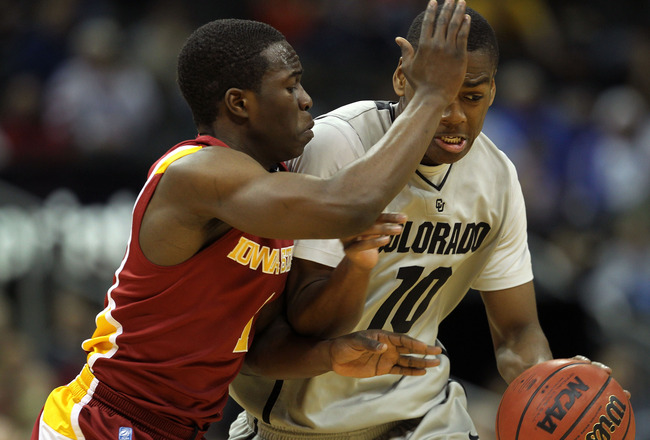 Jamie Squire/Getty Images
The "slasher" is arguably the most dangerous of all the types of basketball players.
You have the slasher, the shooter, the defender, the spot up man, the rebounder and so on, but in my opinion the slasher is the guy that you want to be.
A slasher can score in more ways than just one.
Slashers are proficient in driving to the lane, using crossover moves, speed and strength to get through the lane and to the rim, with or without the ball.
They can score near the basket, pass out to an open teammate, and sometimes most importantly draw fouls and get to the free throw line.
Slashers are just pure dangerous on the basketball court.
Here are the five best slashers in the 2011 NBA draft:
5. Alec Burks, Colorado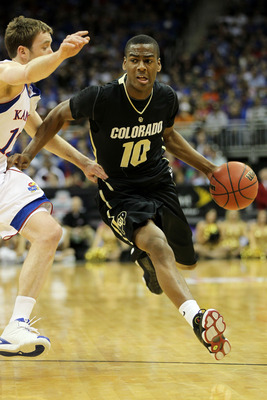 Jamie Squire/Getty Images
Burks is thought to go somewhere in the middle of the first round of the 2011 NBA draft.
As far as slashers go this guy is dangerous. He knows how to get to the lane and displays incredible body control. He can take contact yet still finish and I think it's in part to his good explosiveness once he gets to the rim.
Finally he is a very good free throw shooter, which is key in order to be a good slasher.
4. Kawhi Leonard, San Diego State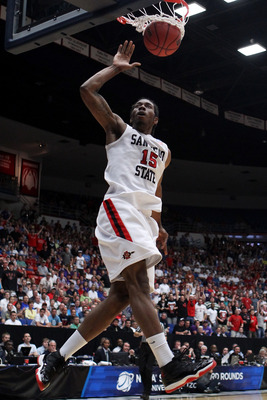 Christian Petersen/Getty Images
At 6'6" Leonard is the perfect size for getting to the rim and finishing.
He is strong enough to take the contact and is extremely athletic. He might be one of the most athletic players in the draft.
He knows how to move without the ball and is deadly if he can get it with some momentum heading to the paint.
Leonard is also a good passer for a small forward and makes good decisions when the lane closes up on him.
3. Kemba Walker, UConn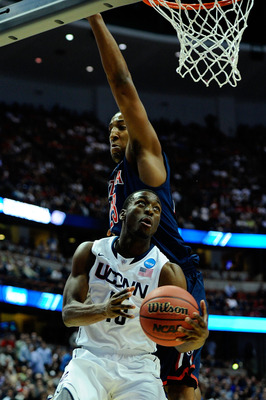 Kevork Djansezian/Getty Images
Kemba Walker was the catalyst of the Huskies NCAA title run and yes he has a great mid-range shot, but what really makes Walker dangerous is his ability to drive the lane.
Walker is one of the quickest players coming out of the draft and he has the ability to blow by defenders at lighting quick speeds.
He drives the basket with authority and is one of the best at finishing near the rim. If he is not finishing he is passing it off with usually great decision making.
He is also very good at drawing fouls and is a clutch foul shooter.
2. Brandon Knight, Kentucky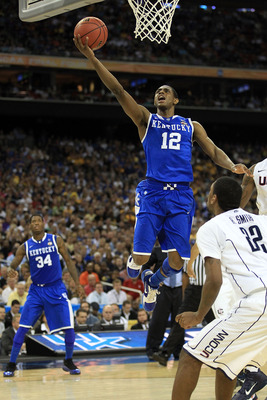 Streeter Lecka/Getty Images
Brandon Knight's greatest asset as a slasher is his size.
At 6'4" 180ish pounds he has the ability to combine his size and strength with lighting quick speed to get in the lane and to the rack.
He can finish with a layup or dunk, but what sets Knight apart from other slashers is a floater that he uses to perfection.
Knight is also dangerous on the free throw line.
1. Kyrie Irving, Duke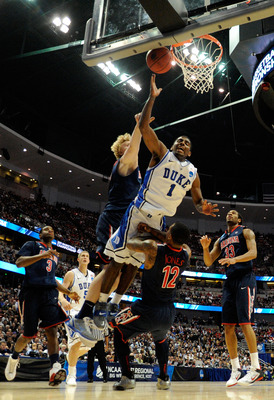 Kevork Djansezian/Getty Images
What makes Irving so dangerous as a slasher is his versatility.
He can make the correct pass, draw a foul, take it to the rim, pull up for the shot and drain free throws.
Irving can essentially do it all, and that's what makes him the best slasher in this draft.
He has the speed to get into the lane, the strength to get his own shot and play physical and the smarts to make the pass when necessary.
Essentially Irving is the most rounded basketball player in this draft.
2011 NBA Mock Draft: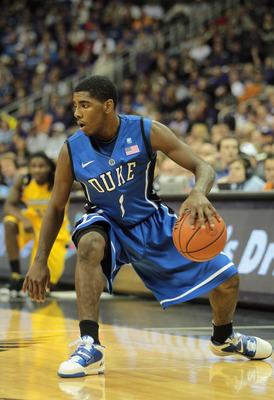 Jamie Squire/Getty Images
1. Cleveland Cavaliers: Kyrie Irving
2. Minnesota Timberwolves: Derrick Williams
3. Utah Jazz: Brandon Knight
4. Cleveland Cavaliers: Enes Kanter
5. Toronto Raptors: Kawhi Leonard
6. Washington Wizards: Jan Vesely
7. Sacramento Kings: Jimmer Fredette
8. Detroit Pistons: Kemba Walker
9. New York Knicks: Bismack Biyombo (Trade)
10. Milwaukee Bucks: Jonas Valanciunas
11. Golden State Warriors: Klay Thompson
12. Utah Jazz: Chris Singleton
13. Phoenix Suns: Marcus Morris
14. Houston Rockets: Nikola Vucevic
15. Indiana Pacers: Tristan Thompson
16. Philadelphia 76ers: Alec Burks
17. Charlotte Bobcats: Jordan Hamilton
18. Washington Wizards: Marshon Brooks
19. Charlotte Bobcats: Markieff Morris
20. Minnesota Timberwolves: Iman Shumpert
21. Portland Trail Blazers: Kenneth Faried
22. Denver Nuggets: Donatas Motiejunas
23. Houston Rockets: Tobias Harris
24. Oklahoma City Thunder: Kyle Singler
25. Boston Celtics: Jeremy Tyler
26. Dallas Mavericks: JaJuan Johnson
27. New Jersey Nets: Reggie Jackson
28. Chicago Bulls: Tyler Honeycutt
29. San Antonio Spurs: Davis Bertans
30. Chicago Bulls: Shelvin Mack
For more 2011 NBA draft coverage, stay tuned to Bleacher Report for updated NBA mock drafts, B/R's Big Board of Recruits, NBA draft rumors, NBA draft results and draft grades.
Follow Andrew on Twitter: AKonSports
Keep Reading