2011 NBA Draft Results: Reaction and Analysis for Each Pick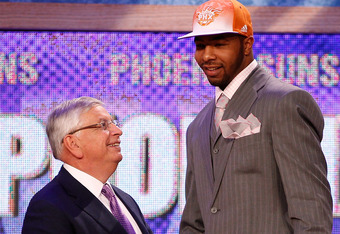 Mike Stobe/Getty Images
Live 2011 NBA Draft Results with instant analysis and reaction for every pick during draft night on Thursday
Teams selecting in the lottery will be looking for an immediate impact player to turn the fortunes of their team around, while others will be looking to bolster their roster in order to make a strong run into and through the postseason.
While this is a relatively weak draft class, the draft pool is filled with a few standouts, some high-upside risk players and some solid specialists.
Draft results
1. Cleveland Cavaliers: Kyrie Irving
2. Minnesota Timberwolves: Derrick Williams
3. Utah Jazz: Enes Kanter
4. Cleveland Cavaliers: Tristan Thompson
5. Toronto Raptors: Jonas Valanciunas
6. Washington Wizards: Jan Vesely
7. Charlotte Bobcats (via Kings): Bismack Biyombo
8. Detroit Pistons: Brandon Knight
9. Charlotte Bobcats: Kemba Walker
10. Sacramento Kings (via Bucks): Jimmer Fredette
11. Golden State Warriors: Klay Thompson
12. Utah Jazz: Alec Burks
13. Phoenix Suns: Markieff Morris
14. Houston Rockets: Marcus Morris
15. Indiana Pacers: Kawhi Leonard
16. Philadelphia 76ers: Nikola Vucevic
17. New York Knicks: Iman Shumpert
18. Washington Wizards: Chris Singleton
19. Milwaukee Bucks (via Bobcats): Tobias Harris
20. Houston Rockets (via T-Wolves): Donatas Motiejunas
21. Portland Trail Blazers: Nolan Smith
22. Denver Nuggets: Kenneth Faried
23. Minnesota Timber Wolves (via Houston Rockets): Nikola Mirotic
24. Oklahoma City Thunder: Reggie Jackson
25. New Jersey Nets (via Celtics): MarShon Brooks
26. Denver Nuggets (via Mavericks): Jordan Hamilton
27. Boston Celtics (via Nets): JaJuan Johnson
28. Miami Heat (via Bulls): Norris Cole
29. San Antonio Spurs: Cory Joseph
30. Chicago Bulls: Jimmy Butler
Follow me on Twitter @MaxMinsker
Also look for a draft review podcast to come out tomorrow, thanks for tuning in, goodnight everyone.
Alright, the NBA draft has come to a close. All 60 picks have been made. There are still plenty of trades to be made, and look for my draft grades for all 30 teams to come out tomorrow.
Greg Smith, Malcolm Thomas, Scotty Hopson, David Lighty, and Jereme Richmond all go undrafted. Wow, those guys will probably be snatched up quickly.
Happy to see Isiah Thomas get drafted. He's short, but he's got talent. He should have gone back to school.
Adam Hanga, really? I feel for Adam Silver right now. The Spurs have now picked up three foreign players in this draft, one of them is bound to be good.
SA's really taking their time here...
Greg Smith should definitely be drafted.
What's up with all these ridiculous foreign guys being drafted? It seems like rolling the dice on Lighty would be a better idea.
This pick is being shipped off to the Wolves right away, but he's a longshot to make it in the league. He's talented, but I have a hard time seeing him being an NBA guy some day.
Wow this guys a project. He's super thin and he would really to be developed. Good luck to the Lakers with this one.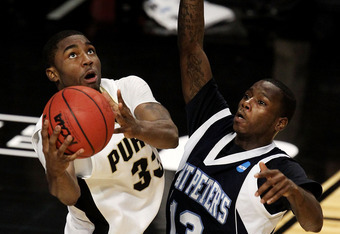 Great pick for the Celtics here. Moore is a proven college player, and he should be a good pick for the Celtics. I'm not sure if he'll be a good NBA player, but he's a leader and could be a solid contributor some day. It's a perfect situation for him, especially playing with teammate Jujuan Johnson.
The Cavs take a Serbian guy with the 54th pick, The first unknown of the draft. I have no idea who this guy is.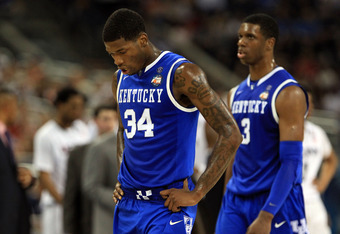 DeAndre Liggins was a solid pick for the Orlando Magic. I like that pick because he's a specialist, and he has a defined role on the roster.
I can see Liggins playing in the NBA because of his perimeter defense skills.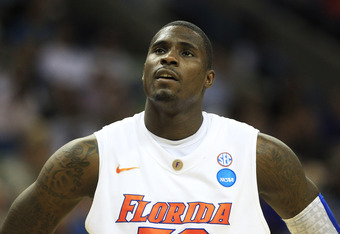 Vernon Macklin probably wasn't a very good pick. Honestly, I don't see him amounting to much in the NBA.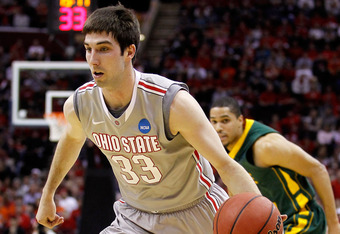 Lighty definitely should have gone before Diebler. Honestly, this pick doesn't really make sense to me. He can shoot, but he can't guard anyone in the NBA, and he doesn't really have any other skills to fall back on. I don't understand this pick, it doesn't really make a lot of sense to me. I would be surprised if he makes an NBA roster.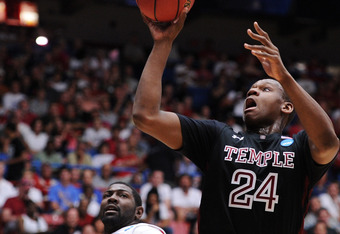 Not sure how I feel about Lavoy Allen here. He has some solid potential, but he's a huge risk reward guy. He's a longshot to ever be a rotation guy.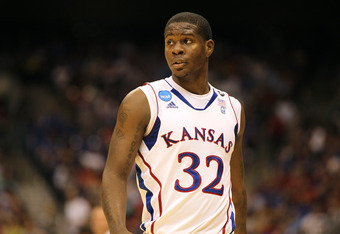 Great value here for the Grizzlies. He definitely has first round talent, but he slipped because of character issues. He is a great pick at No. 49, and he is worth a late round pick. Grizzlies fans should be happy with this one.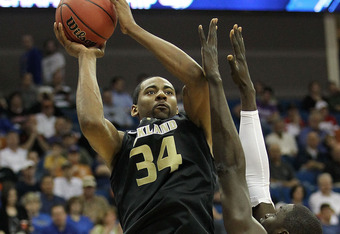 Great pick here by the Hawks. Benson definitely needs to gain weight, but he has a great finesse game. He was a two time conference player of the year, and averaged crazy numbers at Oakland. He has a lot of potential for the No. 48 pick.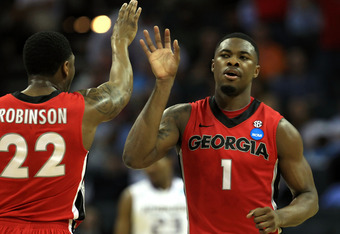 Travis Leslie is the most athletic player in this draft. The problem is, he doesn't have any other real skills. He can rebound a little bit, but his real value is in dunk contests. He is a high flier who can help the Clippers run their up-tempo offense.
Last year Goudelock really filled it up at College of Charleston. He has some very deep range and he is a solid defender as well. He is an underrated player, and I think he has the potential to make an NBA roster next year.
Harper to Orlando for two future second rounders. I like that deal for the Magic.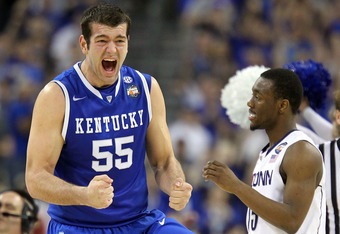 Knicks get this pick, but I don't really understand the logic behind this one. There were much more talented players still available. He might be a rotation player if he's lucky.
This article is
What is the duplicate article?
Why is this article offensive?
Where is this article plagiarized from?
Why is this article poorly edited?