NBA Trade Rumors: If Magic Cave and Trade Dwight Howard, Who Has Best Assets?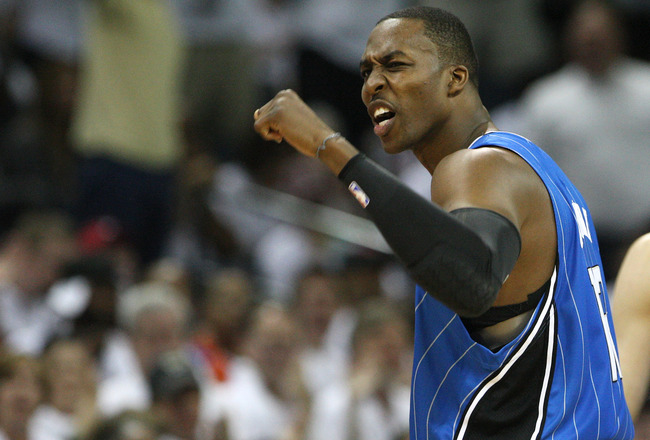 Mike Zarrilli/Getty Images
We have reached the eve of the NBA Draft, the Dallas Mavericks have recently been crowned 2010-2011 NBA champions and next year's season seems in serious jeopardy.
And yet, it seems as though the only thing people want to talk about is if and when Orlando Magic star Dwight Howard will be traded.
However, the buzz surrounding Howard is understandable. At 25 years old, he is the league's lone remaining dominant big man, and the combination of his skill set and physical presence have become unrivaled in today's game.
He is set to become a free agent in the summer of 2012, which has fueled the speculation that the Magic may be forced to trade their superstar instead of risking losing him for nothing should he walk in free agency.
Up until this point, the Magic have publicly said all of the right things in terms of trading Howard: it's not happening. But as time goes on, it seems more and more likely that "Superman" may ditch Orlando and chase a championship elsewhere.
If they wait much longer, they will be left out in the cold (and that is hard to do in Florida.)
So, with that being said, who are some of the teams that have the assets to pull off a deal for Howard if the Magic cave and decide to trade their big man? Let's take a look at some of them.
Golden State Warriors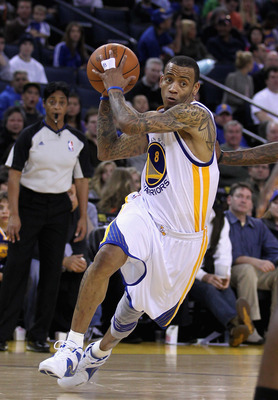 Ezra Shaw/Getty Images
A few days ago, DraftExpress.com reported that the Golden State Warriors offered the Magic a package that included Monta Ellis, Andris Biedrins and Ekpe Udoh in return for Howard. Although both sides have denied the rumor, there is no denying that the Warriors have some serious interest in Howard.
Whether or not Ellis and fellow guard Stephen Curry will ever be able to co-exist in the same backcourt remains a major question mark for Golden State. While new head coach Mark Jackson has publicly supported Ellis, the fact remains that Ellis has been involved in a number of trade rumors already this off-season, meaning his time with the Warriors could be running out.
The Warriors have everything they need to acquire Howard: an elite player to give in return, as well as some good young players such as Udoh, Biedrins as well as Dorell Wright.
However, even if a deal was reached, it seems unlikely that Howard would sign an extension with Golden State, which could put an end to a number of deals involving him.
Los Angeles Lakers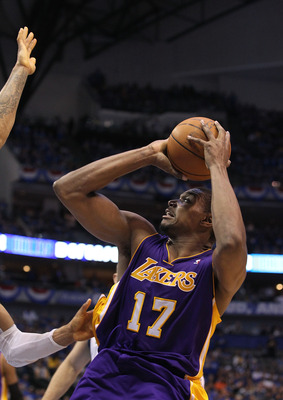 Ronald Martinez/Getty Images
While Andrew Bynum isn't near the level of Howard, he is still one of the best young centers in the game, and would be a nice return for the Magic if they decide to make a deal.
Still only 23 years old, Bynum has shown flashes of brilliance. He continues to improve, although as we all saw during the playoffs, he still has some maturing to do. He also has dealt with a number of knee injuries during his short NBA career.
There may not be a better replacement for Howard than Bynum, and the Magic would still have a piece that they could build around. In addition, the Lakers would likely be willing to add a player such as Lamar Odom to the deal.
New Jersey Nets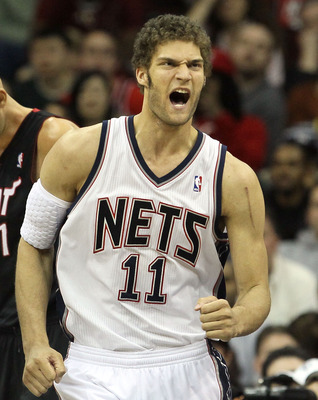 Jim McIsaac/Getty Images
The Nets also have a very talented center they could offer in return for Howard: Brook Lopez.
Outside of Lopez, the Nets don't have much to offer personnel-wise. They have a few young players, highlighted by Damion James, that may interest the Magic, but it isn't likely.
However, what the Nets lack in players they make up for with draft picks. New Jersey has a number of draft picks over the course of the next few years that they could unload in a deal for Howard.
New Jersey's ultimate goal is to pair Deron Williams with Dwight Howard, and there has been speculation that Howard just might sign an extension with the Nets if a trade is made.
Their offer won't be as attractive as the offers made by a few other teams, but they will be in the running for Howard nonetheless.
Oklahoma City Thunder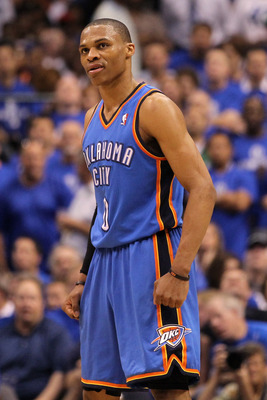 Ronald Martinez/Getty Images
The Thunder are an extreme long shot to acquire Howard, but there is no doubt that they have the pieces to potentially get a deal done.
The Thunder's package could potentially be centered around point guard Russell Westbrook, who had a very up-and-down postseason. He was criticized for taking too many shots as well as failing to get Kevin Durant more involved. Some have speculated whether the two Thunder stars have a strained relationship.
In addition, the Thunder could add Kendrick Perkins, which would give the Magic a center in return.
While a deal between these two teams is highly unlikely, they could potentially pull off a blockbuster if the situation presented itself.
Los Angeles Clippers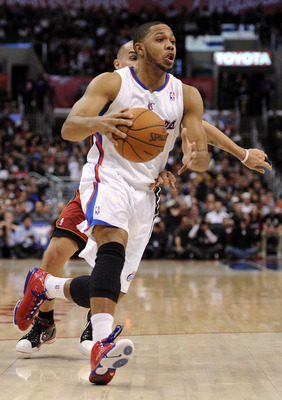 Harry How/Getty Images
The Clippers view DeAndre Jordan as their center of the future, but that could all change if they were able to trade for Howard.
Los Angeles has a number of young, talented players including Eric Bledose, Eric Gordon and Al-Farouq Aminu, as well as some valuable veterans such as Mo Williams and Chris Kaman. Additionally, Jordan is set to become a restricted free agent, but could become a part of the deal if the Clippers are able to re-sign him.
With so many attractive pieces, the Clippers are in a good position to put a very intriguing and valuable package together in order to acquire the services of Howard.
Keep Reading