NBA Draft 2011: 10 Prospects Philadelphia 76ers Should Avoid with No. 16
Doug Pensinger/Getty Images
Are the 76ers facing a crucial round in their prospective quest for a knock out and another NBA championship belt? Ding!
"Rock the Bells," L.L. Cool J. once said. With a strong draft this year, Philly could be rocking deep into the Eastern Conference playoffs in 2011-12.
After finishing 41-41, drafting unwisely, though, could slow their progress. While the 10 players in this slide show could have successful NBA careers by coming out fighting and showing the heart to succeed, they aren't what the Sixers need.
If shorts could kill, then this one will. Sick. Being considered an NBA prospect is nothing to sneeze at, but here are 10 players the 76ers should avoid like the flu.
Cue the theme from Rocky and roll graphics...
10. Bismack Biyombo: His Swagger Could Raise a Red Flag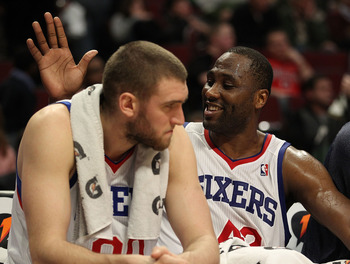 Jonathan Daniel/Getty Images
If Biyombo's swagger is raising a red flag—and I don't mean the Sixers' red, white and blue—then he's best to be bypassed at No. 16.
Biyombo claims he'll one day lead the NBA in blocks and rebounds. That one day could be one night, but it won't be for the entire next season.
Formerly with Baloncesto Fuenlabrada (Spain), his wingspan is like a shiny new airplane's, but Biyombo is too unpolised to help Philadelphia. His game is too similar to Spencer Hawes' (left).
.
9. Donatas Motiejunas: The Left-Hander's Game Resembles Tony Kukoc's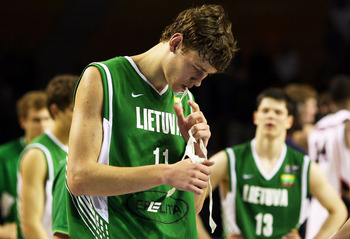 Hannah Johnston/Getty Images
Motiejunas is always available to score. He's a very good shooter and can remind some people of Tony Kukoc—the former teammate of Michael Jordan's with the Bulls.
While starring in the Italian Liga A for Benneton Treviso, there were questions about Motiejunas' interest in playing the game and his ability to show verve and competitive spirit.
As a 20-year-old, 6'11" player with an almost flawless mid-range jump shot, he's better served being drafted by another team other than the 76ers.
8. Jan Vesely: He Could Be the Next Keith Van Horn...Enough Said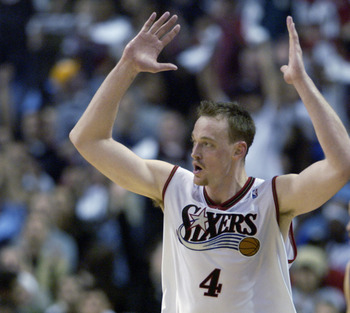 Ezra Shaw/Getty Images
At 6'11," 239 pounds, Vesely played for Partizan Belgrade (Serbia). He's Van Horn's (left) height, and that alone should scare Philly into not drafting him with the 16th pick.
It'd be a thorn in Rod's side.
Defending the NBA interior, unfortunately, is almost out of the question for Vesely. He has to be drafted into exactly the right position, with the right team. I believe starting center for the Philadelphia 76ers isn't one of them.
7. Tristan Thompson: He Was Named Big 12 Freshman of the Year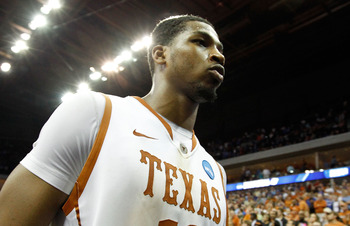 Tom Pennington/Getty Images
At 6'9," Thompson—the Big 12 Conference's former super rookie—is undersized for the 76ers' giant needs.
Canadian born, he represented for Rick Barnes and the Longhorns in Austin, Texas last season.
At the University of Texas, Thompson was a force in the paint. As a prep, though, he proved he can play on the perimeter. But, Philadelphia already has Thaddeus Young.
Although he has long arms, Thompson weighs about 220 pounds. He should be bypassed at No. 16 in this year's draft.
6. Michael Dunigan: The Former Oregon Duck Center Played Overseas
Jonathan Daniel/Getty Images
After following Kevin Garnett's footsteps and starring at Chicago Farragut, Dunigan was Oregon's big man on campus before leaving.
His coach, Ernie Kent, was dismissed in March 2010, and several other Ducks ducked out of the program before Dunigan. Michael starred last season in Israel and Estonia. In 2011, his team—Kalev/Cramo—won the Estonia championship.
He played on loan from his team in Israel. Yes, on loan. The team in Jerusalem probably felt like a playboy who loaned his fiance $1,000,000 million and felt no wind draft of her after that. At 6'10," Dunigan is a power forward and the 76ers already have Elton Brand and Marreese Speights.
I project him going in the late second round, or undrafted. There is no need for the Sixers to risk taking him in the first round and get done in, again.
5. Greg Smith: Fresno State Bulldog's Bark Worse Than His Bite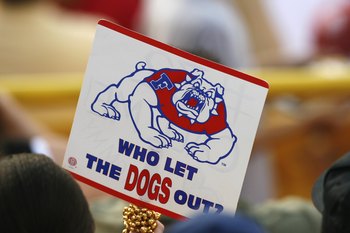 Kevin C. Cox/Getty Images
Smith's biceps are bigger than Popeye's after two cans of spinach.
Greg is going to earn a lot of spinach in his basketball career, but probably not as the No. 16 pick of the Philadelphia 76ers. At least, I hope not for the legacy of Rod Thorn's sake.
He's not only undersized, but too bulky for the fleet and flying Philadelphia Red, White and Bluers.
4. Jeremy Tyler: Former Tokyo Apache Could Ambush the 76ers Chances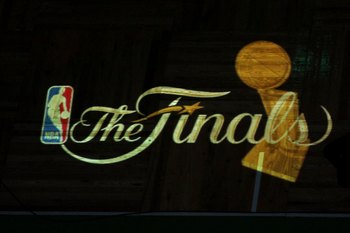 Jim Rogash/Getty Images
In terms of maturity, Tyler, 19, comes with too much baggage for the 76ers. Listed at 262 pounds, at 6'11", he's one of the heavier centers in the draft.
A prep superstar, he left high school as a 17-year-old junior and played in Israel before joining Tokyo Apache.
The Sixers need a player who can step in now and scalp in the paint with ferocious blocks and defensive rebounding. I can't see him helping the 76ers reach the NBA Finals, and he's not worth the risk at pick No. 16.
RELATED: Skip Bayless and Jalen Rose debate Tyler's decision to leave school.
3. Josh Harrelson: No Relation to Woody, Would He Help Philadelphia Win Games?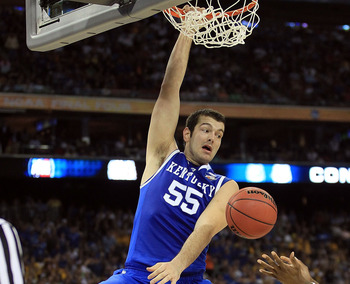 Streeter Lecka/Getty Images
Harrelson received consideration as a prospect after a strong senior season and Kentucky's NCAA tournament run.
Actor Woody Harrelson starred in White Men Can't Jump. His co-star was Wesley Snipes.
While Josh's senior year at Kentucky was nothing to snipe about, I can't see him making the jump to a starting role as an NBA center.
2. Jordan Williams: He Projects More Like a Power Forward Than a Center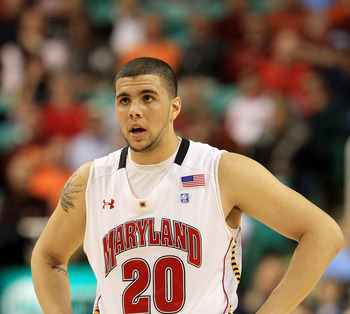 Streeter Lecka/Getty Images
Listed at 6'9," with a 7'0" wingspan, Williams doesn't have the experience to step in and compete for the starting center position with Philadelphia.
The sophomore is coming out of college two years early and is No. 4 on David Aldridge's Big Board. This ranking exposes the brevity of talent available at the center slot in this draft.
1. Enes Kanter: He Was Ruled Ineligible, Sat All Season Long at Kentucky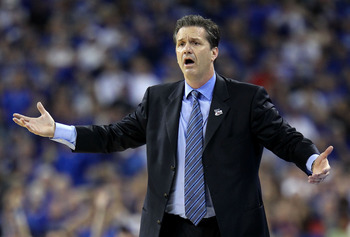 Andy Lyons/Getty Images
Calipari was probably incredulous after hearing Kanter couldn't play at Kentucky last season.
The NCAA ruled him permanently ineligible for earning over $33,000 above his necessary living expenses.
The infraction occured during the 2008-09 season, while Kanter played for a Turkish pro team (Fenerbahce Ulker). He's 6',11," 18-years-old and has a 7'2" wingspan, but he hasn't played in over one year, and never in the NBA. At pick No. 16...no go.
Keep Reading

Philadelphia 76ers: Like this team?