NBA Finals 2011: Miami Heat vs. Dallas Mavericks Post-Game 6 Reaction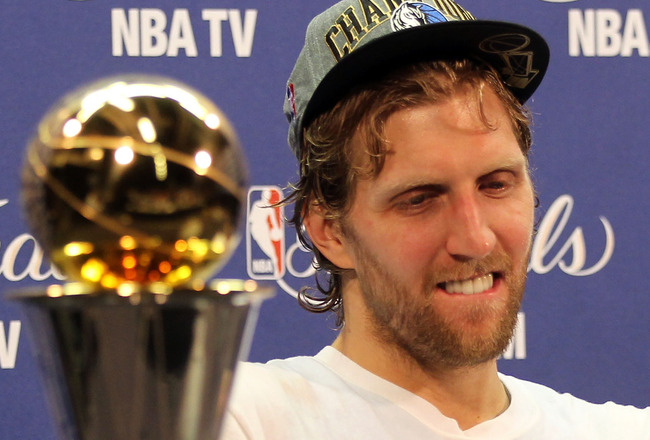 Mike Ehrmann/Getty Images
The Dallas Cowboys may be known as America's team but that title may now belong to the Dallas Mavericks instead.
The Mavericks executed payback to perfection. Five years after losing NBA Finals Game 6 at home to Miami, the Mavs managed to return the favor.
It was a total team effort for a franchise that has never gotten to stand atop of the NBA world's throne.
All in all it's a feel good story for a team that many didn't expect to see playing into June.
With the victory comes the realization of a dream for many veteran Dallas players, that may not have had another chance to win a title.
"When you do something as crazy as I did you have to back it up." Jason Terry said.
Give Terry all the credit in the world. He came off the bench to outplay arguably the two best players in the NBA.
Dirk Nowitzki has to be feeling blessed: for on a night when he was ice cold, it was his teammates that managed to pick up the slack.
That was one of the best aspects of the Mavericks, they truly were the epitome of a team.
At no point did anyone question if they would unravel. They steered through four series that people questioned if they could win.
Not just did they steer through it, they came out shining bigger and brighter than any star in Texas.
We will now take a look at the top 10 reasons Dallas won Game 6 and are now the champions of the NBA world.
10. JJ.Barea Couldn't Be Stopped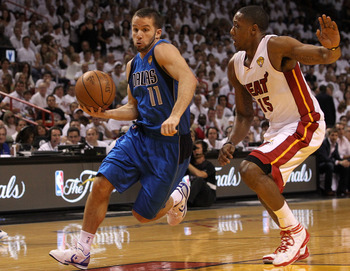 Ronald Martinez/Getty Images
Despite being the smallest guy on the court, JJ Barea played big for Dallas.
He came through with 15 points and 5 assists. Constantly managing to get into the paint against Miami, Barea was able to cause havoc for Miami's defense.
It is incredible the way he turned his production around after struggling in Games 1-3.
9. Offensive Rebounds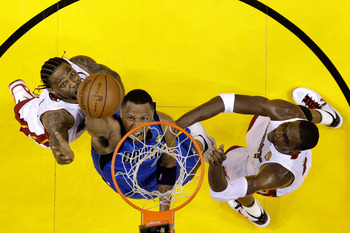 Pool/Getty Images
Miami shot themselves in the foot in many ways: one of the biggest was when it came to rebounds.
The Mavericks managed to get one board after another allowing them to eat up clock and keep Miami from ever making a legitimate run.
This was something that the Mavs need to be applauded for because many felt after Games 1 and 2 that it would be Miami controlling the boards.
9. No One Wanted to See Charles Barkley in a Speedo (Tie)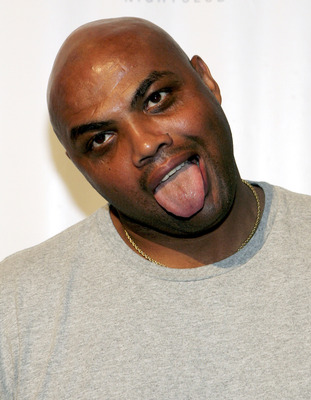 Ethan Miller/Getty Images
It's hard for me as a Heat fan to write this, especially when my lady is a diehard Mavs fan from Texas.
Knowing full well she will never let me live this down unless the Heat manage to avenge this catastrophe, there is only one thing I can take comfort in.
That of course is missing out on seeing Charles Barkley in a Speedo.
Thank you Dallas.
8. Eric Spoelstra Was Outcoached Big Time.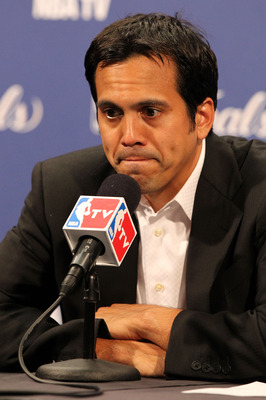 Mike Ehrmann/Getty Images
Rick Carlisle made the right adjustments because his players validated his choices with their play.
Erik Spoelstra appeared like a desperate man trying to seal a breaking levy with bubblegum.
The manner in which he coached this series leads one to ask will Spo be back. While I think he's a great guy I certainly hope that Riley makes a change.
I don't know how he can justify allowing the Heat to blow that 15-point fourth quarter Game 2 lead. His coaching all series and even in the post season seemed sub-par.
Where was James Jones our best shooter all season? Where was Big Z who could stretch defenses and pass the ball well. Not to mention he gave James a familiar face out on the court.
In the end he was calling plays for Eddie House instead of LeBron James or Dwyane Wade. He didn't get the best out of this team and it may cost him his job.
There is no way that you can give him a pass for allowing Miami to look lackadaisical and lethargic in the Finals.
Three straight losses to close out the season was unacceptable.
Stan Van Gundy got let go in 2005, so don't be surprised to see Spo go spend more time with his family before next season's title run.
7. Jason Kidd Was Terrific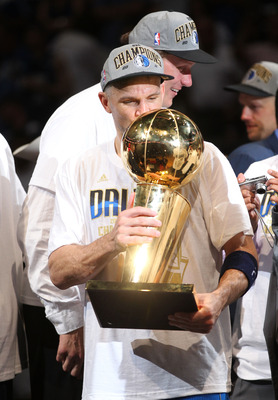 Mike Ehrmann/Getty Images
If there was a player that everyone in America should feel happy for it's Jason Kidd.
Kidd nailed huge three-point shots, played big minutes and made plays on defense while guarding LeBron James.
His career has now come full circle winning his first title with the team that first drafted him out of college.
After coming up short on multiple trips to the Finals, while in New Jersey, Kidd finally gets to enjoy that sweet champagne shower.
6. Big Three Did Good Not Great.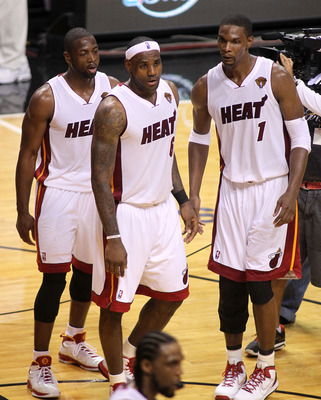 Marc Serota/Getty Images
The Heat's Big Three had solid games on Sunday night. Chris Bosh had 19 points, Dwyane Wade added 17 and LeBron James led the team with 21 points.
That's good production but it's not great.
In the end too many turnovers and too much confusion seemed to kill Miami's chances of pushing the series to a Game 7.
When the Heat most needed one of them to get scorching hot they could only muster to a lukewarm showing.
5. Dirk Nowitzki Proved to Be a Leader and Star
Mike Ehrmann/Getty Images
This year's NBA Finals MVP managed to overcome injury, illness and skeptics.
At the end of his career Dirk will always be able to look back and feel a sense of joy and relief over finally having accomplished that which had eluded him for so long.
He stuck it out in Dallas when people felt they were just a one and done team every post season.
Then this year he showed that he wasn't as soft as previously thought. His grit and relentless will combined with the sweetest stroke in the NBA finally got rewarded the moment he hoisted that championship trophy.
4. Miami Was Awful on the Free Throw Line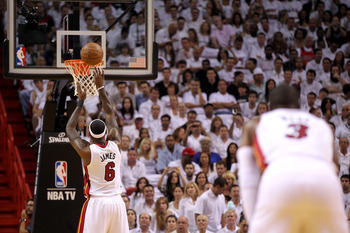 Mike Ehrmann/Getty Images
Make no mistake, this could have been a totally different game had Miami just capitalized on their free throw opportunities.
The Heat missed 13 free throws in all. Had they made seven or eight of those we could have had the game unfold and end in the Heat's favor.
As is a team that couldn't miss a free throw versus Chicago in the Eastern Conference Finals came up short because of one of the most basic aspects of basketball.
3. Three-Point Shooting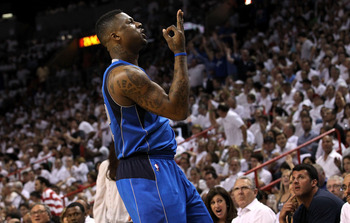 Ronald Martinez/Getty Images
A game after going 13-for-19 from long range, the Mavericks managed to connect on 11 more threes in Game 6.
It seemed as if everyone was nailing them. Be it JJ, Dirk, Kidd, Terry or DeShawn Stevenson.
Whenever Miami started to get back in it there were the Mavs ready to throw another deep dagger into the Heats chances.
One can't recall a team with so many players contributing from down town but Dallas certainly managed to make it a strength versus Miami.
2. Jason Terry Was the True MVP for Dallas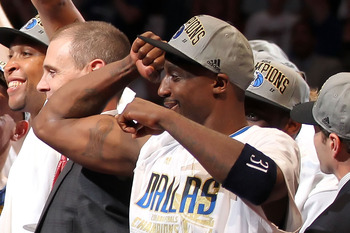 Mike Ehrmann/Getty Images
The Jet took off in Game 4 and never came down.
Jason Terry deserves as much credit for this title as any Dallas player.
Where as Dirk get's the spotlight and Kidd is the feel good story, it's Terry who spoke loudest with his play.
The man simply wouldn't miss or be denied. He made plays while driving, plays while spotting up, plays in transition, plays on defense and plays when it counted most,
He has vindicated his Larry O'Brien trophy tattoo and will forever go down as the hero of Game 6 in Mavericks team history.
1. Hustle and Hunger.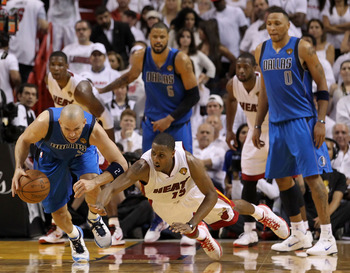 Ronald Martinez/Getty Images
One would think that you shouldn't need any more incentive than to win a title.
Dallas sure didn't. They knew that the odds would have been stacked against them if they were pushed to a Game 7. Thus they came out and took care of business the same way Miami did in Dallas back in 2006.
All night the Mavs seemed to come up with the loose balls and big rebounds. They forced turnovers and had clutch shooting.
Their defensive hustle managed to contain and at times shut down LeBron James.
The Mavericks showed heart and they now get to bask in the spotlight as NBA champions until next season.
Keep Reading

Miami Heat: Like this team?