NBA Trade Rumors, 2011 Draft: 10 Ideal Frontcourt Mates to Pair with Amar'e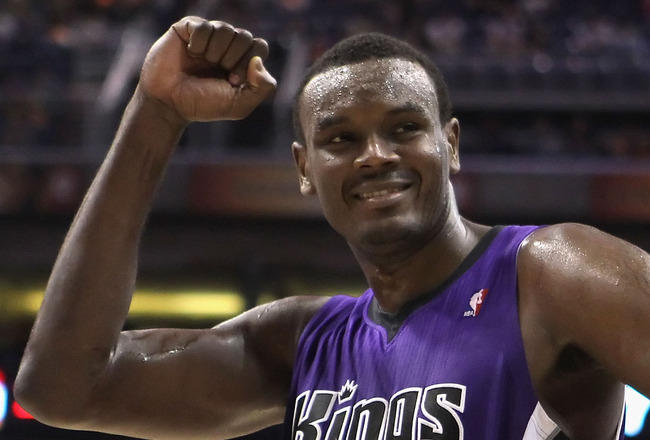 Christian Petersen/Getty Images
The New York Knicks' frontcourt is only two-thirds complete. As of this moment, the Knicks literally do not have a center or at least strong forward on the payroll to pair up with Amar'e Stoudemire on the strong side.
No, wait; Renaldo Balkman and his three 2011 appearances are signed.
Like I said.
So, no matter what the Knicks do in the draft, on the free agent market or on the trade scene, they must and will ink someone big, whether it's a seven-foot center or a girthy forward.
Whether that big man is someone "ideal" is another question. The Knicks are somewhat hamstrung on the salary cap and trade-bait fronts.
Here's the latest from the rumor wire on 10 possible frontcourt mates for Amar'e, starting with one who the Knicks will have no choice but to accept, at least for the time being…
Ronny Turiaf, New York Knicks
Elsa/Getty Images
Ronny Turiaf has a $4.36 million player option which he is expected to pick up, so the Knicks will have at least one starting center come October.
Turiaf is not ideal and will not fill the playoff void for New York. He's a fan favorite (have you noticed everyone on the Knicks is?) and has had a single handful of special moments, but he's slow, can't put in the minutes and is coming off the worst "full" year of his career.
The Knicks will look to move Turiaf and his relatively tiny contract before the trade deadline in 2012 (likely much sooner) to make a little cap space for another, hopefully better, big man to duck under.
Samuel Dalembert, Sacramento Kings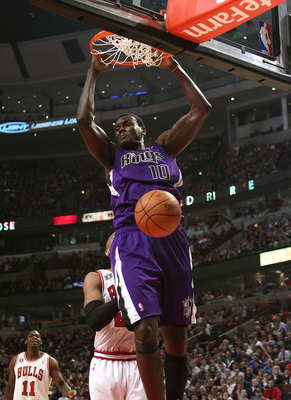 Jonathan Daniel/Getty Images
Probably more than any other current starting center in the league, Samuel Dalembert has been mentioned as the likely addition to the Knicks frontcourt.
It wouldn't be the best Big Three in the NBA, but the Knicks would have a good enough frontcourt to go far, maybe all the way, if there is a solid Billups-Shooting Guard backcourt.
The Knicks don't need a superstar center.
Dalembert is definitely good and still has legs.
Also, according to the New York Post, "Dalembert has strong New York-area ties. He played his senior year of high school at St. Patrick's in Elizabeth, N.J., before heading to Seton Hall. An avid fundraiser for Haiti's economic plight, he also likes the visibility of being a voice for New York's large Haitian population. "
Furthermore, due to the dearth of centers coming out of college in this year's draft, the Knicks are looking more and more (almost certainly) like they will take a guard in the draft.
Donnie Walsh himself, who will still be managing the Knicks' draft as an advisor, has called Dalembert the "likeliest free-agent catch this summer." (NY Post)
Here's another good reason we'll see Dalembert in blue and orange: He falls under the mid-level exception. There are some caveats here to note, though: The MLE may not exist in the new CBA, as the owners are pushing hard to eliminate it. Also, it would be the very end of the Chris Paul-to-the-Knicks discussion. (ESPN)
Trey Thompkins, Georgia Bulldogs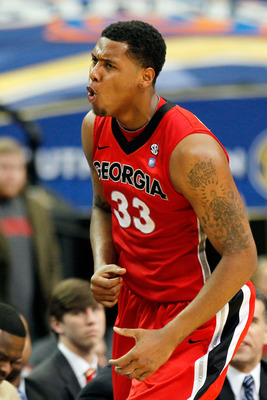 Kevin C. Cox/Getty Images
While it looks like the Knicks will go guard in the draft, there's still a possibility they'll go forward, depending on how the chips fall to No. 17.
If that's the case, the latest rumors point to one of three possible big men, starting with Trey Thompkins.
As I stated in my previous report on Thompkins, he "has good hands, feet and smarts. He knows how to restrict opponents' movements, frees himself up and plays the pick-and-roll well.
The Knicks will be working out the 6'10", 245-pound Thompkins today, along with a gaggle of safety picks.
Nikola Vucevic, USC Trojans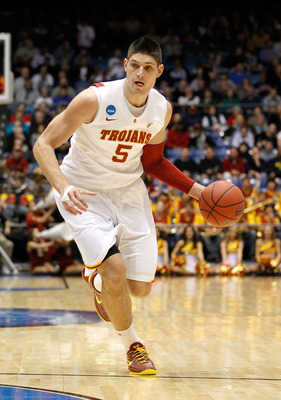 Gregory Shamus/Getty Images
While Nikola Mirotic is the better pick in my opinion, the Knicks' worked out another Nikola on Tuesday: Nikola Vucevic (theknicksblog.com).
Both Montenegrans are over 6"10", but Vucevic has a good 35 pounds on Mirotic and has played in the states for USC (Mirotic plays for Spain's Real Madrid).
In three years with the Trojans, Vucevic averaged a good-enough 11 points per game and a better-than-good eight rebounds. He blocks, too.
Vucevic is peaking at the right time. His junior-year numbers were excellent: 17.1 PPG, 10.3 RPG, 1.4 BPG.
Vucevic came out of nowhere to find himself on everyone's mock draft list after "tearing up the Chicago pre-draft camp."
Kenneth Faried, Morehead State Eagles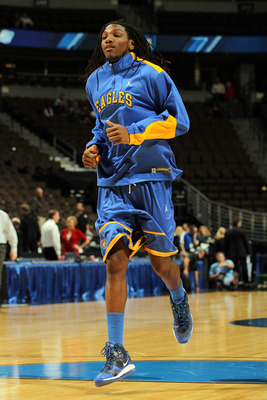 Doug Pensinger/Getty Images
Morehead State's Kenneth Faried is a little undersized for the Knicks frontcourt needs, but he can still take pressure off Stoudemire thanks to his fierce rebounding. He averaged over 12 RPG for his four-year college career, including 14.5 RPG in his senior campaign (along with 17.3 points).
Faried has been called ""probably the best rebounder in the draft." (NY POST)
He's also a superb defender—just what the Knicks can use—with above average numbers in blocks and steals.
According to ESPN's Chad Ford, Faried is one of five key players in the draft the Knicks are focusing on.
Donatas Motiejunas, Benetton Treviso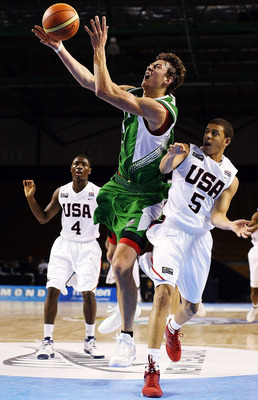 Hannah Johnston/Getty Images
Seven-footer Donatas Motiejunas is a bit Dirk Nowitzki-like. He can take it to the hoop, but also pull up for the delicate jumper.
He exhibits other features of the great European big man, including incongruently ballet-like footwork, speed and finesse.
If Montiejunas falls to No. 17, you have to believe the Knicks will throw out their designs on drafting a guard and go for him. That's a big "if," though.
Wilson Chandler, Denver Nuggets
Dilip Vishwanat/Getty Images
Wilson Chandler coming back to New York as a mid-level exception is possible, and the fans would love that.
The Denver Nuggets have had their eye on Landry Fields since before the Carmelo Anthony trade and may still be open to acquiring him in a package for Chandler.
Fields' numbers declined precipitously through the end of 2010-11 into a non-existent playoffs.
On the other hand, Chandler is an already-proven perfect fit for D'Antoni's offense and has said he would "love to return to the Knicks."
P.S. Stoudemire and Chandler share agent Happy Walters.
Shawne Williams, New York Knicks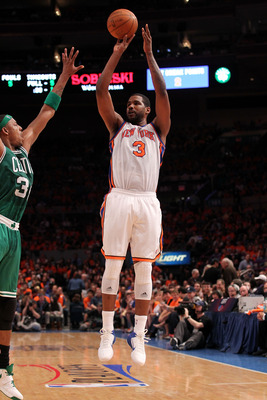 Nick Laham/Getty Images
In a pinch, Shawne Williams' 12 points and 6.5 rebounds per 36 minutes might be enough to carry the Knicks for a while.
The Knicks will sign him, so expect to see Williams getting more starts and more than the 20 minutes per game he averaged in 2010-11.
It's hard to believe Williams is a long term, finals-run solution to the Knicks' frontcourt Achilles' heel, but it's not a stretch to assume he will up his game in 2011-12.
At the very least, he is legitimate from long-range, opening up the inside for Amar'e to score and grab some offensive boards.
The Knicks could do worse than Williams coming off the bench, too. Expect to see the Anthony-Williams-Stoudemire lineup a lot more this year, especially at the outset.
Jerome Jordan, KK Hemofarm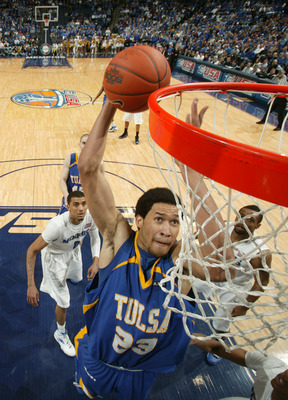 Joe Murphy/Getty Images
There's another foriegn-born seven footer the Knicks own the rights to and may be a good play: the 7" 250-pound Jamaican center Jerome Jordan, who is currently playing for KK Hemofarm (Serbia).
Jordan suiting up at the Garden is closer to reality than many realize. The Knicks, in fact, explored bringing in Jordan for this year's playoffs.
Just yesterday, Jordan told the NY Post "Being drafted by this team in their situation, they need a big guy and I look forward to helping that need." Right on.
With a little NBA experience, Jordan would be the perfect compliment to Amar'e Stoudemire.
Roy Hibbert, Indiana Pacers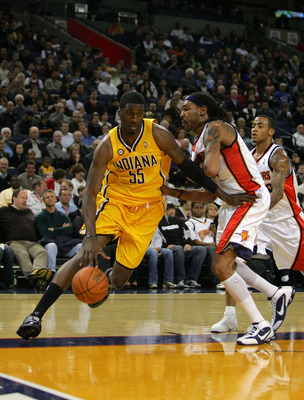 Ezra Shaw/Getty Images
Roy Hibbert will be difficult to land, and Glen Grunwald will have to reach into his bag of magic tricks (and also call Donnie Walsh for advice) to pull it off. The Pacers, at the moment, would be unlikely to let absolute bargain Hibbert go.
But let's see how the Knicks structure their team and how the 2011-12 season unfolds before claiming this one is impossible.
Hibbert has really come on, easily having the best season of his three-year career in 2010-11. He made his first postseason appearance this year as well and sported an unshy and very respectable 10.4 points and 6.8 rebounds per 26.4 minutes.
Keep Reading

New York Knicks: Like this team?