Philadelphia 76ers: 10 Offseason Moves the Team Must Make This Summer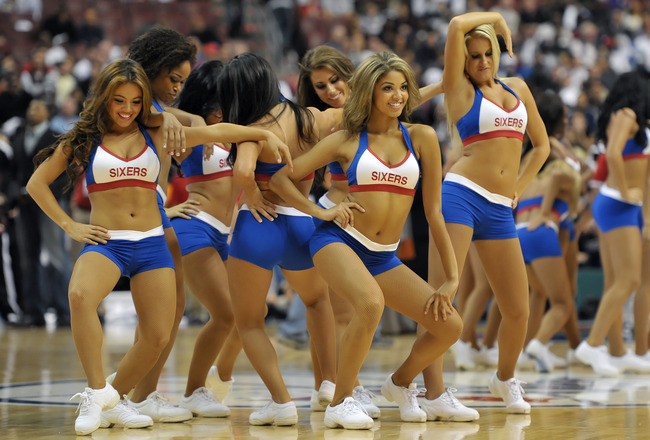 Drew Hallowell/Getty Images
What moves must team president "Hot" Rod Thorn and Philadelphia coach Doug Collins bust this summer for the scintillating, upstart 76ers to 86 the Eastern Conference's elite?
Do they trade Hedo Turkoglu for Andre Iguodala? What about moving on Monta Ellis, or drafting Markieff Morris? The young and potentially clicking-on-all-cylinders 76ers need to strike the hammer while the iron—and the summer—is hot.
No NBA organization should make the mistake of waiting for what should be an outstanding 2012 free-agent market. Injuries and other factors could hurt the 2012 class.
Could the Philadelphia 76ers step over the stack and join the NBA's elite class? Why, yes.
Stacking shot blockers and dominant rebounders is part of my blue print for Philadelphia in the offseason. What else do I prescribe and how must the Sixers go about filling the voids on their talented roster?
They'll need a plotted course for next season. Join me and find out how Philly can cruise into top notch status in the killer Eastern Conference.
Roll graphics...
10. The 76ers Brass Should Let Tony Battie 'Say, Say, Bye-Bye'
Jonathan Daniel/Getty Images
Like Carlos Boozer went by Battie in this picture, the bigger picture is clear. It's time for the 76ers to let the vet go.
An unrestricted free agent, he could be replaced at value by a younger, higher-leaping, shot-blocking true player—a baller who can play with his back to the basket.
If an NBA team balls out and stacks 30 wins in 41 games at the crib—at home—and plays .500 ball on the road—stacks 21 games out of 41—then it is a 50-win team.
Oklahoma City provided the plotted course. The Thunder are better than mediocre. They were 30-11 at home in 2010-11, and they played in the Western Conference Finals.
Philadelphia was outrebounded—42.5 to 41.8—and also out shot-blocked by their opponents per game last season. If the Sixers want to chunk up the deuce—say peace to mediocrity—they definitely need a dominant big man at starting center.
9. Spencer Hawes Must Get Moved Somewhere Along the Bench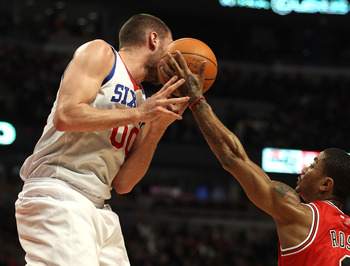 Jonathan Daniel/Getty Images
How can starter Spencer Hawes—a 7'1" center—shoot field goals at a 46-percent pace in the NBA? By never sniffing 50-percent field-goal shooting for any of his four seasons in the league—that's how.
Spencer played like Hee-Hawes when it came to protecting the paint last season—his first in Philly.
LeBron James and Dwyane Wade probably laughed at his lack of shot-blocking ability. When he's in the game, the lane looks as if it's parting like the Red Sea.
Did someone say Moses Malone? Not if they were watching Hawes rebound or play defense. In 21 minutes per game, he averaged less than one shot block. He couldn't block a shot if a shot blocked him—like Derrick Rose was trying to do in this picture.
Hawes could fit the picture as a solid backup center, though—if he learns to block shots with his elbows instead of his beard.
8. Jason Kapono's Expiring Contract Must Die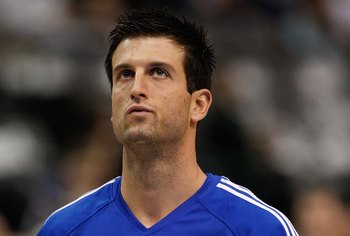 Ronald Martinez/Getty Images
The baby-faced unrestricted free-agent Kapono was something like the Six Million Dollar Man—if you go by Jason's salary. He didn't perform up to his potential last season in Philadelphia, but he could bounce back in 2011-12.
Thorn and Collins must offer him significantly less money and a chance to prove he still has it.
Jason was once one of the NBA's best three-point shooters. If he's lost his swag, though, then he's useless. With Jodie Meeks and a confident Kapono, however, the 76ers could force opponents to have to deal with two lethal three-point bombers.
7. Andre Iguodala Should Get Dealt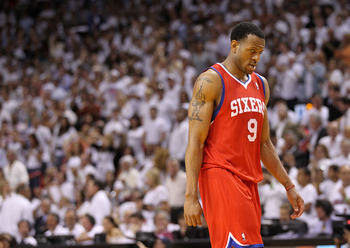 Mike Ehrmann/Getty Images
Iguodala must be moved for Monta Ellis, who could come off the bench and set the world on fire like Manu Ginobili once did for the Spurs. Ellis could also start at shooting guard.
The 76ers aren't far away. After a horrific start to the season, they finished a healthy 41-41—good enough for third place in the Atlantic Division.
Their record could have been much better—with at least nine more wins added to their resume last season. They lost 17 games each by less than five points.
According to statistics available at NBA.com, Philly was 27-14 when it scored over 100 points. The 76ers were 6-25 when the other team did.
This screams for a more reliable offensive player—especially late in the fourth. Iguodala, therefore, must go. Sorry, Andre, you'll get a job with another squad and will always be a part of Philadelphia.
6. Drafting Markieff Morris: Thorn and Collins Must Make the Move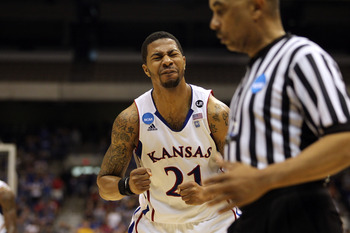 Ronald Martinez/Getty Images
With Morris being a part of the NBA Draft scheduled for June 23 in Newark, New Jersey—a lockout is lurking. It's not his fault.
NBA owners could lock the players out after the collective-bargaining agreement expires at midnight on June 30. For the foreseeable future, the free-agent market could close.
The draft isn't in jeopardy at this point. If it takes place, and Morris is available and keeps his nose clean, then he can provide much-needed toughness.
He reminds me of a young Kenyon Martin. If they don't draft Morris, then the 76ers otherwise must search for the best shot-blocking one-two punch they can find.
5. The Sixers Must Exercise Their Jodie Meeks Option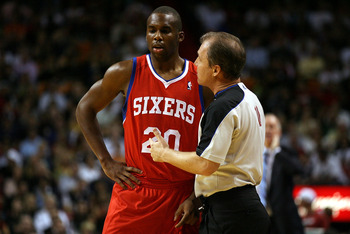 Marc Serota/Getty Images
Meeks is more of a shooting guard than a combination guard. He dropped 20 points on the Bobcats in Philadelphia last December—off six three-pointers in the first quarter.
Six threes—as in 76ers. Maybe he could become the next Andrew Toney—a former Sixers great. Meeks dropped the six treys in the 76ers' home red, white and blue uniform Toney once wore.
Meeks is a bigger, stronger Toney and wears No. 20. While he rocked red, white and blue wristbands, Toney was a Sixer from 1980-88 and wore No. 22.
Meeks specializes in threes, not deuces, so he must be given some of the money from Kapono's pay cut. If you haven't, Jodie, then set up auto-draft in your bank account.
4. Add Scoring Punch for Smash-Mouth NBA Late 4th Quarters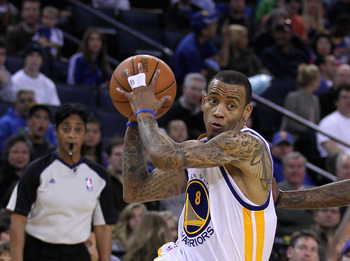 Ezra Shaw/Getty Images
The punches could come from Monta Ellis—if you believe NBA rumors. As an elite combination guard, the dazzling Ellis snags a lot of steals and he can score against the best defenders around.
In his last 144 games, Ellis has averaged 25 points per game. His stats match up very well with Dwyane Wade's in the 2010-11 regular season. In Ellis, the 76ers would have the No. 2 combo guard in the Eastern Conference—second only to the Heat.
Monta Ellis is one of the fastest guards in the NBA. He must become the speedy Jrue Holiday's 76ers teammate.
3. Make Evan Turner the Starting Small Forward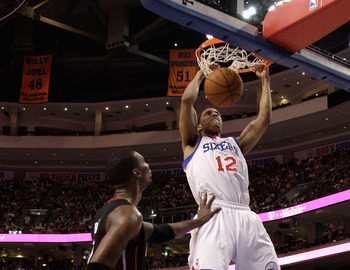 Rob Carr/Getty Images
A former Ohio State Buckeye and first-round draft pick, Turner will help the 76ers turn the corner next season, but he must be on the floor for at least 33 minutes per game.
We saw his toughness stand out against Miami in the playoffs, and the Chicago native will continue to bring his talented swag to the City of Brotherly Love.
Brothers will be dapping him up—shaking his hand, showing him some love— and he could double his scoring average in 2011-12. Turner could be the next healthy, young-gunning Brandon Roy.
2. The Young Gunner Thaddeus Young Yields Results so Re-Sign Him Rod Thorn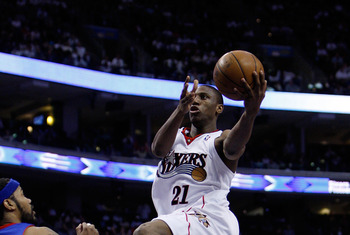 Nick Laham/Getty Images
The sensational left-hander Thaddeus Young is like a 6'8" Lamar Odom with significantly more hops and athleticism. Young has more flash and ferocity than Odom, but Lamar is a two-time NBA champion.
Young can help any team win an NBA championship, and Philadelphia knows it. He could, hence, become a very wealthy man over the summer and throw a big birthday bash—for everybody in the city.
I don't want to spoil the party, but an NBA lockout renders this scenario null and void. Barring a lockout, though, Young must be offered significantly more money—Malibu private plastic-surgeon money. He's known for carving facials with monster dunks.
1. The 76ers' Black Jerseys Must Be Buried Besides Dr. J's Afro
Jeff Gentner/Getty Images
Why does Philadelphia even rock black jerseys at all? A better question might be: Why are the Sixers not rocking their red, white and blue jerseys in every situation?
The answer to both questions: Must be the extra money garnered from the squad's alternate attire sales. If any team should be rocking red, white and blue the hardest, it's the 76ers.
I realize the Patriots also went soft and added silver to their helmets; they were white back in 1776 when the NFL was founded. The NFL wasn't really founded in 1776. It was 1976.
Aside from the short length of the 76 pairs of Daisy Dukes Julius Irving (Dr. J.) and company styled the way only they could, the Sixers should bring back the 1980s uniforms.
Going forward, the patriotic uniforms are the keys to success in Philly—I say only in a half tongue-in-cheek manner.
The 76ers dancers must be allowed to keep their black outfits, though. Love you, ladies. Here are the keys to your cyber-black Range Rover.
These have been the keys to the ranging offseason moves Philly must make. If Rod Thorn heeds my advice—these 10 key principles for offseason moves—the Philadelphia 76ers will make more money, win a championship and thank me for it.
Thank you for tuning in to this edition. Catch me next time on Lake's Philadelphia Files.
Keep Reading

Philadelphia 76ers: Like this team?