NBA Playoffs 2011: Miami Heat vs. Chicago Bulls Game 5 Live Blog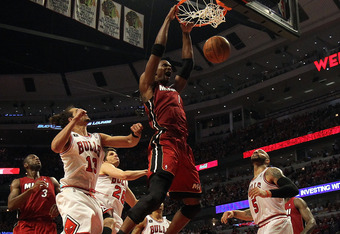 Jonathan Daniel/Getty Images
For tonight's live blog, we feature a play-by-play of Game 5 of the Eastern Conference Finals series between the Miami Heat and Chicago Bulls.
After the Bulls routed the Heat in Game 1, Miami has come storming back with three consecutive victories.
LeBron James led the Heat in the team's most recent win with 35 points in a 101-93 overtime victory that gave Miami a commanding 3-1 lead in the best-of-seven series.
Miami has used dominant defense and solid team play to overwhelm the Bulls in the last three games. The Heat's Big Three have really come up big in this series, with the trio contributing in key moments on both sides of the floor.
Derrick Rose had a chance to win Game 4 in regulation, but LeBron's defense shut down the league MVP.
After Dwyane Wade struggled in the game, he came alive in overtime, scoring six of his 14 points, as well as two crucial defensive plays that helped give the Heat enough to hand the Bulls their first three-game loosing streak of the season.
Rose has been limited to 36 percent shooting in the series, and that in large part can be attributed to James stellar defense.
Miami has also gotten a big lift from their bench, mainly Mike Miller and Udonis Haslem, who has returned from injury to give the Heat toughness and rebounding that they had previously been lacking.
Miller broke out of his slump to post 12 points and nine rebounds in the midst of his newly born child being in the intensive care unit. Miami will need bench production again if they want to end the series tonight.
Chicago is looking to rebound on their home floor in order to avoid elimination and bring the series back to Miami for a Game 6. They have struggled in the fourth quarter against Miami, who has outscored them by 25 points in games 2-4 in the fourth quarter and overtime.
Game 5 begins at 8:30 pm ET with the Heat keeping the same starting lineup of LeBron James, Dwyane Wade, Chris Bosh, Mike Bibby and Joel Anthony and the Bulls sending out Derrick Rose, Joakim Noah, Luol Deng, Carlos Boozer and Keith Bogans.
Thank you for tuning into my live blog. Tune back in next Tuesday for Game 1 of the NBA Finals. Thank you and good night. What a game!
Miami-Dallas in the NBA Finals starts Tuesday night in Miami.
Miami wins with a furious late rally in the fourth led by Wade and James. highlight was Wade's 4 point play.
LeBron leads all scorers with 28 points and 11 rebounds. Chris Bosh 20 poitns and 10 rebounds. D Wade has 21 points. Derrick Rose finishes with 25 points and 8 assists. Luol Deng finishes with 18.
Miami Heat are the Eastern Conference Champions. It will be a Dallas-Miami 2006 repeat.
Rose misses final shot at jumper. Miami going to the championship.
Bosh nails both free throws. 6-for-6 from the line tonight. Miami up 3.
Chicago has Korver coming in for three point shooting.
Bosh gets intentionally fouled.
Do you think Steve Kerr is upset right now?
What a comeback by the Heat. It really shadows the Dallas comeback over OKC a few days ago.
Miami has one point lead and possession.
Rose misses second FT. Is his inexperience shining through?
Rose 2-for-8 in 4th quarter.
Derrick Rose draws the foul on LeBron. Rose to the line.
Miami up 81-79 with less than a minute to go. United Center is deafening silence.
LeBron with another cold blooded shot from top of the key. Miami takes first lead in a while. Chicago uses final timeout.
1:01 left in the game. Tied at 79. United center dead silent.
No question that Lebron is clutch. He has been amazing in fourth quarters since Game 4 against Boston.
Game tied 79-79. Miami on a 14-2 run.
This article is
What is the duplicate article?
Why is this article offensive?
Where is this article plagiarized from?
Why is this article poorly edited?

Miami Heat: Like this team?