Los Angeles Lakers: Pros and Cons of Mike Brown Hiring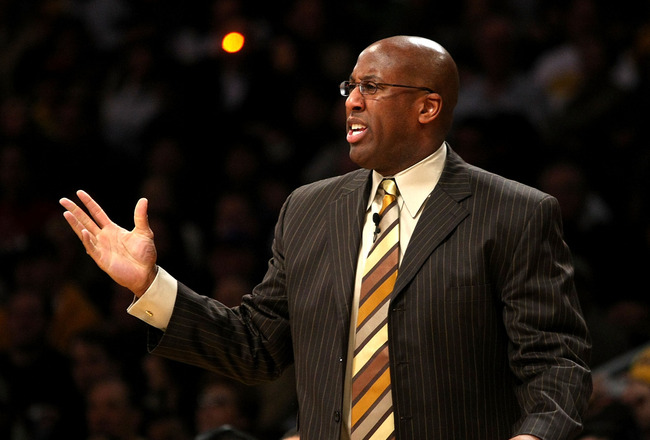 Stephen Dunn/Getty Images
Three days ago, in what is now huge news across of all the basketball world, the Lakers shocked the nation by singing Mike Brown to a four-year contract to coach their team.
To say that there has been a lot of scrutiny about the decision would be an understatement. Not one analyst didn't diagnose every aspect of the signing, most of them being of the negative genre.
To provide a little back ground: In Cleveland, Brown coached, arguably, the most talented player in the league, LeBron James, with decent role players around him and managed five great regular seasons but never the championship that so many imagined.
The Lakers just lost perhaps the greatest coach of all time in Phil Jackson, and no one quite knew what could be done to fill those shoes. Well, at first it seemed the obvious choice would be Brian Shaw, Jackson's assistant coach for numerous years.
But, then again, it's impossible to predict the Lakers.
Thus, here we break down the pros and cons of the Mike Brown signing.
Pro 1: Has Already Coached a Superstar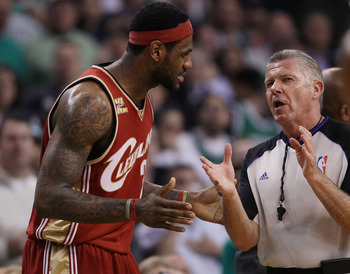 Elsa/Getty Images
The first, and main, pro that Brown brings to the Lakers is the fact that he has already coached a superstar of Kobe Bryant's caliber.
One of the more underrated aspects of coaching is to learn to handle the, as just mentioned, superstar. Mike Brown learned how to do this, molding LeBron James into a the defensive player and shooter he is today, while not letting him become the all-too-common ball-hogging star.
So, this means that Brown won't struggle in preaching Bryant and letting him know who's boss without making Kobe angry.
Evidently, a huge pro.
Con 1: Bryant Wanted Brian Shaw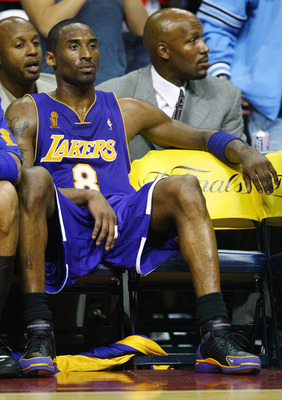 Jed Jacobsohn/Getty Images
This in itself may not seem like a large downside, but it is. Bryan Shaw was the clear favorite for the head coaching gig, and even Kobe Bryant endorsed the idea of being along side him next season. By choosing Mike Brown ahead of him, management ultimately creates a couple negatives:
They make Kobe mad. Bryant probably feels as though, for all he has done for this franchise the past 13 years, he deserves some sort of say in what goes on. By not listening to him, they in turn tell him his opinion isn't as highly regarded as he thought.
They create a tense relationship between coach and player before it has begun. Mike Brown knows Kobe didn't want him, and Kobe knows this as well. To have a shaky coach/player understanding before the season starts is probably never a good sign.
They make Bryan Shaw angry. Head coach or not, Shaw is extremely valuable to this Lakers team and is the closest thing to Phil Jackson on the bench. Feeling betrayed could end up leading to Shaw's departure from the squad.
They leave the media with a story. Everyone knows the whole Kobe wanted Shaw fiasco, and the media will take no mercy in mentioning it every time possible. Last time the media got involved in L.A was the ultimate end of the Lakers first dynasty of the 2000s. Who knows what could happen this time?
Through these points, we can see that this simply, small con, can prove to be extremely costly.
Pro 2: Defensive Philisophy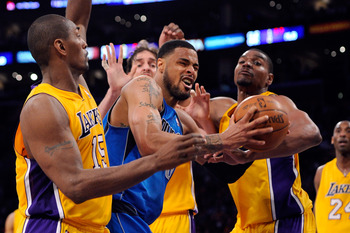 Kevork Djansezian/Getty Images
There is no denying that perhaps the primary reason the Lakers got swept by the Mavericks is because of their defense. No matter how good Dallas' offense was, and it was very good, there should never be an excuse to give up 128 points in what ended up to be the last game of their season.
Phil Jackson was an amazing coach, and at that, a very good defensive coach. But Mike Brown strives on that end of the court, and he doesn't fail to mention what he wants L.A's identity to be next season: defense.
When a team's identity becomes defense, allowing 128 points should prove to be unfathomable.
Con 2: Didn't Win a Title, Even with LeBron James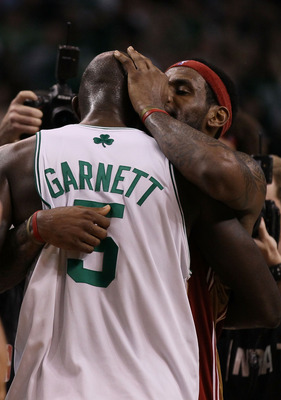 Elsa/Getty Images
At the end of the day, Los Angeles won't be happy unless they get a ring. This isn't uncommon at all but will prove to be even more prominent in a city so accustomed to winning.
Though Mike Brown's, as previously mentioned, regular season wins verse losses statistics look through the roof, he has failed to ever do what so many expected of his team.
When you have, once again, perhaps the most dominant basketball player on the face of the earth for five seasons, you should receive at least once championship ring. Fill that team up with players like Mo Williams or Antawn Jamison, and you're looking at the possibility of a couple rings.
Brown has none. With a team that won six in 10 years just recently, none won't fly.
Pro 3: Dumping the Triangle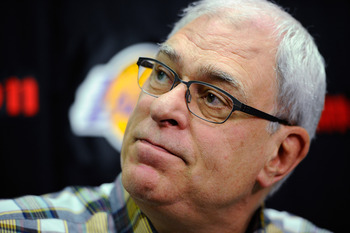 Kevork Djansezian/Getty Images
Phil Jackson has 11 rings. There's no disputing that.
He's won all 11 primarily using Tex Winter's triangle offense as the only one in his playbook. There's no disputing that.
But, the Lakers got swept this year and the offense struggled at times all year long. Most importantly, there's no disputing that.
Perhaps the best and most innovative offense ever invented in the game of basketball is by no means the reason L.A. lost, but their demise definitely signals for a change. Ron Artest, once a great offensive player, hears groans on his home court every time he touches the ball for his ineptitude to adjust to the Lakers offense.
Steve Blake, a point guard who was going to play more minutes than their starter, failed to reach any of even the lowest standards because he couldn't conform to the triangle, and the same goes for Matt Barnes.
As crazy as it must sound, dumping the triangle has to be considered a pro at this point.
Con 3: Not Entertaining Enough for "Showtime" Lakers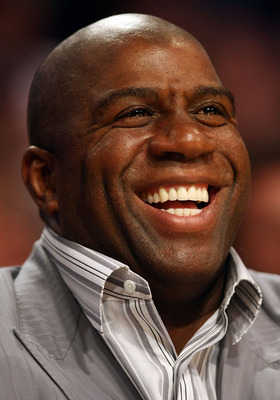 Jed Jacobsohn/Getty Images
As mentioned earlier, the Lakers are one of those elite teams that won't be content unless they come home with the ring. Yet, L.A. may be the only team in the league that wouldn't be content with just a ring.
Ever since Magic Johnson and that gigantic smile of his came along, the restless and extravagant town of Los Angeles has demanded for the equivalent of the "Showtime" days.
Though Brown's defensive mind set could be what the team needs to bring it all home, the word "defense" doesn't really scream out "exciting."
If Mike Brown truly wants to be liked as much as Jackson and some of the other coaches in L.A, he better add a couple new tricks to his bag to keep the masses entertained.
Pro 4: New Face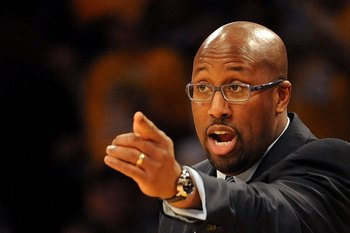 Harry How/Getty Images
It was made evident towards the end of the year that the Lakers players didn't really care about the season and were impatient for the playoffs. They felt they had that "on" switch that they could utilize whenever winning was necessary. Turns out, this wasn't true, and that relaxed approached carried them right out of the playoffs.
This year, the team would need something to keep them excited, refreshed, motivated all year long, and the fact that they have a new face at the coaching position might just do this.
The team might view this as a fresh start from all the expectations and once again having the opportunity to prove people right rather than being the favorites the whole time, which is always extra motivation.
Though such a minor detail, the "new face" factor could prove extremely beneficial.
Con 4: Doesn't Have Players' Respect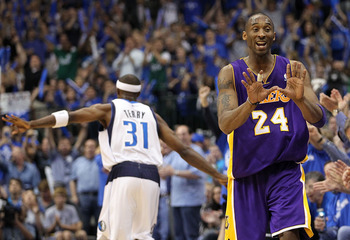 Ronald Martinez/Getty Images
Brown isn't a high-profile name like Jeff Van Gundy or Rick Adelman. Sure, Brown is a good coach, but a veteran-laden team like the Lakers needs a more respected coach.
Brown was the opposite of some of the other coaches that were high on the LA's list. He's always been an underachiever, he only led Cleveland out of a relatively weak East once, and they got swept in the finals. Adelman was an overachiever; he led decent squads to great years season after season.
In an improving league, if the players don't listen to their coach, it could be a long season for the Lakers.
Conclusion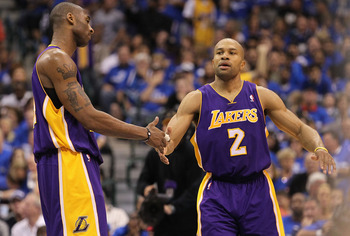 Ronald Martinez/Getty Images
At the end of the day, this is the route the Lakers ultimately took. Mike Brown will be sitting alongside this roster next year, his defensive philosophy and new offensive play book with him.
In my opinion, this signing was the right decision for the Lakers, as the "New Face" aspect should prove to play a much larger role than expected.
I'd love to hear comments, and as an avid Lakers fan, I can see both sides of the situation.
Keep Reading

Los Angeles Lakers: Like this team?