NBA Power Rankings: Latrell Sprewell and the 25 Biggest Jerks in League History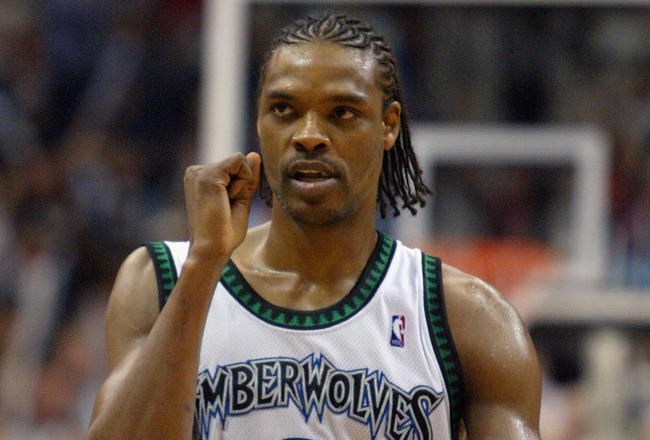 Elsa/Getty Images
Throughout the history of the league, there have been many questionable characters to take part in playing the game.
One of them is Latrell Sprewell, a guy whose negative actions effectively ended his career in the association years before they could have been.
Chris Washburn is another example of someone whose idiotic decisions made him infamous throughout the NBA's history.
With all that in mind, here are the 25 biggest jerks in league history.
25. John Stockton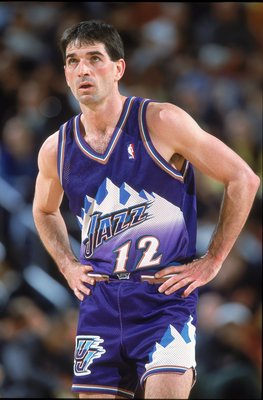 Otto Greule Jr/Getty Images
Regardless of his standing as one of the NBA's all-time greats, John Stockton was a huge jerk.
During games he would pull jerseys, elbow bystanders, trip opponents and he got away with no-calls more than any other player.
If there is a such thing as an "underrated jerk," then Stockton wins. Even Dennis Rodman, another notorious jerk, called him the biggest cheap-shot artist ever.
He and Karl Malone were hidden behind the fact that they were a tremendous duo, and nobody seemed to realize what jerks they were.
24. Larry Bird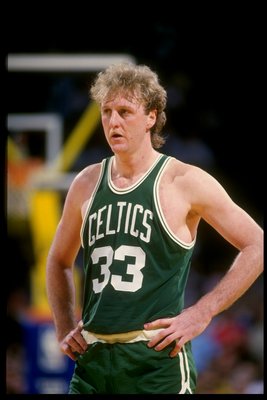 Rick Stewart/Getty Images
Another legend (no pun intended), Larry Bird was one of the NBA's greatest trash talkers during his tenure.
Not only was he notorious for his efforts there, he was also a dirty player if I've ever seen one. The thing is, though, that Larry was smart about what he did. He would antagonize his opponents, and for that he should be lauded.
Still, he was a jerk who cared about only winning. Which is, let's be honest, a great thing to care about nonetheless.
23. Stephen Jackson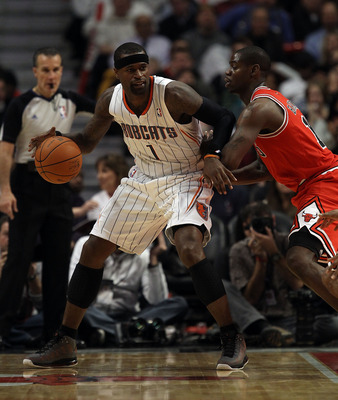 Jonathan Daniel/Getty Images
When you threw punches in the biggest brawl to ever occur on the hardwood and you get punched yourself in a strip club, you undoubtedly have a spot reserved here.
Ah, maybe Jermaine O'Neal deserves a mention, too, so here it is.
Interestingly enough, he's never been an All-Star, so he might have a point for all his anger.
Just kidding, guys. Hugs, not violence.
22. Stephon Marbury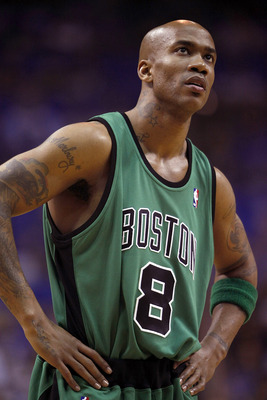 Marc Serota/Getty Images
Stephon Marbury is a gleaming example of what could have been if he decided to pull his enormous ego out of his backside.
Easily the most colorful personality in the storied history of the New York Knicks, Marbury's interests included, among others, publicly feuding with coaches and threatening to blackmail them, and complaining about every aspect of his life.
He is undoubtedly one of the NBA's biggest jerks and had one of the biggest egos of all-time.
21. Wilt Chamberlain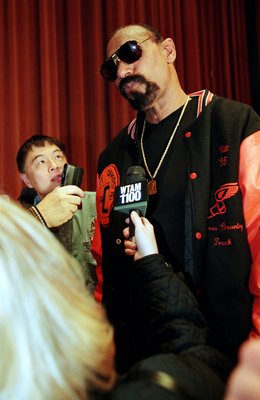 Brian Bahr/Getty Images
You cannot honestly expect to be omitted from this list when you have claimed to sleep with 20,000 different women and claim yourself as the best ever.
That is all.
20. Rumeal Robinson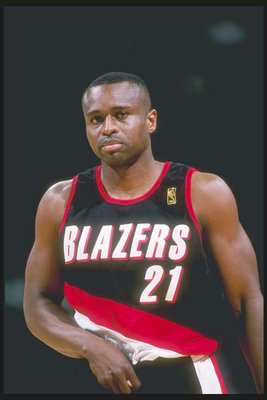 Stephen Dunn/Getty Images
It's not what Rumeal Robinson did during his career that lands him a spot on this list, but it's what he did afterwards.
In 2009, seven years after he retired from professional basketball, Robinson was arrested and charged with bank fraud and bribery.
What's even worse is that he swindled his adopted mother from her home after she failed to repay him.
Someone adopts you and takes you in like that, and that's how you pay them back, Rumeal?
So classy.
19. LeBron James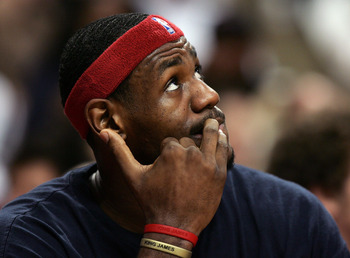 Jonathan Daniel/Getty Images
"The Decision" is the only thing that lands King James on the list.
When you schedule an hour-long program leading up to your spontaneous and painful decisions, it makes you a jerk.
18. Michael Jordan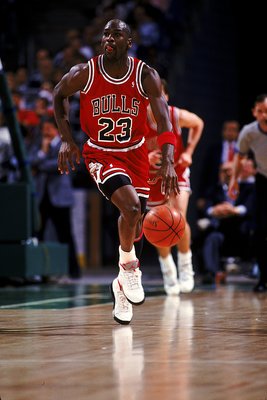 Getty Images/Getty Images
Michael Jordan, the game's greatest player in its history, was also one of the biggest jerks around the league.
He talked trash, he had an addiction to gambling, and his infidelity sparked controversy amidst his legendary career.
Jordan was as cocky as they come as well, but, then again, can you blame him?
17. Kermit Washington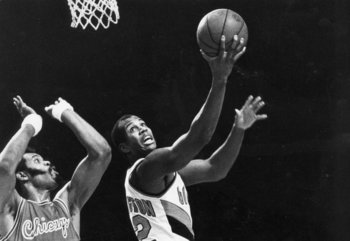 "The punch that nearly killed" is a phrase every basketball fan knows about, and you just can't get the image out of your head now that I've mentioned it.
It was indeed the cheapest shot anyone has ever issued in the NBA, but the reason that Kermit Washington isn't lower on this list deals with the fact that he actually dealt with it, and tried to become a better person from it.
Still, it was the dirtiest punch in league history.
16. Qyntel Woods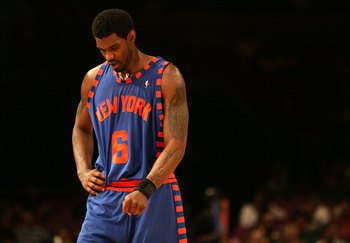 Nick Laham/Getty Images
Qyntel Woods could be considered the equivelant to a Michael Vick-type in the NBA, as he fought dogs in the backyard of his Portland home.
Woods was arrested for first-degree animal abuse during his tenure as a Jail Blazer, and was ordered to do 80 hours of community service as a punishment.
He also was a contributing member to the downfall of Portland, and for that he deserves a bid here.
15. Dennis Rodman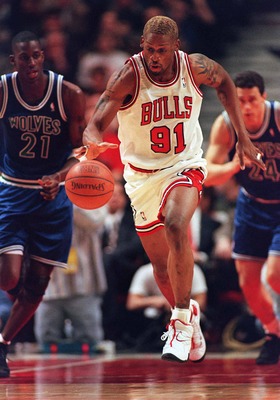 Brian Bahr/Getty Images
I'm a pretty big Dennis Rodman fan, but even a guy like me can admit that he had his faults, one of which I take very personally, being that I am from Minnesota.
He routinely fought with players, earning himself a reputation as one of the NBA's toughest guys.
In 1997, while playing my Timberwolves, Rodman kicked cameraman Eugene Amos for no good reason other than he tripped on him. He was fined $200,000.
Addtionally, in 1999 he pled guilty to drunk driving without a valid license.
14. Vince Carter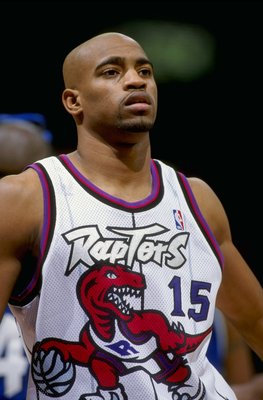 Robert Laberge/Getty Images
Vince Carter was an example of a jerk who didn't feel he got sufficient playing time and was benched as a result.
Coach Sam Mitchell would routinely bench him in the final quarter of some contests to prove this point. This led to rumors of the two fighting, but Mitchell ultimately dismissed those as fallacies.
VC turned on the entire city of Toronto and basically cried his way out of Canada.
Even now, whenever a team that has Vince on its roster comes to town, the fans are there waiting for him so they can boo him throughout the game.
13. Rasheed Wallace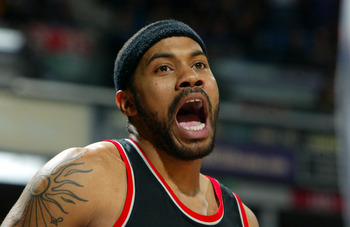 Jed Jacobsohn/Getty Images
Rasheed Wallace, or "Mr. Technical," comes in at a smooth 12th place in the ranking.
A Jail Blazer, 'Sheed was the master of the technical foul, accumulating more in his career than any other player in NBA history, with a staggering 304 to his name. They were so frequent during his career that YouTube has made compilations of the events.
While in Portland, he did the majority of his jerkiness. He threatened a referee and was suspended seven games, and he has numerous interviews that cannot be shared within the confines of Bleacher Report.
He was also a reason that fan-favorite Arvydas Sabonis left the team.
12. Bill Laimbeer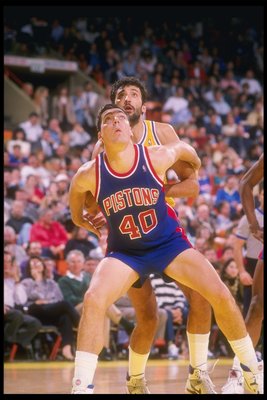 Mike Powell/Getty Images
The cheapest and dirtiest "Bad Boy" of the bunch, Bill Laimbeer was perhaps the NBA's most hated player and opponent.
He threw elbows, complained and won two titles.
He was so well-known as a dirty player that he was the inspiration (obviously) for the video game Bill Laimbeer's Combat Basketball, a disc that encouraged large amounts of violence.
Let's put it this way: The furious Isiah Thomas was fairly tame compared to the 6'11" Laimbeer.
11. Karl Malone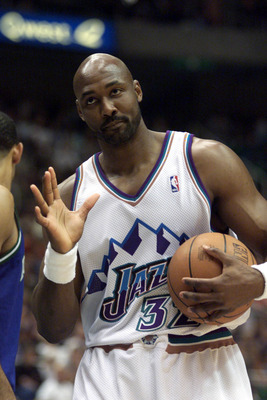 Brian Bahr/Getty Images
Throughout his legendary career, "The Mailman" certainly lived up to his nickname, delivering shots to just about every NBA player he has crossed paths with.
One of the dirtiest players ever, the icing on the cake for Malone's jerk candidacy was the fact that he never won a title. At least other jerks like Michael Jordan had something to show for it.
His elbows were his most prized possession, and he would use those puppies to nail anything in his path.
10. Ron Artest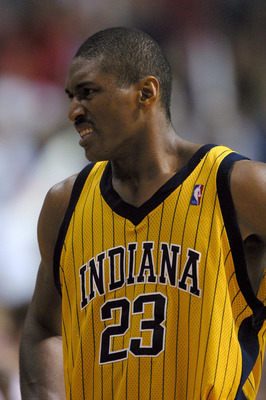 Tom Pidgeon/Getty Images
Ron Artest ushered in the league's biggest in-game fight and changed the scope of the NBA.
Enough said.
9. Kevin Garnett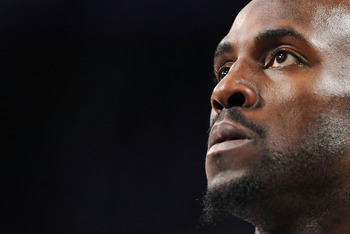 Lisa Blumenfeld/Getty Images
The epitome of a fake tough guy, Kevin Garnett lands the ninth spot on this list.
I think everyone can agree that KG is one of the most hated players in the association today. He takes cheap shots at opposing players, he tries to pick meaningless fights, and now that he has won a championship, he is the ultimate cocky baller.
That's not to say he isn't one of the NBA's all-time greats. If he had as many championships as Tim Duncan, he'd be the best power forward ever.
8. Kobe Bryant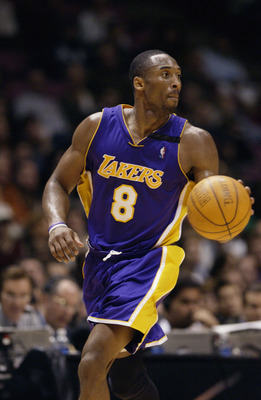 Ezra Shaw/Getty Images
Although Kobe Bryant is one of the NBA's 10 greatest players of all-time, he also makes my top 10 for biggest jerks.
We all know about the rape charge, and we all know that Kobe is one of the league's dirtiest players, so not a big explanation is needed here.
More recently, he uttered a gay slur at a referee, but in all honesty, he was caught in the moment. Regardless, he's a jerk.
7. Jayson Williams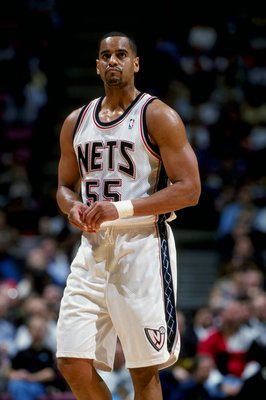 Ezra Shaw/Getty Images
You can't just "accidentally" kill your cab driver while "entertaining friends." It just makes no sense.
Regardless, Jayson Williams was charged with the responsibility of the death of Gus Williams, and was given five years in prison with a possibility of parole within 18 months.
Throw in the fact that he almost drunkenly killed himself in a hospital or that he punched a guy in a bar after he was accused of his Williams' death, and you have yourself a Class-A Jerk.
6. Calvin Murphy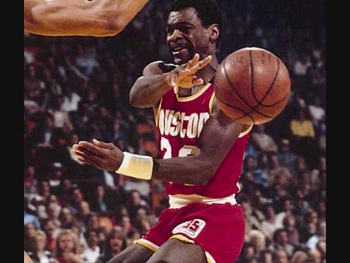 Oh, Calvin Murphy, what haven't you done to tarnish your legacy?
A spectacular point guard for the Houston Rockets thoughout the 1970s, one can only wonder what went wrong post-retirement for the 5'9" Hall of Famer.
He has since called himself the best point guard ever, a testimony to his cockiness.
He also has fathered 14 children by nine women, just one off Bill Simmons' famed "double-double."
Last but not least, he was charged with sexually assaulting five of his daughters.
5. Rick Barry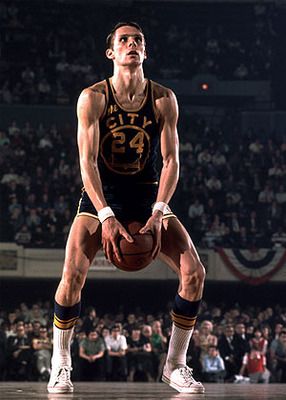 Rick Barry was undoubtedly the biggest jerk of the pre-merger era.
I use the word "was" loosely because he has supposedly turned it around, but that doesn't take away what he did during his professional career.
He was an over-the-top cocky player who once said that anyone who wrote something negative about him was wrong. He was a guy who would literally look down on people who were less skilled or had lesser stats than him and, unfortunately, that was about 95 percent of players.
Plus he walked out on his family randomly and didn't care about the development of his five kids, notably his sons Jon and Brent, who both became decent NBA players themselves.
4. Ruben Patterson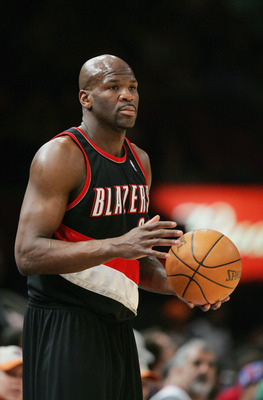 Jim McIsaac/Getty Images
Ruben Patterson, the self-proclaimed "Kobe Stopper," is among the biggest jerks in the NBA's history.
In 2000, as a Seattle Supersonic, Patterson was accused of attempt to rape his child's babysitter, and he was ordered to register as a sex offender. Problem is, 'ol Ruben didn't go register either.
Patterson helped usher in the "Jail Blazers" while in Portland. In 2005, he refused to return to the game when coach Nate McMillan summoned him from the bench. He was temporarily suspended and told the media that it was like "the devil hit [him]." What a lamebrain excuse.
Toss in a DUI and a fiery attitude, and you have yourself a prime jerk.
3. Chris Washburn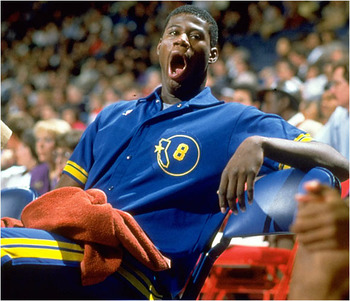 Words can't even begin to describe how I feel about Chris Washburn. There are so many ways this guy could be considered a jerk.
He threw away everything to be a druggie, and he was a jerk to just about everybody he met.
He didn't go to class, he stole a stereo, and he skipped practices, and yet the Warriors still selected him third overall in the 1987 draft.
This picture basically embodies what Washburn was: a yawner, a guy who didn't care about anything in his life.
Thankfully for the league, Washburn was banned for life for his repeated drug-test failures.
He played just 72 games in his promising career.
2. Latrell Sprewell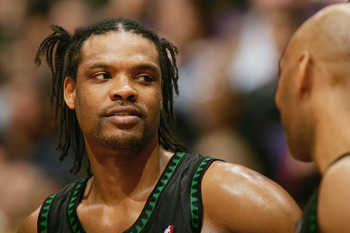 Lisa Blumenfeld/Getty Images
Where do I even begin with this guy?
In 1994, Sprewell's dog severely injured his daughter, and when asked about whether he'd give up the canine, he responded with: "Why would I do that?"
In 1995, he fought teammate Jerome Kersey and threatened to pull a gun on him.
In '97, Latrell Sprewell was asked by coach P.J. Carlesimo to put "a little more mustard on his passes," so Spree decided to take matters in his own hands, literally. He choked Carlesimo for about 10-to-15 seconds. Always a man to finish the job, Spree returned and gave poor old P.J. a punch before his teammates pulled him off the coach. He was consequently suspended for the following 68 games, but, more importantly, he was left off Kobe Bryant's NBA Courtside, which happened to be a certain six-year-old's favorite video game.
In 2004, as a member of the Minnesota Timberwolves, Spree was offered a three-year, $21 million extension, but apparently was insulted by it, stating: "I have a family to feed. If [Wolves owner] Glen Taylor wants to see my family fed, he better cough up some money. Otherwise, you're going to see these kids in one of those Sally Struthers commercials soon."
Why yes, he did just refer to starving children around the world.
What a jerk.
1. Tim Donaghy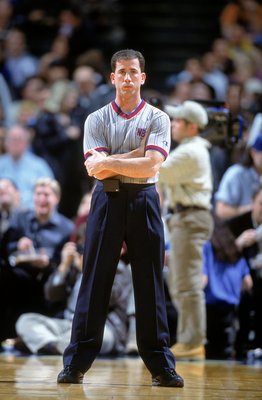 Ronald Martinez/Getty Images
You could just see this one coming, couldn't you?
Tim Donaghy changed the game of basketball forever. He made the sport vulnerable in the sense that it could be altered, and for that the NBA lost many fans.
He rigged key playoff series and the game itself, and for that he is the biggest jerk in NBA history.
To think someone decided to take matters into his own hands and change the history of the game just boils my mind.
Joseph Fafinski is currently a freshman at the University of Missouri. Originally from Chaska, Minnesota, Joseph is an NBA and Minnesota Timberwolves Featured Columnist and a frequent writer on all things NBA, NFL and MLB.
You can email Joseph at jef3m8@mail.missouri.edu or follow him on Twitter at @JosephFafinski.
Keep Reading