NBA Playoffs 2011: Miami Heat-Philadelphia 76ers Game 5 Predictions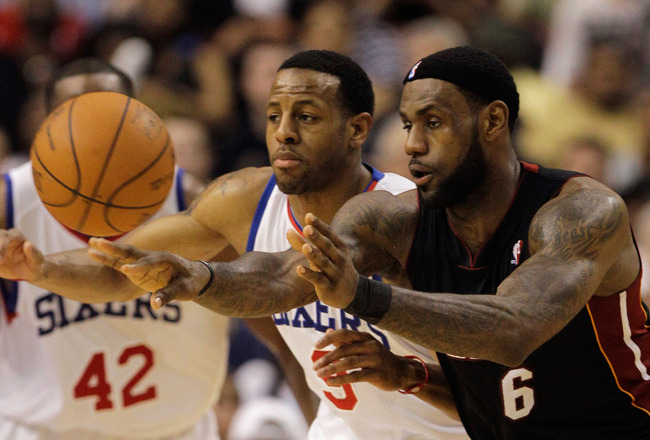 Rob Carr/Getty Images
The 2011 NBA playoffs have started off in an emphatic fashion with highly entertaining first round series in both the Eastern and Western Conference.
The No. 2 vs. No. 7 matchup between the Miami Heat and Philadelphia 76ers has been largely dominated by the Heat, but the Sixers have still offered plenty of competition as the underdogs.
Miami currently leads the series 3-1 after Philadelphia avoided the sweep last Sunday due to huge three-pointers from Lou Williams and Jrue Holiday in the final minute of Game 4. The Heat were outscored 10-0 in the final 82 seconds of the game in front of a rowdy Philadelphia crowd.
The Heat will look to close out Philadelphia in Game Five in Miami tonight and advance to a highly anticipated second-round date with the Boston Celtics.
Still, the Heat have a lot of work to do before they can eliminate a pesky 76ers team with nothing to lose.
Here are five things to watch of the Heat in the pivotal Game-Five matchup.
Miami's First Quarter Play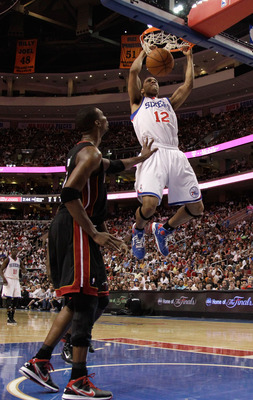 Rob Carr/Getty Images
A big theme in this quarterfinal series has been Miami's lackluster play in the first quarter.
Philadelphia has dominated the opening quarter, outscoring the Heat 101-75 and averaging 25.3 points to the start the game.
Miami, on the other hand, has only averaged 18.8 points in the first quarter. In addition, the Heat have been outscored 78-46 with their starters on the floor to open games in this series.
Philly has been hitting multiple jump shots from various spots on the floor and getting contributions from all of their starters, which has helped them open up big leads in the first quarter.
Miami simply has not been coming out with enough energy to match the young 76ers' high-octane effort. Therefore, the Heat are forced to play catchup going into the second quarter, which hurts their flow.
The Heat will need to be in sync early and come out with a lot of energy in order to take care of the Sixers in Game 5.
Miami's Second Quarter Play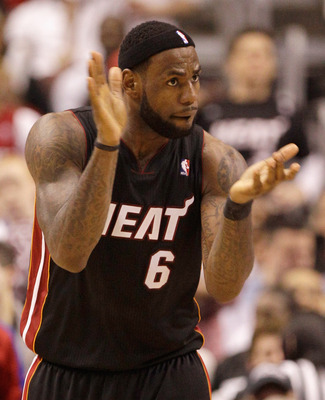 Rob Carr/Getty Images
The Heat have absolutely dominated second quarters in the series.
Miami is averaging 31.3 points in the second quarter, which is nearly double their scoring effort in the first quarter. Also, they are outscoring Philadelphia by an average of 12 points in second quarters.
Miami went on a 22-2 run in the second quarter of Game Four that saw Dwyane Wade score 12 points during the surge.
While these runs have worked for Miami they need to play with this type of consistency for all 48 minutes instead of just 12.
Miami's Sense of Urgency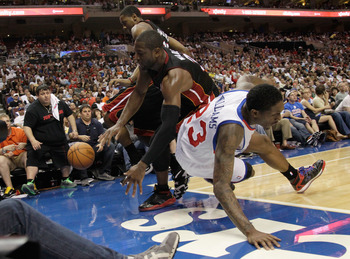 Rob Carr/Getty Images
Since the beginning of this series, Miami has preached that they are playing with a sense of urgency and they won't take it easy against the Sixers.
That was obviously true in the first three contests, but failed to occur in the waning moments of Game Four. The Heat were outscored 10-0 in the final 82 seconds and allowed back-to-back three pointers that blew a six-point lead.
As cliche as it is, Miami has to focus solely on Philadelphia and not think about the impending matchup with their Celtic rivals.
The Heat need to play with desperation and give full effort to ensure that this series does not make it back to Philadelphia for a Game Six.
Miami's Bench Play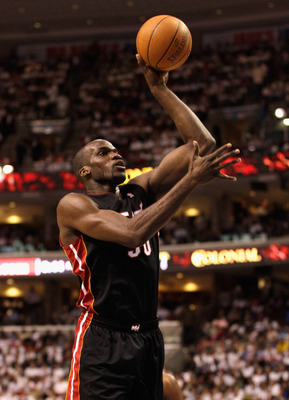 Rob Carr/Getty Images
The Heat have been using an eight-man rotation in this series, with only Joel Anthony, James Jones and Mario Chalmers seeing significant minutes off the bench.
The Sixers bench has outscored the Heat's bench by a drastic margin of 141-64. However, in Miami's three victories, they are still winning by an average of 11.6 points.
This is no surprise as Miami's bench has been subpar all season long, but it's the intangibles—not necessarily the scoring—that the Heat will need from the second unit in Game 5.
They need Anthony's hustle, defense and energy, Jones' ability to take charges and Chalmers long range shooting. In the Heat's Game Four loss, Anthony had zero blocks, Chalmers went three-of-nine from beyond the arc and Jones made minimal contributions.
Although Miami was +18 with Anthony in the game and +13 with Chalmers, they will need more of the effort the two showed in the first three games of the series.
Not to mention, Mike Miller has played a grand total of six minutes in this series and isn't expected to play for the rest of it. Since he was supposed to be a key contributor, the trio of Anthony, Jones and Chalmers will have to step up that much more.
Will Mike Bibby Show Up?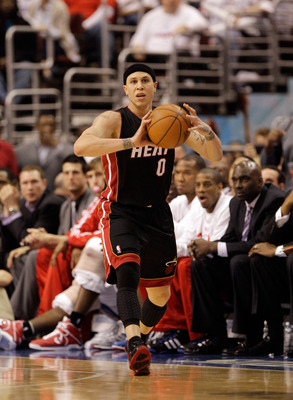 Rob Carr/Getty Images
Mike Bibby has been a no show in the series so far. The point guard is averaging only four points per game on a woeful 22-percent shooting from the field.
Bibby, normally an outstanding three-point shooter and one of Miami's primary deep threats, is shooting four-of-19 from beyond the arc against the Sixers.
While the Heat have been able to win without him, it was evident that Bibby's Game-Four performance really hurt the team. Bibby missed multiple open looks on his way to an 0-for-6 shooting night, including 0-for-4 from deep in Miami's loss.
Bibby will need to knock down his three pointers for the Heat to be effective in Game Five. He stretches the defense with his shooting and will be relied on to hit shots, especially early in the game.
If he can do his job, it will be much easier for Miami's Big Three to get to work and put down the Sixers from the get go.
Prediction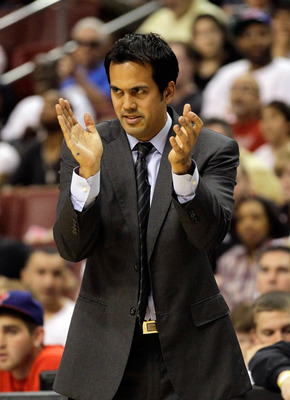 Rob Carr/Getty Images
Although the Sixers will fight hard, the Heat will finally close them out in Game Five. The Heat, playing with a sense of urgency, will come out strong in the first quarter and jump to an early lead.
Miami's super trio of LeBron James, Dwyane Wade and Chris Bosh will do the heavy lifting, but Bibby will finally make a contribution with his shooting. The bench will be weak again, but Joel Anthony will lead the reserves with eight or more rebounds, at least three blocks and tons of hustle plays.
Lou Williams and Elton Brand will have big games for Philadelphia, but Miami's Big Three will ultimately outshine them. LeBron will lead all scorers and Wade will have a big game as well.
Miami's defense will be the main factor in closing out the series.
Prediction: Miami 96- Philadelphia 81 (Miami wins series 4-1)
Keep Reading

Miami Heat: Like this team?