Derrick Rose vs. Michael Jordan: Can Rose Even Come Close?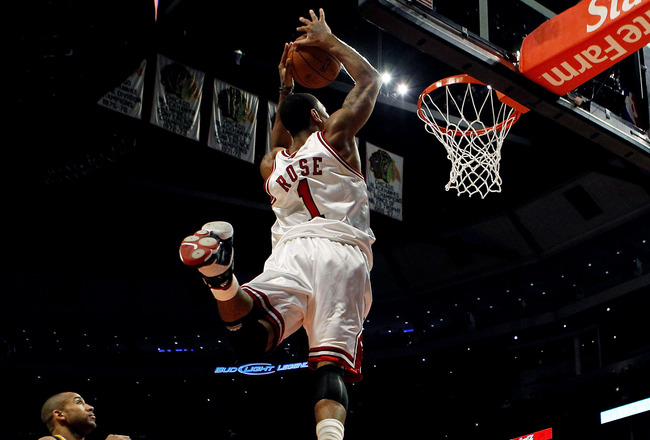 Jonathan Daniel/Getty Images
Ever since the Jordan era, it seems as if he has the set standard for NBA stars. Jordan is deemed the best NBA player of all time in many regards by the majority of NBA fans. These comparisons are even heavier in Chicago where Jordan made his professional name.
Derrick Rose is the newest superstar to emerge in the NBA. Rose won the Rookie of the Year award in his initiation season, was the first All-Star since Jordan roamed the United Center in his second year, and led the Bulls to the best record in the NBA since, guess when, Michael Jordan did the same thing.
So can they be compared? Jordan is six championships ahead, as well as an endless number of stats. Here are five reasons why Rose can become like Mike, and five reasons he cannot.
Why Rose Can Be Like Mike: Leadership
Jonathan Daniel/Getty Images
Michael Jordan's career highlights always include his late game heroics. Jordan has a multitude of videos that still circulate the Internet showing his buzzer beating clutch shots. He led the Bulls to six championships in as many of Jordan's played seasons through the nineties, and Jordan was no doubt the leader of those teams.
Derrick Rose in his young career has given his Bulls team life in the close fourth quarter situations. Most recently, Rose led Chicago from behind three times against the Indiana Pacers, showing his remarkable skill in the late minutes of the fourth quarter.
Leaders not only provide game changing shots, but make their team better. Jordan didn't make Scottie Pippen and Dennis Rodman good players, but he contributed to them becoming hall-of-fame material.
Luol Deng and Joakim Noah may not be Pippen and Rodman, but Rose has seemingly improved their game as he has improved his own.
Why Rose Can Be Like Mike: Three Point Shooting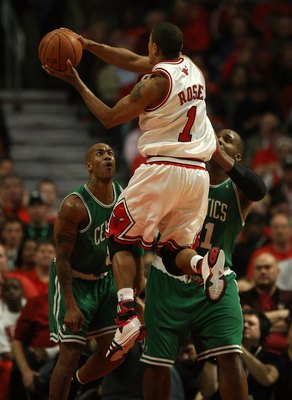 Jonathan Daniel/Getty Images
One element that Jordan wasn't an expert at was shooting the deep ball. In only his third year, Rose hit more threes than Jordan did in any single season. In fact, Jordan shot below 20 percent in each of his first four seasons.
Rose, in only his third season, has brought his three point shooting percentage from 22 percent his rookie season all the way to 33 percent during his MVP caliber performance.
This gives Rose a portion of the game that Jordan didn't initially have. Jordan did shoot 43 percent from deep during the 1995-1996 season, but that was the best of his career. By no means is Derrick Rose a master of downtown shooting, but he is ahead of Jordan by years from behind the arc.
Why Rose Can Be Like Mike: Public Relations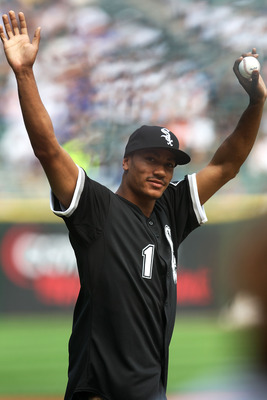 Jonathan Daniel/Getty Images
Michael Jordan embraced Chicago, and Rose has down the same, maybe even more so. The city has returned the favor.
Rose is a Chicago native; Illinois' son. He was a star on the court from a very young age, winning his high school's championship. After a year of going away to Memphis, he found himself right back in the Windy City with the first overall draft pick.
Since then, Rose has taken NBA media by storm. Nowadays, ESPN, NBATV and others cannot be watched without a clip of the phenom or at least a mentioning of his name.
This publicity has revived a city in need of another NBA star in the United Center. Fans have grasped onto Rose's talent unlike anything seen since the nineties.
And it's not just their own city that loves these two remarkable players. Even opposing crowds frequently chanted "M-V-P" for Michael Jordan, and has recently done the same for the flashy Rose.
Relation to the fans could be something that Rose can get an advantage over Jordan on. Jordan has an ego larger than the United Center—there's no doubting that. Did he earn it? Certainly. In the same thought, Rose is remarkably talented with the least bit of cockiness in him. He is often referred to as very humble, and after witnessing how he speaks and acts, it seems to be very true. Not only does Rose sign every autograph at 3 A.M. after departing the bus, but he also takes numerous trips to parts of Chicago that aren't necessarily considered the best sections where he grew up.
Why Rose Can Be Like Mike: Great Distributor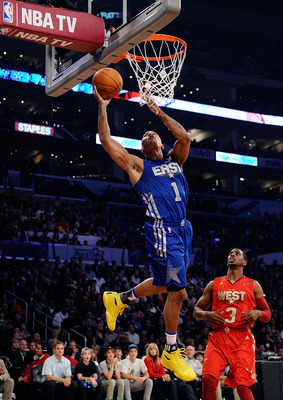 Kevork Djansezian/Getty Images
Derrick Rose is often criticized for his "shoot first" mindset, which is pretty far from the truth. Rose was the only player in the league to be in the top 10 in both shooting, in which he dropped 25 points per game, and assists, in which he dished off about eight per game.
Rose has averaged just under seven assists per game for his career and Jordan racked up a bit above five. Both were fantastic passers and know when to give up the ball and put their teammates in position to score when they could not. Just because a player scores a lot does not mean that they don't have the ability to pass. Scoring leads to being double teamed where passing becomes key.
Why Rose Can Be Like Mike: Innovative Moves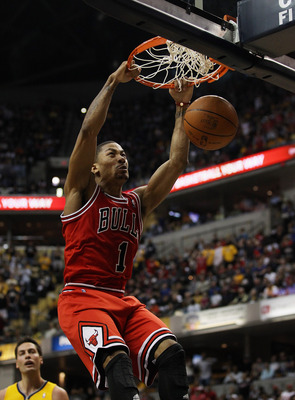 Jonathan Daniel/Getty Images
Awing crowds is what Michael Jordan and Derrick Rose do. Their moves are skillfully performed stunts that weave them in and out of defenders on their way to the hoop. Not only does this ability lead to stunning shots, but many fouls as well.
An opponent that can drive consistently makes defense nearly impossible. When the defense lets a player drive by them, another has to move down to help, leaving the perimeter open. Rose and Jordan specialize in this. Their pure speed along with unbelievable moves make it nearly impossible to stay in front of them. Throw in a jump shot to top it all off, and you have a complete offensive player.
Why Rose Will Always Be in Jordan's Shadow: Changing the Game
Jonathan Daniel/Getty Images
Michael Jordan did his part to put basketball on the map. The 1992 Dream Team showed the world how exciting basketball is. Of course, it didn't match the intensity that soccer brings to every country excluding the United States, but it sure began becoming popular. This led to more foreign born players playing the sport and eventually finding their way into the NBA, changing and improving the game for years to come. Who knows? Maybe Yao Ming and Dirk Nowitzki would have never heard about basketball without Michael Jordan.
Not only did Jordan make worldwide differences in the sport, but locally as well. Before Jordan, Chicago had a whopping zero championships. Following His Airness, they had six. Chicago basketball was put on the map during his dynasty.
Jordan's name is known worldwide as the greatest basketball player of all time, with a few arguments. Rose? He's known as a good story and great player. He isn't a legend.
How can Rose compare to this? He doesn't have the opportunity to bring the first NBA championship to Chicago, or expand the game worldwide. Sure, he put Chicago back on the NBA championship playing field, but that's not the same as what Jordan did. Rose is fantastic, but he can never make the changes that Jordan did.
Why Rose Will Always Be in Jordan's Shadow: What Hasn't Jordan Done?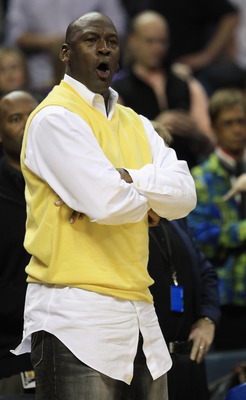 Streeter Lecka/Getty Images
Michael Jordan has done a few things in his life. He became a legend at North Carolina, was drafted third overall by the Chicago Bulls, won countless awards, won six NBA championships, played minor league baseball, set the standard for comparisons in the NBA, owns the Charlotte Bobcats and is probably on the guest list to any party he wants.
Oh, I forgot he was the main actor in a movie known as "Space Jam." Simply put, it's the greatest movie of all time. How could the best NBA player of all time and the greatest cartoon of all time be thrown into a movie and not make something spectacular? Jordan and Bugs Bunny team up to take on a hoard of aliens who stole the talent of NBA players such as Charles Barkley, Patrick Ewing, Muggsy Bogues, Larry Johnson and Shawn Bradley.
Why was Shawn Bradley in that movie? I guess the "Monstars" never gave his talent back.
Jordan also has his own golf tournament. He is an avid golfer which I'm sure he does after watching his NBA team play in Charlotte. It's just kind of a "wow" thing to see everything Michael Jordan has done with his life.
To keep it quick, Derrick Rose hasn't played any aliens from outer space.
Why Rose Will Always Be in Jordan's Shadow: Jordan Set the Standard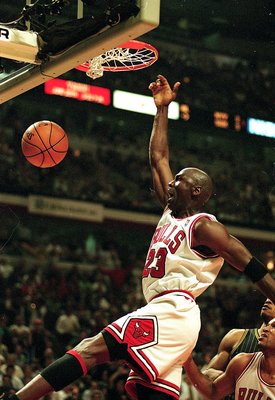 Jonathan Daniel/Getty Images
Have you ever heard any comparisons to Michael Jordan? Maybe Kobe Bryant or LeBron James? Currently, Derrick Rose. There's a reason he's the first person to come to mind when a superstar challenges for best player in the league. Michael Jordan set the standard for anybody considering becoming the best.
Jordan averaged over 30 points, six rebounds and five assists for his career. That's amazing. To average thirty points over a career that lasted nearly two decades? Given four years of his nineteen year stretch were not spent playing basketball, it still is an amazingly long time to average over 30 points. He even played at a high level at 40 years young.
Why Rose Will Always Be in Jordan's Shadow: Playoff Maniac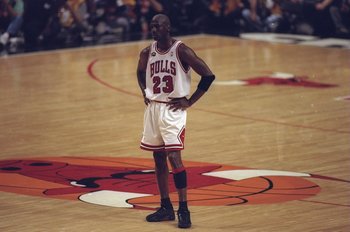 Jonathan Daniel/Getty Images
Michael Jordan is the only player to average over thirty points per game in the playoffs. Only in his rookie playoff series did he not average thirty. He finished his career with a 33.4 per game playoff showing.
Who's second of players who have played at least thirty playoff games? Allen Iverson with just over 29 points per game. That's a four point difference, which may not seem like too much, but in reality that's a large difference to separate just first and second.
Also, as I've said numerous times throughout this article, Jordan won six championships in just as many years played. That's nothing short of spectacular. Of course he had Pippen by his aside, among others, but that takes nothing away from this fantastic accomplishment.
Why Rose Will Always Be in Jordan's Shadow: Versatility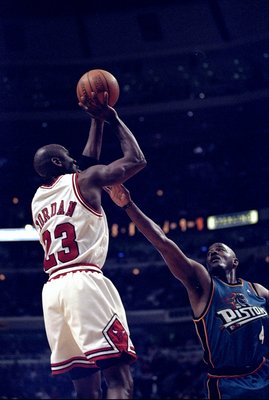 Jonathan Daniel/Getty Images
Michael Jordan could do it all: take the ball up the court, catch and shoot, drive to the hoop or grab rebounds. Derrick Rose? Well, he can certainly dribble and drive to the hoop, but his shot isn't all quite there yet, but should develop with time and his size keeps him from becoming a great rebounder, but he is still pretty good.
Jordan's versatility was amazing. He could play point guard, shooting guard and small forward. Personally, I believe MJ could have played power forward at times against undersized opponents. His leaping ability, strength and basketball intelligence are all superb which would allow him to play the position well.
Derrick Rose is a fantastic point guard and is given criticism for playing too much like a shooting guard. However, he is best off the dribble. Shooting guards do exactly what their name states: shoot. Rose is better at driving shots rather than jumpshots, so he fits the point guard position better. Also, with his size he is more suited to play defense on the point guard more than the shooting guard, although he can play defense at times against larger opponents. Jordan had more versatility though. MJ could play just about everything, which Rose cannot do.
Conclusion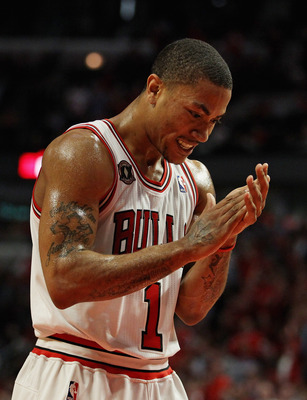 Jonathan Daniel/Getty Images
The argument should not even happen. Of course Michael Jordan is better than Derrick Rose. Rose has only been in the league for three seasons now. Jordan is considered the best the association has ever seen by many fans and analysts worldwide.
Rose cannot be expected to duplicate Jordan's success, otherwise he will be a let down. Jordan's accomplishments are spectacular, on and off the court. He became a celebrity as much as an athlete. His ego carried him there. That same ego does not exist within what we have seen of Derrick Rose.
Jordan changed the game and expanded it to outside North America's borders. Rose does not have the same opportunity to do that.
Rose and Jordan played in different eras, played different positions against different players, and were in different situations. So why compare the two? It's understandable that Jordan is the set standard, but why bring down Rose's skills due to that? The only similarities are what I've stated thus far, that they both play(ed) for the Bulls and are fantastic players.
It's a privilege to have watched Jordan and to watch Rose, so the city of Chicago and all NBA fans should put comparisons aside and just enjoy the basketball.
Keep Reading

Chicago Bulls: Like this team?