NBA Salary Abominations: Listing Each Team's Worst Contract This Season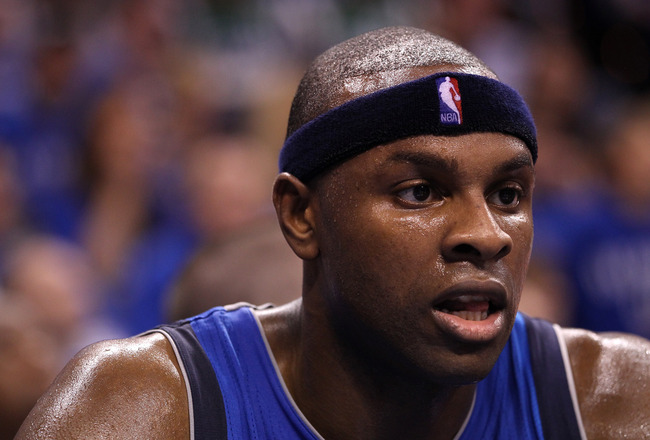 Christian Petersen/Getty Images
Eddy Curry is despised by New York Knicks fans for being the symbol of the black-hole decade of the 2000s. When the team revolved around his on-court exploits, the Knicks largely struggled, falling to a 23-59 record at worst.
However, when the team decided to move into a different direction and bench him permanently, his contract become an immovable object, so they couldn't get better during the offseason. He played 10 games for the Knicks in over two-and-a-half seasons, racketing nearly $32 million in salary during that time as New York continued to falter.
It was easy to be angry at Curry then, but a small part of me admired him. Here was a man who had it made. Curry found a way to be paid millions of dollars to have a front row seat to 82 NBA games every season. I had to pay $10 to watch the Knicks in the upper deck when they had that deal going during the aforementioned 23-59 days.
So here's to you, Eddy Curry, and every other player on each team in the NBA who has the worst contract imaginable. You may drive your fans insane, but a tip of the cap to all of you for having it made.
Atlanta Hawks: Joe Johnson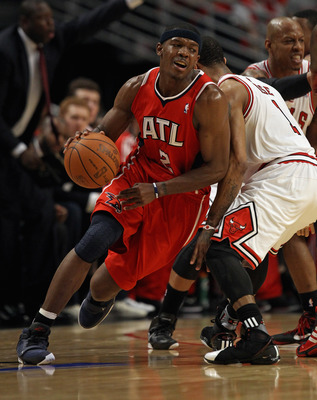 Jonathan Daniel/Getty Images
2010-11 Salary: $16,324,500
Tempted to go with Zaza Pachulia, who not only claims one of the most fantastic names in the history of mankind but does so while collecting over $4 million per season.
Since Joe Johnson gets paid superstar money even though he's only the third-best player on his own team (Al Horford and Josh Smith have better efficiency and PER numbers this season), he easily takes this title.
Boston Celtics: Jermaine O'Neal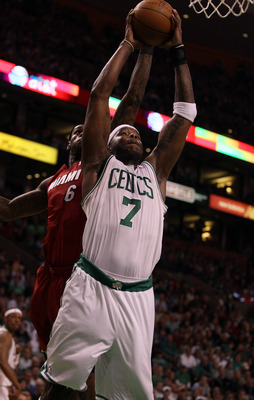 Elsa/Getty Images
2010-11 Salary: $5,765,000
Want to feel old? The 32-year-old Jermaine O'Neal has played in the NBA for 15 seasons. Wasn't he stashed away on the Blazers bench three minutes ago?
In his third professional decade, O'Neal still finds ways to get paid mid-level exception money. Twenty-four regular-season games and a poor playoff showing do not justify nearly $6 million, though a litany of injuries contributing to O'Neal's rough campaign should be noted here.
Charlotte Bobcats: DeSagana Diop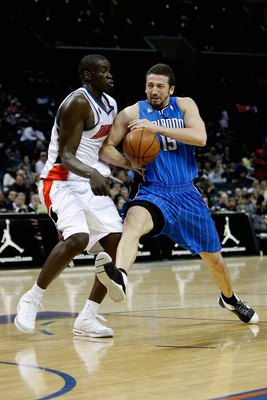 Streeter Lecka/Getty Images
2010-11 Salary: $6,611,570
The eighth pick of the 2001 NBA draft has never averaged more than 19 minutes per game, yet he has accrued over $32 million in salary in the past 10 years. Helps to be 7'0" and 280 pounds.
Diop was paid over $6 million for 1.2 points and 2.5 rebounds in 16 games this year.
Chicago Bulls: Carlos Boozer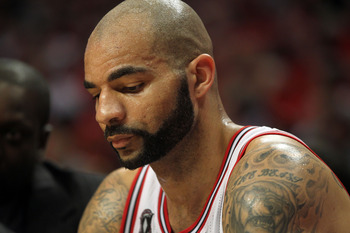 Mike Ehrmann/Getty Images
2010-11 Salary: $14,400,000
In the short term, none of the Bulls' contracts are terrible. Carlos Boozer's deal will hurt in the long run though, and his performances this season did not match the value of his contract. In six of his 16 postseason games, he scored between two and eight points per game.
In particular, Boozer accounted for five points and six rebounds in Game 5 of the Eastern Conference Finals while his power forward adversary, Chris Bosh, went for 20 and 10.
Cleveland Cavaliers: Antawn Jamison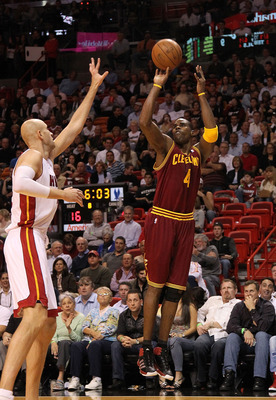 Mike Ehrmann/Getty Images
2010-11 Salary: $13,358,905
The second banana, whom the Cleveland Cavaliers brought in to help LeBron James last season, became the team's No. 1 option when the King took his talents to Tony Montana's adopted homeland. Jamison, who has made $124,717,193 over his entire career, took home the bacon yet again despite leading the Cavs to the second-worst record in the NBA.
Dallas Mavericks: Brendan Haywood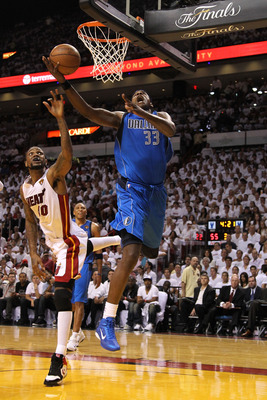 Mike Ehrmann/Getty Images
2010-11 Salary: $6,900,000
If Mark Cuban gives any of the budding entrepreneurs on ABC's Shark Tank hell, those people only need to remind him that he invested $55 million into Brendan Haywood over a six-year period.
Does it really matter though? Dallas is in the NBA Finals, Haywood is on the bench making money and everyone is happy. Good times to be had all around!
Denver Nuggets: Kenyon Martin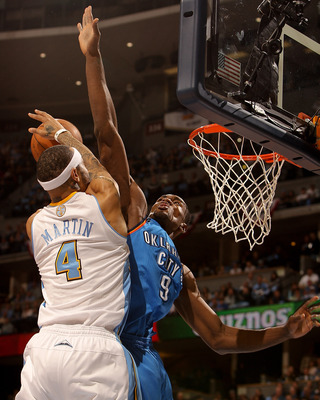 Justin Edmonds/Getty Images
2010-11 Salary: $16,545,454
Do you understand why David Stern wants to cut down on player salaries? Do you understand why NBA teams are losing millions of dollars? Why should Kenyon Martin be getting $2 million more than the NBA's No. 1 star?
On a side note, Kenyon Martin is one of my favorite "what if?" questions, because I think he could have scratched the surface of being a 20-10 guy if he wasn't getting nicked up every single season.
Detroit Pistons: Ben Gordon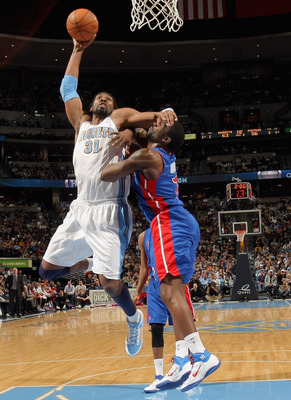 Doug Pensinger/Getty Images
2010-11 Salary: $10,800,000
Nine Detroit Pistons sported better player efficiency ratings than Ben Gordon last season, the third-highest paid player on the team. Nine. Wow.
The former UConn star spent most of his season as the second-richest sixth man in the NBA, behind Gilbert Arenas.
Golden State Warriors: Andris Biedrins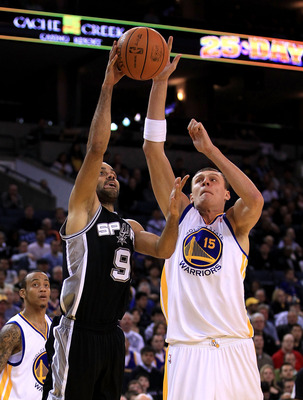 Ezra Shaw/Getty Images
2010-11 Salary: $9,000,000
If a player shoots 32 percent from the free-throw line and makes $9,000,000, he better play like Wilt Chamberlain. Andris Biedrins is no Big Dipper and has significantly regressed from the 2008-09 season when he averaged over 11 points and 11 rebounds per game.

Houston Rockets: Jared Jeffries
Nick Laham/Getty Images
2010-11 Salary: $6,883,300
Why not Yao Ming and his $17,000,000 salary, you say? Because Yao at least did more in five games than Jared Jeffries did in 18 last season.
No, really. Yao scored 51 points and 27 rebounds. Jared Jeffries had 27 points and 35 rebounds.
Furthermore, it's hard to fault a guy for what looks to be a career-ending injury.
Indiana Pacers: T.J. Ford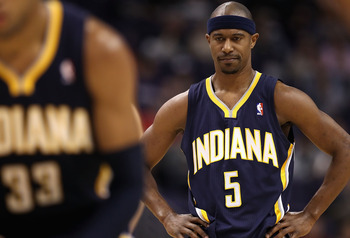 Christian Petersen/Getty Images
2010-11 Salary: $8,500,000
Ford was brought into be the Pacers' starting point guard of the future in 2008, but he barely saw time in the most recent postseason. After having only played 41 games last season in which he posted just over five points and three assists, Ford has officially made way for the Darren Collison era in Conseco Fieldhouse, though an $8,500,000 paycheck softens the blow.
Los Angeles Clippers: Chris Kaman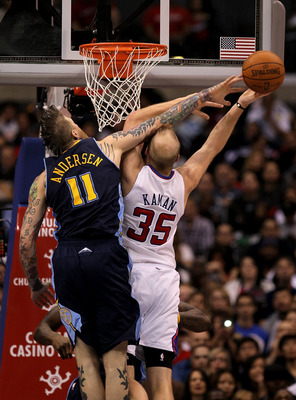 Stephen Dunn/Getty Images
2010-11 Salary: $11,300,000
Like Carlos Boozer, it's hard to call Kaman's salary "bad" per se. Bad is Ben Gordon being paid close to $11 million to shoot outside jumpers off the bench, or giving Joe Johnson $16-plus million to be the third-best player on the team. But someone on the Clippers had to be picked, and by virtue of only playing 32 games last season, Chris Kaman was the unlucky winner.
Kaman contributed well to the Clippers when healthy (over 18 points and nine rebounds per game last season) but has trouble staying on the floor. If Los Angeles decides to part ways with Kaman, a fresh start may be very good for the former Central Michigan Chippewa.
Los Angeles Lakers: Luke Walton
2010-11 Salary: $5.26 million
Walton is on the books for an additional $11.8 million through 2013, but no worries, because he will be a recurring star on Hollywood-based soap operas for decades.
He scored just 91 points during the regular season (1.7 PPG), so for those scoring at home, he was paid roughly $57,802.19 for every point scored.
Memphis Grizzlies: Marko Jaric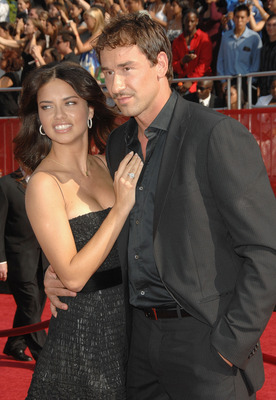 Stephen Shugerman/Getty Images
2010-11 Salary: $7,625,000
When I was younger, my dreams included being the center fielder for the New York Yankees, the President of the United States, a fireman for the FDNY or the owner of a pro sports team.
I now realize that every man should aspire to be Marko Jaric, because he gets paid millions of dollars for nothing and is married to a Brazilian super model.
Jaric was given a $13.4 buyout two seasons ago to leave the Grizzlies. He now plays in Spain.
Miami Heat: Mike Miller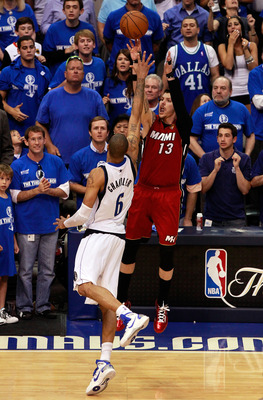 Tom Pennington/Getty Images
2010-11 Salary: $5,000,000
Miller is shooting 4-for-17 for 12 points in the Finals and hasn't looked comfortable since coming back from injury.
Any chance Miami can revoke that mid-level exception?
The Heat will be paying Miller until he is 35 years old, through 2015, if Miller takes his player option at the end of his contract.
Milwaukee Bucks: Corey Maggette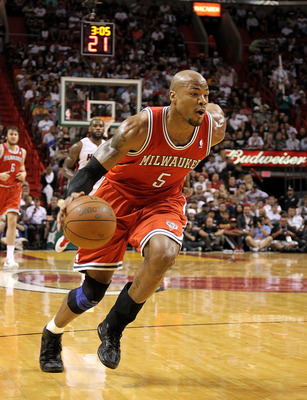 Mike Ehrmann/Getty Images
2010-11 Salary: $9,600,000
Technically, Michael Redd's $18,300,000 contract is the worst on the Bucks here, hands down. But if he were healthy, Redd would be the Bucks' star player.
Maggette is the third-highest paid player on the team, but he plays fewer than 21 minutes per game as a volume scorer at 12 points per game.
Minnesota Timberwolves: Darko Milicic
Christian Petersen/Getty Images
2010-11 Salary: $4,325,000
Can't say Eddy Curry, since he was used as a trade piece and immediately waived.
Signed with the team through 2014, Darko Milicic, much like DeSagana Diop, proved that seven-foot centers will always find homes in the NBA as long as they exhibit some form of athletic ability. Milicic averaged nine points and five rebounds for the moribund T-Wolves last season, though in his partial defense, Minnesota's outside shooting woes, porous team defense, lackadaisical front office decisions and poor coaching led to the team's demise last season.
New Jersey Nets: Travis Outlaw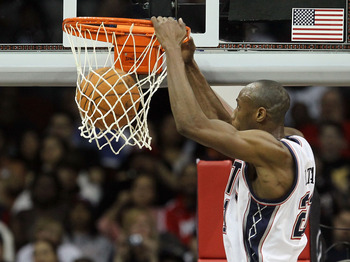 Jim McIsaac/Getty Images
2010-11 Salary: $7,000,000
Travis Outlaw was the worst full-time starter in the NBA last season. He finished the year with a ghastly 8.8 PER, thanks to scoring 9.2 points on 37.5 percent shooting. Despite being 6'9", he only grabbed 4.0 rebounds and wasn't much of a defensive presence either, though he was known for the occasional acrobatic dunk.
The best part? Outlaw made $1.4 million more than Brook Lopez and Kris Humphries combined.
New Orleans Hornets: Marcus Banks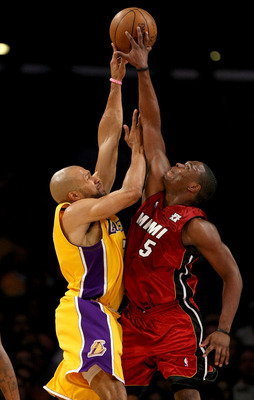 Stephen Dunn/Getty Images
2010-11 Salary: $4,752,000
Marcus Banks was traded to New Orleans in the Peja Stojakovic deal but never saw any court time for the Hornets this season. He played 22 minutes for Toronto, so in one way, one might say that he was paid $216,000 per minute of court time, even though the Hornets paid the bulk of his salary for nothing. What a life!

New York Knicks: Corey Brewer
Ronald Martinez/Getty Images
2010-11 Salary: $3,200,000
Before Knicks fans jump over me and say Eddy Curry, remember that the T-Wolves paid his contract this season.
By default, this goes to Corey Brewer. The Knicks cut Brewer because...wait. Why did they cut Brewer? Were they too good on defense already? Did they have too much talent on the wing? Did they feel like burning a pile of $3,200,000 in the middle of the Madison Square Garden court? Why? They could have used him in the playoffs.

Oklahoma City Thunder: Nick Collison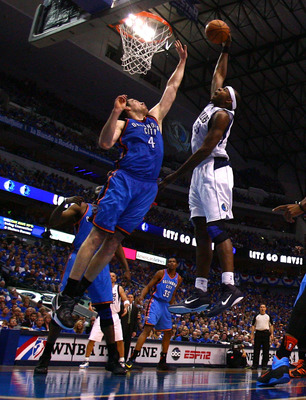 Ronald Martinez/Getty Images
2010-11 Salary: $13,250,000
Every team needs a frontcourt presence willing to bang down low and play tough defense, just not for over $13 million. Collison made only $1 million less than Kevin Durant, Russell Westbrook and James Harden combined last season. I hope he took the team out for many steak dinners down in OKC.

Orlando Magic: Gilbert Arenas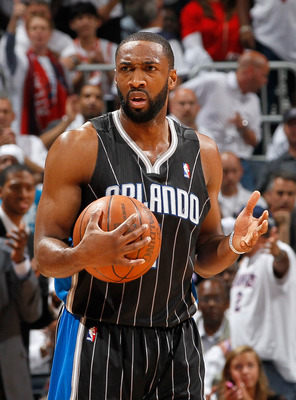 Kevin C. Cox/Getty Images
2010-11 Salary: $17,730,694
The good-natured Agent Zero's entertainment value every season is worth much more than $17,730,694 per season, but averaging eight points and three assists off the bench for the Magic leaves a lot to be desired for Orlando brass. He is on the hook for more than $62 million over the next three seasons.

Philadelphia 76ers: Jason Kapono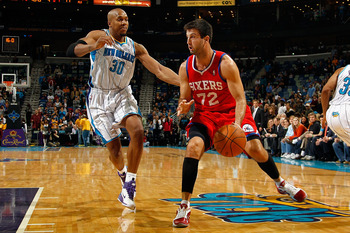 Chris Graythen/Getty Images
2010-11 Salary: $6,641,440
Jason Kapono rewarded the Sixers handing him a check for nearly $7 million by shooting 7-for-28 from the field this season over 24 games, never finding his way into the rotation. The one-time Miami Heat sharpshooter nailed 51 percent of his treys in 2006-07, averaging 11 points per game, but he hasn't been the same since taking a mid-level exception to play with Toronto four seasons ago.

Phoenix Suns: Vince Carter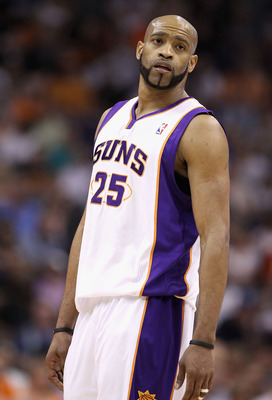 Christian Petersen/Getty Images
2010-11 Salary: $17,300,000
Saddest downfall to a superstar's career from the post-Jordan era? For all the justified hype Vince Carter accrued around the turn of the century, he has my vote. Now he gets paid like a superstar he once was even though he hasn't been at that plateau in years, unfortunately.
Carter played in 51 games last season, scoring 13.5 points in 27.5 minutes per contest. He shot an abysmal 42 percent from the field.

Portland Trail Blazers: Greg Oden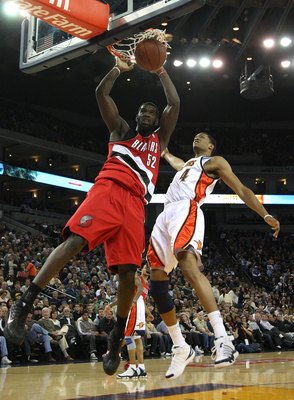 Jed Jacobsohn/Getty Images
2010-11 Salary: $6,796,524
"What if?" is one of the saddest questions to ask in sports, only because "What could have been?" is undoubtedly the saddest. Hopefully Greg Oden finds a home (maybe Portland) and stays healthy in the future.
For non-injured players, despite being paid over $1.6 million, Luke Babbitt's salary may have looked the worst on the team payroll simply because of his awful season last year. However, to be fair, he's a rookie and obviously has much time to rebound.
Sacramento Kings: Samuel Dalembert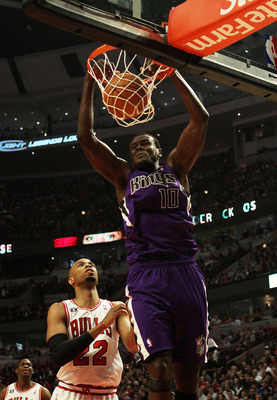 Jonathan Daniel/Getty Images
2010-11 Salary: $12,200,000
Solid defensive presence down low? Undoubtedly. Worth $12,200,000? How is this the case? Dalembert averaged eight and eight last season, and one would be surprised to know that the former Seton Hall big man's durability is best among NBA centers: He has played all but two games in the past five seasons. However, is that worth $12,200,000? No. Still, he'll be paid big bucks this season because he's 6'11".

San Antonio Spurs: Richard Jefferson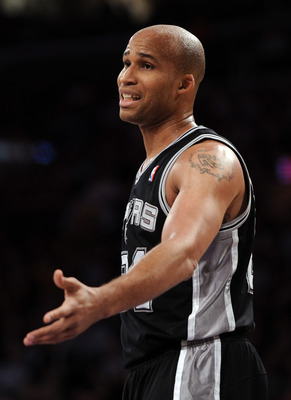 Harry How/Getty Images
2010-11 Salary: $8,400,000
I had to pick someone. Spurs GM RC Buford is a genius and rarely makes mistakes. Richard Jefferson may not be worth $8,400,000 for posting 11 and four per game, but it's not like the Spurs are paying him to stand up and hand out water bottles during timeouts.

Toronto Raptors: Peja Stojakovic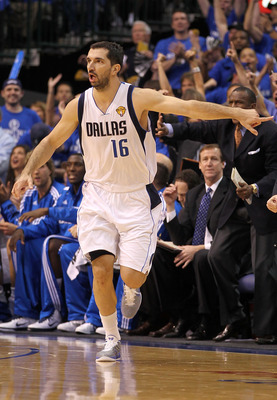 Mike Ehrmann/Getty Images
2010-11 Salary: $14,896,000
Note: I could not find the terms of Stojakovic's buyout with the Raptors in numerous reports. This was his reported 2010-11 salary.
The Raptors got saddled with Peja Stojakovic's deal this season and didn't even get to reap the benefits of his mini-resurgence. That's a shame. Peja played 22 minutes for the Raptors and was paid more than half a million per 60 seconds. What a country (or continent, I guess)!
Utah Jazz: Andrei Kirilenko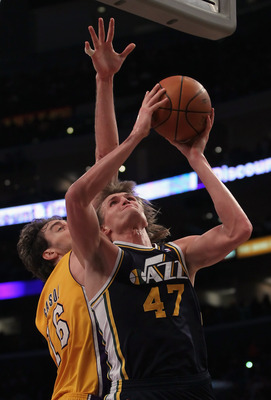 Jeff Gross/Getty Images
2010-11 Salary: $17,822,187
Exhibit A as to why the NBA needs to cut back on salaries before bankrupting itself. Maybe Jerry Sloan didn't help Andre Kirilenko's career by throwing him into the doghouse on and off the court and locking away the key in 2006, but when was AK47 ever worth this kind of money?
On a side note, the Russian Assault Rifle is my pick for a major resurgence next season given a fresh start.

Washington Wizards: Rashard Lewis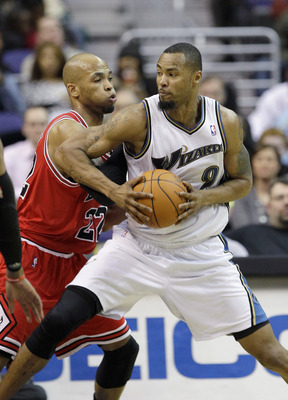 Rob Carr/Getty Images
2010-11 Salary: $20,514,000
And the second-highest paid player in the NBA last season was...Rashard Lewis, he of the 12 points and five boards per game.
Lewis used to be a terror, and I hated seeing him with the ball outside the three-point line, but he's being paid like the second-best player in the NBA? C'mon man.
Are we leaving this slideshow on a high note or a low note? I'm not sure.
Keep Reading