NBA Power Rankings: Rajon Rondo and Each Team's Most Disruptive Defender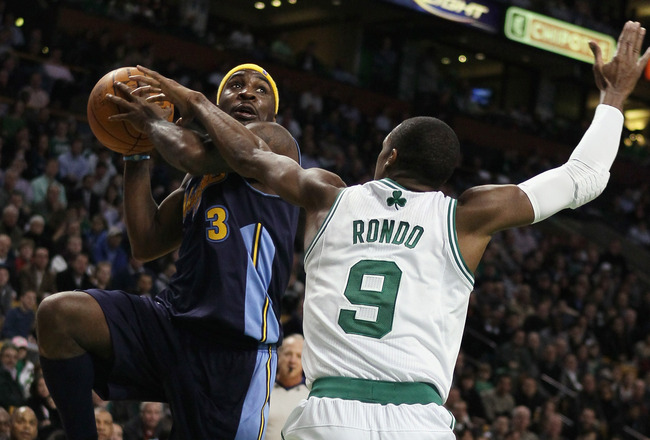 Elsa/Getty Images
Some people tend to believe that the NBA is all about offense, and the fact is that you need both sides of the ball to win championships.
The Lakers have won the last two Finals because they have a plethora of solid defenders, and the same goes for the Celtics in 2008.
The C's defensive mindset starts with Rajon Rondo. He is one of the game's best lockdown defenders and has established himself as one of the NBA's best point guards despite not having the ability to shoot well.
Defense wins championships now, and it always will even as the landscape of basketball changes.
Without further ado, thanks for reading and I hope you enjoy!
Atlanta Hawks: Josh Smith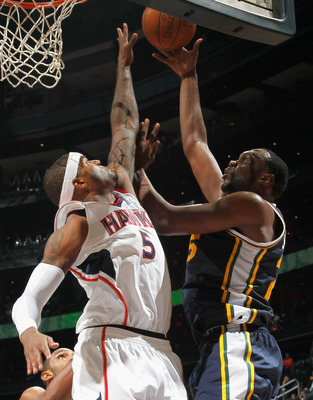 Kevin C. Cox/Getty Images
Right off the bat comes one of the list's harder choices.
The Atlanta Hawks have three solid defenders that start in Kirk Hinrich, Josh Smith and Al Horford. Smith takes the cake, however, for being an absolute freak on the defensive side of the floor.
Smith has been a force on both ends of the floor ever since he came into the league in 2004.
This season, his seventh, he grabbed about nine rebounds and tallied almost two blocks and steals apiece per game, a true testimony to his work ethic.
He has easily established himself as a top-10 forward defensively throughout his career.
Boston Celtics: Rajon Rondo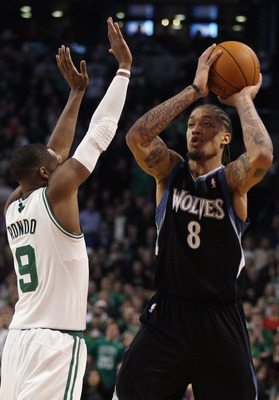 Elsa/Getty Images
Rajon Rondo's standing as one of the best point guards in the league largely has to do with his defense.
When he is on the floor, the Celtics give up almost two points less per 100 possessions, which is a telling statistic considering how great the team is without him defensively.
Over the course of his five-season career, Rondo has averaged two steals per game and is a very good lockdown defender.
He narrowly beats out Kevin Garnett for this spot.
Charlotte Bobcats: Tyrus Thomas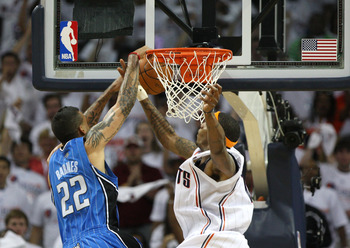 Mike Zarrilli/Getty Images
The selection here would've been easy before the trade deadline, but unfortunately for the Charlotte Bobcats, they sent Gerald Wallace out west to the pesky Blazer franchise.
That's not to say Tyrus Thomas isn't anything special on the defensive end, because that would be an outright lie. The Bobcats improve 5.1 points per 100 possessions defensively when the 6'10" power forward is on the court.
In January of 2009, Thomas recorded eight blocks in a game against the T'Wolves, and he has mastered the swat since, averaging better than 1.5 in every season.
Chicago Bulls: Ronnie Brewer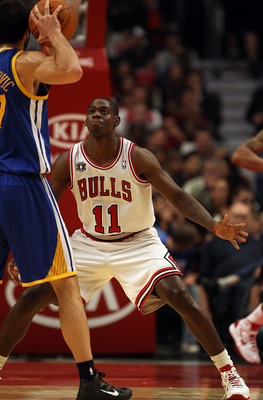 Jonathan Daniel/Getty Images
In all fairness, Ronnie Brewer's statistics as an NBA player don't do him justice to show just how important he is to the Bulls defensively.
At 6'7" he is one of the association's best on-ball men, and in addition he won't back down in the post.
He should make an NBA All-Defensive Team this season because his teammates, Joakim Noah and Luol Deng, have a shot as well.
Cleveland Cavaliers: Anderson Varejao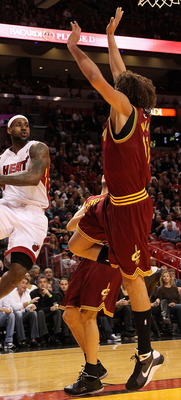 Mike Ehrmann/Getty Images
In addition to being the NBA's biggest flopper not named Manu Ginobili, Anderson Varejao is one of the NBA's top post defenders.
He's very versatile defensively, and even has some great lockdown abilities.
Varejao already has one All-Defensive selection, and you might as well give him a second one the way he played this season prior to injury.
Dallas Mavericks: Tyson Chandler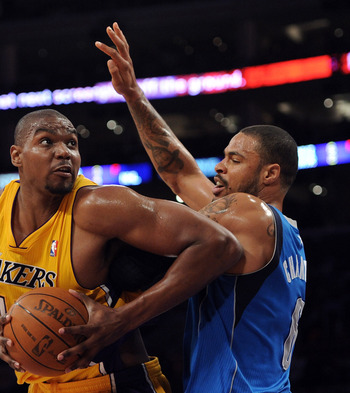 Harry How/Getty Images
Tyson Chandler's defensive value is usually overlooked wherever he plays in the association.
He is a tremendous shot blocker, and in addition plays great post defense.
He was always the intimidator of the Dallas frontcourt this season, and routinely was the most important player in the Mavs' post, Dirk included.
He was third in the Defensive Player of the Year award voting, and I wouldn't be surprised if the 29-year-old someday has a plaque of his own to hang in the den.
Denver Nuggets: Kenyon Martin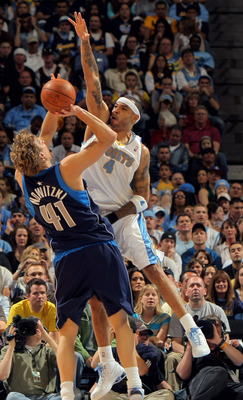 Doug Pensinger/Getty Images
Ever since he was selected number one overall in the 2000 NBA Draft, Kenyon Martin has been a mainstay among the league's best in terms of defensive-minded big men.
This season has been no different for the Denver Nuggets, who give up 106 points per possessions, 3.7 less than when he is not on the floor.
He is a great post defender, and isn't especially terrible when it comes to locking down his opponents, as clearly proved in the picture on the left.
There clearly isn't anyone up to his standard in Denver, but Arron Afflalo came in second here.
Detroit Pistons: Ben Wallace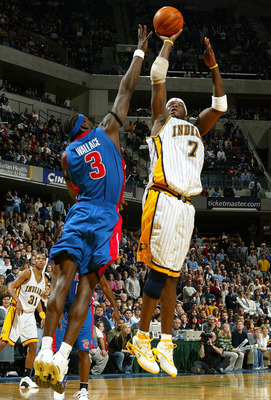 Andy Lyons/Getty Images
There really wasn't much to work with here, so pardon my teenage nostalgia-inspired selection here.
Even so, at the tender age of 36, Big Ben Wallace is still taking care of business on the defensive side of the game.
He has the best defensive numbers of any Piston, and is still averaging a block and steal apiece to go with almost seven rebounds per game.
Here's a question for all you readers: Is Ben Wallace Hall of Fame material or not?
Golden State Warriors: Epke Udoh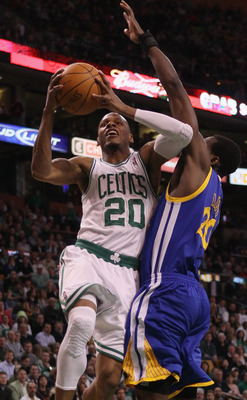 Elsa/Getty Images
Ekpe Udoh, the 23-year-old rookie out of Baylor, could be considered the only better-than-mediocre defender on the entire Golden State Warrior squad.
Every 100 possessions Udoh gave up 106 points, compared to a horrid 113 without his presence on the inside post.
He is the newest member of the Warrior block party, swatting 1.5 balls per game.
Houston Rockets: Chuck Hayes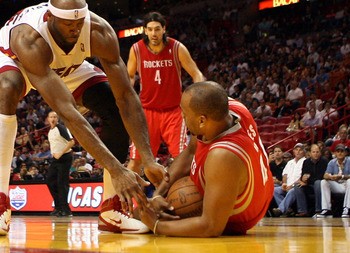 Marc Serota/Getty Images
The Houston Rockets' Chuck Hayes is a tremendously undersized center who is always up to the task in the post.
Shorter than some shooting guards at 6'6", "The Chuckwagon" still puts up pretty solid numbers, netting three less defensive points per 100 possessions whenever he is on the floor.
The 27-year-old did a fine job filling in for Yao Ming, and will be a great defensive liability for years to come in Houston.
As long as Chuck is playing center, Houston will not have a problem.
Indiana Pacers: Dahntay Jones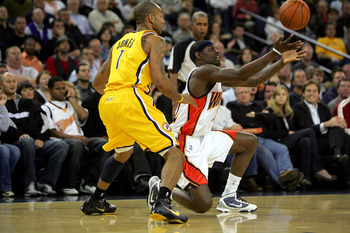 Ezra Shaw/Getty Images
Dahntay Jones of the Indiana Pacers is one of the league's dirtiest players, but that still doesn't take away what he's done defensively.
He may not put up ginormous numbers for any team, but he will always be a solid role player whose main focus is always to strip the ball and cause chaos.
He truly is disruptive.
Los Angeles Clippers: DeAndre Jordan
Harry How/Getty Images
DeAndre Jordan is easily the best post defender for Los Angeles' other team.
A 22-year-old in his third year, Jordan came into the league already in '08 with "great defensive potential" according to scouts, and he has indeed fulfilled that thus far.
This season Jordan has really blossomed defensively, and his game will continue to improve as the Clippers do.
Los Angeles Lakers: Andrew Bynum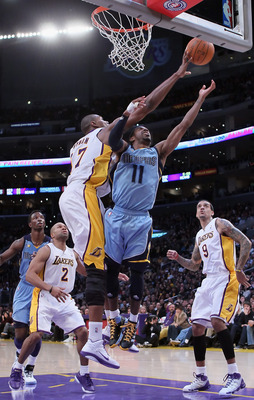 Jeff Gross/Getty Images
Andrew Bynum's sheer defensive ability alone already puts him in the conversation as a top-three center.
He is advanced for his age (23) and has had a lot of time to develop beneath superstars throughout his six-year career.
Defensively the Lakers gives up an astoundingly low 102.5 points every 100 possessions that Bynum is on the floor, one of the lowest numbers in all of the association.
Bynum is disruptive in all assets of the D game, and averaged 9.4 boards and two blocks per game this season.
Memphis Grizzlies: Tony Allen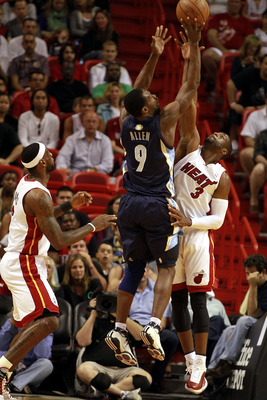 Marc Serota/Getty Images
Tony Allen is by far and away the Memphis Grizzlies' greatest defensive asset, and this side of his game has helped propel him to a starting position this season with the club.
A 29-year-old speedster, Allen has averaged nearly two steals per game in only 20 minutes of playing time. The 6'4" shooting guard is as lockdown as they come in the NBA, and he is one of the hardest workers you will ever find on the hardwood.
He even contributes a block now and then, but these stats don't tell the story. The one you need to look to in order to truly determine Allen's success defensively is when you see that the Grizzlies give up 5.7 fewer points per 100 possessions when the Oklahoma State product is on the floor.
Allen is honestly one of the NBA's best perimeter defenders, and just about no one knows that.
Another Grizzly by the name of Shane Battier isn't too shabby either.
Miami Heat: LeBron James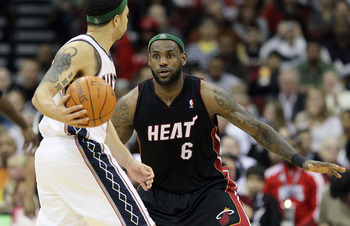 Jim McIsaac/Getty Images
In the most dramatic of fashions, LeBron James beats out Dwyane Wade by a photo finish to claim the Miami Heat's spot on this list.
LeBron is perhaps the only player in the entire NBA that can claim they are both a top-five offensive and defensive player.
While everyone knows about King James's 26-8-8 season, not many know how particularly spectacular his defense is. He routinely averages almost two steals per game.
Milwaukee Bucks: Andrew Bogut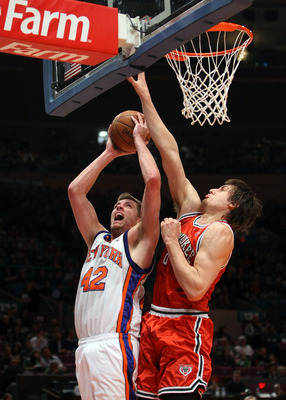 Nick Laham/Getty Images
Andrew Bogut, one of the NBA's better centers, narrowly beats out Luc Richard Mbah a Moute in the defensive race.
Bogut's numbers on D are superior (11 rebounds, 2.6 blocks per game), sure, but it is his hard work, determination and hustle that have pushed him over the top this season in Milwaukee.
Bogut's minutes increased from 32 to 35 in his sixth season as a Buck, and in time so have his defensive skills. His points per 100 possessions allowed (101.9) rank with the best.
Minnesota Timberwolves: Wesley Johnson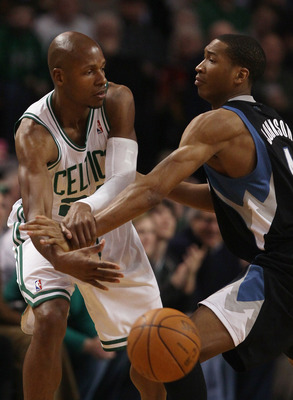 Elsa/Getty Images
Wesley Johnson, as a rookie, easily claims this spot on the slideshow.
He was an excellent defender collegiately while enrolled at Iowa State and Syracuse, and he has proven that his skills were translatable to the professional ranks.
He often forced turnovers and made opponents fear Minnesota for at least one second this season.
New Jersey Nets: Anthony Morrow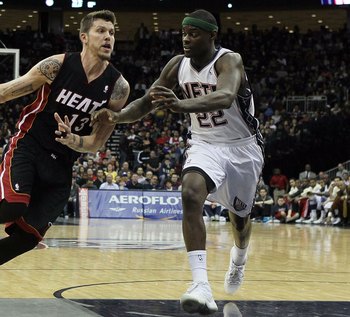 Jim McIsaac/Getty Images
In order to make a decision for the New Jersey Nets here, I had to see it as more of a lesser of evils than the "best," per se.
That's not to say Anthony Morrow isn't a good defender, because he is. He would steal almost one ball per game on average and is a pretty good lockdown option in the backcourt.
New Orleans Hornets: Trevor Ariza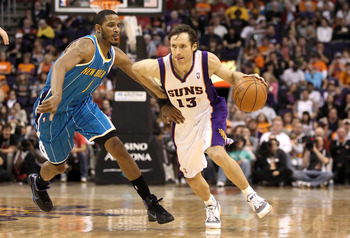 Christian Petersen/Getty Images
Ever since he entered the league seven years ago as a New York Knickerbocker, Trevor Ariza has established himself among the NBA's great defensive threats.
The Hornets called for Ariza's services after he won a ring with the Lakers, and his reputation as a lockdown man are very much merit-worthy.
The UCLA routinely averages over a steal per game, and he really has no glaring defensive weakness.
He should have an All-Defensive selection or two by now, but unfortunately there are so many other greats in the league right now.
New York Knicks: Toney Douglas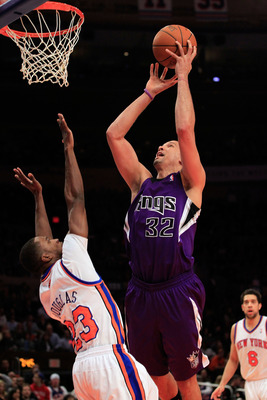 Chris Trotman/Getty Images
Much like the decision process that was made with New Jersey's selection, Toney Douglas emerges victorious in a pack of mediocre defenders.
Douglas has the best point per game differential among the Knickerbockers and has proved on numerous occasions to be a worthy backup to Chauncey Billups, and since the team is full of offensive stars, his inclusion is merited.
Oklahoma City Thunder: Serge Ibaka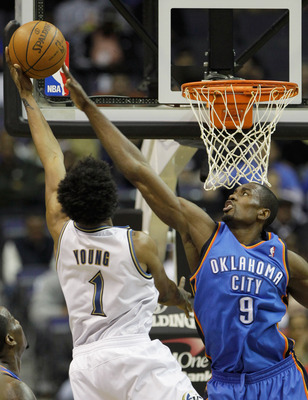 Rob Carr/Getty Images
When it came down to the final three for this selection among Thabo Sefolosha, Serge Ibaka and Kendrick Perkins for the Thunder, I was absolutely torn on whom to nominate.
Thabo, although having a bad year, is still a great lockdown defender, but doesn't take the cake here.
Perkins, although a game-changer in the post, doesn't lead this contest due to his short tenure in Oklahoma City.
Instead, Serge Ibaka wins this race, and his dominance in the paint is very evident if you have seen the Thunder play. "Air Congo" will literally try to block any shot that is put up, as shown by his 2.1 block average this season.
He will be a top-notch defender and overall power forward as he begins to head for his apex.
Orlando Magic: Dwight Howard
Sam Greenwood/Getty Images
Is this a joke? Of course it is.
The best defender in all the league, Dwight Howard is such a beast in the low post that no floater goes without notice.
This season was the third consecutive year Superman II won the Defensive Player of the Year award.
Additionally, he is a phenomenal rebounder and shot-blocker, averaging 14 boards and 2.3 blocks this season, both second in the entire NBA. His teams give up just 102 points per 100 as well, one of the best clips in all of the land.
When all is said and done, Howard will be one of the greatest defenders in the league's long history.
Philadelphia 76ers: Andre Iguodala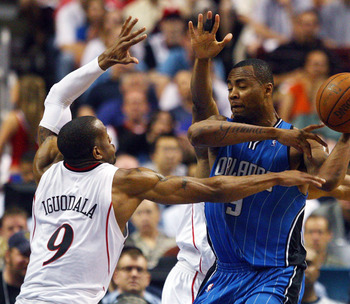 Jim McIsaac/Getty Images
Andre Iguodala, one of the more versatile players in all of the league, is a spectacular on-ball defender and easily the most disruptive on the 76ers' roster.
An Arkansas product, the 27-year-old Iguodala has averaged at least 1.5 steals per game every season in his seven-year career.
The Sixers improved by five points defensively every 100 possessions whenever the shooting guard was on the hardwood. Additionally, his opponent PER is best in the league, meaning he is perhaps the best on-ball defender in the association.
Iguodala, sometimes known as a poor man's LeBron James, is no slouch on defense whatsoever.
Phoenix Suns: Grant Hill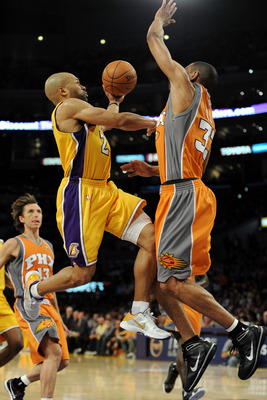 Harry How/Getty Images
For a guy whose summit was derailed by injuries, Grant Hill can sure still play.
On a club that's not known for its stingy defense, Hill's defensive skills rise over that of anyone else on the roster.
The 38-year-old is a good defender, but he's not going to be expected to do amazing things defensively because of his age and the team's chemistry.
That's how low defense is on Phoenix's priority.
I suggest they fix that.
Portland Trail Blazers: LaMarcus Aldridge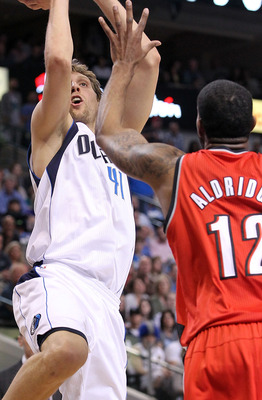 Ronald Martinez/Getty Images
I could've ignored the fact that Gerald Wallace has played about 30 games in a Trail Blazer uniform and call him the most disruptive here, but the fact remains that LaMarcus Aldridge has improved tremendously this season, and much of it has to do with the effort he has put up on defense.
Portland's points per 100 possession go down seven whole points on average when the Texas product is in the game.
Aldridge was the biggest All-Star snub, and although Marcus Camby might be a better post guy here, that doesn't mean Aldridge isn't more versatile and disruptive himself. He is easily one of the NBA's most underrated defenders.
If this ranking took place after this season it'd have to be Wallace, but for now LaMarcus reigns.
Sacramento Kings: Samuel Dalembert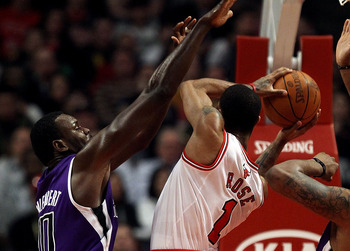 Jonathan Daniel/Getty Images
Another guy whose reputation feeds off his defensive prowess, Samuel Dalembert is just about as effective as it gets in the low post.
The 29-year-old's first season in Sacramento has been no different, as he continued displaying his awesome shot-blocking ability, averaging three every 48 minutes.
The man is already 46th on the NBA's career block list, and could be well on his way to a top-20 spot.
San Antonio Spurs: Tim Duncan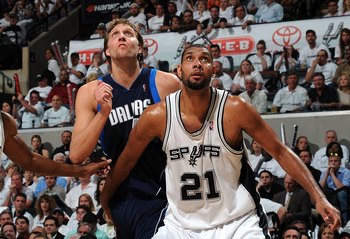 Ronald Martinez/Getty Images
Although he is declining very swiftly, it would be straight-up disrespectful to pick anyone else for this spot, as one of the all-time greats of the game is a superb defender.
The 34-year-old's numbers even now are spectacular, as the team has given up eight less points per possessions whenever the Big Fundamental is on the floor.
Fourteen years into his career, I still like those chances.
Toronto Raptors: Amir Johnson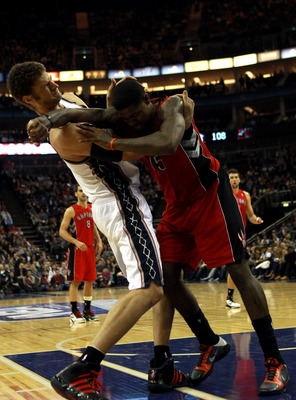 Warren Little/Getty Images
On a list full of mediocre defenders, Amir Johnson takes the Canadian cake here.
Although there isn't a guy who has stepped up this season for the Raptors, Amir Johnson is a fairly solid defender who is at least somewhat disruptive in all aspects of the defensive game.
He averaged 6.4 rebounds and swatted 1.2 balls during the regular season.
I think "disruptive" is clearly defined in the picture to the left.
Utah Jazz: Andrei Kirilenko
Jed Jacobsohn/Getty Images
When it comes to opponent efficiency, almost no one in the game is as good as the Jazz's Andrei Kirilenko.
He is fifth in the league in that number, having similar numbers up against the likes of Luol Deng or LeBron James, two of the game's best defensive small forwards.
AK47 is by far and away the most disruptive defender on the Utah Jazz.
Washington Wizards: JaVale McGee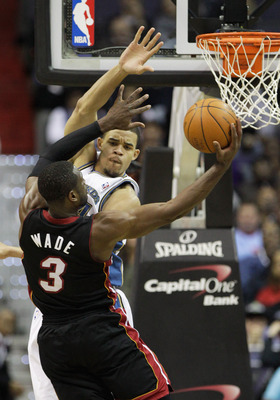 Rob Carr/Getty Images
JaVale McGee, in addition to being one of the NBA's best dunkers, is one of the best shot blockers, averaging 1.7 this past season, and post presences throughout the league.
McGee is so good on D that he recorded a triple-double this season—with 12 blocks!
In addition to being a scary presence in the lane, McGee is one of the NBA's best 10 interior defenders and, at 23, still has years ahead of him.
Keep Reading